Why 3D Renderings Are Changing My Interior Design Business
I started making an awesome shift in my business at the end of last year – incorporating 3D renderings into my design projects. While 3D renderings and digital walkthroughs have become common on interior design reality shows like Fixer Upper, they haven't always been accessible to all designers (leaving a lot of homeowners frustrated!). I mean, they look so easy on TV – so why isn't everyone doing them?
Why aren't 3D renderings available for everyone?
It's because there's a big learning curve in the software, and outsourcing this service to someone who is familiar with 3D rendering software can get pretty spendy (and often push a client's design budget beyond what they're comfortable with spending).
So if 3D renderings pose so many logistical and budget-related challenges, why bother with them? I made the switch for two reasons: the value they bring in communication design ideas quickly to my clients, and the ease of Foyr Neo for creating them.
From moodboards to 3D room designs.
For years I've been creating 2D moodboards (I now use Canva for this) to share my design vision for a room with clients. And a moodboard is certainly a great tool to communicate style, color, and proportion. But it falls short of actually presenting what a space will look like when it's completed.
For example, here's the moodboard for a recently completed bedroom project. This is exactly what the client saw at the design presentation:
And here's that same bedroom design, rendered in 3D with Foyr Neo: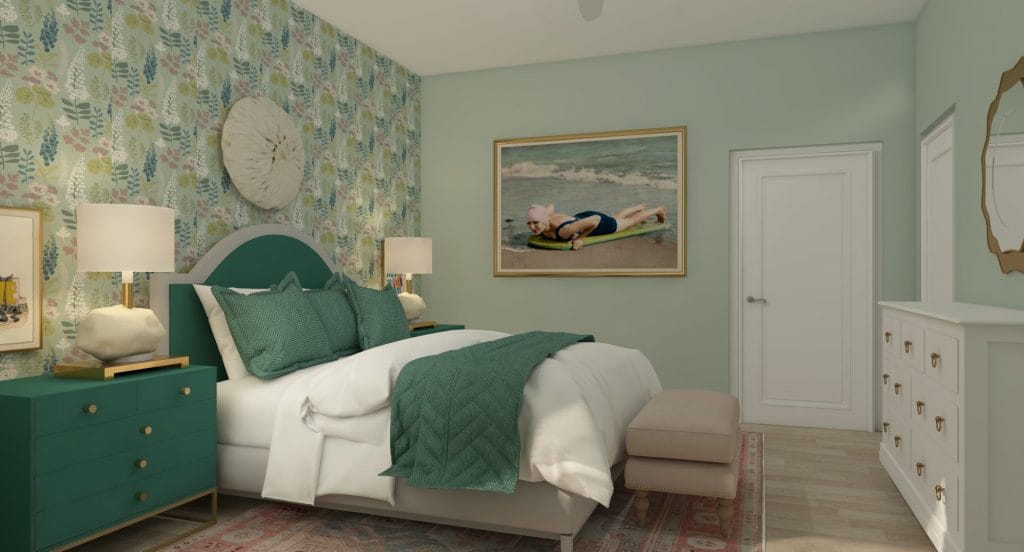 What I love the most about seeing a room design in 3D is getting insight into the context – how every piece of furniture and decor interacts with its surroundings. A 2D moodboard is a solid start, but with 3D software becoming sooo much easier and faster, this is a switch I'm happy to make. We still start with a moodboard to share the high-level design concept, but now we're including renderings with the final design to paint an even clearer picture of what we're envisioning and creating for a space.
This project hasn't been photographed yet, but I want to share a sneak peek of the room (taken on my iPhone, so forgive the less-than-magazine-worthy quality) compared to another angle of the 3D rendering.
Here's the actual bedroom…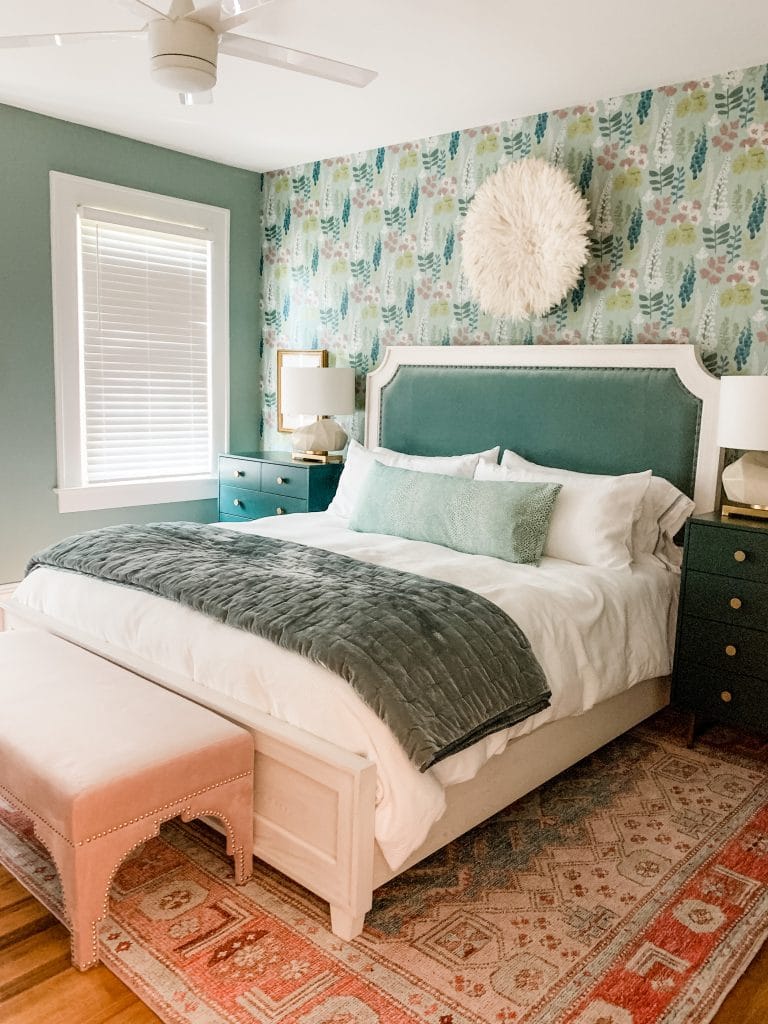 …and a 3D rendering from a similar angle.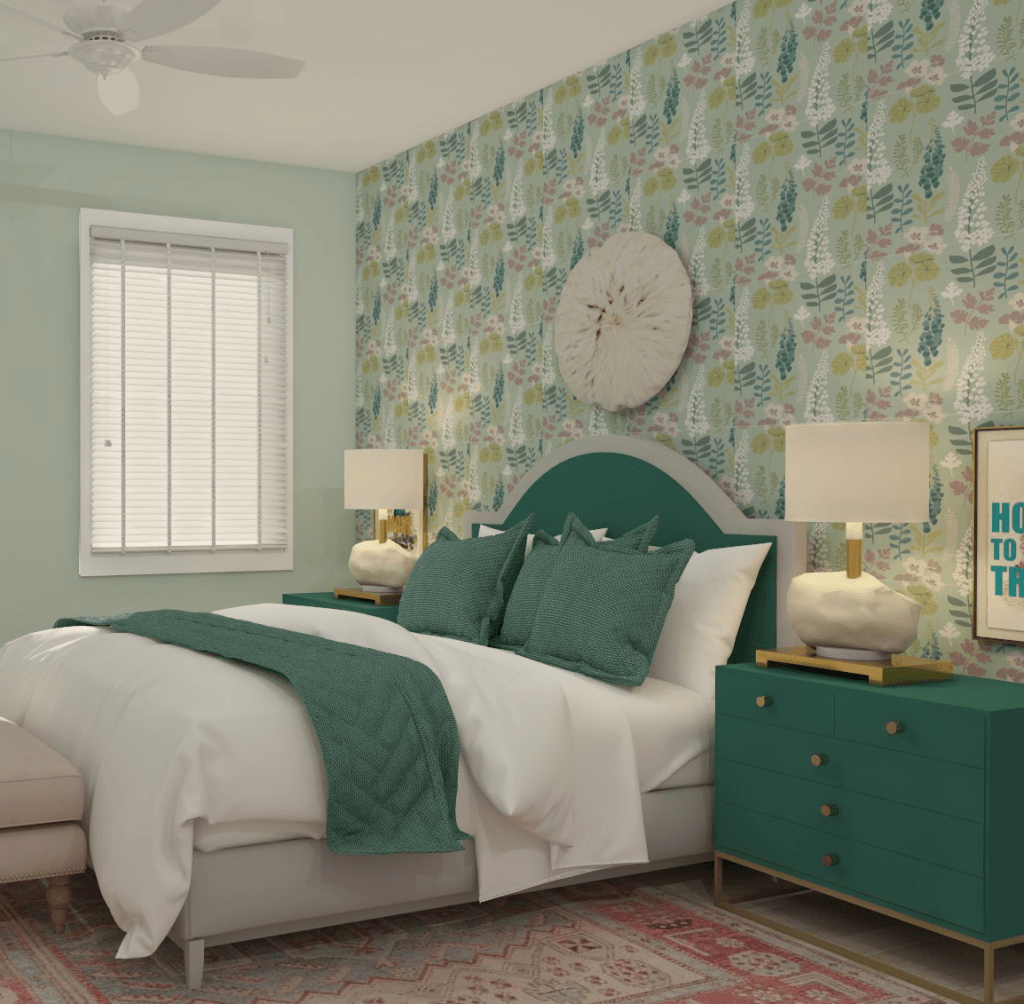 Isn't' that rad? While the rendering is, of course, not 100% exact, it definitely gives a clear sense of what the space will look and feel like when it's completed.
So, why are 3D renderings changing my design business?
Because they're an easy and effective way to get everyone on board with the vision for the project – with just one image! A realistic rendering takes so much of the visualization and guesswork out of committing to an interior design project. It's a clear picture of the intended outcome of a space, and a picture really is worth a thousand words. Presenting a rendering has lead to more enthusiastic "yeses" from my clients – and their partners, too. A 3D rendering is an easy sell on the value and deliverables that I'm presenting on a design proposal, and has allowed my clients to move forward confidently knowing what their new room will look like.
So, if you're a design client of mine (or would like to be – wink, wink), get ready for 3D renderings to be a kickass feature of your project!
And if you're an interior designer, I've got a rad opportunity for you to try out Foyr Neo right now (which is the quickest and easiest 3D software I've ever tried, hands-down).
Designers, here's how to get started with Foyr (and you could win $200!):
Sign up for a free trial of Neo right here. And, if you post about it on your Instagram stories (tagging both me, @lesleymyrick and @_foyr) before January 30, 2021, one winner will get $200 and a 3-month Foyr Standard Subscription worth $200! If you end up loving Foyr as much as I do, you can use coupon code LESLEY35 to save 35% on an annual or quarterly subscription after your trial ends.
With allll the things evolving into a virtual experience over the past year, visual communication is becoming more important than ever – and that's why 3D renderings are now part of our design process at Lesley Myrick Art + Design.