5 Painting Mistakes to Avoid
You know you've done it at some paint – made a mistake when painting your home. Whether it's skimping on the required prep, choosing paint colors before anything else, or skipping painting a sample area first, you've probably made one of these mistakes. (I sure have.) If you are going to DIY your paint job (here's why I always hire a professional painter!), here are 5 painting mistakes to avoid.
Skimping on Prep.
Nothing gives away a DIY paint job like sloppy edges, chipped paint, or the old paint color showing through. Prep is like, THE WORST, and takes forever. But it's 100% necessary to get kickass results when you paint. Lightly sand shiny finishes; wipe down the surfaces to be painted with warm, soapy water; and pay careful attention to how (and where) you apply painter's tape. Prime dark-colored walls with a color-blocking primer if you're going lighter, and protect outlets and switches with painter's tape.
And for the love of all that is holy, lay down drop cloths to protect your floors! Nobody wants accidental painted polka-dot flooring.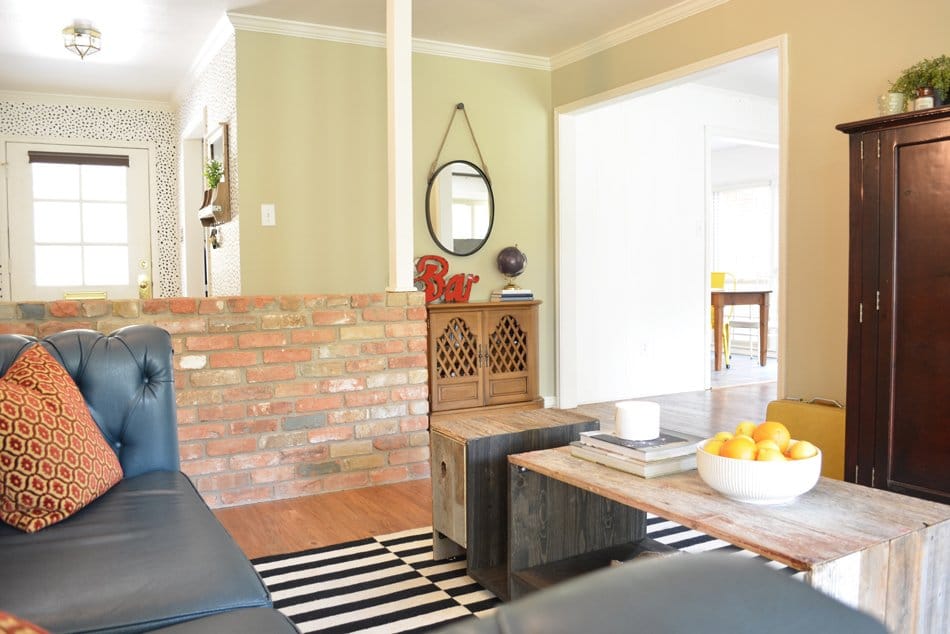 Using cheap tools.
Cheap paintbrushes are out there – and they're going to give you cheap results. Don't splurge on high quality paint and then apply it with bad brushes! The tools are as important as the paint itself. Invest in a good quality brush and roller, and take good care of it.
Choosing paint colors first.
I know, I know – it's soooo tempting to paint a room first, and decorate it later. Especially if you're moving and want to feel settled quickly. But while there are 4,950,782 paint colors out there (approximately), there are only so many sofa fabric colors. And area rugs. And pillows.
Paint should compliment your furniture and decor – not lock you into an incredibly narrow range of selections. Choose your fabrics and finishes first – there will always be a paint color that works. Paint colors come last. (And btw: here's how to pick the perfect paint color.)
Thinking light colors make rooms look larger.
I wish it were that easy, baby. But whitewashing a room doesn't make it look bright and airy. If a room doesn't get great lighting, white walls will only feel sad and dingy. Sometimes a dark wall color can actually make a space look much bigger! Be willing to go against the grain and try something counterintuitive, like a dark wall color in a small space. You might be pleasantly surprised at the results!
Skipping the sample pots.
Yes, it's tedious to buy a sample pot of the paint color you're considering, paint a swatch on the wall, wait for it to dry, and live with it for a few days to see if you still like it. But you know what's more tedious and expensive?
Repainting a room because you're not happy with the paint color you chose. (Case in point: my office.)
Take the time to purchase – and use – a sample pot of your chosen paint color. They're under $10, and can save you major time and headache!
PS. Curious to learn more about paint colors and painting mistakes to avoid? Here are a few awesome articles for you: