How to Accessorize with Inexpensive Home Decor
Have you ever come down to "finishing touches" in a room and suddenly get hit with the wall of overwhelm? Ever realize how many shelves, surfaces, and walls need accessories and how many rugs and pillows you'll need before you're done? I'll bet your eyeballs turned into dollar signs. I'll bet you immediately wished for a way to accessorize with inexpensive home decor.
Allow me to be the genie inside your imaginary lamp and grant that wish. I've been where you are, so I totally get it. Accent decor can eat up a huge chunk of your design budget, and it often gets overlooked in the planning stages of a DIY project. To help you avoid that common pitfall, I have tips to share that will help you save money.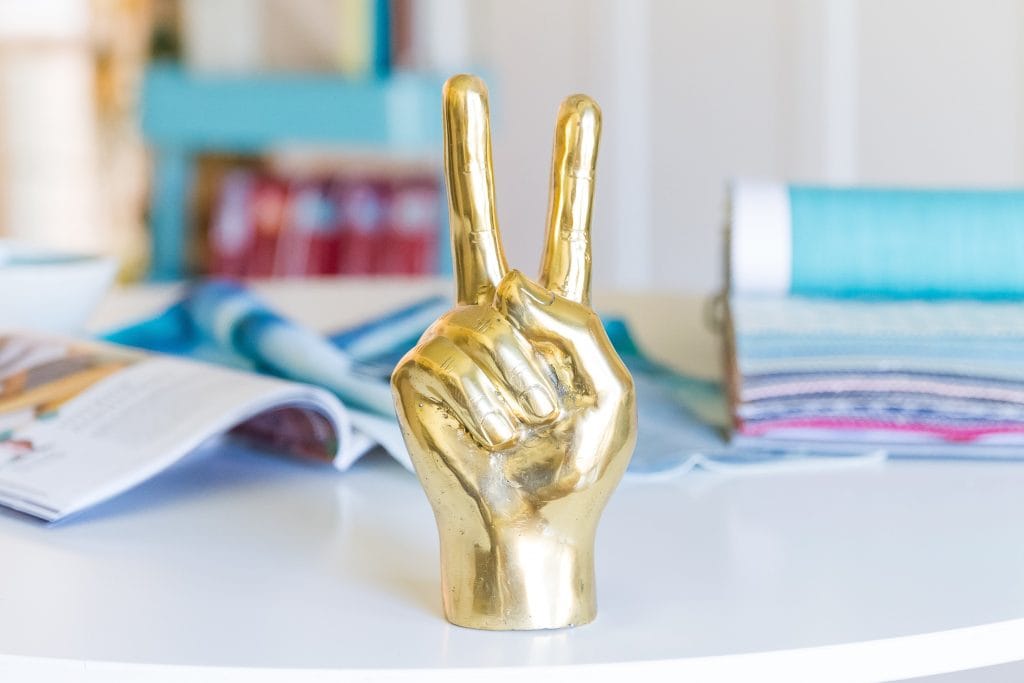 I want to make sure I'm clear. While we're talking about how to accessorize with inexpensive home decor, I'm not suggesting you fill your walls and bookshelves with junk, just because it's easy on the wallet. I'm also not suggesting that you one-stop-shop your local Target or HomeGoods for ALL your finishing touches. If you do, your house will reflect that retailer instead of showcasing YOU.
Instead, layer your lower-priced accessories with statement items that reflect your personal style, and you'll strike an affordable balance. You deserve to splurge on a few things that you love (ICYMI: here are splurge recommendations for a living room, bathroom or home office). These items become your foundation and then you fill in the gaps without breaking the bank. Here are my best tips for how to accessorize with inexpensive home decor and still have an insta-worthy home.
Neutrals
When in doubt, go neutral. Whenever I'm shopping for accessories and I'm not spending a fortune, I choose things that are white or really dark colors. Bonus points if they also offer texture. Wood, marble or stone items are great go-to neutrals that look great in just about any space. They tend to look more high-end and layer nicely with almost any kind of surrounding decor.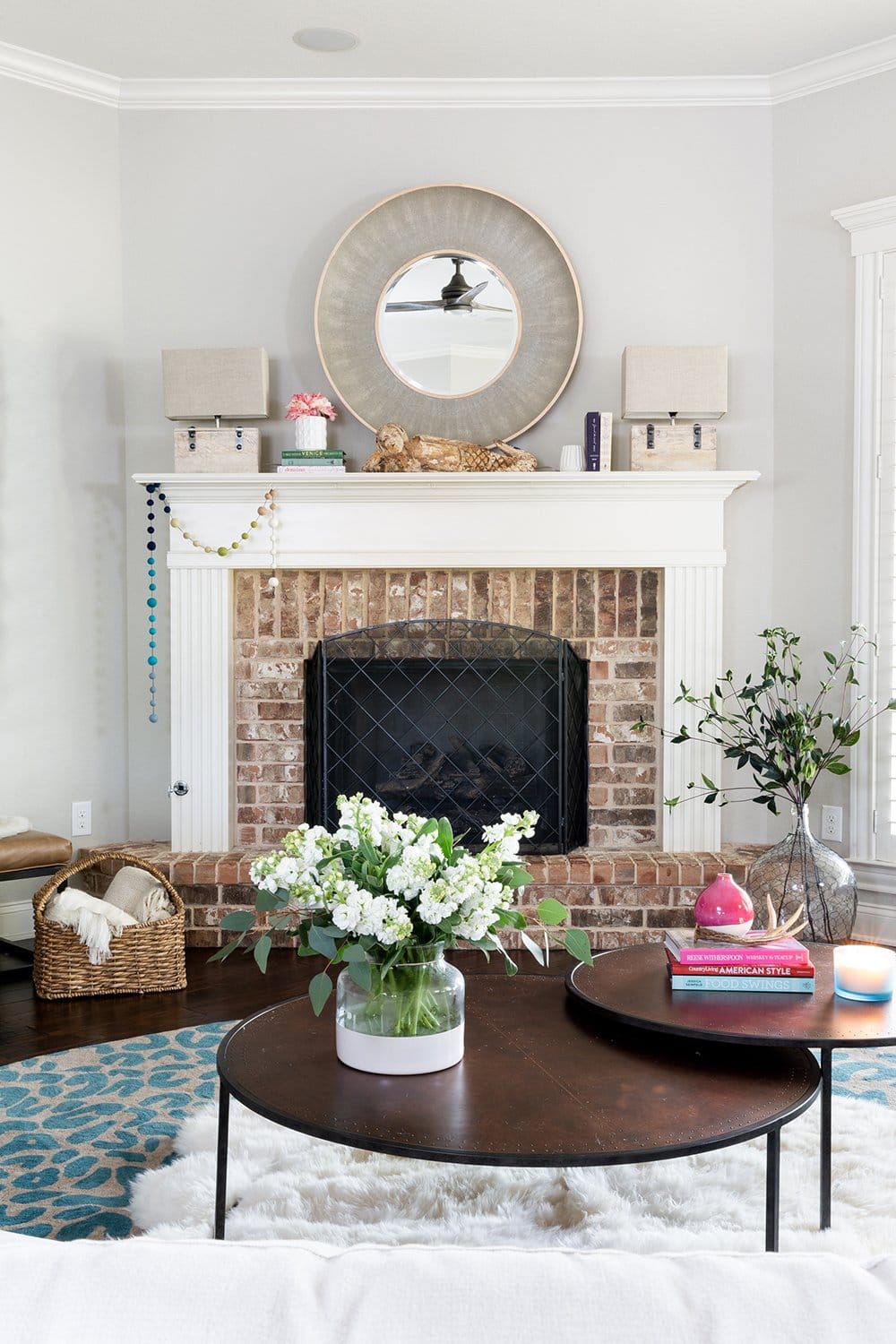 You guys know I'm a big fan of color, but not when it comes to inexpensive accessories. They often lack the quality you want and will look cheap on display. I've been very pleased with items in stores like Target that are marble and brass, marble and wood, etc. They look pretty for the price and show well on a shelf. You can't ask for much more when you want to accessorize with inexpensive home decor.
Metallics
Metallic finishes are another go-to for inexpensive accessories. I mentioned brass earlier, which is totally trending right now, but I honestly love the touch of sparkle and shine that any metallic finish will bring to a space. If you can find items with a distressed finish, that's even better. Think hammered metal, black iron, things that are naturally imperfect. Those items show very well in any space and often look more expensive than they are.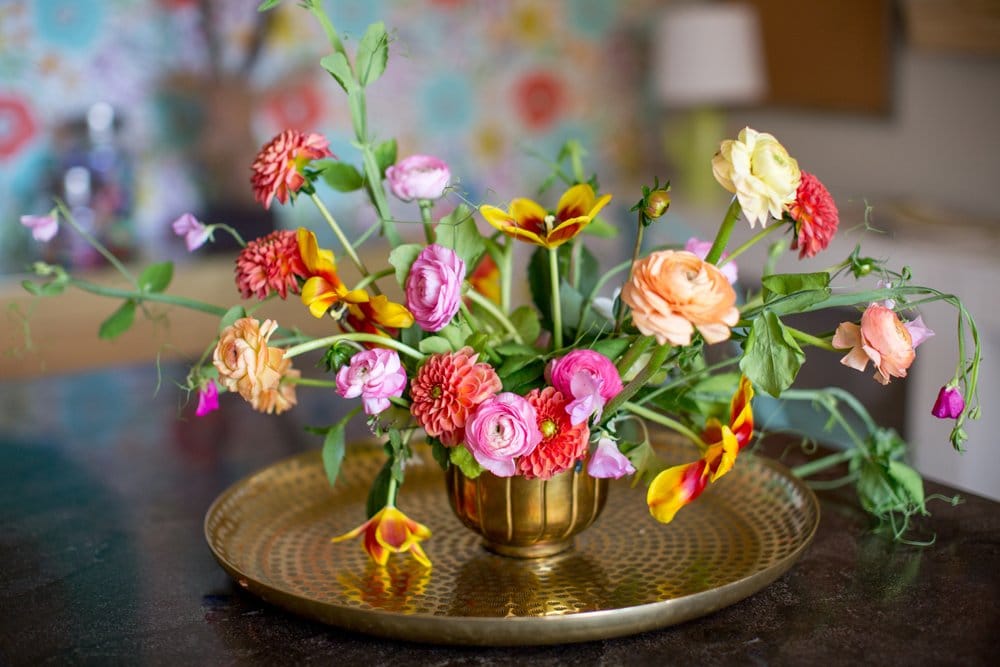 Why not go for all the glitz and glam? Because super shiny pieces that are budget-friendly will often show every single imperfection and just look really crappy in your space. Those little warps in the surface – the bubbles – they are so much more noticeable and make it obvious the item is cheap. Definitely look for metallics with baked in character to give you the most visual bang for your buck.
Textures
I've mentioned texture a lot already when you're looking to accessorize with inexpensive home decor, specifically with your neutrals and metallics, but texture in general is so important in any space. A great place to pull in additional texture is with your rugs, pillows and fabrics. Think cowhide, baskets, linen pillows, knit blankets – all of these items can be purchased inexpensively and infuse rich texture into any space.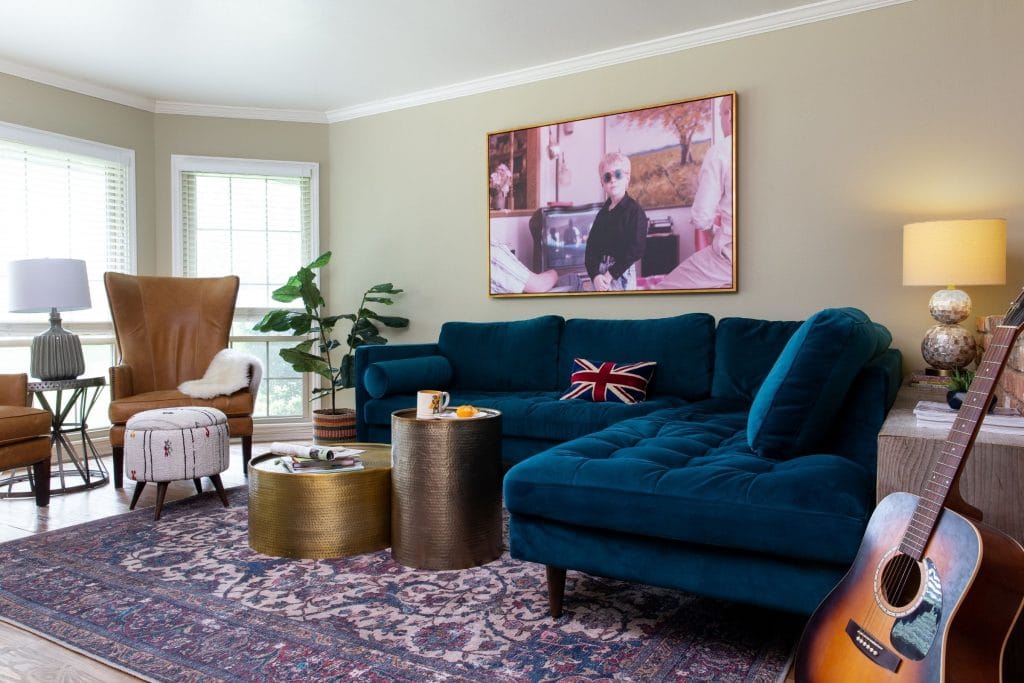 I'm going to say this again. Knowing how to accessorize your home with inexpensive decor does NOT mean going to your local HomeGoods or Target, filling your cart with a bunch of crap and calling it a day. Accessorizing is about balance and layering. Start with pieces you love that define you and then layer in low-cost filler items that are neutral, metallic and rich in texture. It's the mix of high and low that offers a cohesive design that looks and feels freaking amazing.
Adding the "finishing touches" can really be the hardest part of pulling a DIY project together. Styling is an artform in itself, so if you struggle in that department, you're not alone. Fortunately, I do have a Styling Secrets Cheat Sheet that just might make things easier for you. If you find you're still a little stuck, I'd love to tackle your styling with you one-on-one. Give me a call and let's make it happen.