Area Rug Size Guide (Free Download)
I'm a HUGE fan of decorating with color and pattern, and area rugs are an awesome way to introduce both into your home. But how do you choose the right-sized rug? It's tricky when you're in a store and a rug looks huge – but then you get it home, and it's about the size of a postage stamp. (Whomp whomp.) That's why I've created a free area rug size guide that you can download right here.
In general, bigger is better.
The most common mistake I see with area rugs is choosing ones that are too small. I know it can feel scary to pull the trigger on a large rug, but trust me, it's worth it for the visual impact it has on a space! Here's a room-by-room look at the best rug sizes.
In a bedroom with a queen-size bed,
6×9 is about the smallest size that. works. An 8×10 is even better and will ensure that the bed and nightstands will be happily situated on the rug. For a room with a king-size bed, go bigger if you can. 8×10 works, but a 9×12 feels large and luxurious.
In the living room,
beware of the dreaded POSTAGE STAMP RUG! You know – when a rug is so small that it just sits in front of all of the furniture looking like a teeny tiny postage stamp? A 4×6 or even 5×7 rug won't cut it. 6×9 is about the smallest rug that'll look right in your room, and again, bigger is going to be better.
Is a larger rug more expensive? Of course. But is it going to make the difference between your room looking piecemeal or perfectly polished? Absolutely. Save your money on the accent chairs no one will use, and invest in the perfect rug instead.
In the dining room,
there's one key thing to remember when choosing your area rug size – and that is that you'll want to leave around 2′ of space between the edge of your dining table and the edge of the rug. That leaves enough space for your chairs to be pulled in and out comfortably without falling off the edge of the rug (which is the literal worst).
What if your rug is too small – but you love it?
If you already have an area rug you love but it's just too darn small, there is a solution – and that's to layer it over a larger rug. In the colorful living room below, we layered a plush (but small) sheepskin over a large round leopard-print rug. Layered rugs add depth, dimension, and interest to a room and are most successful when one rug is patterned and exciting, and the other is simpler and more subdued.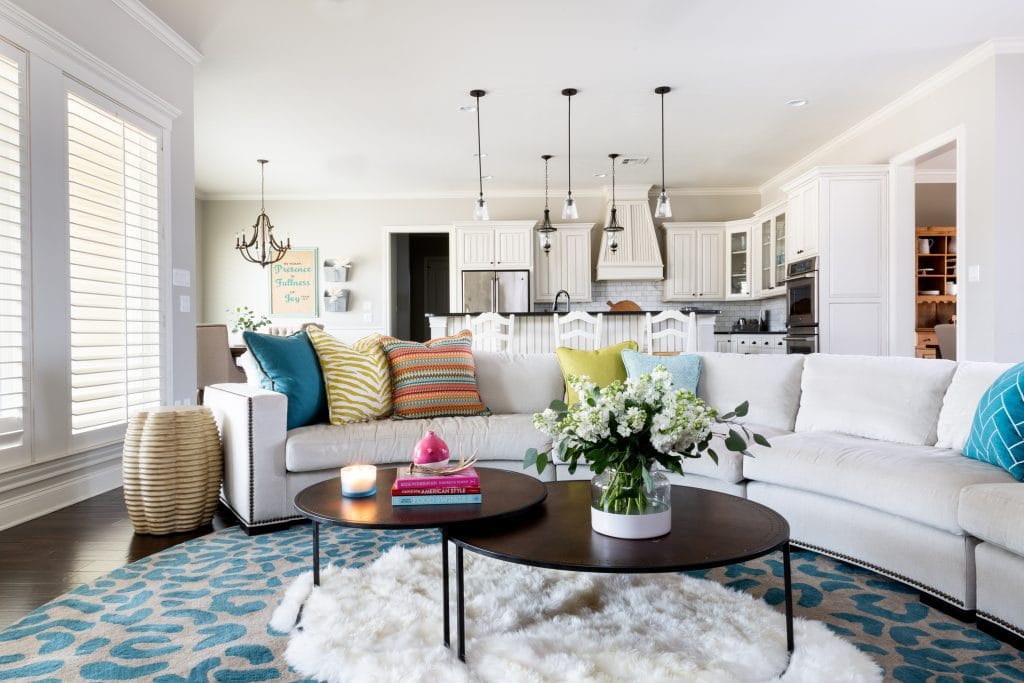 Grab your FREE area rug size guide.
You can download your free area rug size guide right here. The visual guides and design tips included will help you choose an ideally sized rug for your living room, dining room, and bedroom. I've also shared some examples of area rugs that are the wrong size, and why. I hope this is a useful tool for you as you start rug shopping!