Our Atlanta Interior Design Office: Before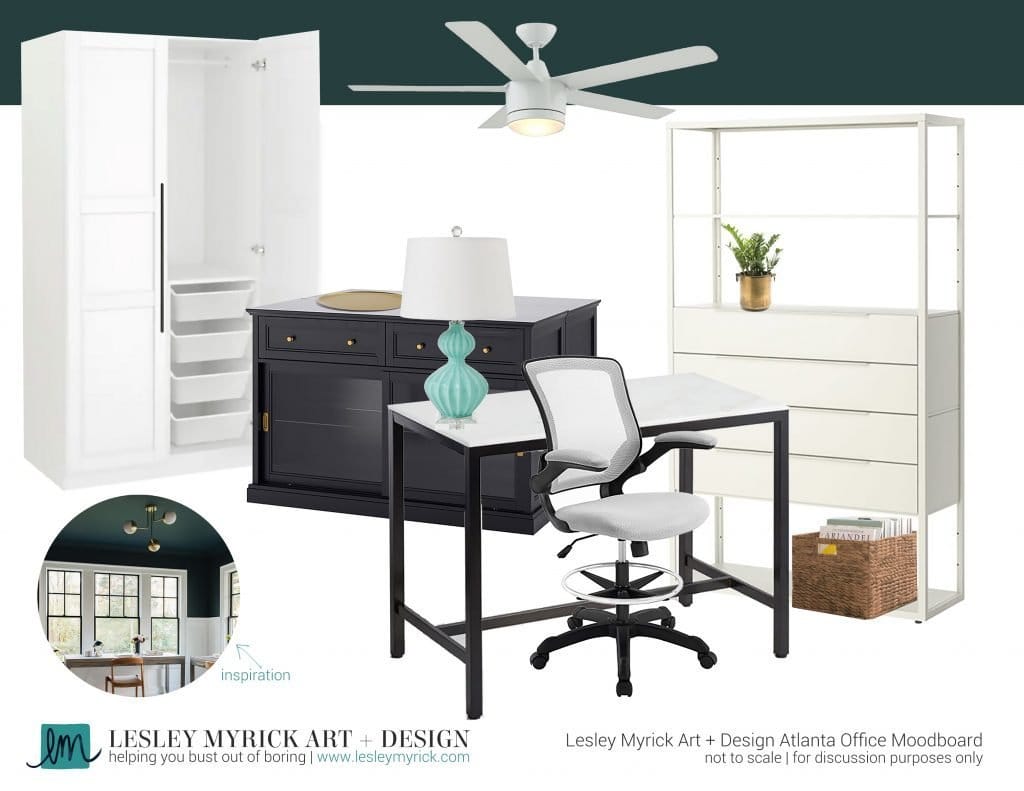 While moving across the country brings plenty of logistical challenges (including moving a business, two young kids, and one brand new kitten!) it also brings A NEW ATLANTA INTERIOR DESIGN OFFICE for Lesley Myrick Art + Design. Cue alllll the angels singing.
You probably remember our office in Waco, Texas. It was a great space for me and my small team, but given that almost everything was built-in, there was nothing I could take with me to Atlanta.
I know, I know…how terrible for an interior designer to have to re-design a room! I can't tell you how excited I was for a fresh start and a blank canvas.
My home office is just off of the main entry, with a pair of French doors dividing it from the rest of the house. I love the flexibility of working from home in a space that is connected but truly feels like a separate office space. I can shut the doors at night have clear boundaries between work and family.
Here's the (underwhelming) space before: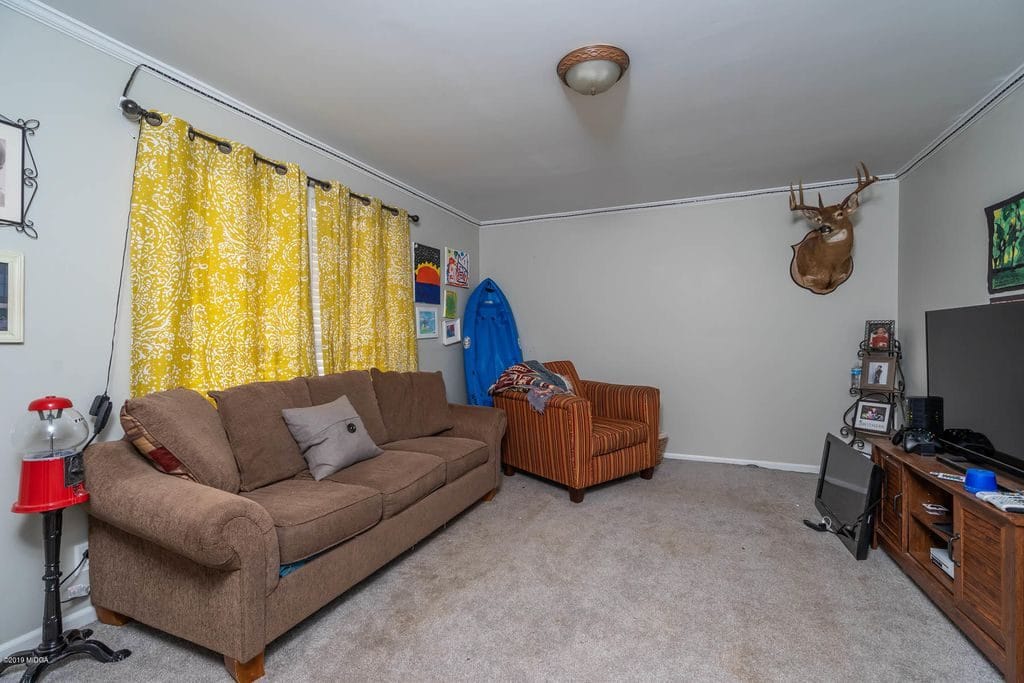 Yup, a total snooze. It's basically a rectangular box with dirty grey carpet and a boob light on the ceiling. But thankfully, those barely-visible windows are almost 7′ tall and let in so much light, and a fresh coat of paint does wonders!
There's no closet or storage of any kind in this room, and building in storage for material samples and catalogs, office supplies, and warehousing small items for clients was essential. Here's my plan for the office layout: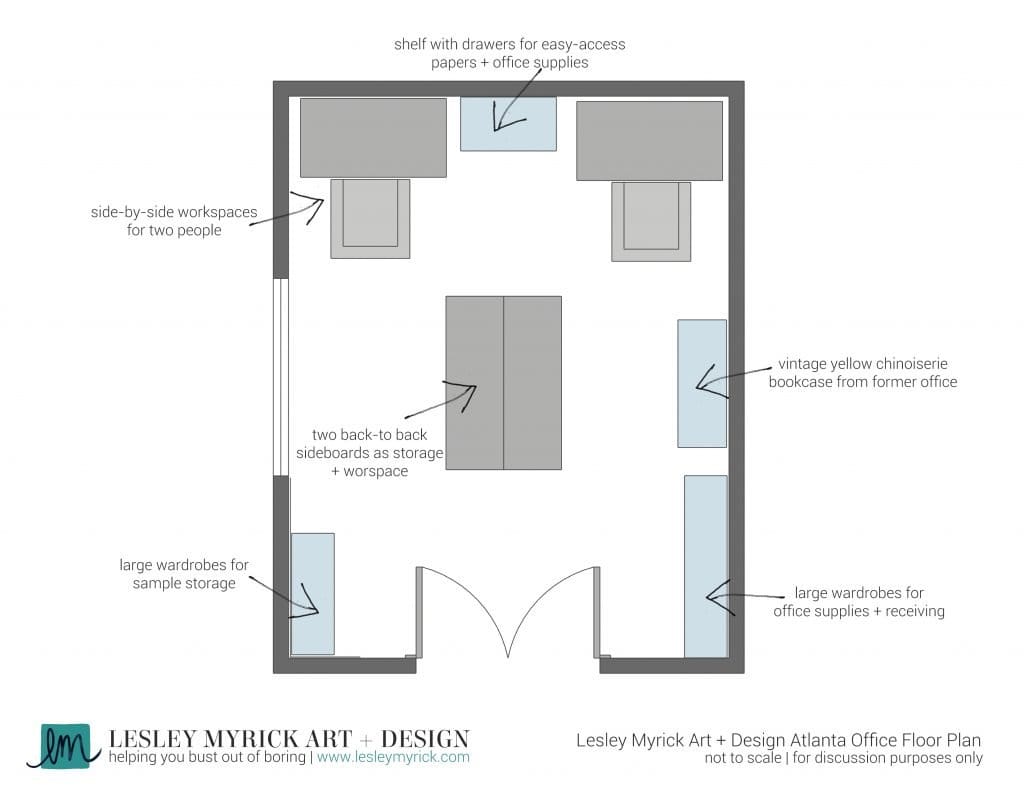 Definitely bigger than it looks in the photo, right? The plan is to create two workspaces (one for me, one for an in-person assistant); a large island with a generous work surface for spreading out samples and working on client projects; and building in wardrobes with customized storage for fabric books, tile and flooring samples, catalogs, and all the other design-related collateral that's essential to have on-hand.
And here's the plan for after: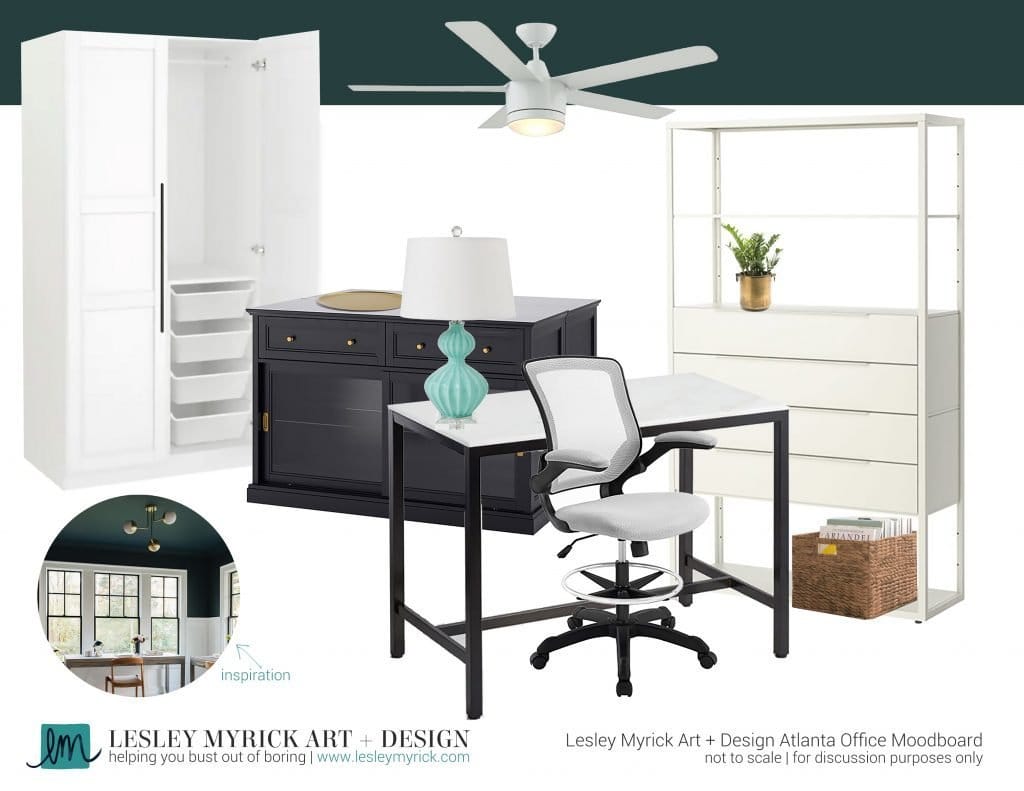 Aesthetically it's all about black and white with a dramatic dose of teal on the ceiling and part of the walls. I fell in love with the inspiration image above by Jean Stoffer Design and wanted to re-create the vibe. The walls will mainly be my favorite crisp white, Sherwin-Williams Extra White, but the ceiling and a 2′ band at the top of the walls are gonna be Cascades, the prettiest dark teal. The tall marble-top desks, modern ceiling fan, and center island are what my podcast co-host and designer bestie Kate has in her home office, and I've been obsessed since I first saw her space.
The after photos are coming at 'ya soon! (You can also sneak a peek of the completed Atlanta interior design office each Monday at 9amCT on the Bust Out Of Boring live show on Facebook and Instagram.)