The Best Design Investment I've Ever Made
Last week you heard all about the worst design investment I've ever made, which was my (beloved!) teal faux-leather sofa. Long story short, we didn't invest in leather, the upholstery material disintegrated after just a few years of use, and we had to replace the entire sofa. I learned the hard way that when you buy big furnishings, it's essential to buy the best quality you can afford. So after that colossal mistake, today I want to flip it around and share the best design investment I've ever made. And that is…
…the very same faux-leather teal sofa that fell apart.
Hang with me for a minute. Purchasing that teal sofa – committing to something so bold and statement-making – was a massive turning point for me as a designer. My husband and I went into the showroom thinking we were going to get a grey sofa. Classic, pretty, and super-safe. But then I found that teal faux-leather and I fell in love with it – and all of a sudden it clicked. This was it!
This is what I wanted for my home: an amazing centerpiece in my living room with a personality and a unique point of view.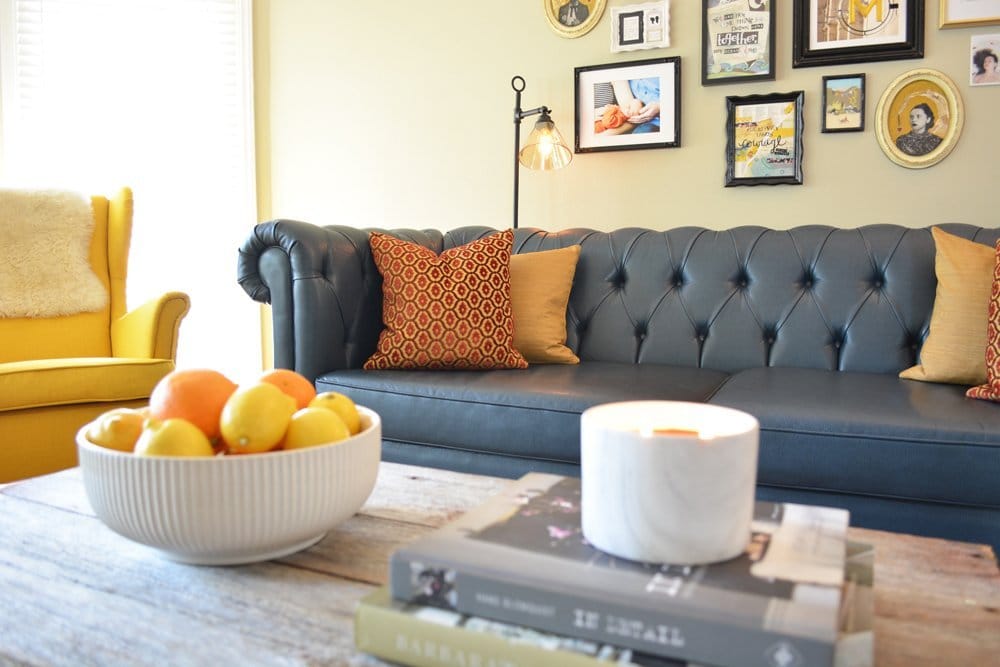 In that moment not only did I tune in to what I really, really wanted deep down, but I learned more about me and my style. (Did you know that I didn't even know teal was my favorite color until then?)
It's crazy to think we were planning to buy a nice demure gray sofa, but instead came out with something that really was a true statement piece. I felt empowered by making such a confident and daring design decision!
While a sofa that falls apart after a couple of years is a sucky design investment for the home, that that sofa was a great investment in me as a design professional. I learned a ton about sofa construction, finishes, upholstery materials, cushion fill and sizes, and all the structural components that go into making a couch. I definitely don't count that whole process as a loss.
So, the worst design investment I ever made is also the best design investment I've ever made. That "mistake" was an opportunity to learn more about who I am and what I want in my home.
If you love teal, embrace it with an incredible teal sofa you love to curl up on with your kids. If you love pattern and color, make your home a mix of patterns, colors, and styles that feel uniquely, beautifully, authentically you. Your home won't look like every other one on the block, and that's okay! In fact, I think it's totally awesome.