What's The Best Material for Kitchen Countertops?
One of the most critical questions to consider when planning a kitchen remodel is: what's the best material for kitchen countertops? There is no shortage of great-looking options, each with its own pros and cons. Keep in mind, there is no universal best, because we all have different needs, tastes and budgets, but making an informed decision is key to loving your kitchen long-term. Let's break down seven of the most popular types together, so you can choose the best fit for your home.
Option #1: Granite
We all know and love granite. It is durable, heat resistant, very low maintenance and known to increase a home's value (cha-ching!). The biggest downside to granite is it can be ugly. There is some really basic, crappy looking granite out there. And it can also be a little expensive. But, if you have the budget to splurge on a beautiful slab that's sealed properly, you'll have a solid, easy to care for countertop that will last.
Option #2: Marble
If you've been on Pinterest lately, you probably know that marble is all the rage right now. Marble is usually a white or a very pale gray with additional gray veining running through it. When sealed properly it's waterproof, heatproof and definitely adds value to your home. Let's be honest – it's just purrrdy! It's one of the nicest looking countertop options on the market today.
But real talk, it's expensive and a little lacking in durability. Marble can easily scratch and stain, both of which can be difficult to repair. When you consider initial cost, it can be a real bummer to notice visible wear and tear and not be able to restore it's original beauty. So, proceed with caution.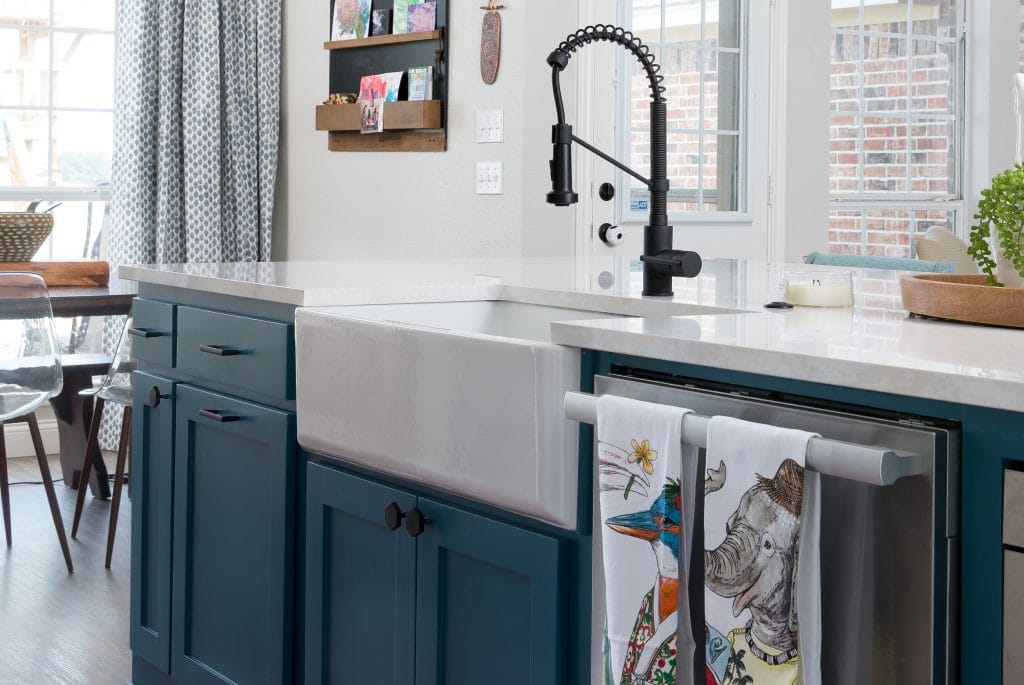 Option #3: Quartz
Next up, quartz. Quartz is an engineered stone that's easy to maintain. With quartz, you get the look of marble with increased durability. (The countertop in the photo above is quartz.) And because it is a manmade product you have uniform, predictable slabs. So you can get the aesthetic you want with much more certainty than with granite or marble. You can also control the thickness and detail of your edge, which is a nice perk.
The downside? It's expensive and heavy. It can also be very sensitive to heat, even though it looks like stone. That being said, is quartz the best material for kitchen countertops? I'd say it's definitely a contender. In fact, it's a go-to option for a lot of my clients, and they have always been very satisfied.
Option #4: Concrete
Another one of my favorite countertop materials is concrete. We actually installed concrete counters right before we left Texas, and I'm really wishing we had done it sooner. I absolutely loved my concrete countertops and would have loved to enjoy them longer. We actually tinted ours white (a huge advantage to using concrete!), which gave them a beautiful, bright and fresh finish.
Beyond unique aesthetics, concrete is heat and scratch-resistant and when sealed properly it's easy to maintain. You're not going to get the same veining and movement that you would with natural stone, but when considering the best material for kitchen countertops, concrete is high on my list. It's a fabulous option and one of my personal favorites.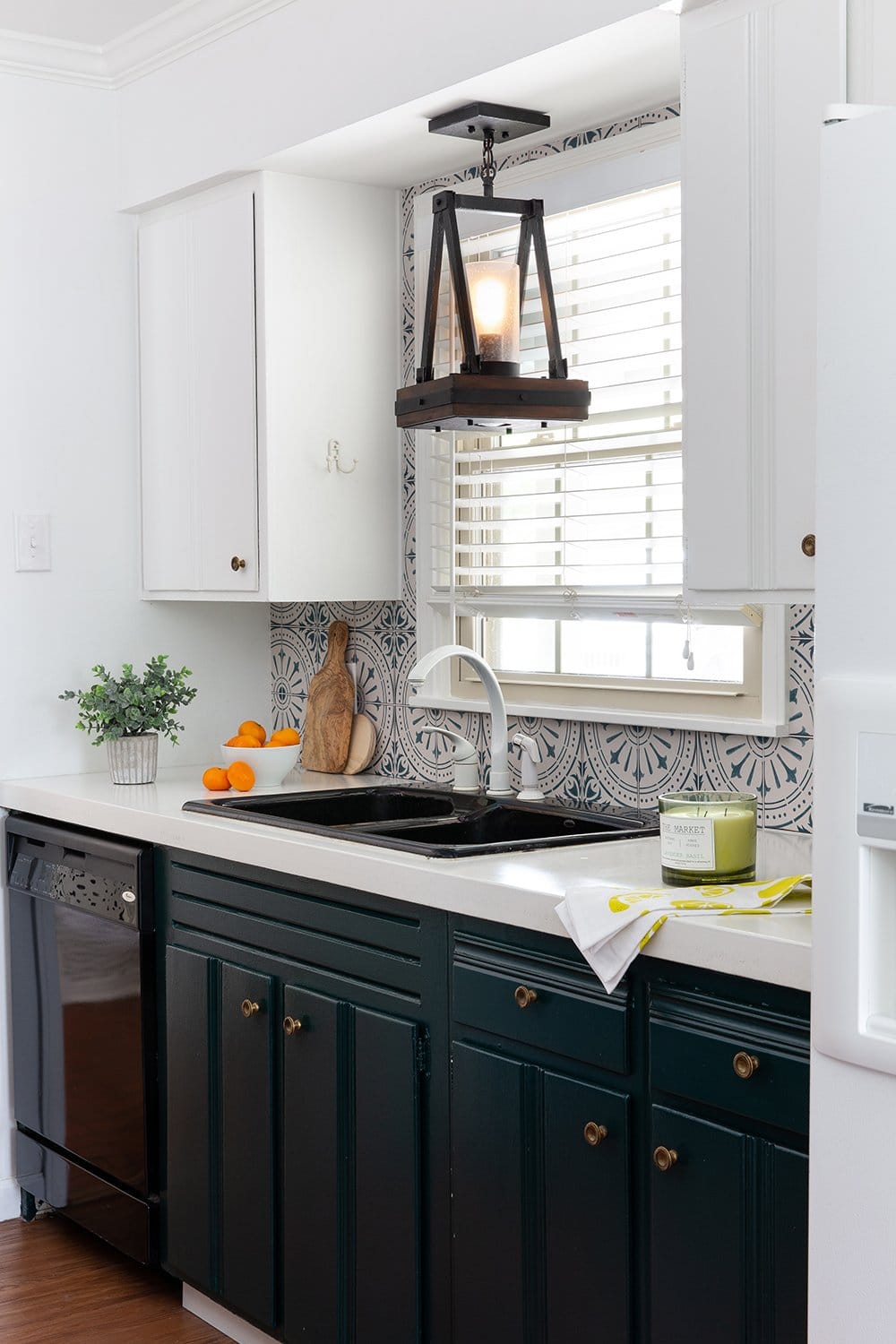 Option #5: Solid Surface
A solid surface countertop (one brand name you might know is Corian) is another great option that flies a bit under the radar. It's stain-resistant with seams that are nearly invisible, but like quartz, since it's a manmade product it is also vulnerable to heat damage. Otherwise, it's a very solid and durable choice for your kitchen.
Will it offer the luxurious appeal of say granite or marble? No. But it's a great mid-range, budget-friendly option to consider.
Option #6: Laminate
Let's talk laminate. It's a common choice for countertops and you've probably heard the name Formica. (Think really terrible 1950s kitchens – all their countertops are Formica.) That's not to say Formica is bad; it's an inexpensive laminate product, and it can be a really good option for a tight kitchen budget.
The key with laminates and inexpensive materials is to select either really light, or really dark colors. Don't go with a middle ground, or you may end up with something that looks drab and disappointing. Go with white or black with an edge detail that mimics stone, and you'll have a solid, budget-friendly option that offers a cheap and cheerful result. Would laminate get my top vote? Definitely not. But it could absolutely serve as a creative solution in the right space.
Option #7: Butcher Block
Last but not least is wooden butcher block. If you're looking to add a bit of rustic charm to your home, look no further. Kitchens can often feel cold, sterile and hard, but wooden butcher block infuses so much warmth, texture and character. Not only that, butcher block is also really durable and can be sanded and resealed as needed to make it look like-new again.
The downside? Water and bacteria can damage butcher block countertops. But with the right repair, and the right care, they're charming and long-lasting.
So, what's the best material for kitchen countertops?
Unfortunately, only YOU can answer that because it really depends on YOUR needs, YOUR lifestyle and YOUR budget. I do hope the options we talked about give you some food for thought and help bust through the overwhelm of not knowing where to start.
If you're considering a kitchen remodel you can grab our free essential kitchen design checklist, which will help massively with planning budget and to-do items, or even book a consultation call to discuss your project in greater detail. After all, a kitchen upgrade is a big investment of time and money, so it's well worth getting it right!