What's The Best Material for Kitchen Countertops?
What's the best material for kitchen countertops? Marble? Granite? Concrete? Laminate?
I've tried a bunch, and here's what I've learned:
Can't view the embedded video above? Click here. Prefer to read? Edited transcript is below.
Hey everyone, Lesley Myrick here, and I'm here to help you bust out of a boring home. Join me every Wednesday LIVE at noon CT.
Today we're going to chat about kitchen countertops, and specifically, what is the best material for kitchen countertops.
There are so many awesome choices out there ranging from really expensive and mass-manufactured things like Formica to interesting custom-made concrete, beautiful granite, and stone. And there really are a ton of choices!
So what is the best material for kitchen countertops?
That's going to completely depend on your needs, your lifestyle, and your budget.
What I have experience with is the usual inexpensive Formica, tile countertops, I've had granite in all different homes I've lived in, and most recently, we did concrete countertops in our kitchen.
Let me tell you a little bit about each of those,
as well as quartz countertops (a synthetic stone) and marble. That's one people always want to know if they can use marble for their kitchen countertops.
I'm going to answer that one right now – and I say no. Marble is a really tricky material. It's beautiful, but it's porous. Even when it's sealed, even when it's protected, marble is really easily stained, chipped, and damaged. It's a very high-maintenance material for a kitchen countertop and for that reason I don't typically recommend it for my clients. You can get away with it in a bathroom, especially a small powder room, but anywhere you might have oil (like olive oil or cooking oils), wine, anything that's going to be hard on your beautiful white marble, it's probably not the best choice for that space.
What I think is a great alternative is a man-made quartz product or concrete.
We just did white concrete counters in our kitchen and I cannot wait to photograph that space and show it to you. It looks really cool. It has that organic stone look, but it is really durable, low-maintenance, stuff doesn't stain, it doesn't chip or dent easily. It's such a nice change from the horrible kitchen counters that came with our house which were 4×4 tiles full of grout lines and nooks and crannies and were not a great countertop choice. I'd never recommended applying tile to a countertop just for the maintenance and "yuck factor" of having grout on your kitchen countertop.
Concrete yes, marble no.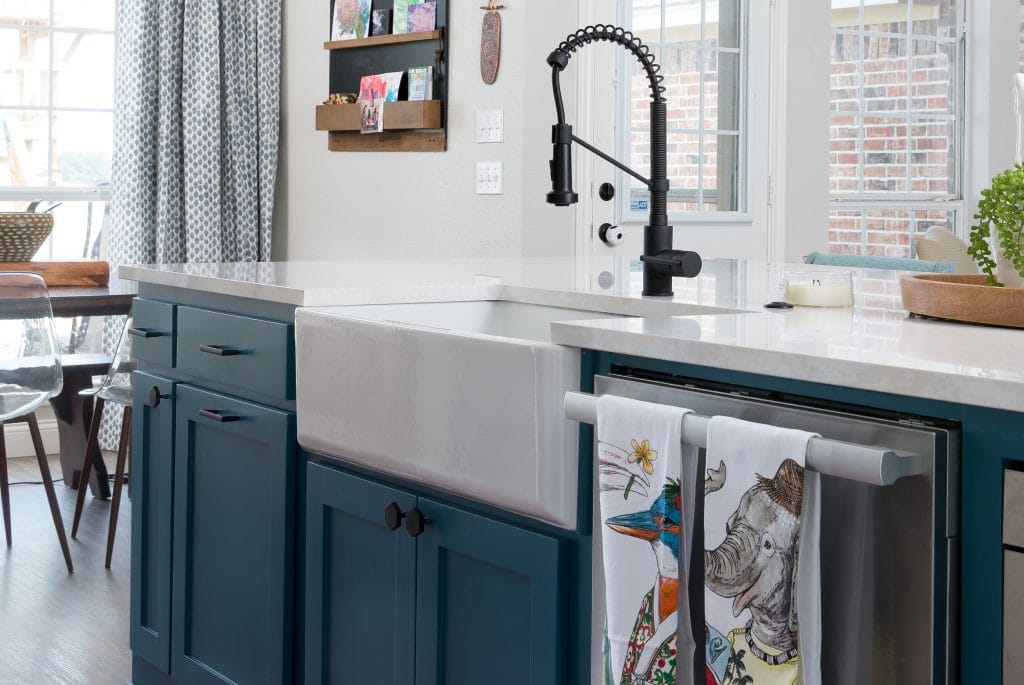 Quartz? Also a really, really great choice, and you can see it in action in this colorful Waco kitchen. It is man-made so you can get multiple slabs that look the same if you need that look for a project. And what I like about it is that it has the look of a higher-end marble but it's more durable and will last longer with less maintenance.
A lot of quartz slabs are so convincing and look like stone that you wouldn't immediately know it's a man-made product.
I think granite is always a good choice.
There is some incredible stone out there, everything from the lower-end slabs with lots of beautiful flecks, to more high-end granite that has beautiful veining running through it. With granite, the less detail that's in the pattern, the less expensive it's going to be. So what you'll see a lot, especially in new home construction, is granite that has little flecks and not a lot of large-scale pattern running through it.
We know that granite and stone are high budget-wise, and sometimes you've gotta pull off a kitchen remodel with a lower budget. If that's the case, there are times that synthetic products like Formica or similar brands that can look really convincing if you do them right.
I find with lower-end products like that the trick is to look for colorways that are either really light, or really dark.
When you get into the mid-range of colors that's when things tend to start looking fake and cheap. But a lot of times with lower-end products if you stick with stone looks that are white, light grey, or cream, or deep charcoal or black, from a distance they can actually look pretty convincing.
One trick I use if someone does want a lower-end kitchen counter like that is to make sure you do a really nice clean, simple edge detail – one that could also be replicated on genuine stone. It's a dead giveaway when you have a countertop edge that shows a seam, or you can just tell it's not real stone. I like to keep edges really simple and clean. Usually just a square edge, maybe with a little bevel on it. Don't try to get too fancy with detailing on it because it's going to be a dead giveaway that it's not the real thing. Even with real stone products, I still prefer an edge detail that's clean and simple and doesn't take away from the natural beauty of the material.
So here are my picks for the best material for kitchen countertops.
I've lived with everything from Formica, tile, concrete, granite. I've put quartz and other products in clients' homes. It's really interesting to see how things look when they're installed versus how you see them in a showroom.
I've been super happy with our concrete counters and I would totally recommend them. Quartz has been a great material. Marble is a no for me! And always in a pinch, Formica. That stuff can look good if you know the right colors, patterns, and edge details to look for.
We're covering all things kitchen on the blog this month, and if you haven't already grabbed my free eBook, Bring Personality To A Boring Space, text the word BORED to 444999 and we'll hook you up.