What I Wish I'd Known About Buying Accent Chairs
Confession time: I've made some major interior design mistakes before. Instead of letting them bum me out, I'm choosing to learn from them and share them with you so that you don't make the same mistakes I did! I've purchased a lot of furniture for myself and my clients over the years, and here's what I wish I'd known about buying accent chairs.
What I Wish I'd Known About Buying Accent Chairs
See these beautiful cognac leather wing chairs? I LOVE THEM. The leather is buttery soft and perfectly distressed, the nailheads are antiqued just enough to look legit, and the high back and wings are beautifully proportioned.
All of those things I was able to discover with material samples, online images, and detailed dimensions.
But what I didn't do before buying these chairs was butt test them.
No Butt Test = No Bueno
While I thought I did my due diligence by ordering samples and confirming measurements, what I didn't do was get my body into a showroom or store to actually sit in these chairs.
What I would have discovered is that while beautiful, they're very upright – and I was hoping for a chair that was a bit more relaxed and slouchy. The nailheads down the wings and arms look great, but they hurt a bit when you rest your arms on them! While these chairs would be amazing for a more formal living room, I like to curl up and read and these chairs don't quite do it for me.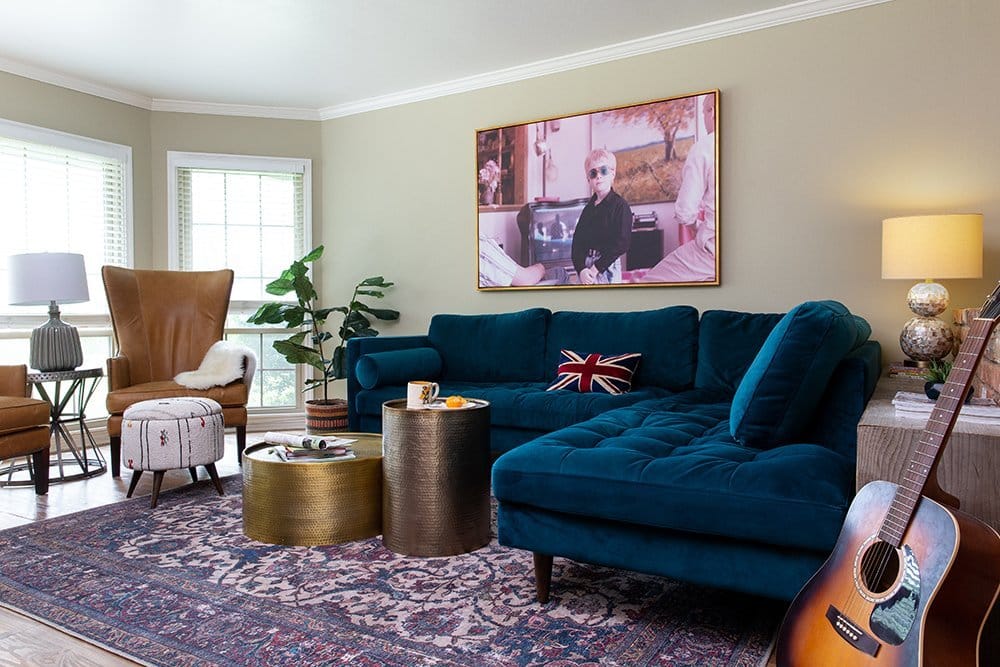 I always recommend trying out seating in person before purchasing.
If you're buying accent chairs, or a sofa, or another piece of upholstery, it's worth the time and effort to see if a local store or showroom has one on the floor that you can test before purchasing. Everyone likes different things about their seating – firm or soft seat cushions, loose or tight back cushions, a square or scooped arm. The best way to tell if a piece of furniture is right for you, your lifestyle, and your needs is to sit in it and see how you feel. You'll know right away if it's the right piece for you.
But what if a Butt Test Isn't Possible?
I've purchased most of my furniture (and so have most of my clients) without getting to sit in it first. It's not always possible to get your booty into a furniture sample, especially if you don't live near the vendor you're ordering from, or the piece is being custom-made for you. Here's what I recommend instead.
3 Tips for Buying Accent Chairs Online:
Carefully read reviews. Look for comments that talk about fit, comfort, and durability of the piece. Take outlying complainers with a grain of salt – but if you see several comments about one particular aspect of the chair, pay attention.
Measure an existing piece of furniture that you have and love, and compare measurements. If your current accent chair has a seat depth of 22″ but the one you're planning to order is only 20″ deep, it might be too shallow to be comfortable for you.
Pay attention to how the chair is constructed. Quality construction often means a more comfortable piece of furniture (although not always, as some of that is just personal preference about measurements and proportions). Here's a quick guide to common terms you'll hear when it comes to upholstered furniture construction.