This is a weird tip, but it totally works! Here's how to get a designer look with accessories:
Buy accessories at least big as your head.
Wait, what?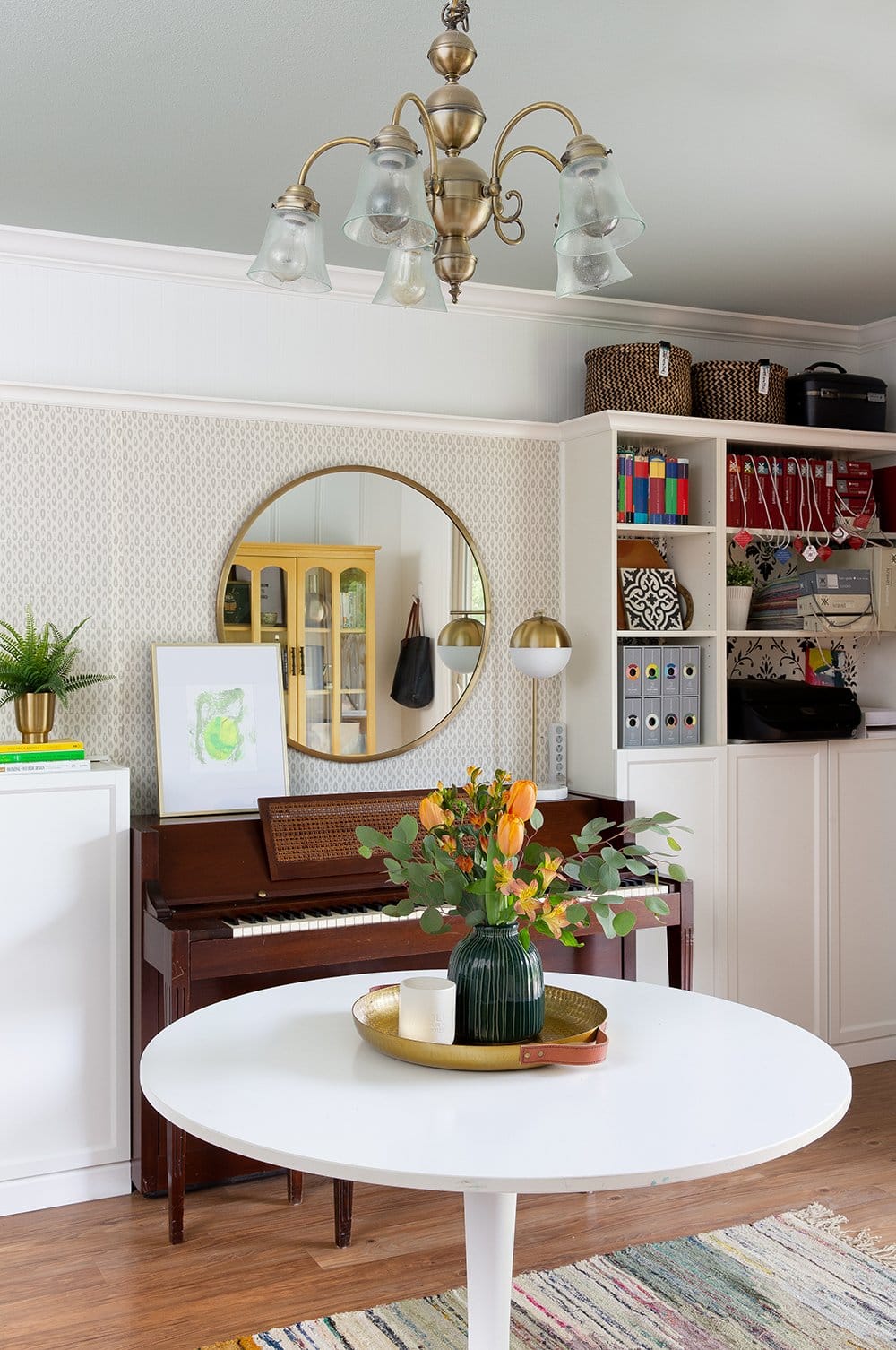 When you look at a design mag or gorgeous interior photos on Pinterest, one of the things that gives a room a "designer look" is the accessories and how they're styled. And if you start to pay attention you'll find that most designers use large-scale accessories.
Check out the photo above. Vase with flowers? Bigger than my head. Framed artwork leaning on the piano? Definitely bigger than my head. Brass vase with ferns? Maybe as big as my head…but on top of the stack of books, it's bigger for sure.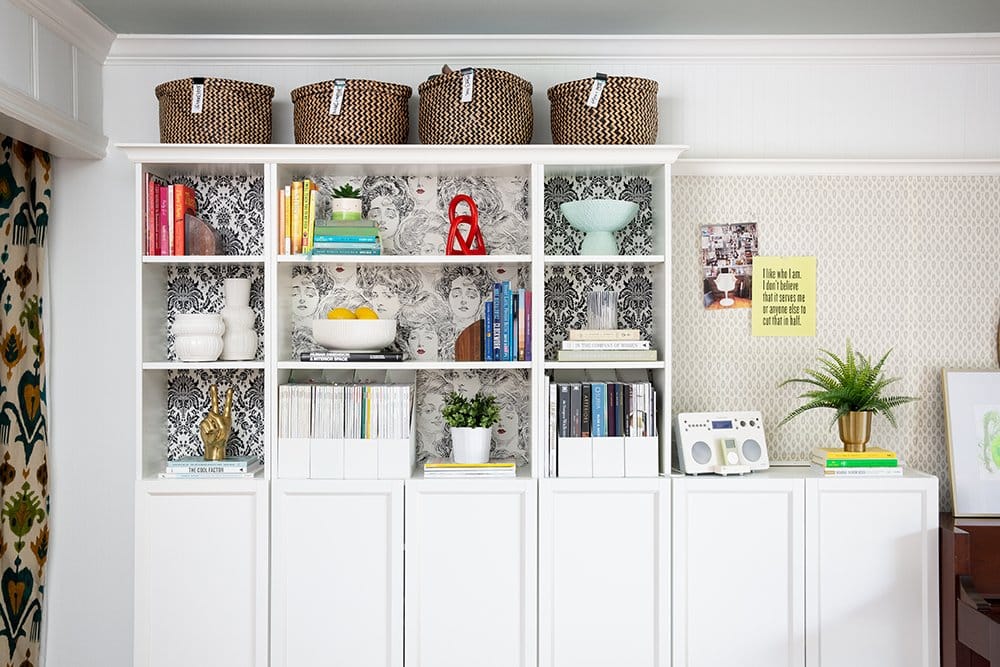 Small accessories tend to look like clutter, even when they're grouped together. Think of your Grandma's china cabinet. No matter how organized and neat all of those tchotchkes were, that thing looked like a hot mess!
If you want to get a designer look with accessories,
fewer larger ones are far more effective than a collection of curiosities.
Large vases, bowls, plants, bookends – and even brass peace-sign hands – look awesome as styling accessories. And if something's feeling too small, place it on top of a stack of hardcover books or a decorative box to give it more importance.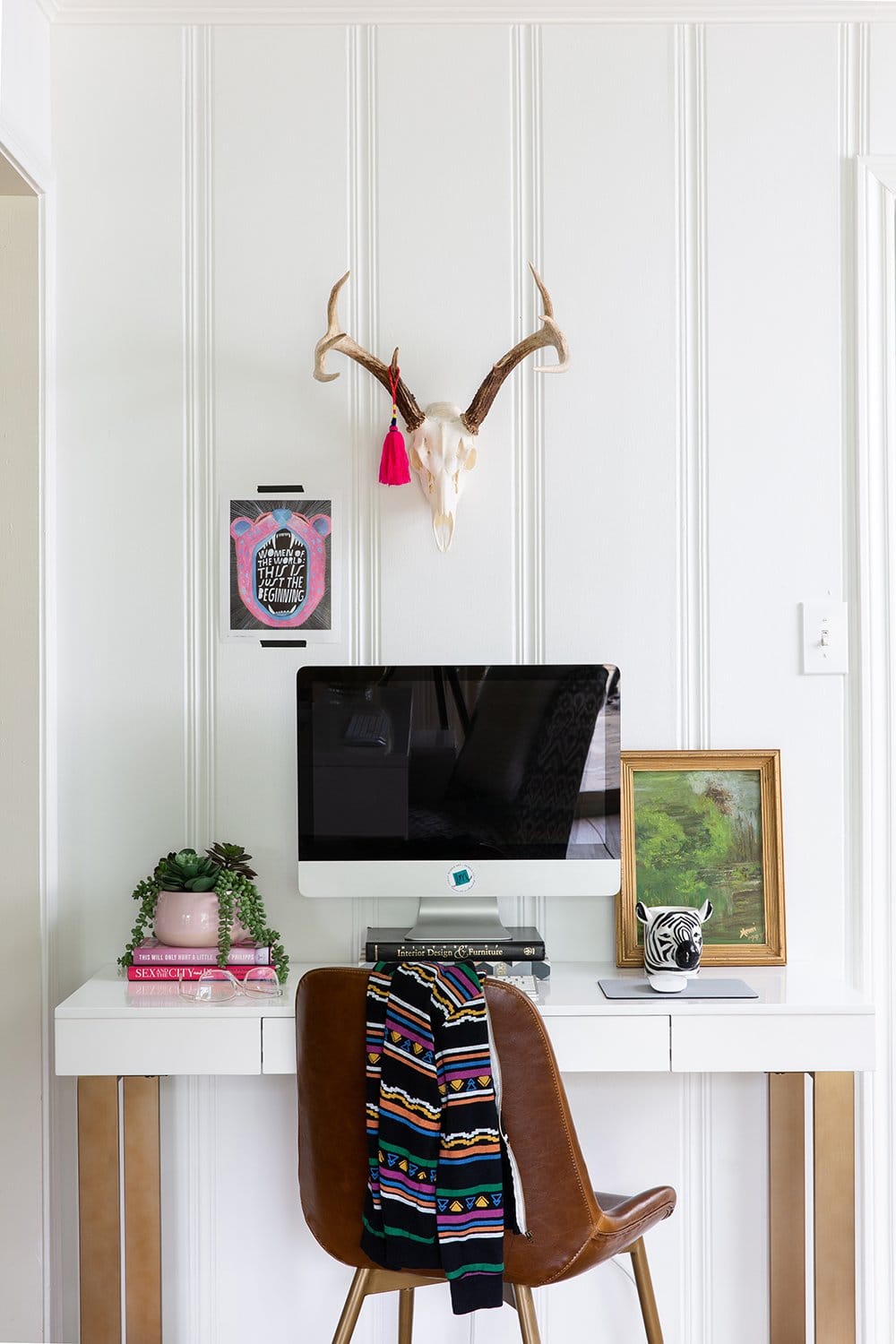 What about candles, you might ask? They're not usually as big as your head.
Yup, you're right. I'd consider candles the exception to this rule. But it the majority of your accessories are as big as your noggin, a more delicate candle will be a welcome visual change.
With a few styling secrets like this in your back pocket, you can get a kickass designer look in your own home too. And I've got a FREE printable Cheat Sheet that you can unlock right here to help you out when accessorizing your own home.
I had originally planned this post to be a roundup of 10 of my favorite design books. But as I was thinking about what books to include, I realized that it's not just beautiful hardcovers about interior design that have had the biggest impact.
These 10 books have genuinely changed my life with their beauty, inspiration, and teachings. From design to style to art to mindset to finance, they've all played a part in growing me as a designer, business owner, and badass human being.
If you're looking for a little summer reading, may I recommend the following?
Domino: The Book of Decorating
Domino is the bomb-diggity and I've been obsessed since day 1. I am a minimalist and am ruthless about letting go of what I don't need or love, but my collection of Domino magazines aren't going anywhere. Domino: The Book of Decorating is an awesome illustrated guide for anyone who loves design and wants to learn the basics to apply in their own home.
Spilling Open: The Art of Becoming Yourself by Sabrina Ward Harrison
Spilling Open is the reason I got started with collage art. Sabrina's raw, imperfect style was so revolutionary at the time (this book came out in 2000) and had a tremendous impact on me, personally and creatively.
Branding + Interior Design by Kim Kuhteubl
Kim has been my business coach and I learned so much from her about getting comfortable with being visible from her personally and in Branding + Interior Design. I struggled for a looong time with putting a Press page on my website – I kept trying to bury my press mentions on another page or downplay them altogether. (Crazy, right?) Kim's guidance about visibility and strategy in this book have set a strong foundation for my business.
In The Company of Women by Grace Bonney
Hey, female entrepreneurs – you need to read In the Company of Women. I was expecting the book to be pretty good, but I can't event tell you how empowering it is to read the business success stories of these badass women. It's an inspirational kick in the pants.
You Are a Badass by Jen Sincero
And speaking of badass women – Jen Sincero is my spirit animal and my business bestie but she has no idea. You Are a Badass is such a stellar guide to owning your greatness and killing it in life.
You Are a Badass at Making Money by Jen Sincero
Jen Sincero is so rad she gets two shoutouts on this list. You Are a Badass at Making Money takes all the awesome from her first book and applies it to making money. Money can be such a taboo topic and I love that Jen approaches it in such a frank, sincere way.
The Truth About Style by Stacy London
What Not to Wear remains one of my favorite shows of all time and I've been a huge Stacy London fan forever. (Confession time: my guilty pleasure is reality makeover shows! I'm currently binging on Queer Eye and 100% Hotter.)
Anyway, Stacy's book The Truth About Style was such a delight to read. I love that the book isn't just about clothes – she does a fantastic job telling the stories of the people profiled, as well as shares about her own story and struggles. Style, like interior design, is so important to our happiness and well-being.
The Cool Factor by Andrea Linett
The Cool Factor features a variety of hip women, each sharing their style perspectives and style secrets. This book definitely made me look at my wardrobe and styling with fresh eyes.
Get Rich, Lucky Bitch! by Denise Duffield-Thomas
Another sassy business mentor, Denise Duffield-Thomas is one of my faves. Her book, Get Rich, Lucky Bitch! is some awesome no-nonsense stuff about removing money blocks (thoughts that are getting in your way of earning money) and living a first-class life.
The Big Leap by Gay Hendricks
The Big Leap is a classic. If you've ever heard anyone refer to working in their "Zone of Genius", this is where it came from. This book has been a game-changer for me in terms of being aware of, and removing, the "upper limits" that have held me back. And let me tell you, working in my Zone of Genius is waaaaay more awesome and challenging than coasting along in the Zone of Competence.
Phew! There you go. 10 books that changed my life. I'd love to hear if you've read any of these – or what books have majorly impacted you. Send me a message on Facebook or a DM on Instagram and let's chat.
"Lesley's Picks: 10 Best" are roundups of my favorite home furnishings. Check out the complete "10 Best" archives here, and find more furniture, home decor, and lighting I love on Pinterest.