How High to Hang a Chandelier Over a Table
It's not as tricky as you might think to figure out how high to hang a chandelier over a table! Whether it's a kitchen table, dining table, or kitchen island, there's a simple guideline to keep in mind:
Can't view the embedded video above? Click here. Prefer to read? Edited transcript is below.
Hey everyone, I'm Lesley Myrick and I'm here to help you bust out of a boring home.
We are on episode 14 of our weekly Facebook Live get-togethers and today we're going to talk about how high you should hang a chandelier over a table.
Now you might be thinking, how is that going to help me bust out of a boring home?
There's a lot of things in home decor where I think you shouldn't follow the rules.
There are so many exceptions to design rules that allow you to be unique, to have your own personality, and make your space yours.
Howevs, there's definitely something to be said for understanding certain design rules and knowing when to apply them and how to apply them to get a really awesome designer look.
Chandelier height is a question I get asked about all the time, and what I see more than anything is chandeliers that are hung way too high.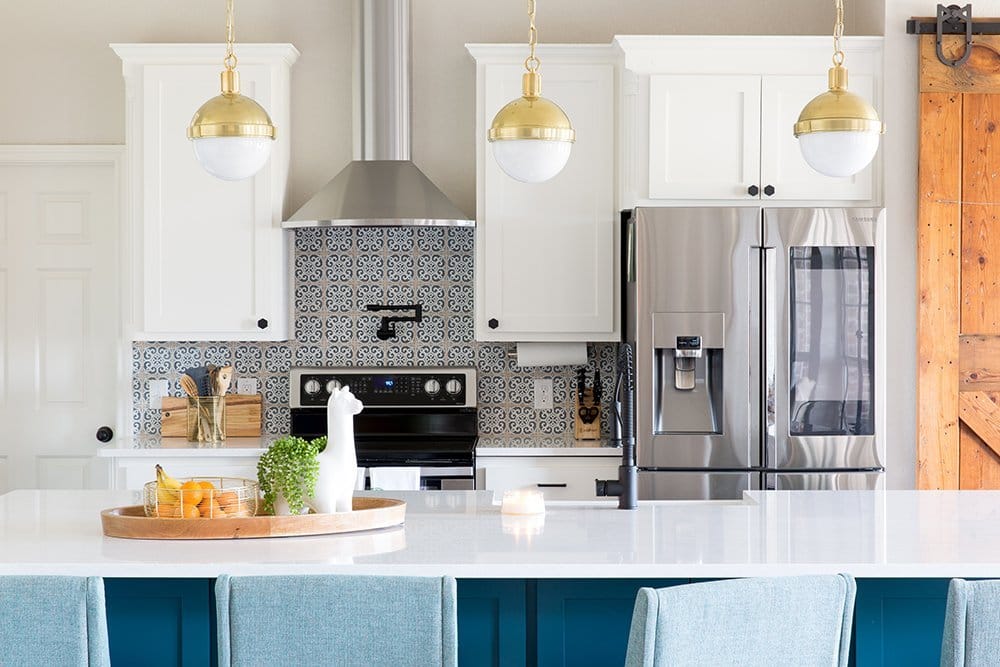 You actually want chandeliers to be a little bit lower than you'd expect.
Here's a very quick rule of thumb for chandelier height. Chandeliers should (you know I hate that word, but in this case it's a word I actually like!) – be hung about 30 to 36 inches above your tabletop.
Thirty inches is usually pretty good if you have standard eight or nine foot ceilings. If you've got ten foot ceilings and it's a very grand space, you're going to want your chandelier a little bit higher so that it feels proportionate in the room.
But there are very few instances unless you've got crazy high ceilings, where you'd want your chandelier any higher than about three feet above your tabletop.
You do want to make sure that when it's hanging it's not obscuring conversation or sight lines.
Or if it's one of those spiky Sputnik styles like mine, that it's not jabbing people in the face when they move around! But those are the great guidelines to get you started with chandelier height.
Similar guidelines apply for kitchen pendants.
When you're talking about hanging beautiful dangling things over an island, don't make 'em too high. It just looks weird, guys. You want most things hung about 30 to 36 inches above an eating or working surface.
There are lots of little secrets like this in interior design,
but you don't know what you don't know. And once you do know how high to hang a chandelier over a table you can do a lot better in your kitchen to give things a really polished finished look – while still being authentic to you.
Leave a comment, come hang out with me, let's talk design and let's work together to make your home totally kick ass and totally un-boring. See ya next week. I'm here every Wednesday at noon CT for Bust Out of Boring.