How High to Hang Curtains
When I first started my design career in Toronto I spent a couple of years as a project manager at a couture drapery workroom, and I learned firsthand the art of crafting a beautiful pair of curtains. This insider information opened my eyes to the transformational power that custom window treatments have on a room – and how terrible most curtains are! So, I'm going to help your windows look so much better with a few tips about how high to hang curtains.
Hang the curtain rod about halfway between the top of the window and underside of the ceiling
Tailor your curtains so that there's a 1/2″ to 1″ break on the floor
Hang your curtains wider than your windows
---
Here's how high to hang curtains.
If you have average eight-foot ceilings, you want to split the difference between the top of the window frame and the underside of the crown molding or the ceiling. To make your ceilings look higher, you can nudge the curtain rod up a couple of inches, or even install it as high as the bottom of your crown molding, as seen in this Texas kitchen.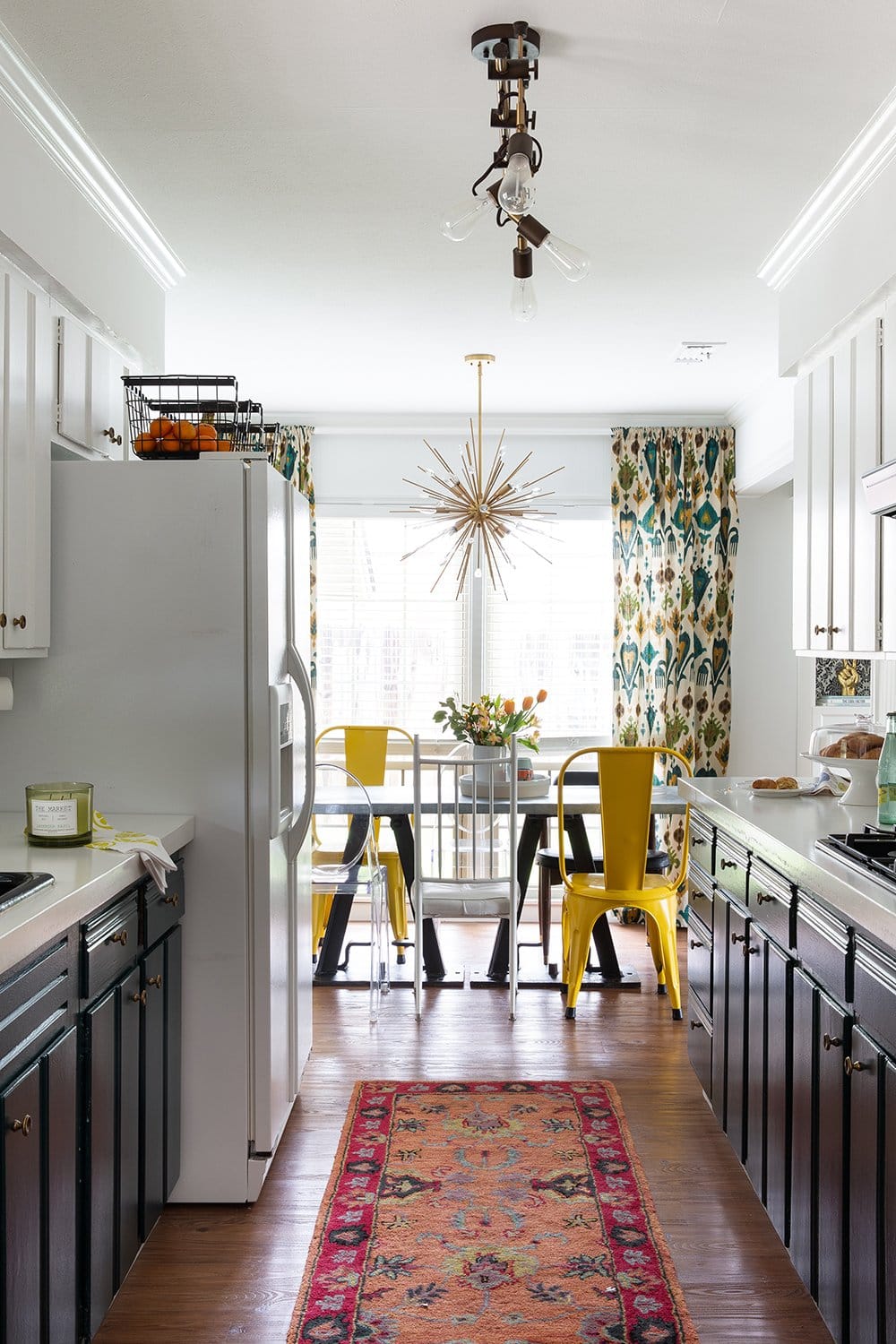 Here's how not to hang curtains.
Can you promise me that you won't commit this design faux pas? Please, do not hang your curtains at the same height as the window frame! I will come and hunt you down. This makes your window – and therefore your room – look smaller and shorter.
How long should curtains be?
If custom window treatments are outside of your design budget and you're shopping for ready-made curtain panels, the most common length you'll see on the shelves or online is 72″ or 84″ long. While that might sound plenty long, that's really only 6 or 7 feet, which is about the height of a standard interior door. That is way, waaaay too short for curtains! You'll either end up with a curtain rod hung way too low (ick), or the bottom of your curtains will be floating a foot above the floor (super ick!).
In a perfect world. I like when curtains have about a half-inch break on the floor. (This means there's about a half-inch of extra fabric on the bottom so the curtains just gently touch the floor.) However, I understand that this involves very accurate measuring and detailed tailoring – and it doesn't account for floors in an older home that are uneven and not level.
Longer curtains will help disguise an uneven floor and are more forgiving. Curtains with a 1″ break on the bottom still look beautifully tailored, or you can let your draperies pool up on the floor if you prefer a more relaxed look.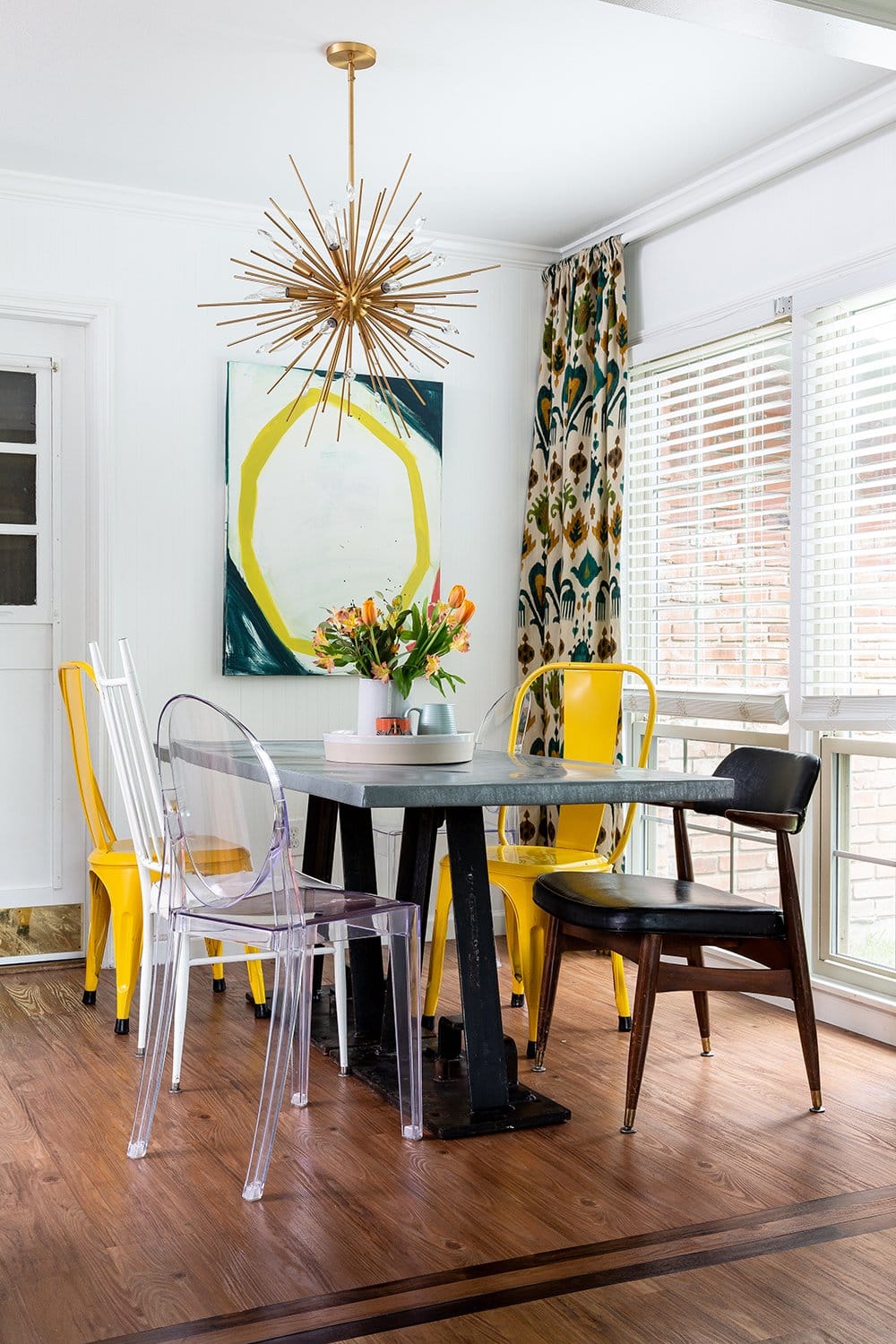 I'll be honest: many of the curtains in my home are puddling because I didn't want to go through the trouble of having them hemmed properly! Plus, I love the look. So it's a double-win. I am all-in for custom window treatments when a more tailored and clean look is desired. But if you're okay with a little extra fabric on the floor, long curtains are super chic.
One bonus tip about curtains.
We've talked about how high to hang curtains and how long they should be, and because I want you to have kickass window treatments you love, I'm going to leave you with one bonus tip about how wide to hang your curtains.
Just like you want to cheat the height and hang the curtain rod higher than the window frame, you'll also want to cheat the width and hang your curtain panels wider than your window, with just a little bit of the curtain panel covering your window. This way, you are going to see the most window possible and it's going to give the illusion that your windows are much wider than they are. It's one of those subtle differences that gives a room a professional look.
If there's just one thing to remember about how high to hang curtains, it's that higher is better! By hanging your curtains both higher and wider than your windows, you're going to create the illusion of larger windows and ensure that your room has a polished, designer-worthy look.