How to Choose Lighting for a Kitchen
Your kitchen lighting – just like your diet – needs balance to be healthy, happy, and functional. If you're wondering how to choose lighting for a kitchen, there are 3 types of lighting your kitchen requires, and I'm going to give you the scoop on all three.
Disclosure: Some of the products featured were sponsored by a brand I use and love for myself and for my clients, Lamps Plus. Thank for your support!
We do a lot of stuff in our kitchens,
from cooking to cleaning to homework to entertaining to eating ice cream out of the carton in front of the freezer late at night. (No? Just me?) And one of the BIGGEST differences between an average kitchen and a phenomenal one is lighting.
Nope, not cool backsplash tiles or cabinet knobs – it's lighting.
So, what are the three types of lighting your kitchen needs?
Ambient, task, and accent lighting.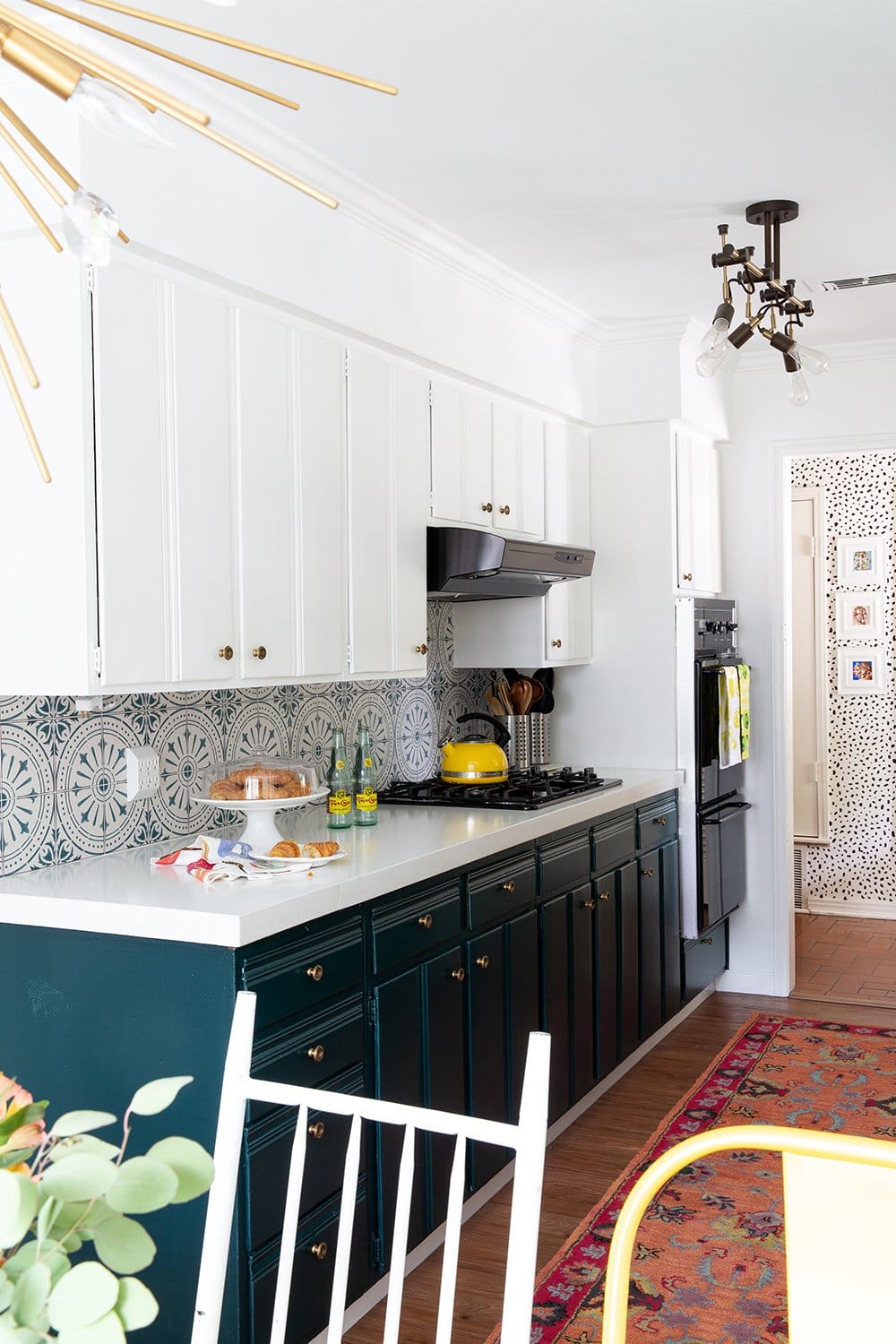 Ambient lighting…
…is the main source of light in a room, and it needs to cast general light everywhere. In modern kitchens, ambient lighting is most often seen as recessed lighting (also called can lights or pot lights), but since my Texas kitchen was built in 1959 and had no recessed ceiling lights (UGH!) we chose this cool industrial-inspired 4-light oil-rubbed bronze track fixture instead.
I don't love the look of most track lights – I find them too modern and sterile – but I loved the warmth of the oil-rubbed bronze and antique brass. Plus, give me an Edison bulb any day of the week! I love the cozy, vintage glow.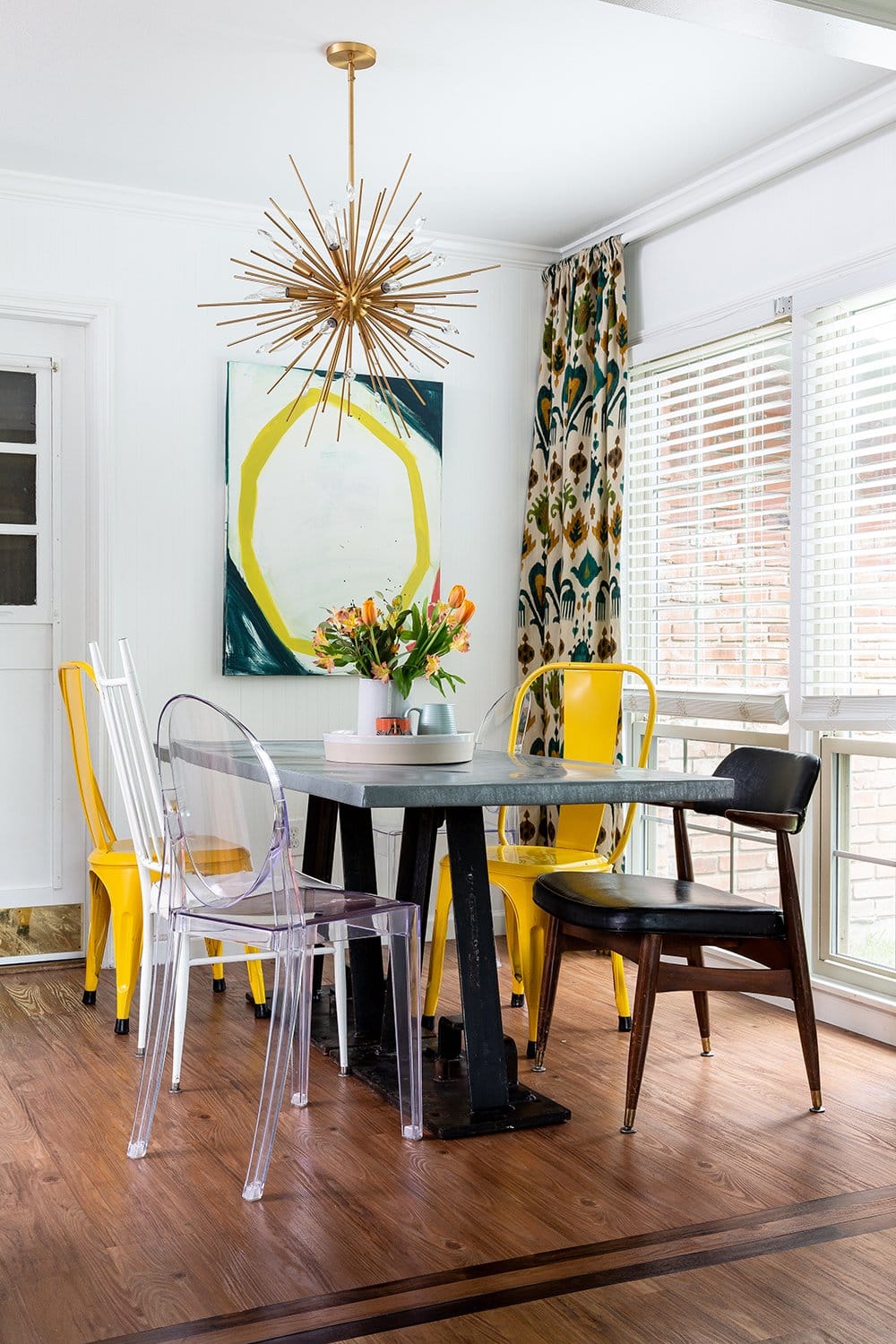 Task lighting…
…is designed to bring extra illumination to areas where specific tasks happen (like chopping food or eating ice cream standing in front of the freezer). Ambient lighting is a great start, but doesn't cut it on its own.
We installed an antique gold Sputnik-style chandelier to light up the table in our eat-in kitchen, and also a Kichler wood and iron mini-pendant over the sink. Pendant lights over an island are also a great example of kitchen task lighting.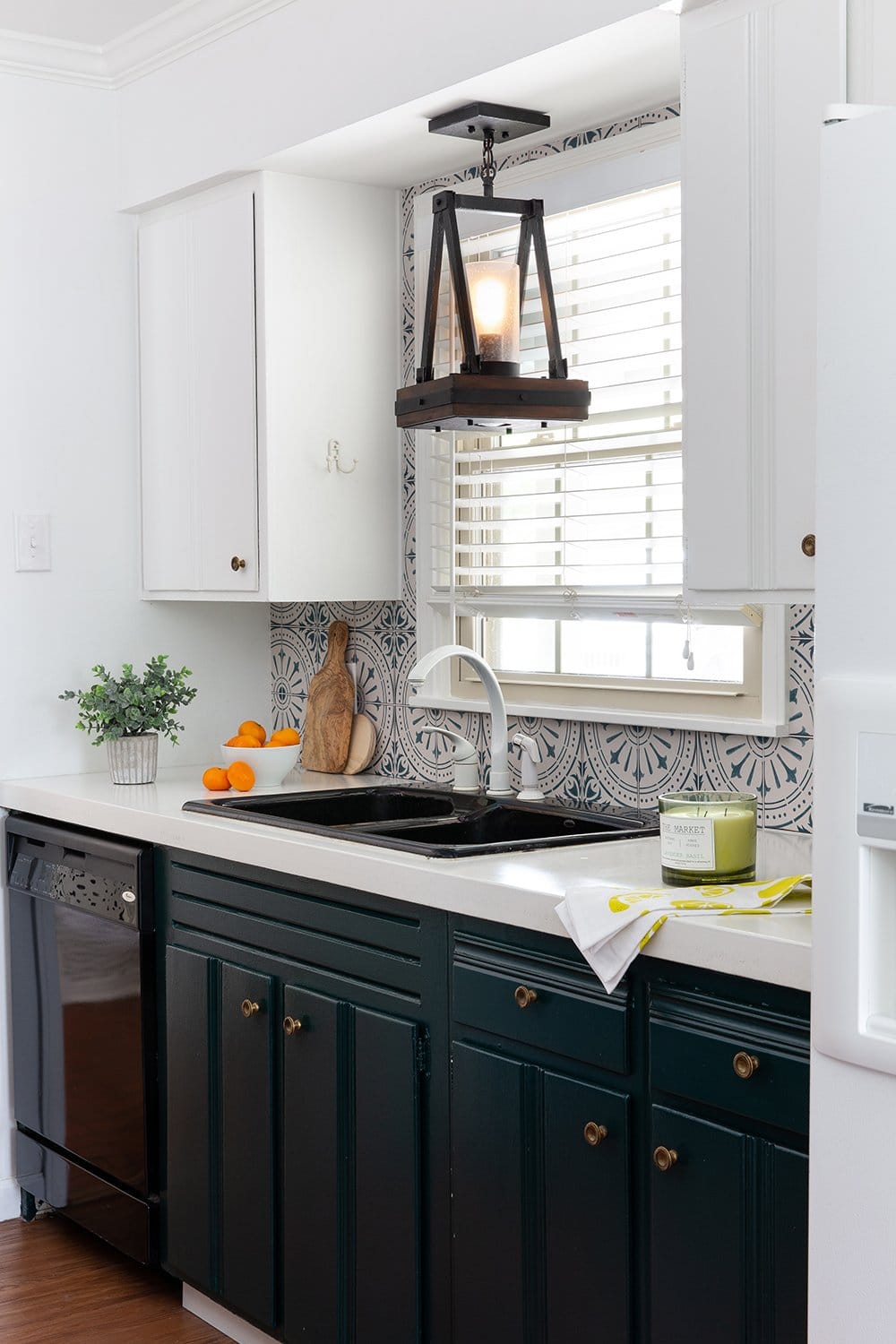 Finally, accent lighting…
…brings that little extra bit of zhush to a room. To continue with talk about ice cream, think of it like you've got the sundae (ambient lighting) covered in whipped cream (task lighting), and now it's time to add the cherry on top (accent lighting).
Accent lighting creates a magical glow that makes a space more special. In a kitchen, you'll often find accent lighting as under-cabinet lighting, above-cabinet lighting, toe kick lighting, or even in accent lamps. While the under-cabinet lights are off in these photos (because natural light is where it's at for interior photography), know that I love and use under-cabinet lighting all the time.
Now that you know about the three main types of lighting a room needs, it's time to talk about:
how to choose lighting for a kitchen.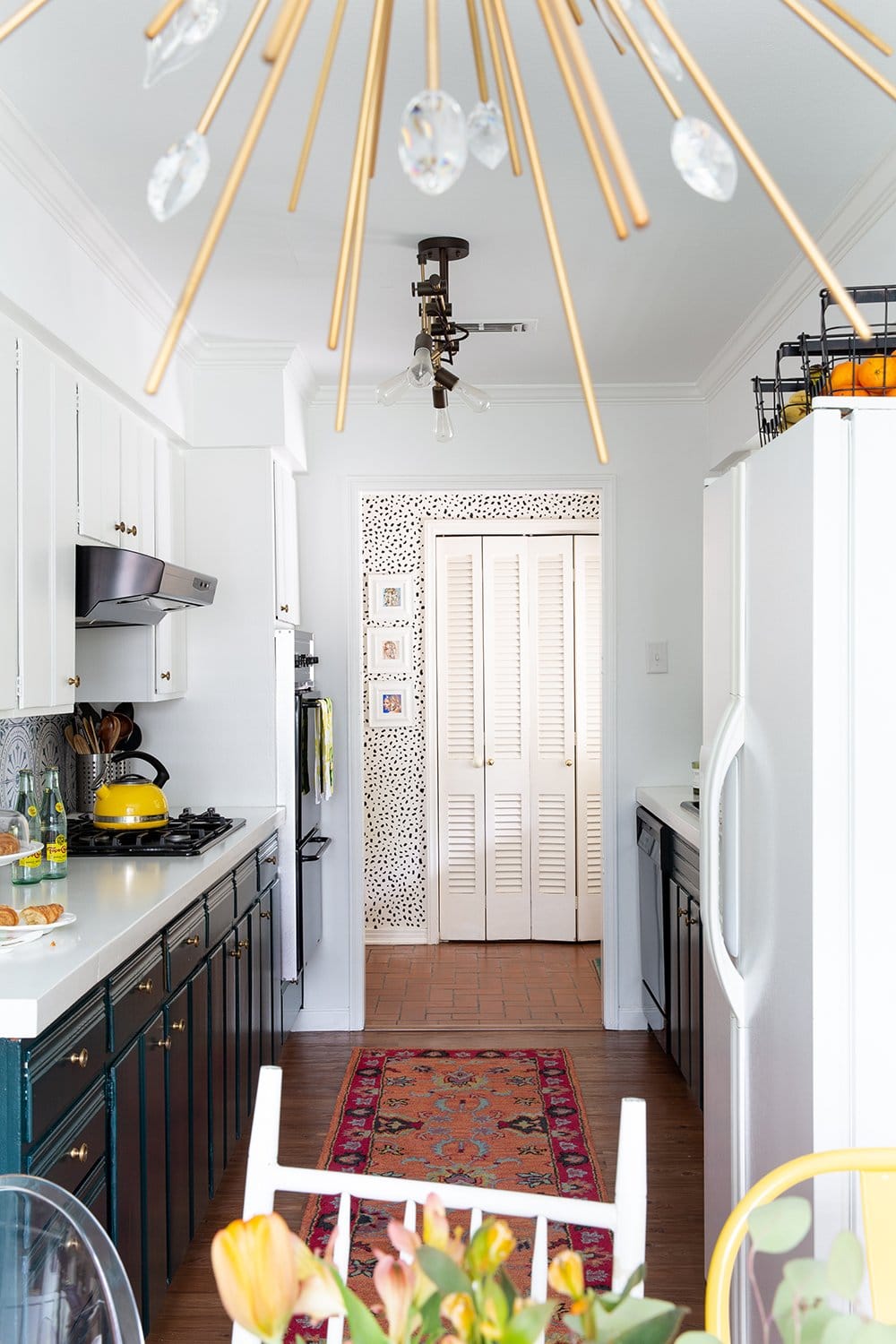 First, I refer to my Essential Kitchen Design Checklist! Having this checklist as a guideline helps me start and manage a kitchen design with confidence, and I hope it will do the same for you. Download it totally free, right here.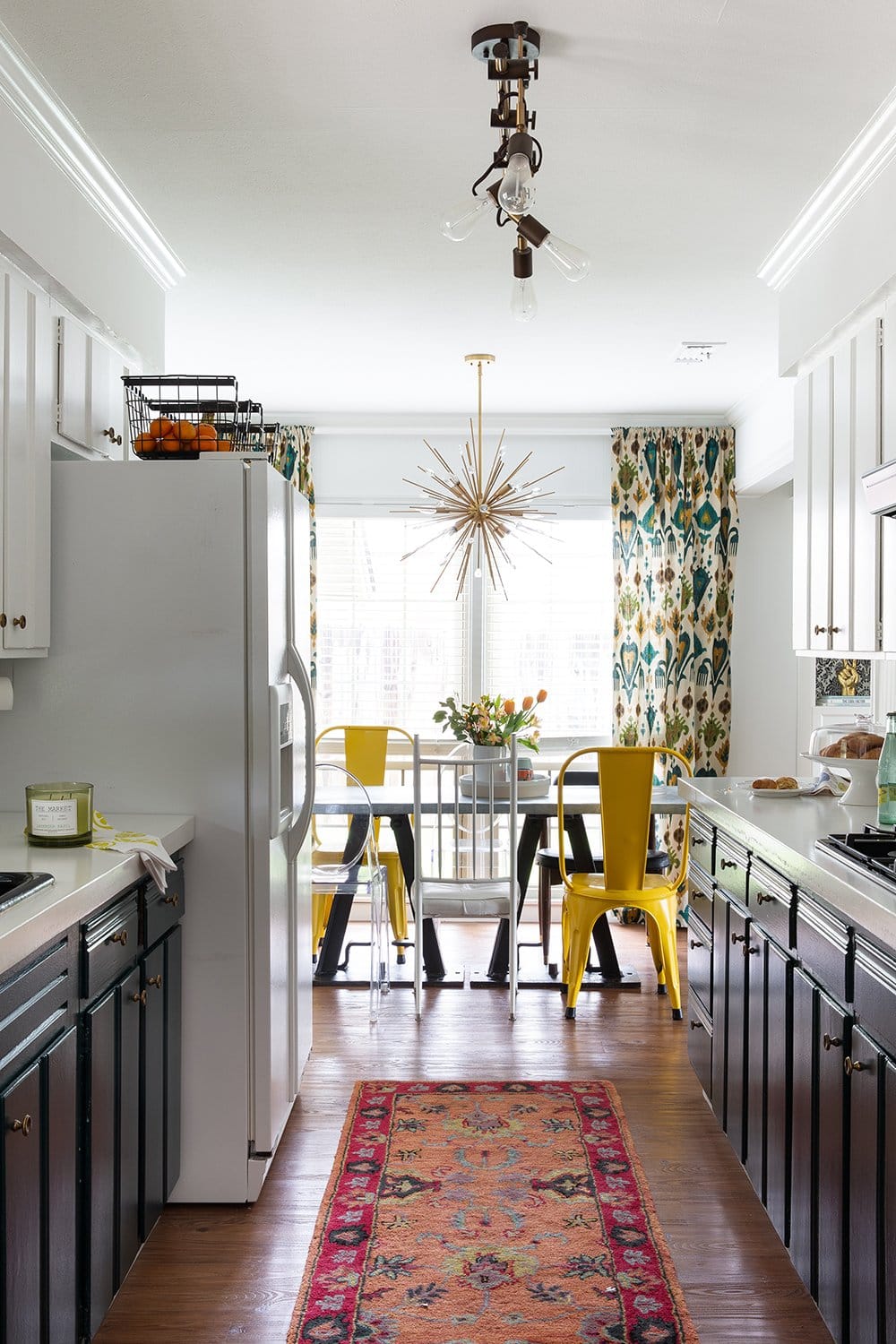 Second, I take inventory of what lighting I have that's working, what fixtures need to be replaced, and what additional lighting needs to be added by an electrician. While keeping in mind that I need all three types of layered lighting – ambient, task, and accent – I make a list of all the light fixtures I'm looking for, from recessed lights to pendants.
I don't start my search in the dark (LIGHTING PUN!). I make sure I have a list and a plan so that I can get the best result – and the best-looking kitchen – possible.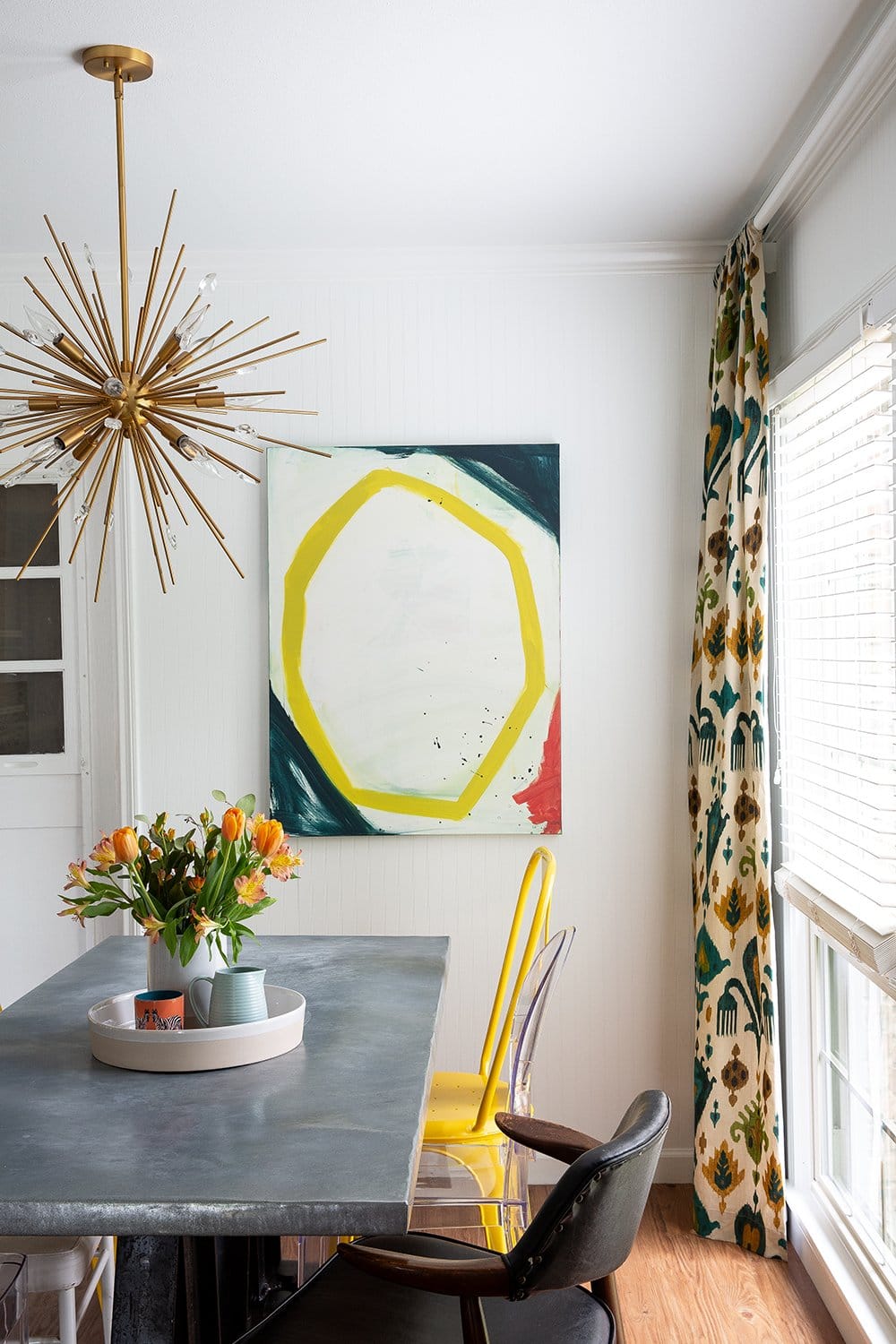 And last but not least, I go shopping! I'm a big fan of sourcing online, and Lamps Plus is one of my fave secret sources for cool, affordable lighting.
FYI, I pay really close attention to customer reviews to see if there's anything I need to be aware of (like, if the fixture looks more brassy in person than in the photos) and I also carefully check the dimensions of the fixtures before ordering. Those measurements are essential when ordering online – you might end up with a chandelier that's way smaller (or way larger!) than you expected if you're not carefully checking dimensions.
If you're thinking about updating your kitchen lighting,
or if you're considering a full remodel, be sure to grab the FREE Essential Kitchen Design Checklist to help get you started.