How to Mix Patterns in a Room
Pattern mixing can feel super intimidating. When you see it done successfully in an interior, it looks so chic and easy! But to start from scratch and pull different patterns together in a way that works – well, that's harder than it looks. But I've got a few tips on how to mix patterns in a room:
Start with a color palette
Pay attention to scale
Balance patterns with plains
Start with a color palette.
A monochromatic color palette (that's a palette created with light, medium, and dark versions of the same base color) is an easy starting point when it comes to mixing patterns. For example, mixing patterns in navy, light blue, cobalt, and indigo will likely work pretty darn well – the various tints and shades of blue bring depth and dimension.
Looking for something a little more colorful than monochrome? Use a multicolored fabric as a starting point, and then pull color inspiration from within that material. The multicolored Ikat pillow below was the color inspiration for the entire room; the teal leopard area rug, chartreuse zebra pillows, and deep teal textured pillows were all inspired by that one patterned pillow – and all work together because they have something in common.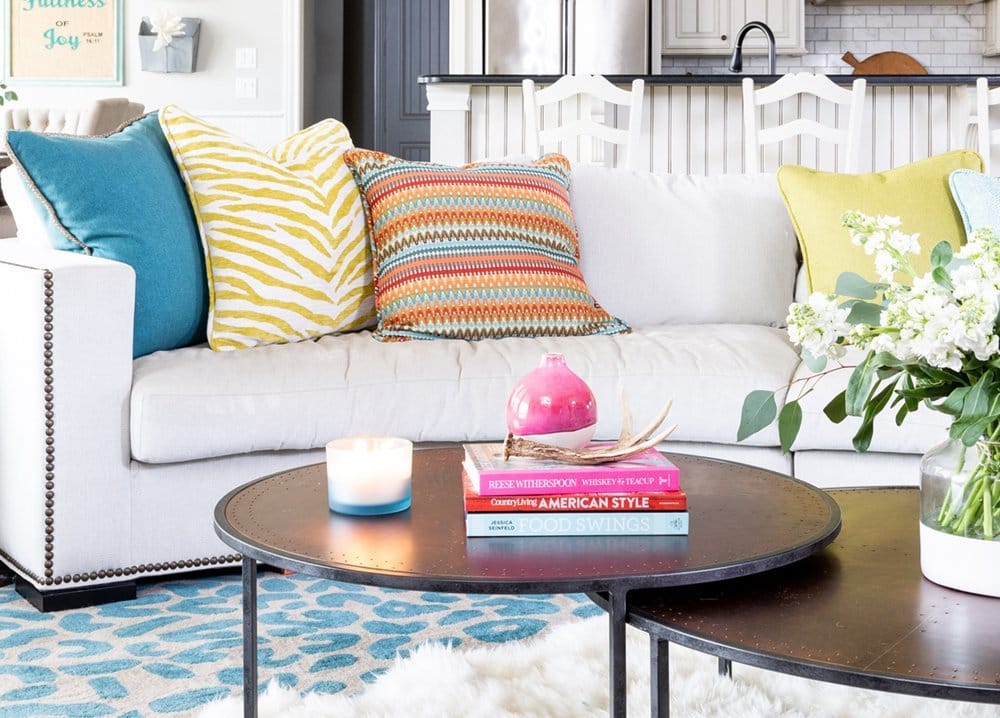 Pay attention to scale.
Scale is how big things are in relation to other things around them. (That's my very non-technical definition, of course.) Basically, patterns of different scales look good together. If you've got a teeny weeny little floral, it's going to look great with a thicker stripe. When it comes to pattern mixing, a mix of large, medium, and small-scale prints is going to be the most interesting and visually pleasing.
On the sofa above, the Ikat pillow is a very small scale, the zebra print is medium, and the rug pattern is quite large in scale. This variety makes things visually interesting and pleasing to the eye.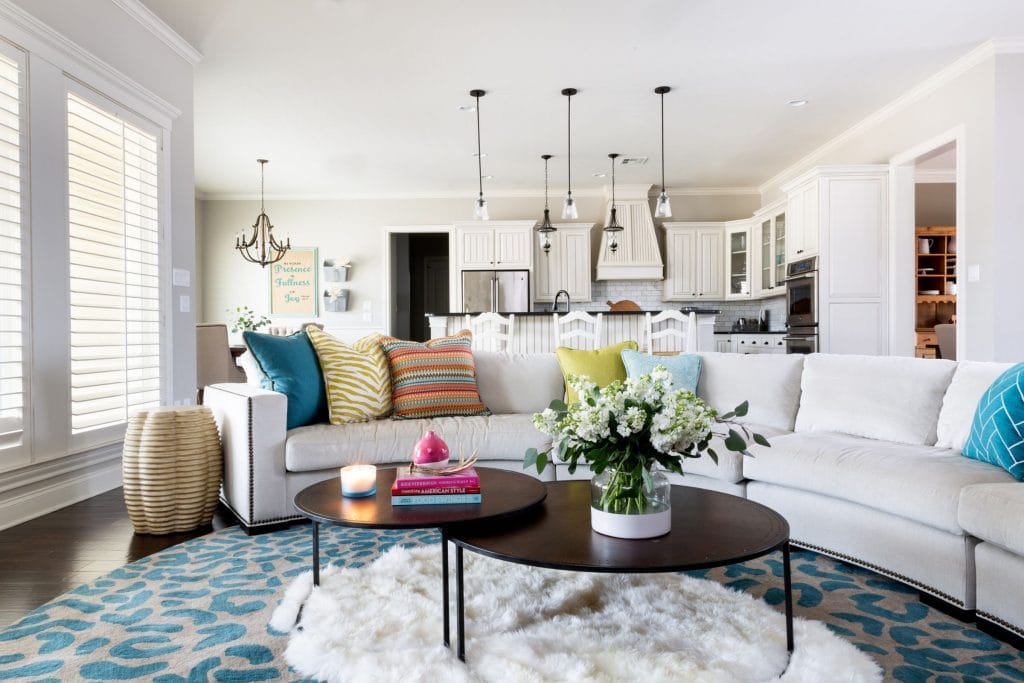 Balance patterns with plains.
Successful pattern mixing isn't just about the patterns themselves, but also how they interact with and affect the room as a whole. To create a balanced interior, I recommend 25-60% of the room include pattern (depending on how bold you are!), and the rest should be textured solids (like woods, metallics, solid fabrics, and painted finishes).
An easy way to create a balance of patterns and solids in a living room is by starting with a plain sofa (and I always recommend leather or a performance fabric) and then introducing pattern on accent seating, pillows and rugs. If that feels too tame, add a patterned wallpaper or window treatments – or both!
There are no hard and fast rules on how to mix patterns in a room, but these three guidelines will help you feel more confident as you scope out fabrics, wallpapers, and finishes. Remember, pattern mixing isn't rocket science, and there's an art to it too. So have fun and play! Bring home swatches and samples to touch and tack up on your walls; take pattern and color inspiration from your favorite outfit; or flip through magazines for images of boldly patterned interiors you're drawn to.
Want help busting out of your boring home with color and pattern? I'd love to help. Here's how we can work together.