How to Organize A Home Office
We're talking about all things organization this month, and as someone who works exclusively from home (save for those times I grab my laptop and hustle at a coffee shop for a few hours) I've learned a few things about how to organize a home office.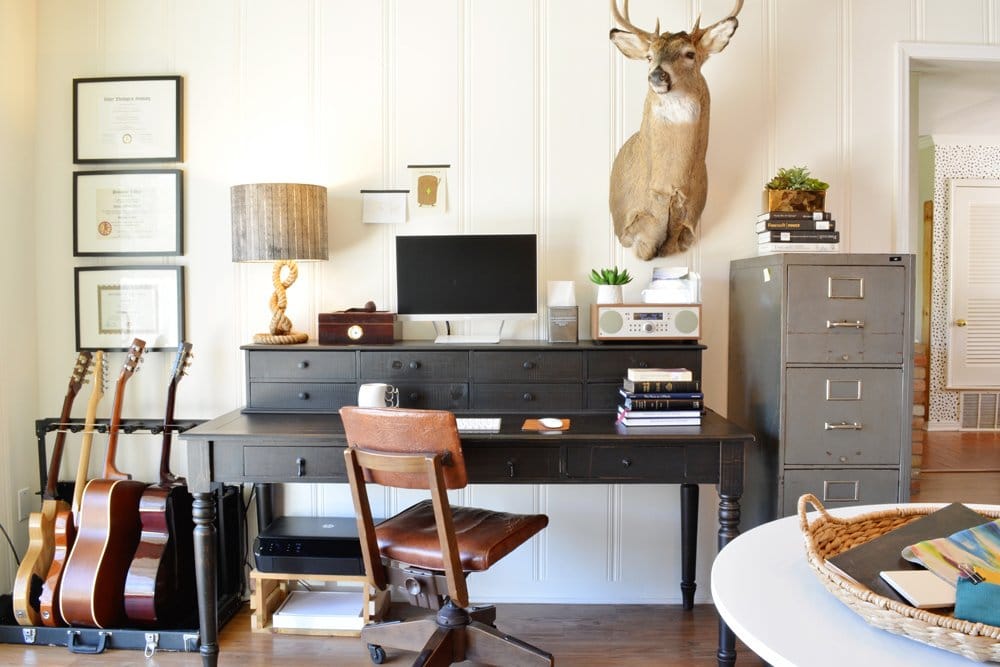 Create a System for Organizing Papers.
Even with allll the technology and cloud-based everything, there's still paper. Always. Paper. If you pretend it doesn't exist, it will take over and swallow your entire home office until you are choking and gagging on paper pulp. Resist paper, and you will die.
Okay FINE, I'm being a touch dramatic. But I ain't got time to deal with a swarm of papers, and neither do you. Shred and recycle whatever you can, and make a home for whatever you need to keep. Filing cabinets are cool, y'all.
Take Advantage Of Vertical Space.
Your office likely doesn't have a massive amount of floor space. When you can't go out, go up! Consider tall storage pieces like bookshelves that utilize the height of your room, and take use wall space wisely to store organize, and display all the things you need to crush it at work.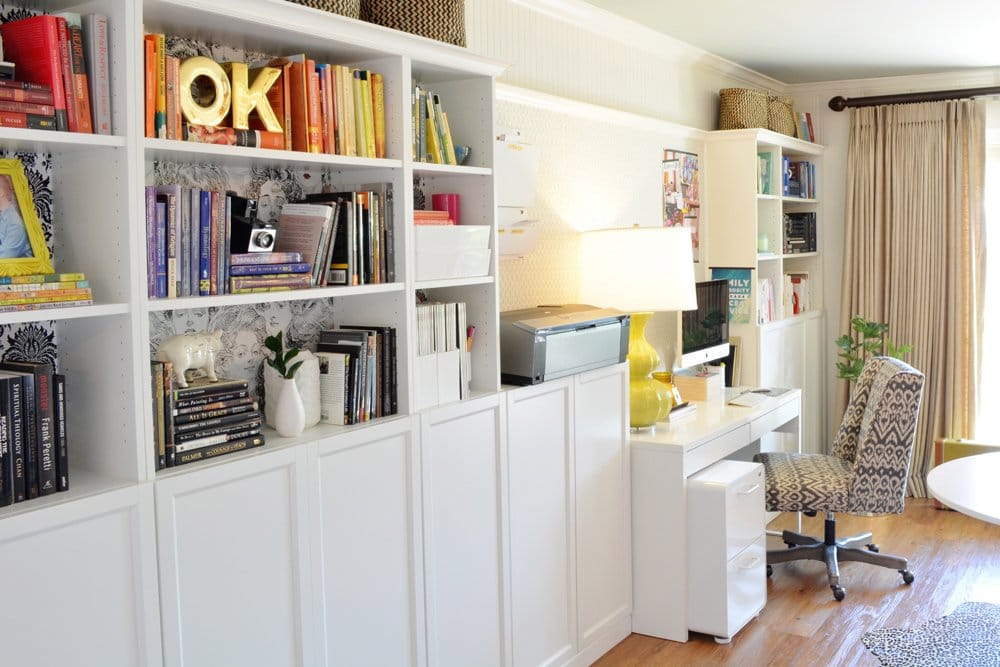 Make a Happy Home for Your Printer.
As much as we're all trying to go paperless, you probably have a printer. And it is the literal worst when you haven't created a home for it and it ends up eating half of your desktop workspace (ugh) or in another room (super ugh). Create and designate a spot for your printer and all its accoutrements that's accessible and convenient. If you're low on tabletop space, consider placing it on a bookshelf or on a rolling cart under your desk.
Give Yourself a Generous Workspace.
When you're spread out with all the stuff and things needed for a project, it's likely that your modest desk is crowded and awkward to use. (No? Just me?) Even if your desk is small, you can create a generous workspace by floating a table in the middle of the room; by adding a second desk; or by adding a return to the desk. Anything you can do to give yourself a little extra tabletop is going to help your home office feel organized and on-point.
Make Your Home Office Pretty.
You're here all day, errryday. It better look good, baby! Replace your wobbly college desk with something stylish and sturdy. Buy a chair that makes your butt happy. Splurge on a desk lamp you love, and art that inspires you. Create an atmosphere you actually want to spend time in. You'll be a lot more likely to organize your home office (and keep it organized) if it makes you feel like a badass boss.
---
DOES YOUR HOME REFLECT THE TRUE YOU?
Take our fun quiz to discover your true design style – and get a personalized, shoppable style board curated by Lesley to help create a kickass home you love.