Is It Okay To Mix Patterns?
Is it okay to mix patterns in your home? I think you're gonna know the answer before I even say it – the answer is yes!
Of course it's okay to mix patterns. Unexpected pattern mixing is what gives a home an eclectic, cool, and collected look that you just don't get when you stick to one or two "safe" patterns in your decor. Here are two quick tips to mix patterns in your home successfully.
Tip #1: Find Something In Common
Tip number one is to find something in common between the two patterns. Often that is a color. Maybe it is a shape that appears in both patterns, like repeating circles or triangles. It doesn't mean that the two patterns have something identical to each other, but look for some common thread between them. It could be a shape, it could be a color, it could be a style. Maybe they're both very graphic with a mid-century vibe, or maybe they're all modern florals, or maybe they're all very geometric and clean-lined. Find something in common between the patterns you're mixing.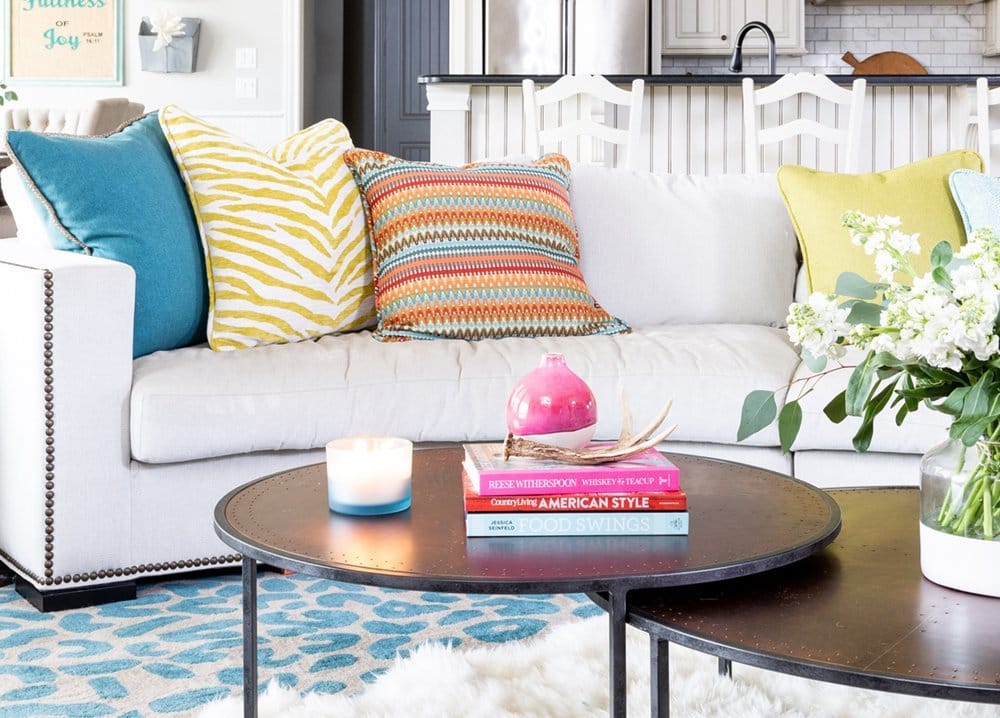 Tip #2: Use Different Scales
First, find something in common between the two materials. Then, pay attention to the differences. Patterns that are a different scale tend to work best together.
Let's talk for a minute about what scale is so we're all on the same page. Scale is "the relative size or extent of something", or, how big something is in relation to what's going on around it. In the photo above, you'll see that the area rug has a large-scale animal print pattern; the citron pillow has a medium-scale zebra print, and the Missoni-style multi-colored pillow has a much smaller scale pattern.
Pattern mixing is most successful when the scales are different. If you have one really small pattern with lots of repetition, you're going to want to pair that with a material that features a larger scale.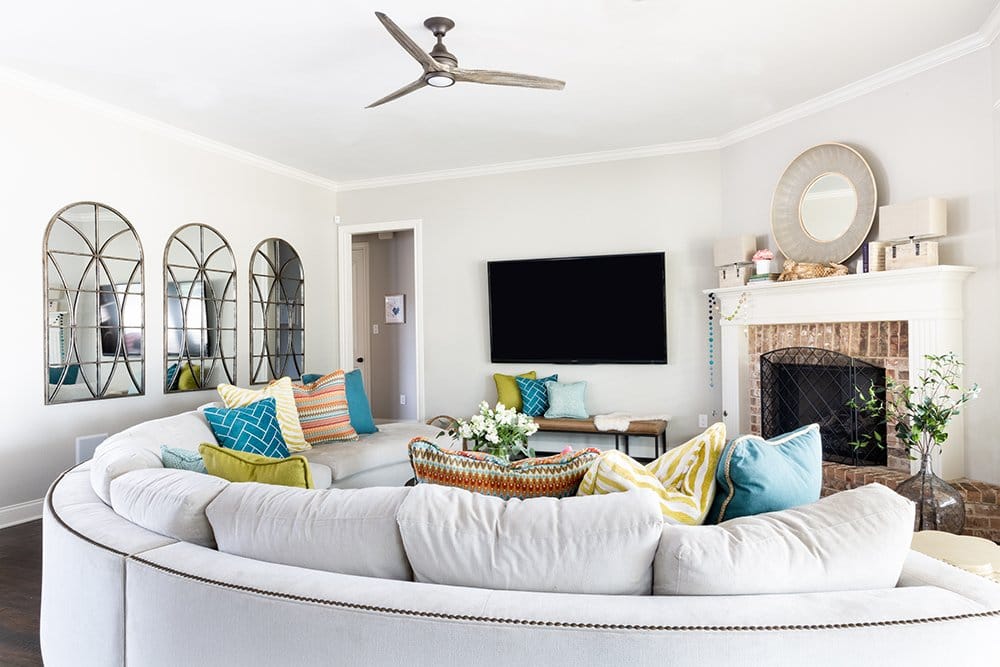 (Bonus!) Tip #3: Trust Your Gut
There are the rules of pattern mixing, and there there's trusting your gut and being intuitive and paying attention to what you're drawn to. A great example of successful pattern mixing that doesn't make logical sense is a leopard-print paired with black and white stripes. None of the colors are the same – leopard tends to be dark brown and cream, while black and white stripes are obviously…black and white. This pattern pairing doesn't fit the rules, but I often wear a black and white striped t-shirt with a leopard headband and I think it's a chic, classic combination that can easily be translated to the home.
With interior design, it's essential to know the rules and the secrets for success. But, also know that it's okay to break the rules when you just find something cool and you love how it looks together! Go with your gut. If it doesn't feel good, don't do it. If it feels good, rock it, even if you can't really explain why. It's gonna be awesome, and you're going to love it.