5 Reasons You Need Both Color and Neutrals
It's no secret I love color – hello, my obsession with teal is loud and proud. But while I'm always your cheerleader for adding color and pattern to truly express yourself at home, there are 5 reasons you need both color and neutrals in interior design.
1. To Create Contrast.
Because too much of one thing is boring! Contrast is one of the principles of design that makes things interesting. Too much of the same is boring, but too many competing elements is distracting. I like to use neutrals as the foundation and allow color to be the contrasting element that gets your attention.
2. To Create a Focal Point.
Neutrals become the backdrop to bring color center stage. If you use neutrals to create contrast, you'll be drawing the eye to the colored items – the fun stuff! In the photo below, the colorful trio of pillows and teal area rug are definitely where my eye lands first, and are the clear focal point in the room.
It's only after you've checked out the pop of color that you start to notice the other beautiful neutrals elements, like the custom light-grey curved sofa and copper and iron nesting coffee tables.
Neutrals set the foundation to create a colorful focal point.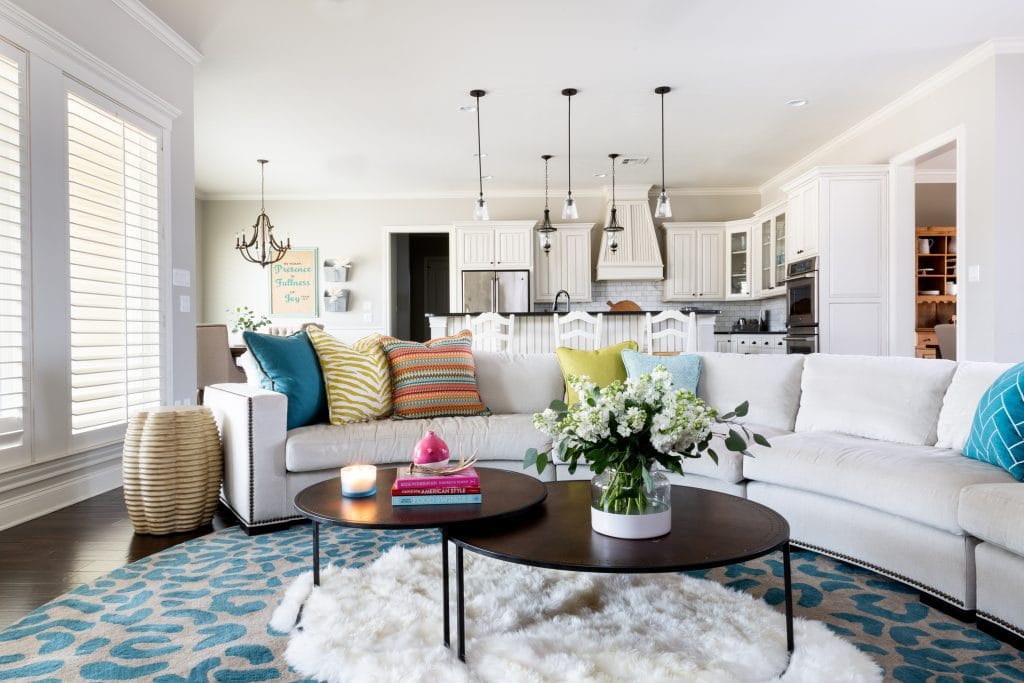 3. To Create Balance.
Too much of a good thing isn't a good thing! Too many safe neutral colors can mean a room becomes a total snooze, but on the flip side, an extreme room bursting with color can make your eyeballs want to pop out. A mix of color and neutrals feels balanced and harmonious.
4. To Keep the Crazy Under Control.
You might not believe this as I'm always encouraging people to "bust out of boring", but I actually think too much color isn't a good thing! I've seen plenty of designer rooms with color and pattern everywhere, and while they may look incredible in a magazine or a showhouse, they just don't feel all that livable. (And honestly, they're probably not. Many homes like that were designed totally for show and for the shock factor.)
I want to live in a home that's livable, delightful, and unexpected – not a total assault on the eyes. Mixing neutrals and colors keeps the crazy under control.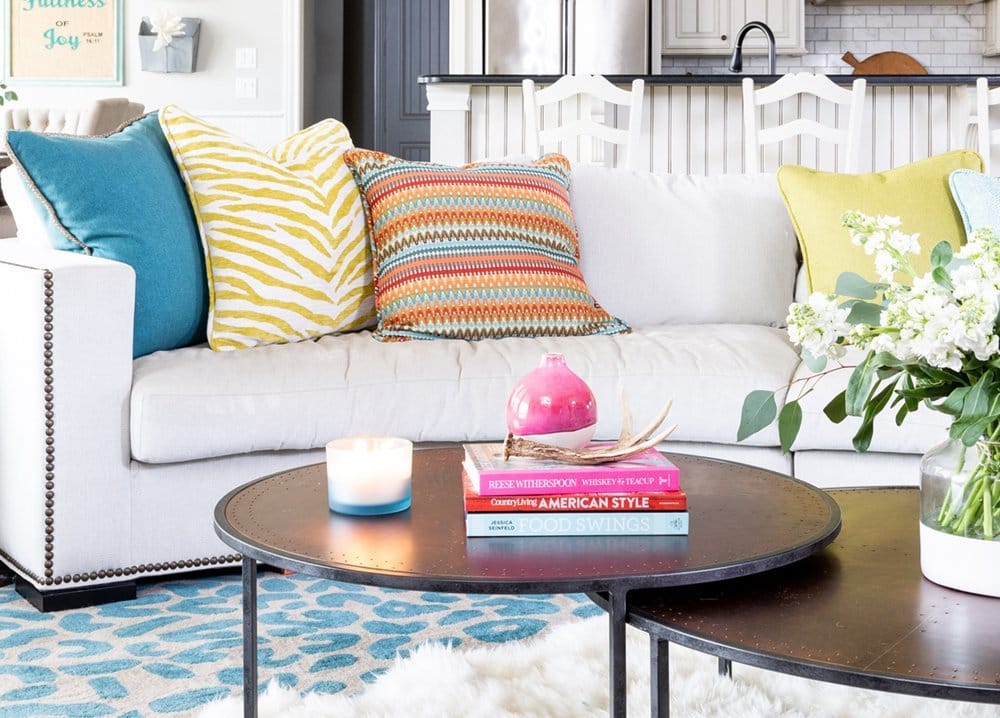 5. Because they're both awesome!
Neutrals can be boring (hello, builder's beige walls) but they sure don't have to be. Neutrals can be rich, livable, and exciting when you introduce a variety of textures and finishes. A beige microfiber couch and matching loveseat is a total snooze; but a cream performance fabric sofa, inlaid wood coffee table, hammered metal accent table, and white faux-fur pillow combo is super chic, sexy, and touchable. And then – add some colorful pillows, a gorgeous area rug and a few well-chosen accessories. BOOM. Nailed it.
Whether you love neutrals, color, or both,
it's essential to know your style so that you can create a room that truly feels like you. Here's a fun, free quiz to discover your true design style – and you'll also get a shoppable style board with furniture and decor I've curated just for you.