What to Splurge On (And What to Save On) with Home Decor
Let's talk fashion for a sec, specifically how to transform an outfit from 'hot' to 'hot damn'. 🔥 Sometimes you need kickass shoes and a diamond necklace, and other times a few costume bracelets and a denim jacket will do the trick. Accessorizing your home is a lot like finishing off an outfit, and knowing when to bust out the bling and when to reach for jewelry box basics is key. Allow me to make things easy for you and read on for my best tips on what to splurge and what to save on with your home decor.
Splurge
Fancy Art
Fancy Pillows
Fancy Feature
Save
Filler Art
Filler Pillows
Filler Accents
What to Splurge on with Home Decor
We all deserve to splurge a little every once in a while, especially when decorating our homes. We spend crazy amounts of time at home these days, so we deserve to love and feel good in our surroundings. Let's talk splurges when it comes to home decor.
Splurge: Fancy Art
I'm a huge fan of art (a few of my favorite splurges here). I believe every home should have it. I believe it should make a statement. And I believe the art you choose to display should reflect you and add character to your walls (learn more about what we did with the art in our Texas living room here). There is just nothing like having a one-of-a-kind piece of art hanging in your home.
And when I say splurge, I don't mean go spend thousands (but by all means go for it if you've got it!). A splurge can simply be spending a little more than you normally would. More importantly than cost, consider the originality of the piece. Great art is a big-time difference-maker and can take a space from cookie-cutter to kickass in a snap.
Splurge: Fancy Pillows
Want pillows you can karate chop for your next Instagram post? You need good ones. Off-the-shelf pillows aren't going to cut it when you're looking for luxury. The look of custom pillows will easily elevate a simple sofa and it's so worth it.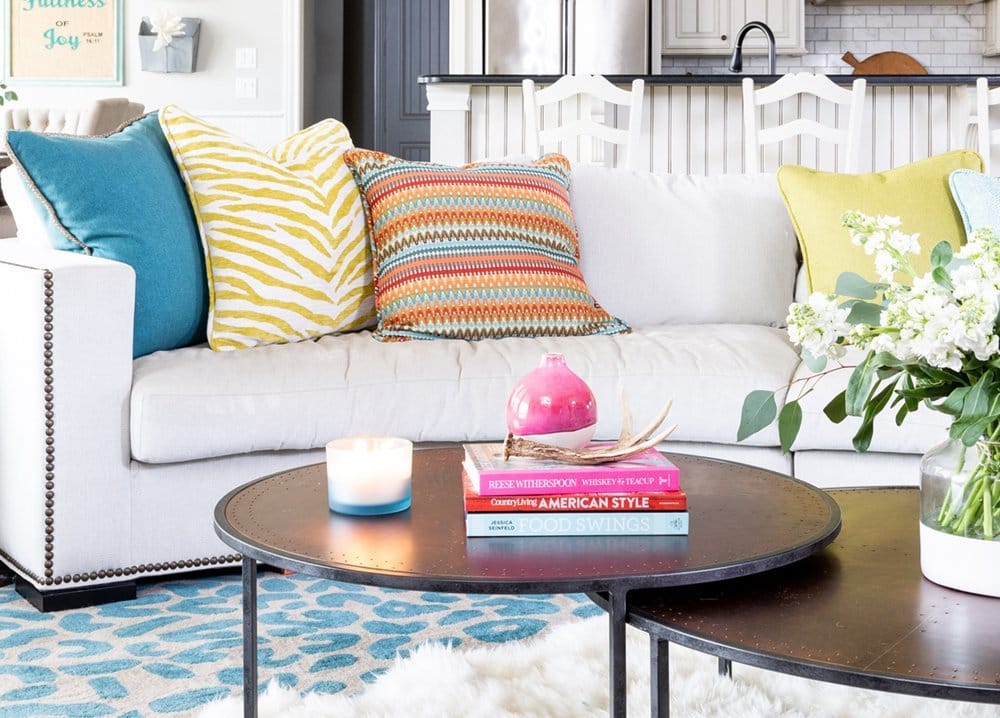 Find a gorgeous fabric that you love and have a few pillows specially made. You might even be able to get by with a single yard of fabric and while that single yard may cost a couple hundred dollars, the end result is going to be beautiful.
Splurge: Fancy Feature
Every room should have a fabulous focal point. Let's say you're styling a coffee table – a common feature in most living rooms. You're going to want something right in the center that grabs attention and starts a conversation. It should look and feel like you and be something you're proud to have on display.
There are no rules for what this fancy feature needs to be, except that it speaks to you and reflects your personality. And again, it doesn't need to cost a fortune, but this is definitely an instance in which I recommend splurging for something amazing that you love.
What to Save on with Home Decor
So if you're splurging on original art, gorgeous designer pillows, and a coffee table feature, I'm sure you're ready to pull back the reins a bit to finish the rest of the space. Don't worry, you can absolutely complete your design with cost-effective and budget-friendly options. Here's what to save on with home decor.
Save: Filler Art
Number one, art. Yes, the very same thing I said to splurge on. Not all your art can be originals, unless you are very fancy (and good for you!). It is totally fine to supplement your bigger investment items with some less expensive filler pieces to complete your design.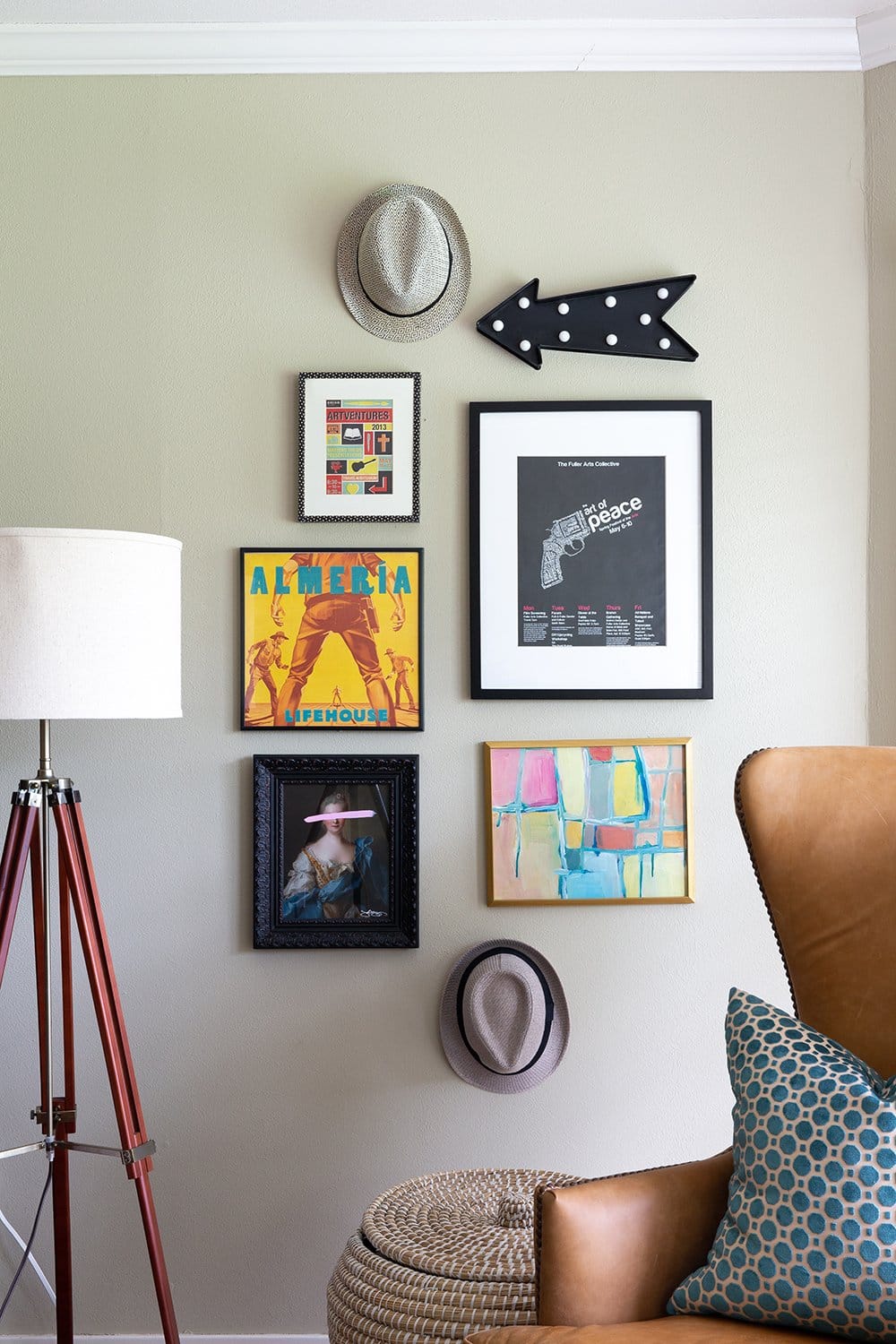 Now, the term 'filler' doesn't mean crap. It also doesn't mean ugly or cheap looking. You just need to get creative. I personally love framing my kids' artwork, full-text book pages, full-color picture book illustrations, even pretty wallpaper swatches leftover from a project. All of these can be affordably framed and will complement your more expensive art pieces nicely.
Save: Filler Pillows
Next up, accent pillows (noticing a pattern yet?). The same goes for pillows, as it does art. Invest in a few great ones, spend your money on gorgeous fabrics that you freakin' love and want to have in your home, and then fill in the gaps with other less expensive pieces (a collection of my favorite accent pillows at various price points can be found here).
Here is a designer secret for pillows: you can likely find some great pillow covers at your local big-box chain stores – buy them. Then buy down, or down-poly blend inserts that offer the karate choppable softness you want along with a higher-quality fill. Put the two together and voila! You have a winning combination that beats off-the-shelf pillows any day without breaking the bank.
Save: Filler Accents
Shelf and tabletop filler is your last box to check when accessorizing your home. Think, bowls, vases, baskets, trays, etc. These are the items that sit up on a shelf or out on a table and look pretty. They add depth and dimension to your design, give it character and texture and help to complete your space.
I have a whole post on how to accessorize your home with inexpensive home decor with some specific guidelines to follow, and I recommend you check it out. High level though, you want to make sure you choose items that are either light or dark in color (think neutrals) and look for ways to introduce texture and character. Your accent pieces are definitely on the list for what to save on with home decor, but make sure you do it the right way.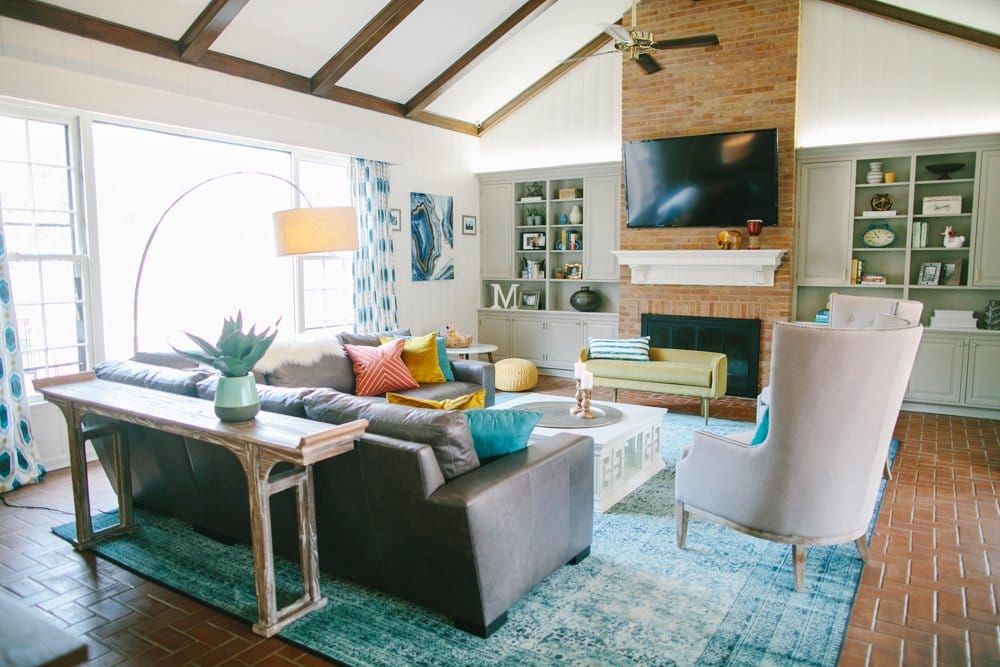 So let's recap. You're going to splurge on fabulous art, a few sexy pillows with gorgeous fabrics, and a stand-out feature accessory for your coffee table or focal point. Once you have those pieces in place, fill in the gaps with creative art, DIY accent pillows, and accent decor that looks high-end but doesn't break the bank. This combination will round out your room and finish it off in style.
And if that isn't enough, I have a fantastic freebie that will help you decorate your home like a pro. It's my Styling Secrets Cheat Sheet with a bunch of other tips to help you get the designer-worthy look in your home on your own. If you're looking for more individualized support, I'd love to work with you one-on-one. Give me a call and let's work on your next design project together. ✌️