Unexpected Seating Ideas for Your Dining Room
You guys know I'm all about the unexpected. And dining rooms are no exception. Sure, a matching table and chair set can be perfectly lovely and appropriate, but you also have other options. If you're like me and prefer an offbeat vibe, buckle up for some alternative seating ideas for dining rooms.
Tip #1: Try Mismatched Chairs
While I can't claim credit for it as an original idea, I will tell you it's a personal favorite and definitely high on the list of unexpected seating ideas for dining rooms. In our house, we have a dining table that seats eight. And we have three different chair styles.
Pulling off this look is all about balance and proportion. In general, you need at least one commonality (though I recommend more) to anchor the design and pull it together. I mentioned we have three different chair styles – a grouping of four chairs that match as well as two additional pairs that match. It's definitely an eclectic look, but sometimes that's exactly what you want or need to add visual interest to a space.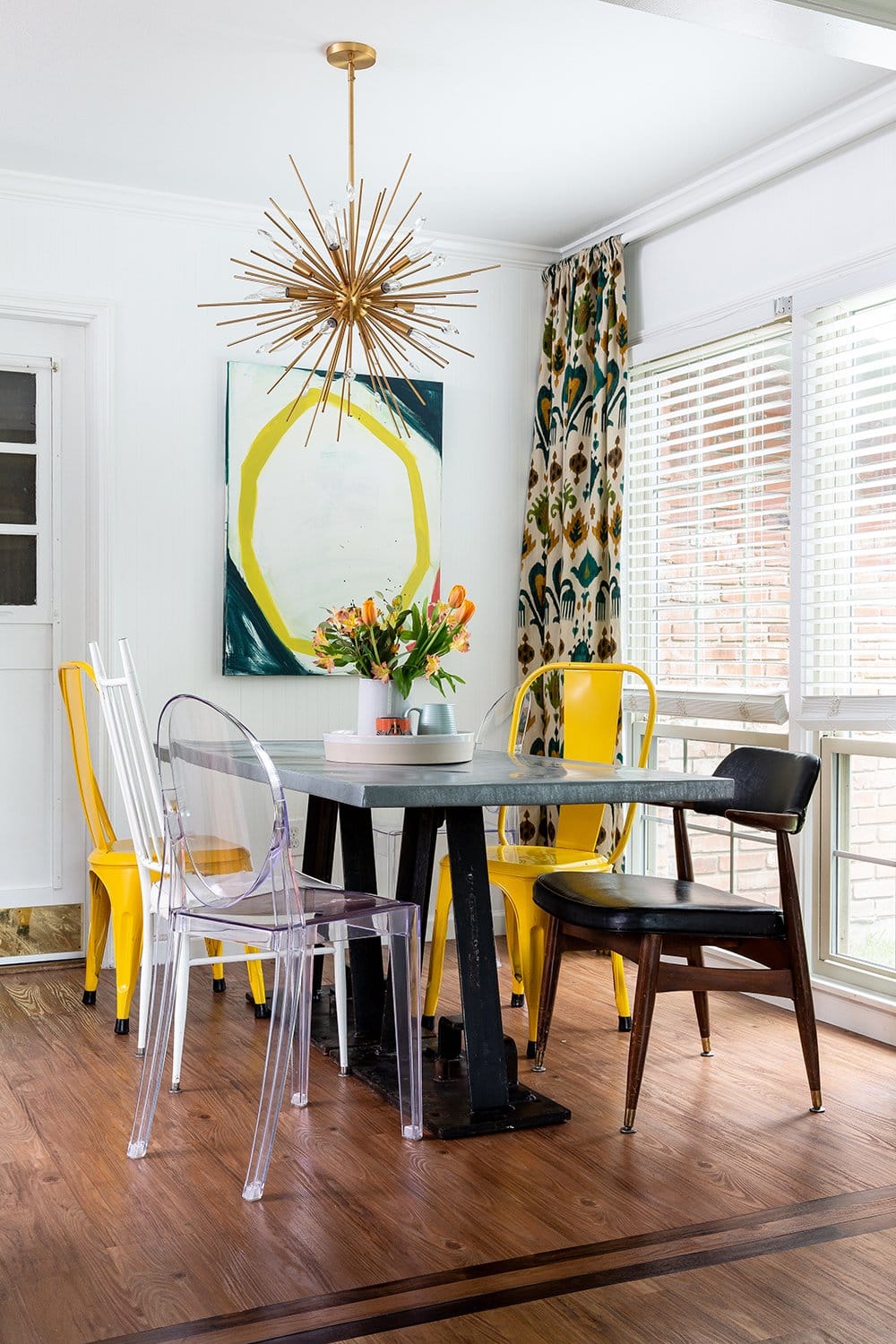 Tip #2: Try Bench Seating
Another alternative seating idea for your dining room is to forego a few chairs and replace them with a bench or settee. Now, this is more commonly done in kitchens in a breakfast area where it's a bit more casual, but quite frankly, I don't think many of us are going for a super formal dining room look these days.
Comfort can absolutely be your goal in a dining room, and it will still look amazing. It will also make your space more livable and functional, which is a win-win. I love the idea of replacing both rows of chairs on the sides with benches, or one row of chairs against a wall with a beautiful settee. It makes things feel so cozy and inviting. And if you go with some badass upholstered fabrics, you can elevate the look even more (and avoid the kids' picnic vibe).
Tip #3: Try Accent Chairs
Accent chairs are also great seating ideas for dining rooms. Picture a table for six or eight. Instead of six or eight matchy-matching chairs, you get some contrasting accent chairs to sit at the head and foot of the table. The rest of the chairs can be the same, but your head and foot chairs can stand out a bit.
If you go with this option, get creative. Go big and make a statement. Play with fabrics. You can even combine fabric types and create a super custom look. You're not at all limited to what a store labels as a dining chair, just because it's a dining room. As long as proportions work, size is appropriate and they're not too heavy, you can totally go with whatever chairs you like.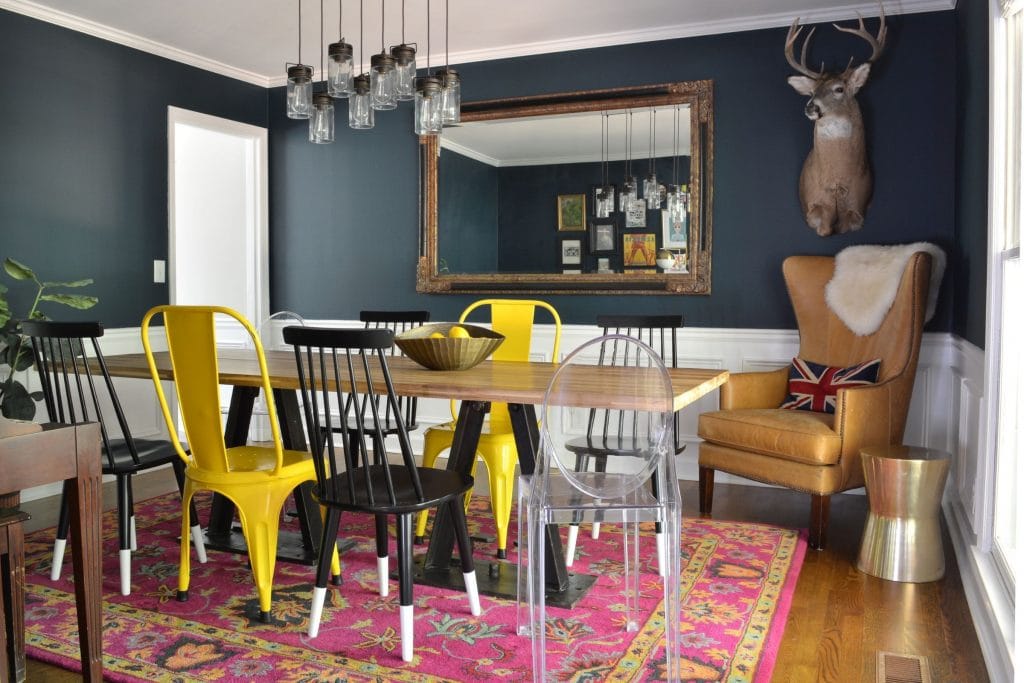 So there you go. Three, unexpected seating ideas for dining rooms. Whether you go with mismatched chairs (shop my favorite dining chairs right here), a bench or a settee, or pimped-out head chairs you'll definitely end up with an offbeat dining room you love. And you absolutely deserve that.
I love dining room design. I think it's a space that's particularly fun to design because people aren't as emotionally attached to it, compared to say a living or bedroom. It's a room where quality time is spent, but it's not necessarily used every single day. This is totally a room where I encourage clients to play and have fun. Maybe even take a few risks, because why not?
Of course, I would love to help you design a kickass dining space. And what better time than now as we head into the peak of entertaining season? Give me a call, and let's design your dining room together.