3 Small Living Room Design Ideas That Have a Big Impact
Small Living Room Design Ideas
Once upon a time, I lived in a 450 square-foot studio apartment. And I made the most of every square inch! The sofa was also a sofa-bed, which pretty much opened up into the (non-working) fireplace. The console table behind the sofa opened up into a dining table, which bumped into my bed, which served double-duty as a bed and a place to sit while eating…
It wasn't glamorous, but in that apartment, early in my design career, I learned firsthand how to make the most of a small space. Having a small living room doesn't mean you can't have a kickass space that looks awesome and functions well for your family. When it comes to decorating not-so-large rooms, there are a few tips to make them look bigger – and they're the opposite of what you'd expect! Here are 3 small living room design ideas that have a big impact:
Tip #1: Choose a sectional, not a sofa
Tip #2: Choose a large area rug
Tip #3: Go big with art
Tip #1: Choose a sectional, not a sofa
Wait, what? I know what you're thinking: "But Lesley, my room is already small and I can't fit a sectional!"
Here's the thing. When you fill up a small room with a whole bunch of small things (like a small-scale sofa, multiple accent chairs, etc.), the room is going to feel small and cluttered. When you use the space well and fill it with a select few pieces, the end result is a room that feels large and luxurious.
In a small living room, I prefer a sectional and one upholstered accent chair instead of a sofa with multiple chairs. (Here are some tips to help you shop for a quality sectional online.) It's a better use of space; you get more seating area and a better layout for conversations; and a sectional feels unexpectedly luxurious in a small space. Look for a sectional that fits your room well and is the right scale – something with clean lines is going to look better than a bulky, overstuffed sectional.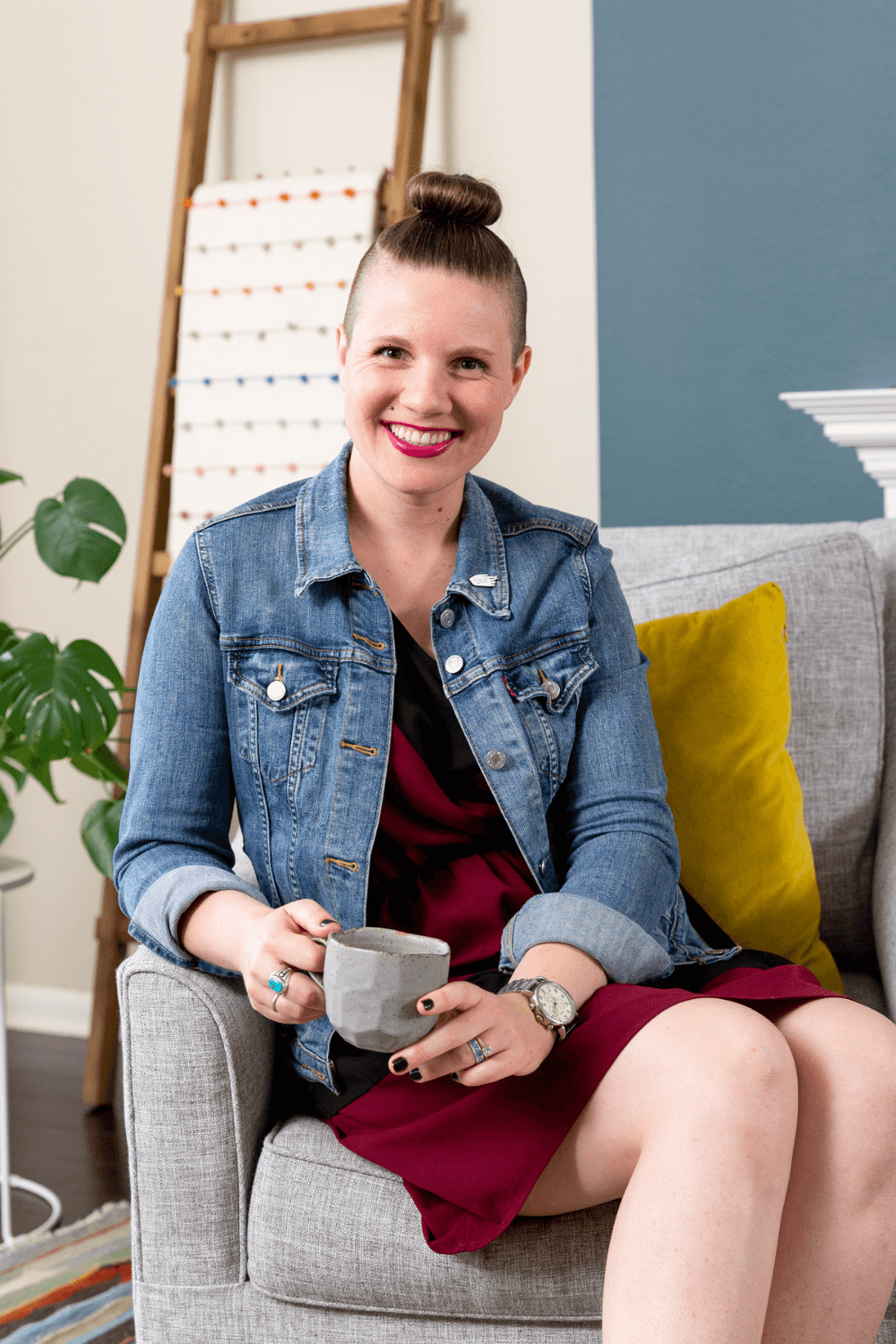 Tip #2: Choose a large area rug
I'm guessing by now you've picked up on the theme here: large is actually better in small rooms. When it comes to selecting an area rug, here's some advice to help you out: your rug should cover most of the floor except for an 18-24″ wide strip around the edges. (Here's a free area rug size guide with helpful visuals!) Most people go with teeny tiny postage-stamp-sized rugs in front of their sofa. Your living room may be small, but a 5×7 area rug isn't doing you any design favors, especially when there's a lot of floor space around it.
Large rugs trick the eye and exaggerate the scale of the room. So don't be shy to go big with your rug. Leave that lovely little border around the edge, but make the rug as big as possible to make the room feel as big as possible.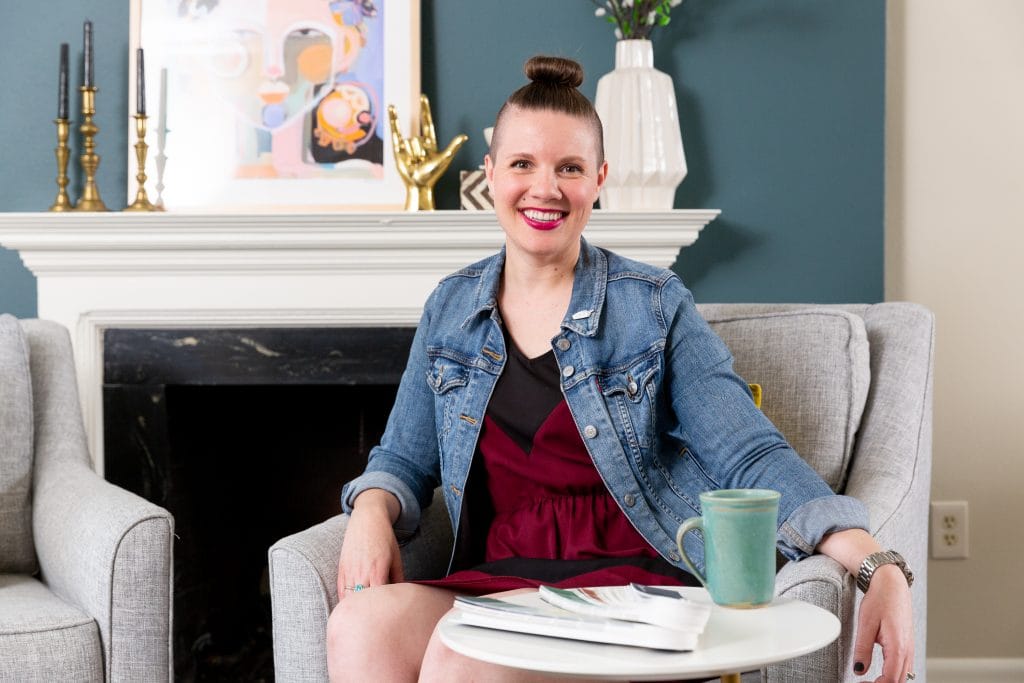 Tip #3: Go big with art
I think our instinct with designing small spaces is that they can't handle big pieces. And so, we do a really cluttered gallery wall or buy lots of small tchotchkes or small art pieces and hope it works. But – spoiler alert – it doesn't. Go big with art, and invest in one or two statement-making pieces. Push the boundaries of what people think is possible in a small space!
But…here's what to watch out for.
Here's the thing: don't go too big, or your room will feel overstuffed with giant-people furniture in a tiny room! Successful interior design takes an artistic eye and knowledge of the elements and principles of design (like scale and proportion), so if this is something that's causing you to feel stressed and overwhelmed just thinking about it, I can help. As an Atlanta interior designer, I work with busy, high-achieving moms all over the USA and Canada, and would love to help you too.