I know, I know – interior designers make styling look easy! But if you've ever tried to accessorize your living room, arrange a bookshelf, or style your kitchen countertop, you know it's not as easy as it looks.
That's why I'm sharing my cheat sheet with 7 Designer Styling Secrets. (There's a free download for you at the end of this post!) Getting an expertly-styled space can be within reach once you know a few tips and tricks.
Tip #1: Create Balance
Use symmetrical (formal) or asymmetrical (informal) balance when you're arranging a grouping of items. Symmetrical means that everything is the same on both sides (like a matching pair or lamps); asymmetrical means the items aren't identical but have the same visual weight to balance each side out (like a lamp on one side, and a tall vase on the other).
When creating a grouping of accessories, always use odd numbers! Arrangements of 3 or 5 items look way better than things in even numbers, which can visually fall flat.
Tip #2: Pay Attention to Proportion and Height
Use stacked books or boxes as pedestals to display items on to create height, and look for vertical accessories like vases, branches, and candlesticks to break up horizontal items.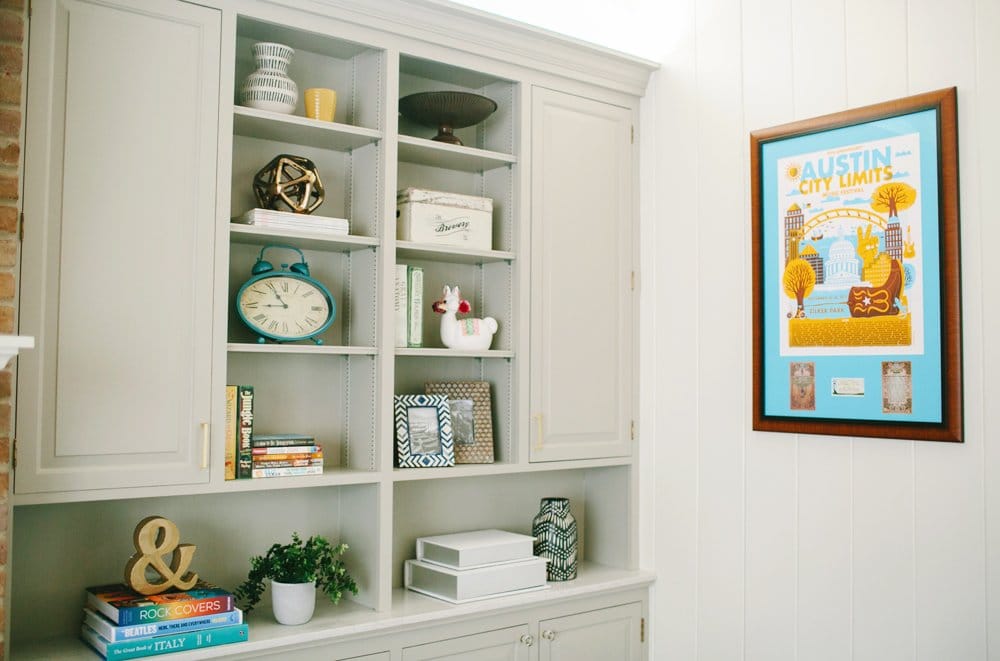 Tip #3: Have an Anchor
Choose one item in each grouping of accessories to become the "anchor" – the focal point. Allow the anchor item to take center stage, and for the other accessories to support it.
Tip #4: Less is More
Let your "anchor" accessory – your statement piece – shine. If something isn't working, consider paring down! Sometimes taking away is better than adding an accessory. And as much as I love color, beautifully layered textures can sometimes be better when styling accessories than bold color.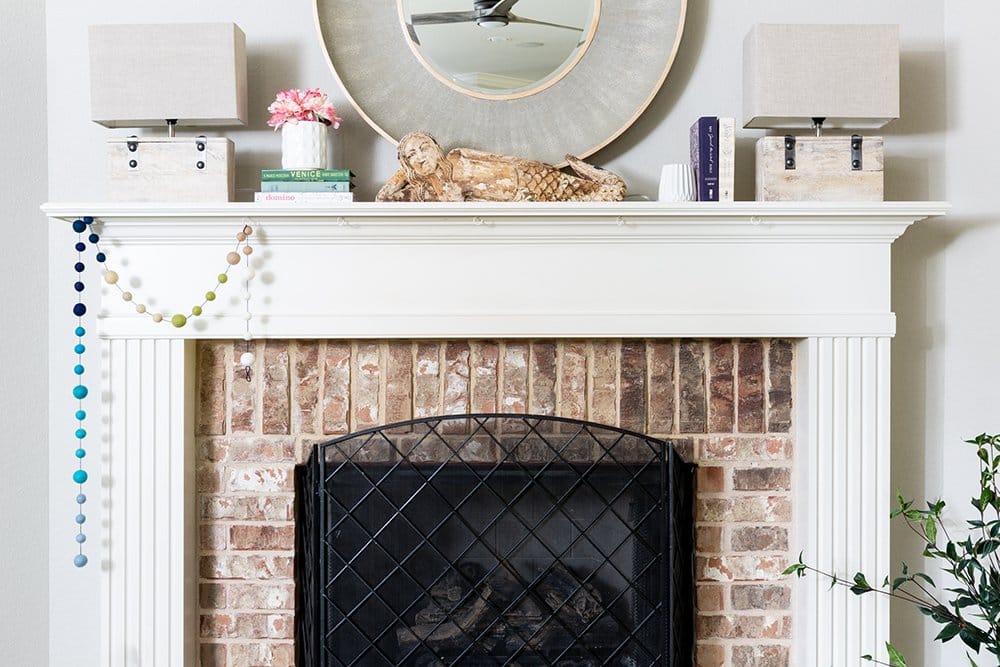 Tip #5: Bookshelves Are a Beast!
Yeah, that's not really a tip – just a heads up that styling bookshelves is tricky! Bookshelves are a beast to style, but keep a few things in mind: stack books both horizontally and vertically for interest; break books up with art, photos, and collectibles; and embrace breathing room.
Tip #6: Bring In Something Natural
Organic elements are often the missing item that can take a room from feeling incomplete to perfectly styled. Introduce florals and greenery (faux is fine!) to soften up your shelves or coffee table, and think about bringing in a tall potted plant to a lonely corner.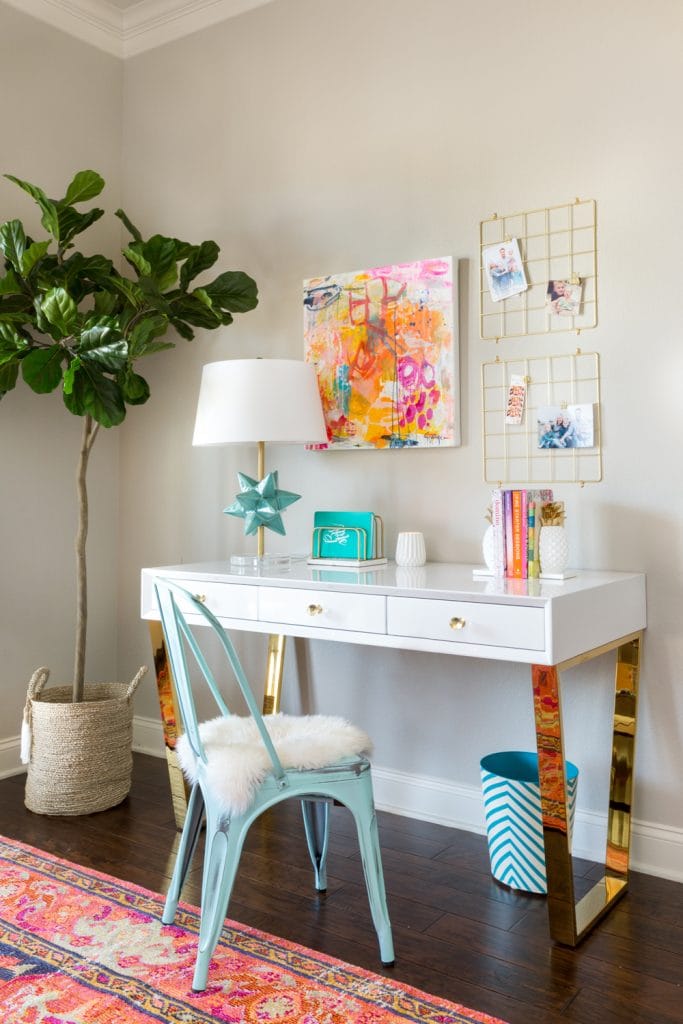 Tip #7: Buy More Than You Need (And Return the Rest)
Stylists always have options! Always buy more accessories than you think you need so you have the flexibility to play around and see what works best. You might be surprised what looks best in your home! Keep the price tags on, and return what doesn't work in the end. Be sure to check the store's return policy first.
Want to take these tips to go? Download your FREE printable cheat sheet with these 7 Designer Styling Secrets to reference when you're decorating and styling your own home.
I'm not usually into pastels, but I'm bonkers in love with this blush and grey girls' bedroom moodboard. (I mean, seriously, that tufted velvet sofa is amazeballs!)
This moodboard was part of a Design Kit for a fave client's tween daughter and stepdaughter. You might have noticed on the Pinterest board below that the selections are from online retailers you're probably already familiar with. With a DIY Design Kit we stick with retail vendors to make it easy for our clients to shop the selections on their own; and for our Design Comprehensive clients we source a lot more trade-only and custom pieces since we handle all the ordering.
I love being able to equip my cool clients with everything they need to create a kickass room – a design plan, moodboard, shopping links, floor plans, elevation drawings, and swatches. It takes the fear and guesswork out of design. You already know it's gonna look stellar before you buy a single pillow!
PS. You might also want to check out this gorgeous teal office, cool kids playroom, romantic master bedroom, and French meets Mid-Century living room.
Boy meets girl. Boy marries girl. Boy is a devastatingly handsome rockstar academic with, like, a million books. Girl is a clever designer who creates a DIY bookshelf built-in spanning an entire 14′ wall to house her handsome hubby's ever-growing library. Boy and girl live happily ever after with their plethora of color-coded bookshelves.
It's like a modern fairy tale, isn't it? I'm delighted that we got to the 'happily ever after' because our book situation could seriously be a thorn in the roses. But with some creativity, resourcefulness, and help from our friends at Metrie, there's some magic happening here.
You may remember what our office looked like before:
Great blank canvas. Pretty boring. No storage.
And here's where we're at now:
Ahhhh. So good! And way more practical for a couple who both primarily work from home. While time consuming, it was actually pretty simple to create this built-in look. We started by piecing together the individual elements needed. The IKEA Micke desk and the three tall Billy bookshelves on the left were existing from our former home; the two tall bookshelves on the right and the half-height shelf for my printer were purchased new for this project. Also needed: a 3/8″ thick cork roll from Manton Cork for the wall behind my desk; a chic Nate Berkus fabric to cover the corkboard; and moldings from Metrie to create the built-in look. We used this 2 11/16″ crown molding for the top of the built-in, a 3 1/4″ baseboard for the bottom, and 1/2″ quarter round to finish off the inside corners of the corkboard. (We also beefed up the crown molding at the ceiling to 4 1/4″ to keep everything in proportion.)
The basics of how this faux built-in is assembled is pretty simple: arrange all the pieces, mark off where the corkboard needs to be and attach, then anchor everything to the wall and finish off with molding. The custom corkboard ended up being the hardest part! I used a heavy-duty floor grade adhesive as recommended by the cork manufacturer, but it really didn't stick. Several nails were needed to hold the cork in place as it's quite heavy. Covering it with a patterned fabric was not only an aesthetic choice but a practical one to hide several large nailheads underneath.
You may have noticed that the inside back panels of the bookshelves are wallpapered. It's a delightfully eclectic mix of vintage-inspired black and white patterns, as we've collected the bookshelves over the years and had to mix in new patterns as we ran out of wallpaper. The two damask patterned papers aren't still available, but the awesome Gibson Girls-inspired wallpaper is.
Can we take a moment to appreciate these sexy mitered corners on the crown and baseboard? As if my husband weren't awesome enough, he knows his way around a miter saw. #truelove
Once the moldings were painted and installed, we patched up the nail holes and touched up the paint. The color we found was the closest match to the IKEA Billy series was Valspar Dove White, thanks to a recommendation found here (along with a more detailed DIY bookcase built-in tutorial).
Boom. There she is. Well worth the effort to transform standard bookshelves into a custom DIY bookshelf built-in for our shared office.
If you'd like to see more of my home you can check out my living room, foyer, and entire home office here.