Posts Tagged 'interior style'
Let's get your home ready for the new year! It's worth taking a day or two in December to clear out what's not working from 2019 and give your home a freshening up for 2020. Here's how I do it.
1. Purge
You had to know this one was coming, right? It's time to KonMari the crap out of your home. While I love Marie Kondo's concept of deciding if an item in your home "sparks joy", if you're not getting a clear answer on that (or if EVERYTHING sparks joy and you can't let go of anything!), ask yourself this:
"Do I use this item, or do I love it?"
Those are the criteria I use as a filter to make decisions as to whether or not I'm keeping something. I have to either use it (like my boring but functional spatulas), love it (like the antique wooden bookends I inherited from my grandmother), or both (like my favorite cropped leather jacket).
If you use it and/or love it, it stays. If not…buh-bye. Go through your closets, drawers, and shelves. Don't forget about your furniture too. If there's something you've been living with that you just can't stand, it might be time to invest in replacing it.
If the item is worth over $50, sell it! If it's still in great shape but less valuable, consider donating it to a local shelter, mission, or Christmas gift drive.
2. Clean
Got rid of all the stuff that's been weighing you down? Bust out the all-purpose cleaner and scrub scrub scrub. Baseboards? Check. Ceiling fans? Check. Replace the air filter? Check.
Whether you deep-clean your home yourself or hire it out (a very, very worthy investment in my books!), you'll be stunned with how much better, fresher, and lighter your house feels.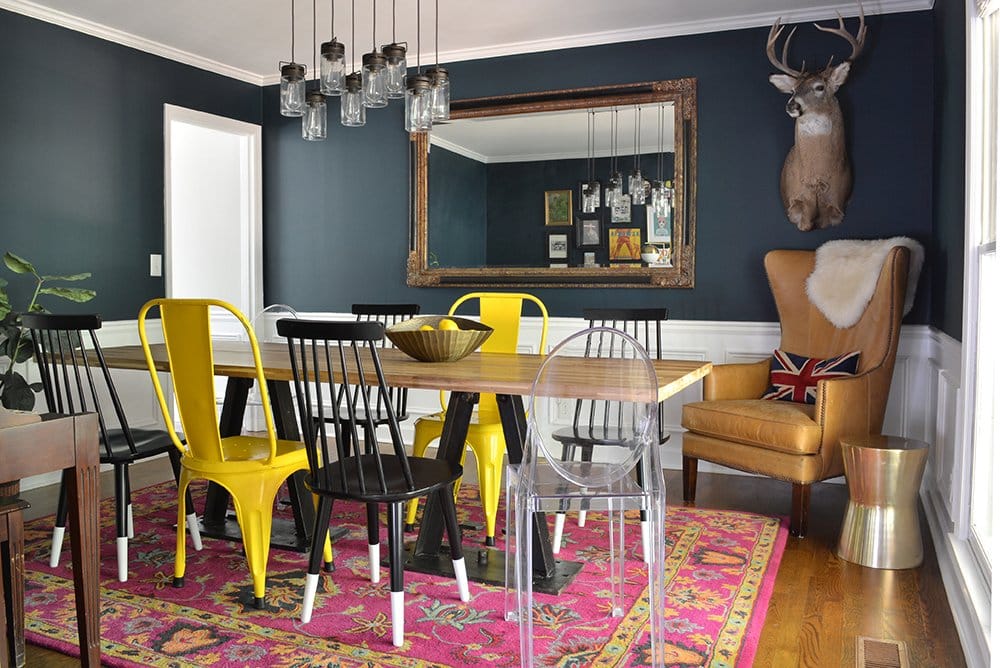 3. Restyle
Alright, the hard stuff is over. You've done the emotional work of letting go of things you no longer use or love, and you've deep-cleaned your house like a madwoman.
Now, let's have some fun! Here's your chance to start busting out of boring. Getting your home ready for the new year isn't just about buying some pretty new things (although that's coming, so hang tight), but it's about taking a look at what you already have with fresh eyes and giving it a new life.
Gather up allllll the decorative accessories in your home. Think: bowls, hardcover books, houseplants, candles, bookends, knicknacks. Spread them out in one room where you can see everything at once.
At first glance, you'll probably notice some things that you're tired of, that are outdated, or just no longer reflect your style. Give them a little love, and then GET THEM OUT OF THERE. (See: #1 Purge, above.)
Use what's left and restyle your home.
Have you had that white ceramic bowl on your kitchen counter for years? See how it looks perched on a stack of hardcover books in your living room. Has that potted plant been in your living room forever? See if you like it on your kitchen counter.
The idea is to take a look at what you already have and shop your own home before going out and buying new things. Sometimes a fresh perspective and moving things around can give a room a whole new look.
4. Accessorize
You've worked with what you have (congrats, you!) and hopefully most of your rooms are feeling pretty fresh and peppy after your awesome restyle. But mayyyybe there are a couple of things missing. Like, wouldn't your coffee table look great with a large brass tray on it? And wouldn't your bookshelf look totally pulled-together with a framed piece of art sitting on that empty shelf?
This is the time to make a list –
– a very specific list – and go shopping. (Or, hire your favorite designer – me – to do a Design Strategy Session with you where we can shop and style your home in a day! Contact me for deets).
Stick with your list, and don't get seduced by cool things that don't have a place. You have so much great stuff already – this shopping trip is just to fill-in-the-blanks with a few key accessories.
5. Nap!
Girl, you've earned it. You've worked your buns off to bust out of boring and your home is organized, tidy, cleaned, and super styled. Go get some afternoon shut-eye.
Start the new year in a kickass home you love with these 5 tips to get your home ready for the new year: Purge, Clean, Restyle, Accessorize, and Nap.
---
PS. Lesley Myrick Art + Design is taking a break for the Christmas holidays. We'll be back in January 2020 (after some serious holiday accessorizing and napping!) with the big reveal of Lesley's Texas home tour. See you next year!
Yup, the holidays are coming – and if you're anything like me, gift-giving isn't what you're best at. (I'll stick with interior design, thankyouverymuch.) So what do you get for that fabulously creative lady in your life when you want to knock her socks off with a great gift? Here are a few gift ideas for interior design lovers.
As an interior design lover myself, I humbly admit that I want EVERYTHING on this list.
10 Awesome Gift Ideas for Interior Design Lovers
This book came out in 2008, but it's still one of my favorite decorating references. (Here are 9 other books that make great gifts too!)
So freakin' cute on a denim jacket or blazer! I already have a color wheel tattoo, but this color wheel pin is definitely a less permanent option that's (almost) as cool.
These simple, black hardcover notebooks are the best. They're super sturdy, with a built-in pen holder and beautifully thick lined paper. I use these daily and always have one in my purse for jotting down to-do's, ideas, and design inspiration.
What's better than the gift of a home you freakin' love? A 2-hour Design Jumpstart session (either in-person or virtually) with yours truly is a kickass gift for that cool gal in your life who would love a little help busting out of her boring home. Upon purchase, we'll mail you a physical gift certificate, wrapped and ready to give so you look like a total rockstar.
OH COME ON. This paint chip calendar is so pretty! I don't actually need a wall calendar (Google Calendar is my ride-or-die) but this one is so pretty I just might have to add it to my wishlist.
Teal is my spirit color (and turquoise is my birthstone) so I'm all about this ring. But any fabulous statement ring will do! The bigger, the better.
This little color matching tool is my FAVORITE thing! You can scan any surface and it will give you the closest Sherwin-Williams paint color match, as well as the CMYK/RGB/hex values. Design nerds, have fun!
Ugggh this infographic poster is the coolest! It's a visual history of American home styles from the 1700s through today. I want this sucker framed in my office.
For interior designers, creatives, business owners, or anyone who wants to be inspired to find creative work they love, this book is perfection.
Rainbow gel pens 4-EVA. Tul makes some of my favorite pens, and while I mostly use black, who doesn't love an assortment of rainbow-colored pens too?
What's on your holiday wishlist this year? Maybe something from this list of gift ideas for interior design lovers?