Posts Tagged 'What I Wish I'd Known'
Confession time: I've made some major interior design mistakes before. Instead of letting them bum me out, I'm choosing to learn from them and share them with you so that you don't make the same mistakes I did! I've purchased a lot of furniture for myself and my clients over the years, and here's what I wish I'd known about buying accent chairs.
What I Wish I'd Known About Buying Accent Chairs
See these beautiful cognac leather wing chairs? I LOVE THEM. The leather is buttery soft and perfectly distressed, the nailheads are antiqued just enough to look legit, and the high back and wings are beautifully proportioned.
All of those things I was able to discover with material samples, online images, and detailed dimensions.
But what I didn't do before buying these chairs was butt test them.
No Butt Test = No Bueno
While I thought I did my due diligence by ordering samples and confirming measurements, what I didn't do was get my body into a showroom or store to actually sit in these chairs.
What I would have discovered is that while beautiful, they're very upright – and I was hoping for a chair that was a bit more relaxed and slouchy. The nailheads down the wings and arms look great, but they hurt a bit when you rest your arms on them! While these chairs would be amazing for a more formal living room, I like to curl up and read and these chairs don't quite do it for me.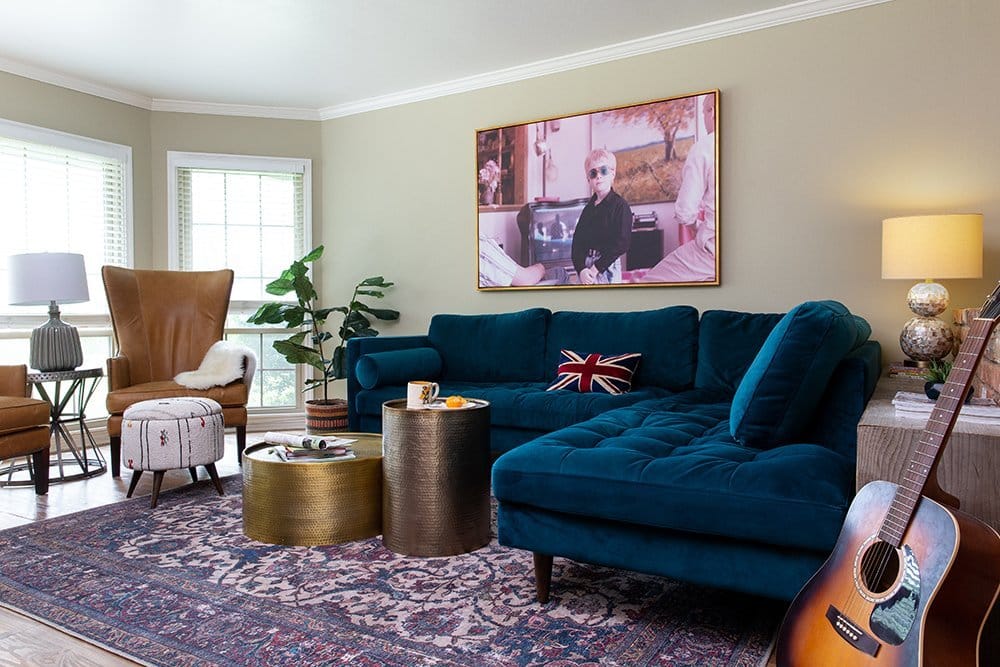 I always recommend trying out seating in person before purchasing.
If you're buying accent chairs, or a sofa, or another piece of upholstery, it's worth the time and effort to see if a local store or showroom has one on the floor that you can test before purchasing. Everyone likes different things about their seating – firm or soft seat cushions, loose or tight back cushions, a square or scooped arm. The best way to tell if a piece of furniture is right for you, your lifestyle, and your needs is to sit in it and see how you feel. You'll know right away if it's the right piece for you.
But what if a Butt Test Isn't Possible?
I've purchased most of my furniture (and so have most of my clients) without getting to sit in it first. It's not always possible to get your booty into a furniture sample, especially if you don't live near the vendor you're ordering from, or the piece is being custom-made for you. Here's what I recommend instead.
3 Tips for Buying Accent Chairs Online:
Carefully read reviews. Look for comments that talk about fit, comfort, and durability of the piece. Take outlying complainers with a grain of salt – but if you see several comments about one particular aspect of the chair, pay attention.
Measure an existing piece of furniture that you have and love, and compare measurements. If your current accent chair has a seat depth of 22″ but the one you're planning to order is only 20″ deep, it might be too shallow to be comfortable for you.
Pay attention to how the chair is constructed. Quality construction often means a more comfortable piece of furniture (although not always, as some of that is just personal preference about measurements and proportions). Here's a quick guide to common terms you'll hear when it comes to upholstered furniture construction.
I've been obsessed with interior design my entire life. As a kid, I'd rearrange my bedroom furniture every weekend to experiment with new layouts and combinations. The first time I painted my own bedroom I was 12 years old, and after a little convincing my parents gave me free rein to choose the color AND do the painting myself. I'm so grateful for these kinds of experiences because I've learned so much about color and design by trying things out. And what I discovered at age 12 turned out to be the worst paint color I've ever used.
Picture this:
I'm 12 years old. I've had years of experience coloring in coloring books (as evidenced above) so clearly I'm an expert at choosing colors. My room was painted peach six years ago by my parents and I'm dying to express my pre-teen self with a more "edgy" space. I thought that the most awesome room would have sky blue walls, with a lighter blue ceiling and sponge-painted clouds. And green carpet that looked like grass.
OMG YOU GUYS, I'm cringing even writing this at the terrible design I created. This was the 90s when sponge painting was "cool", and I can remember climbing up on that ladder to dab cloud after cloud on my ceiling thinking that I was creating a design masterpiece. (Thank goodness my parents refused to spring for the green carpet I wanted!)
And then, it happened.
The shine of a new room wore off. The excitement of having clouds on my ceiling quickly faded (and felt kinda juvenile, actually, which pissed off hardworking 12 year-old me!).
And I realized I had chosen the worst paint color ever: sky blue.
I thought sky blue walls would feel open, expansive, and free.
You know, like being outside! Duh.
But what really happened with my sky blue walls and ceilings was that the entire room felt cold. Icy. Unwelcoming. And I quickly learned the power of paint colors, and why not every color translates well from one application to another.
Even now, I'm leery of icy blue paint colors. (And sponge painting.)
There are so many shades of light grey
with strong blue undertones that are popular right now (here's a bit more about color and undertone, if you're curious), and I usually caution clients against them. While they might look grey on a color swatch, that icy undertone is going to be front and center when painted on a wall. And 12 year-old me can vouch for how cold and sterile it feels!
Don't make the same mistake I did.
Learn from me and the worst paint color I've ever used – sky blue. Thankfully I've had decades of training and experience since then to learn how to correctly choose colors, and if this is something you're struggling with at home, I'd love to help you bust out of boring and pick paint colors you totally love. Here's how.
Just because I'm an interior designer doesn't mean I know everything about everything when it comes to home decorating. I learn a lot (and I mean a LOT) as I go, through trial and error and making mistakes. On the Bust Out of Boring show last week, I shared what I wish I'd known about removable wallpaper before using it for the first time. And I promised y'all a deeper dive here – with photos.
(Wait, you're not tuning in to Bust Out of Boring on Monday mornings? Catch me live on Facebook and Instagram every Monday at 9amET answering your design Q's and helping you create kickass homes you love.)
If the word "wallpaper" still conjures up bad memories of scraping outdated floral prints off of every surface in an older home, you're not alone. Wallpaper has gotten a majorly bad rap because it used to be SO TEDIOUS to install – and take down.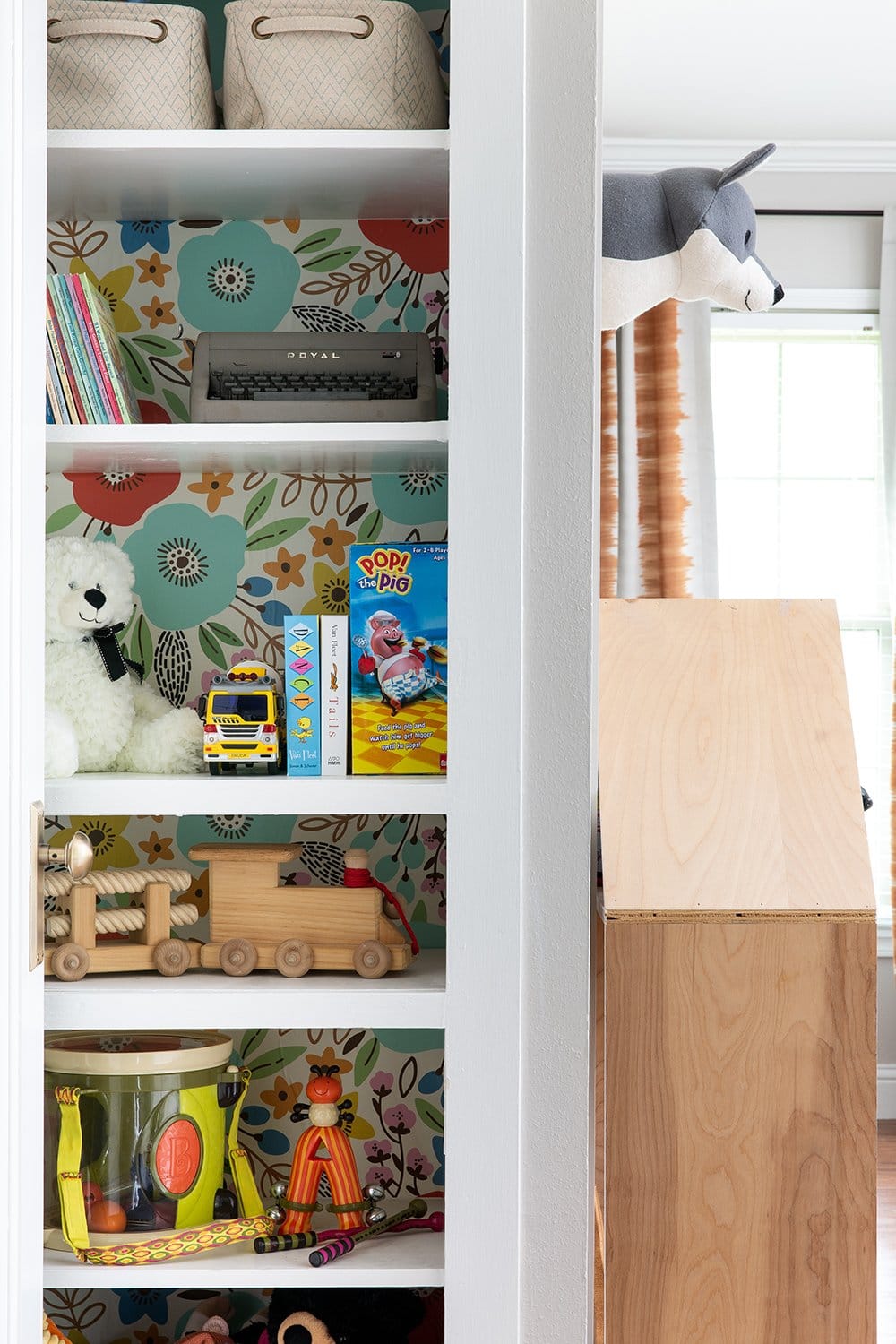 Thankfully, wallpaper has come a long way.
Wallpapers are now easier to install, and much easier to remove than they used to be. But regardless, traditional papers are still quite permanent. When you glue something to a wall, it's gonna be there for a while. That's why I totally love removable wallpaper. It's basically a giant vinyl sticker strip that's stuck to the wall – and can then be easily peeled off with no damage to the wall surface underneath. Removable wallpaper is awesome for renters, or for an office where you can't make any permanent changes.
Despite its advantages, here's what I wish I'd known about removable wallpaper before I used it for the first time.
#1. Removable Wallpaper Isn't Necessarily Cheaper
Oh, did you think giant stickers for your wall would be way less of an investment than traditional wallpaper? So did I. But that's not always the case. If you're thinking about using a removable wallpaper only because you think it's gonna be cheap and cheerful, think again. The price may be more similar than you think to regular ol' wallpaper. (But since you can DIY and don't need an installer, it may work out to be more affordable in the end.)
#2. Installation Can Be A Little Tricky
For the wallpaper installation above, I hired a professional installer since the room has 10′ ceilings (and also because I didn't want to mess it up!). My installer surprised me by saying this was one of the most difficult installations he had done.
Why?
Traditional wallpaper – installed by wetting a floor-to-ceiling length strip of paper with water and paste – has a lot of wiggle room to slide into place on the wall. If the strip of wallpaper is slightly crooked, it's easy to shimmy it straight while it's wet.
Removable wallpaper has no forgiveness. It's gonna stick to that wall exactly where you place it. If it's slightly crooked or the pattern doesn't quite match, you've gotta peel up the whole strip and re-position it.
#3. Vinyl Is Stretchy.
I would have never thought of this unless my wallpaper installer had pointed it out, but as he was pulling and re-positioning the removable wallpaper, it would stretch ever so slightly. It may not look like much of a change, but when the vinyl stretches just a little bit, the pattern may not quite line up with what's already been applied to the wall. He did a stellar job with the installation, but he admitted to me that there was one area he just could not get to match up properly. (Thankfully, it's hidden behind the brass credenza.)
Most removable wallpapers are touted as "removable and re-positionable", meaning they can be removed and re-applied somewhere else. However, experience has shown me that once they've been pulled off a wall, they've stretched enough to be nearly impossible to re-install well.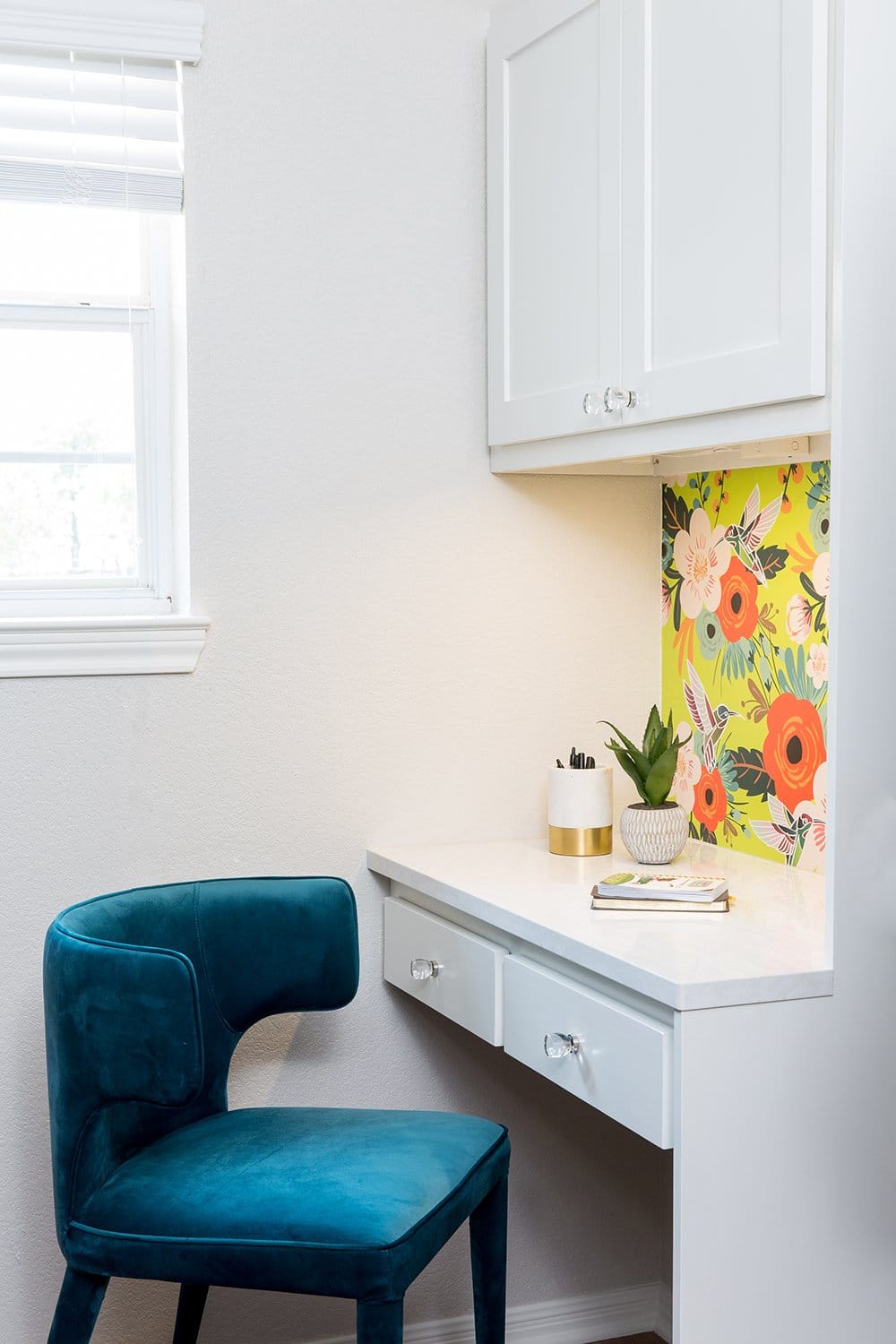 Removable wallpapers are cool, quick to install and remove, and super awesome for anyone who wants to jazz up their space but can't make a permanent change. All of the wallpapers shown here are from Walls Need Love, one of my fave wallpaper vendors. They're not sponsoring this post – I just dig 'em and think you might too.
What I wish I'd known about removable wallpaper is that it has its own quirks with installation and removal (so be prepared!), but it's an awesome option for major impact with minor commitment.
👉 Don't make the same mistakes I did! Learn from a design pro – check out more of Lesley's hard-earned wisdom in the What I Wish I'd Known series.