What Is Accent Lighting, and How Do You Use It?
We've talked before about the three types of lighting: ambient, task, and accent as used in a kitchen. While that info is a great starting point, it's pretty kitchen-specific (obviously). So let's dive into what is accent lighting and how do you use it in the rest of your home.
Disclosure: Some of the products featured were sponsored by a brand I use and love for myself and for my clients, Lamps Plus. Thank for your support!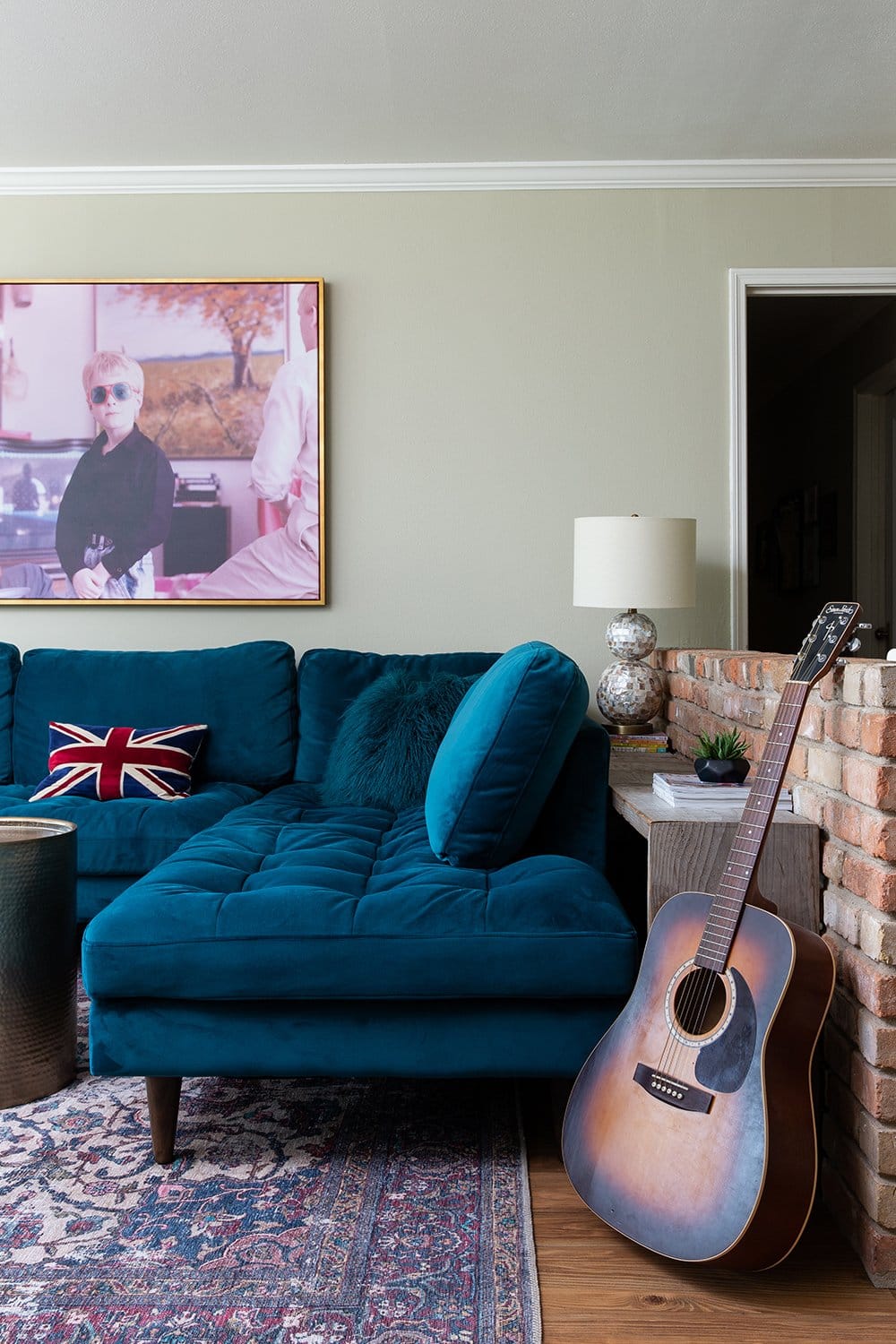 According to my friend, Wikipedia, "Accent lighting focuses light on a particular area or object. It is often used to highlight art or other artifacts. Common types of accent lights include wall sconces, floodlights, recessed lights, torchère lamps, or track lighting. The brighter light from the accent lamp creates visual interest to a room."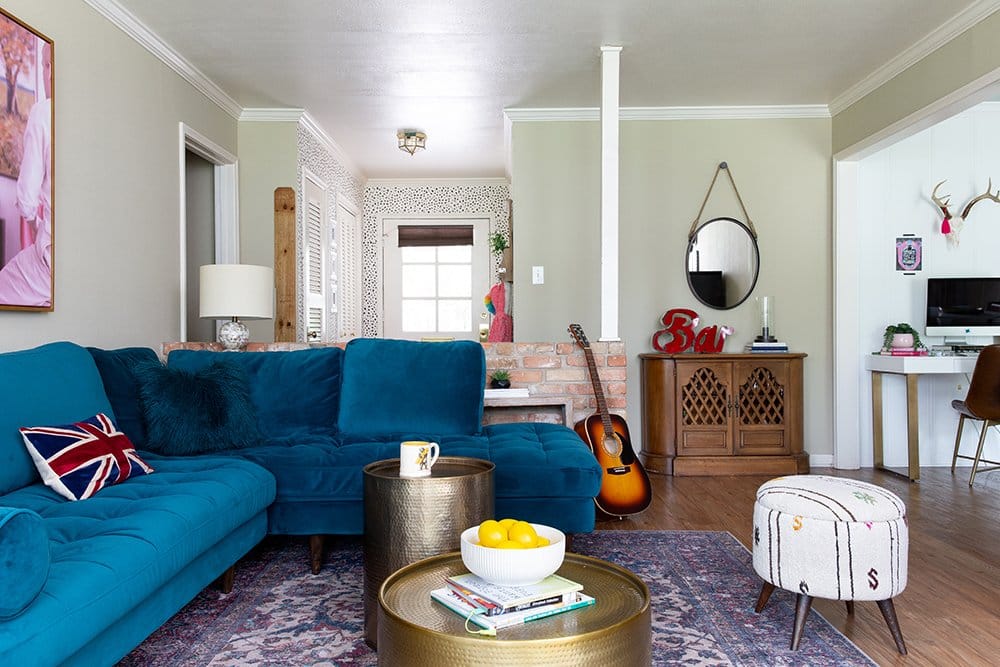 Did you get that? Basically, accent lighting highlights particular areas or items in a room that you want to draw attention to – even artifacts, if you have those. (WTF?) I also like to use it to illuminate dark corners and help bring a cozy vibe to a space. Accent lighting is what gives a room alllll the feels.
Ambient lighting 'brightens things' overall, task lighting is used to illuminate areas for 'specific purposes/periods/actions,' and accent lighting is all about good vibes.
How do you use accent lighting in your home?
Let's take a look at how I used lamps in our Texas home. The mother-of-pearl table lamp (similar) on the console table above lights up the dark space behind the sectional, and the Seeded Glass Edison Bulb Accent Lamp on the bar brings attention to that area of the room where there's no overhead ambient lighting.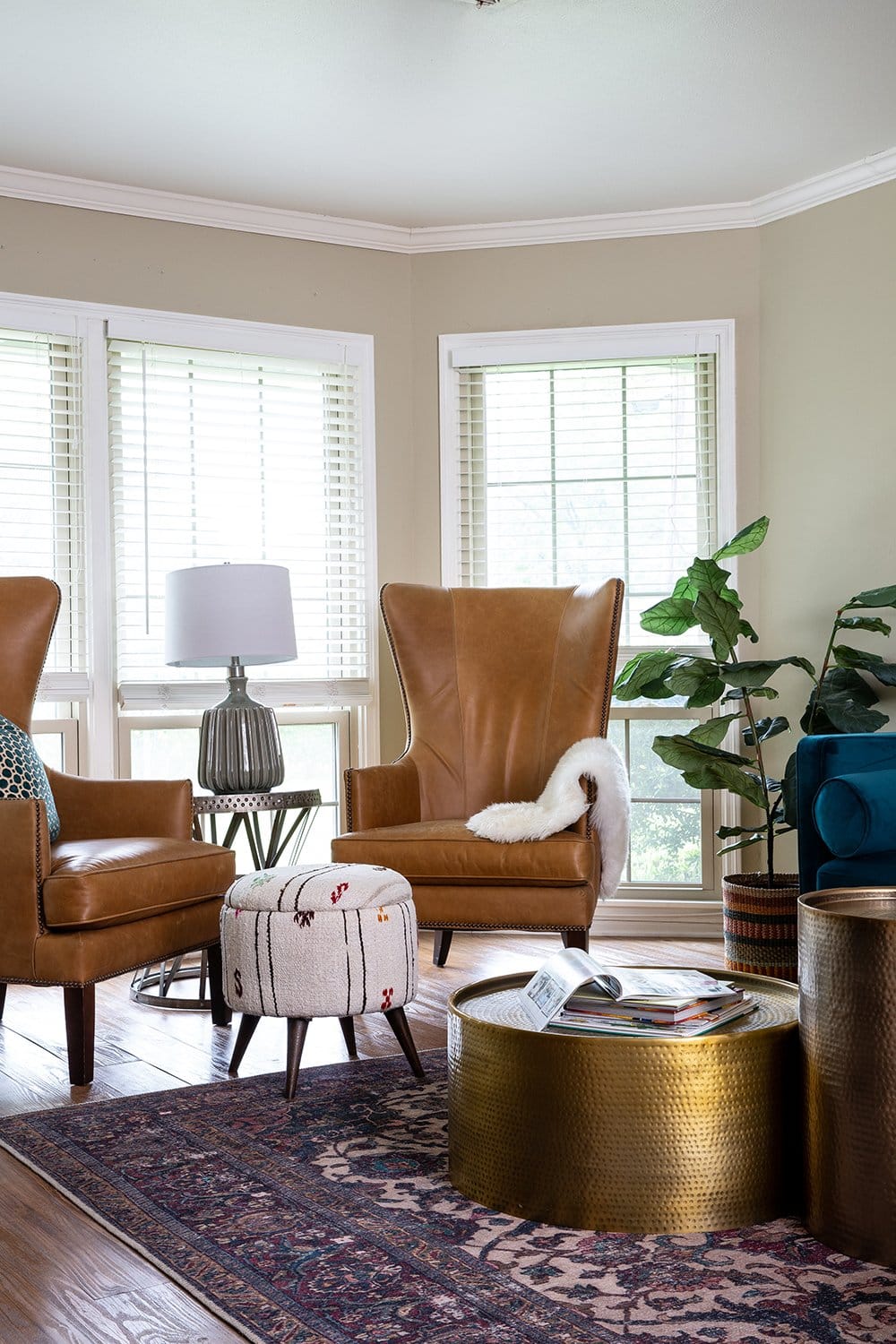 Clearly, I'm a fan of lamps and use them everywhere. There are four in the living room alone! I actually prefer to not use overhead lighting when I can, and I rely on multiple accent lamps to provide most of the light in my home.
This Mid-Century ceramic lamp (similar, in white) lights up the seating area and is essential when the sun goes down, since sunlight takes care of illuminating the room during the day.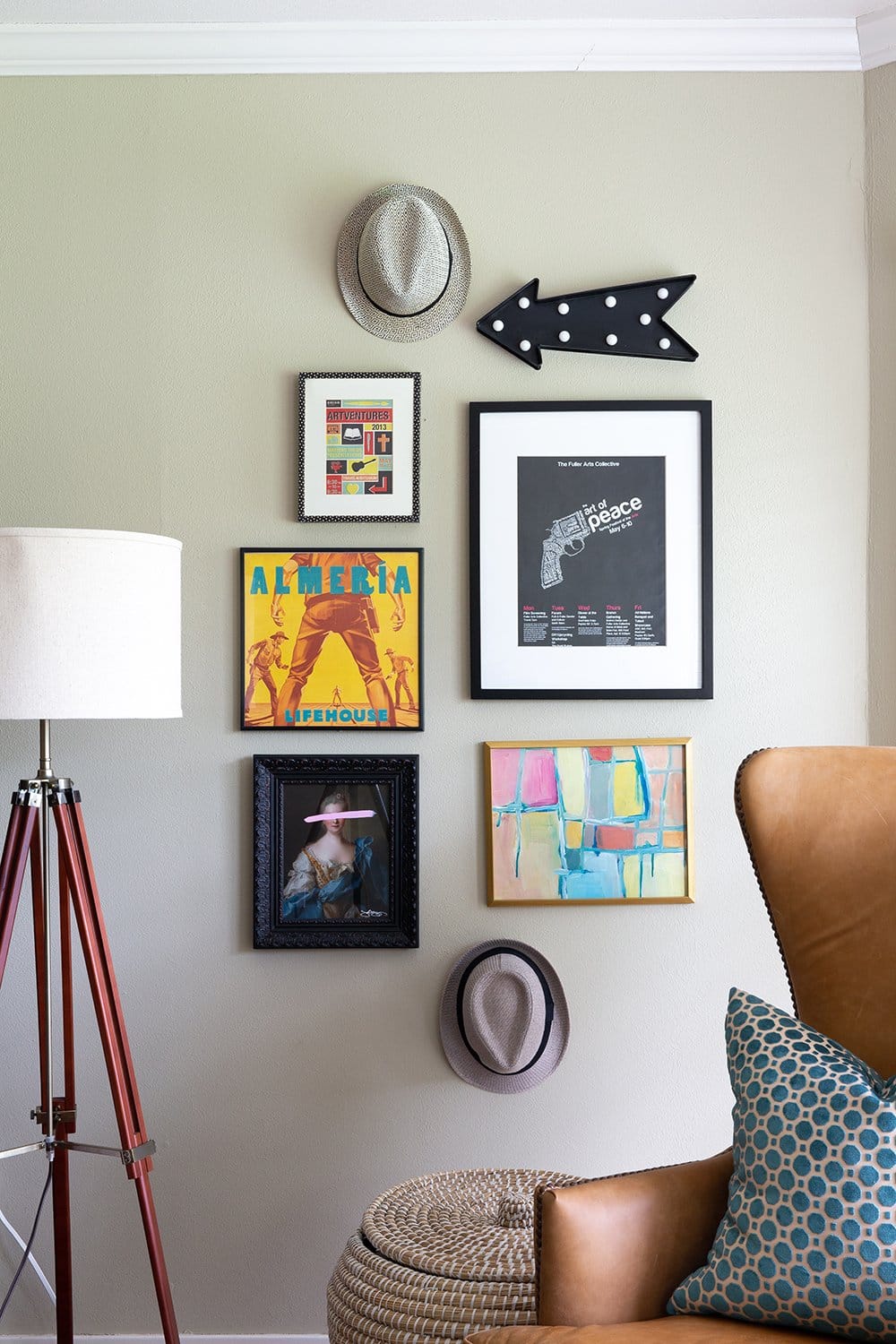 To the left of the leather wing chairs is another accent lamp (shocker!) that does the job of casting light into an otherwise dark corner. I love the wood and brass combo on this Surveyor Cherry Wood Floor Lamp.
Got it – Lesley loves lamps. Now what?
It's time for a trick question: is the chartreuse table lamp pictured below in my former office considered accent lighting or task lighting?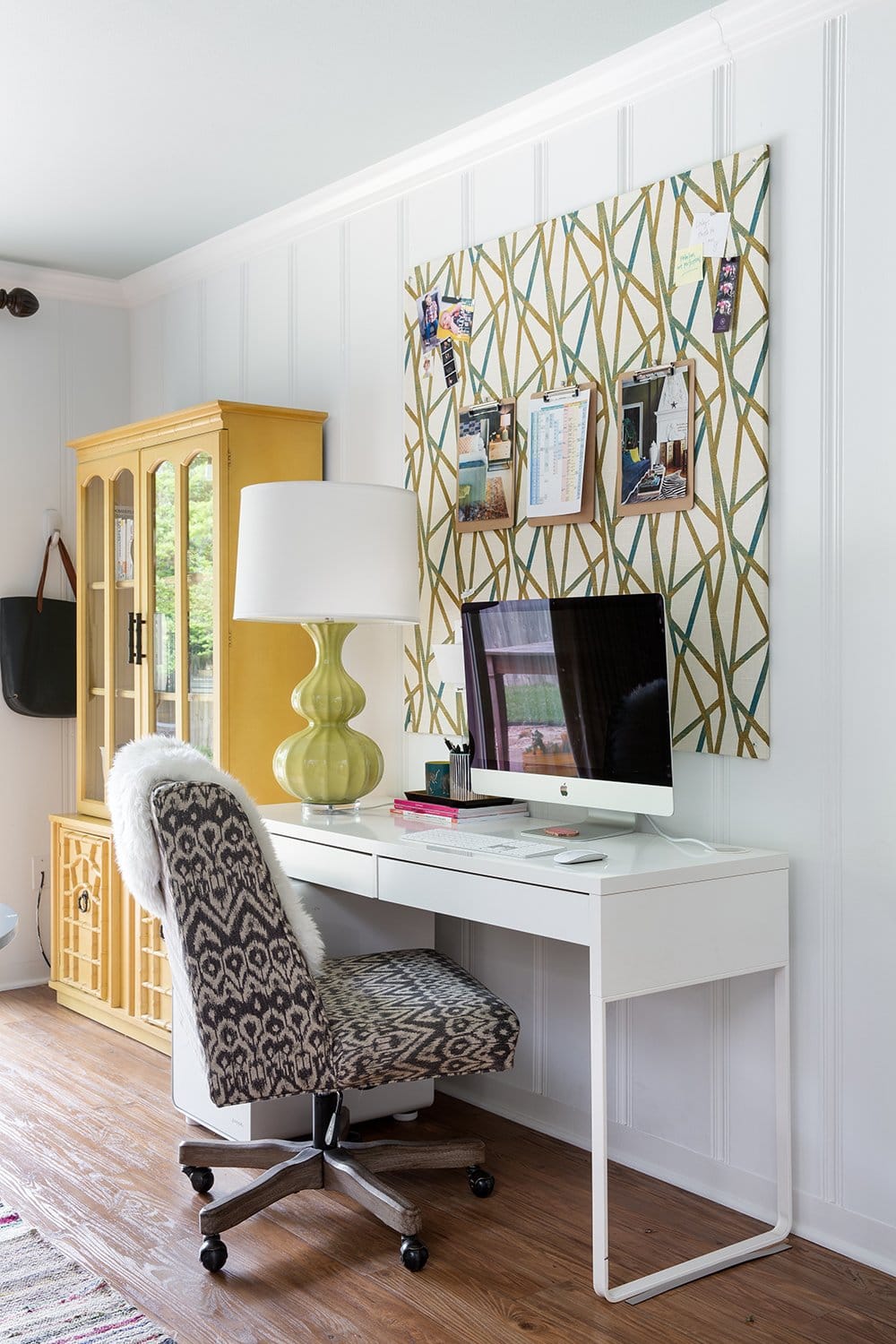 Answer: it's both. While I used this hip oversize ceramic lamp as a desk lamp, it does double-duty as both task lighting for my work and accent lighting for the entire office.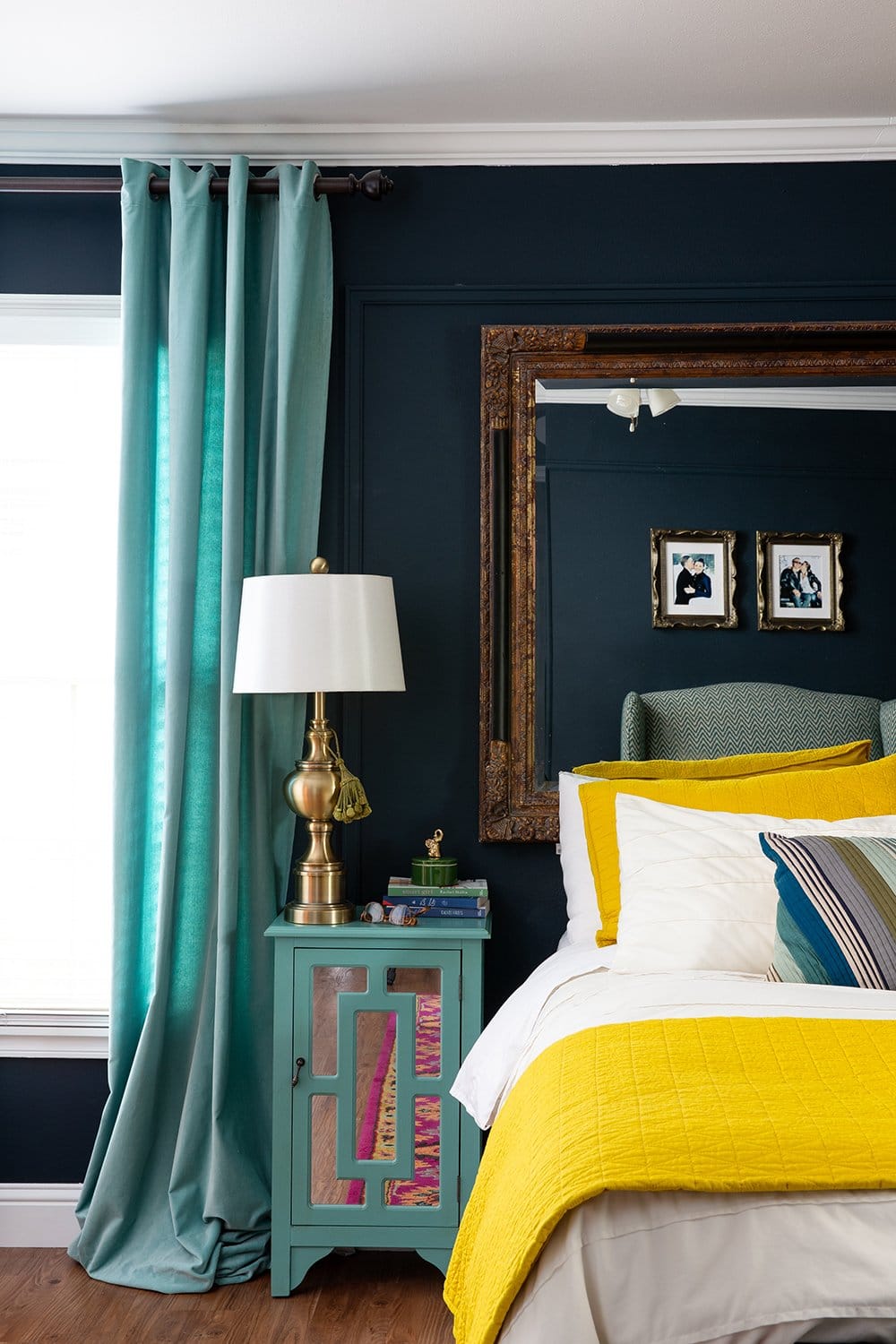 Same goes for a table lamp on a nightstand. It crosses over from accent to task lighting, and I'm not mad about that.
Here's what I want you to know about accent lighting:
It is the secret sauce that takes a room from mediocre to magazine-worthy. It doesn't matter how gorgeous your furniture is, if you have crappy lighting, you have a crappy room.
Let me say that again: if you have crappy lighting, you have a crappy room.
Layering lighting is key to a kickass designer look, so if you're relying only on overhead ceiling lights, it's time to go shopping for some statement-making lamps. (Lamps Plus is one of my fave secret sources – not so secret anymore, I guess.)
---
WHAT'S YOUR TRUE DESIGN STYLE?
We know you're not just modern or traditional – you're way more stylish and interesting than that! So what's your true design style? Take our fun quiz to learn what your true design style is (and get a shoppable style board to help create a kickass home you love!)