What to Expect When Working with An Interior Designer
What does it actually look like to work with a designer from start to finish? What is the process? What's included? Here's what to expect when working with an interior designer, and how we do it here at Lesley Myrick Interior Design.
Step 1: Consultation Call
Step one is a complimentary consultation video call. This is totally free, and I'd love to chat with you about your interior design project so please book your call right here! It's you and me meeting on Zoom so that we can get to know each other, I can learn about your project, and see if we're a great fit together. If it's a "heck yes!" from both of us, we move forward with a Design Jumpstart.
Step 2: Design Jumpstart
What most interior designers just call a "design consultation", I decided to call a Design Jumpstart. Because it is a friggin' fantastic two-hour power session to jumpstart your design project and deserved a better name! A Design Jumpstart can be the beginning of a project together, or it can be a standalone information-packed consultation to get design guidance and resources to move forward on your own. (Learn more and schedule your Design Jumpstart session right here.)
Step 3: Design Master Plan
If you want to move forward with us (and we sure hope you do!) step 3 is our signature Design Master Plan. This is the good stuff! Design Master Plan starts with a Concept Design where we establish an ideal furniture layout, create an itemized budget, and confirm the aesthetic direction. Then it's time for Detailed Design where we finalize all selections, create scaled drawings, 3D renderings, and present a proposal for your goods. It's all there – every single thing selected that we need to put in place to see your project through to completion. Once the Design Master Plan is complete our clients can use their plan to complete their project on their own, or we can make the magic happen for them. (Busy moms love to let us handle this!)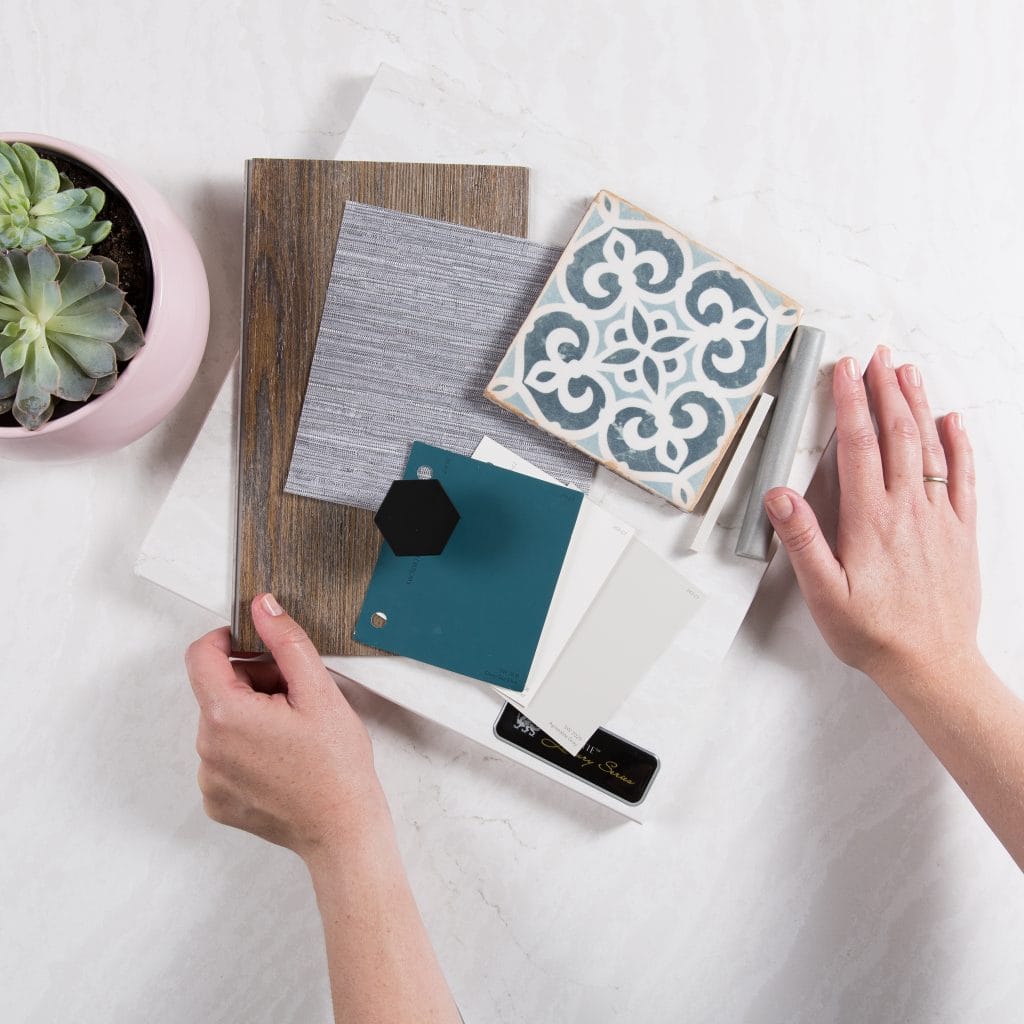 Step 4: Implementation
Implementation is when the design plan becomes a reality. And – full disclosure – it's the really boring part, which is why our clients love to hand it off to our team! This is when we are working with your contractors, making sure everything is installed and created to our specifications. It's when we are ordering goods and tracking and receiving and inspecting and warehousing and getting everything put in place. At this point we're almost finished, but there's one more step…
Step 5: Room Reveal
Yes, just like on TV, we'll kick you out of your home and bring you home to a completely finished space! All those finishing touches that make a room complete – art, accessories, pillows, stying – are done for you so you can open the door to your own HGTV-worthy moment. (Yes, there will be champagne, and yes, there will be happy tears!) It's my favorite part of my job as an interior designer to see my clients experience their totally transformed home for the first time.
What can you expect when working with Lesley Myrick Interior Design?
Our clients are busy, high-achieving, kickass moms and women. They have a lot on their plates. They don't want to be dealing with ordering and tracking and installing furniture, they just want it done. They want to walk in their homes and feel like they're at their favorite hotel. They want their home to be playful and polished and put-together so they can breathe easy and rest. And that's what our simple and straightforward 5-step process allows them to do.
What can you expect when working with another interior designer?
Every designer is different, and every design firm is different, so if there's a designer you're interested in working with it's best just to ask them! I know some designers that have 15 steps in their design process and others that have 10. Simplicity and clarity are important to me, and that's why we've landed on 5 steps. (It's also my favorite number, if you're curious.)
Have questions about working with us? Please don't hesitate to ask so that you'll know what to expect when working with an interior designer! We've got more info in our FAQs, and are always available via email at hello@lesleymyrick.com.