What to Expect When Working with An Interior Designer
What does it actually look like to work with a designer from start to finish? What is the process? What's included? Here's what to expect when working with an interior designer, and how we run a full-service turnkey design project here at Lesley Myrick Interior Design.
Step 1: Project Kickoff
We start with a complimentary consultation call (please inquire here to request a call) so we can get to know you, learn about your design project, and see if we're a great fit together. If it's a "heck yes!" from both of us, we'll schedule a brief meeting to review your space, present your project proposal and kick off our work together.
Step 2: Conceptual Design
During the Conceptual Design phase, we confirm the scope of the project, establish an ideal furniture layout, create a per-room budget plan, and confirm the aesthetic direction of your design project. At the Conceptual Design presentation, you'll review and approve inspiration boards and initial design selections, too.
Step 3: Detailed Design
In the Detailed Design phase, we get ready to turn your approved ideas into concrete selections. We source every furnishing and material and then create detailed floor plans, elevation drawings, moodboards, and 3D renderings. All of this is presented along with an itemized proposal to create a complete picture of your design.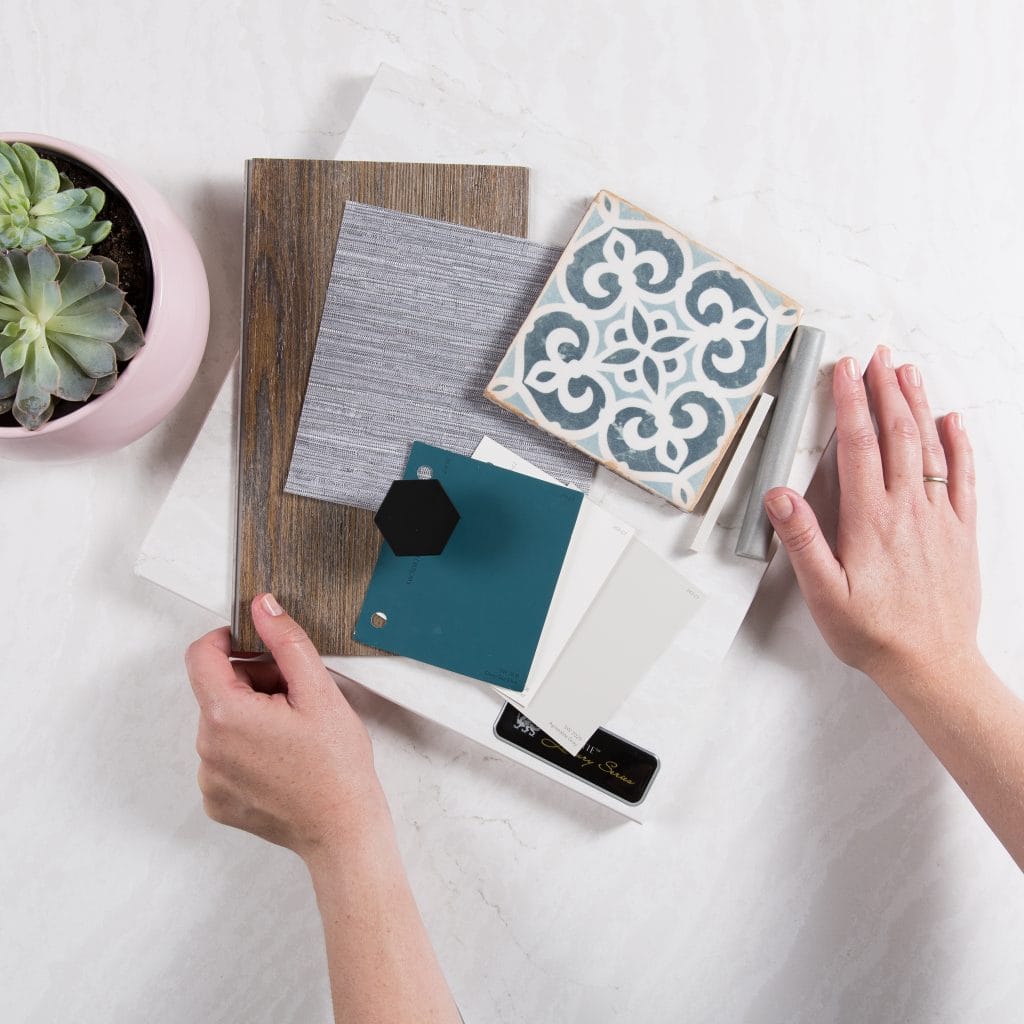 Step 4: Implementation
It's time for your design plan to become reality. We procure all of your goods and partner with a white-glove receiving company for assembly and delivery. We'll also liaison with your contractors and tradespeople to ensure everything is executed according to plan.
Step 5: Room Reveal
Just like on TV, you'll get an HGTV-worthy room reveal! From arranging furniture to hanging artwork to styling your shelves, we pull it all together so you can come home to a fully finished space. We'll also bring in our photography crew, and make sure any issues are resolved.
What can you expect when working with Lesley Myrick Interior Design?
Our clients are busy, high-achieving, kickass moms and women. They have a lot on their plates. They don't want to be dealing with ordering and tracking and installing furniture, they just want it done. They want to walk in their homes and feel like they're at their favorite hotel. They want their home to be playful and polished and put-together so they can breathe easy and rest. And that's what our simple and straightforward 5-step process allows them to do.
What can you expect when working with another interior designer?
Every designer is different, and every design firm is different, so if there's a designer you're interested in working with it's best just to ask them! I know some designers that have 15 steps in their design process and others that have 10. Simplicity and clarity are important to me, and that's why we've landed on 5 steps. (It's also my favorite number, if you're curious.)
Ready to start your design project? Learn more about our services or inquire with project details to get started.