What to Splurge On (And What to Save On) In A Dining Room
Designing a dining room seems pretty straightforward, right? While a living room can have more configuration options, most dining rooms have a table and chairs, and maybe a sideboard and rug. Even though it's a simpler space with fewer pieces needed to feel complete, it's sill important to be aware of your budget and prioritize it well to get the best room for your bucks. Here's what to splurge on (and what to save on) in a dining room.
Splurge
Dining Table
Area Rug
Chandelier
Save
Dining Chairs
Sideboard
Dishware
---
What to Splurge on In Your Dining Room
Splurge: Dining Table
The first thing that I recommend you splurge on in your dining room is…your dining room table. You probably guessed that, right? It's literally the focal point of the room and needs to stand up to a lot of use. No cheap wiggly tables here! (I've had a bad dining table with a wobbly top and it was literally the worst.) Make sure you're investing in a dining table made of quality materials and constructed to be durable and strong.
Just because it's a splurge doesn't mean it has to be the fanciest table. In fact, a simple dining table can be better because it allows the other elements in the room to really shine. Here are my favorite dining tables from my favorite vendors to help you invest in one you love.
Splurge: Area Rug
I know that not everyone is cool with a rug underneath where they eat, so if it's not your thing, you can skip this. But personally? I love a good rug situation. And the reason I suggest that you splurge on an area rug in the dining room is that you want your rug to be durable and cleanable, especially if you have kids. (My kiddos are 4 and 7, so a quality wool rug is a must!) I've curated my favorite area rugs in The Shoppe.
Bonus: Here's more info about what materials to avoid for rugs, and our free area rug size guide too.
Splurge: Chandelier
The third splurge for a dining room – and this is probably my very favorite – is a chandelier. You've probably noticed that everything in the "splurge" category is the stuff that goes right in the middle of the room, and this is no exception. When you first walk into a dining room, the chandelier is immediately what will catch your eye. It's like jewelry for your room – a little bit of bling to finish things off.
Buy a badass dining room chandelier (my fave light fixtures are here) and you'll love walking into that dining room every single day.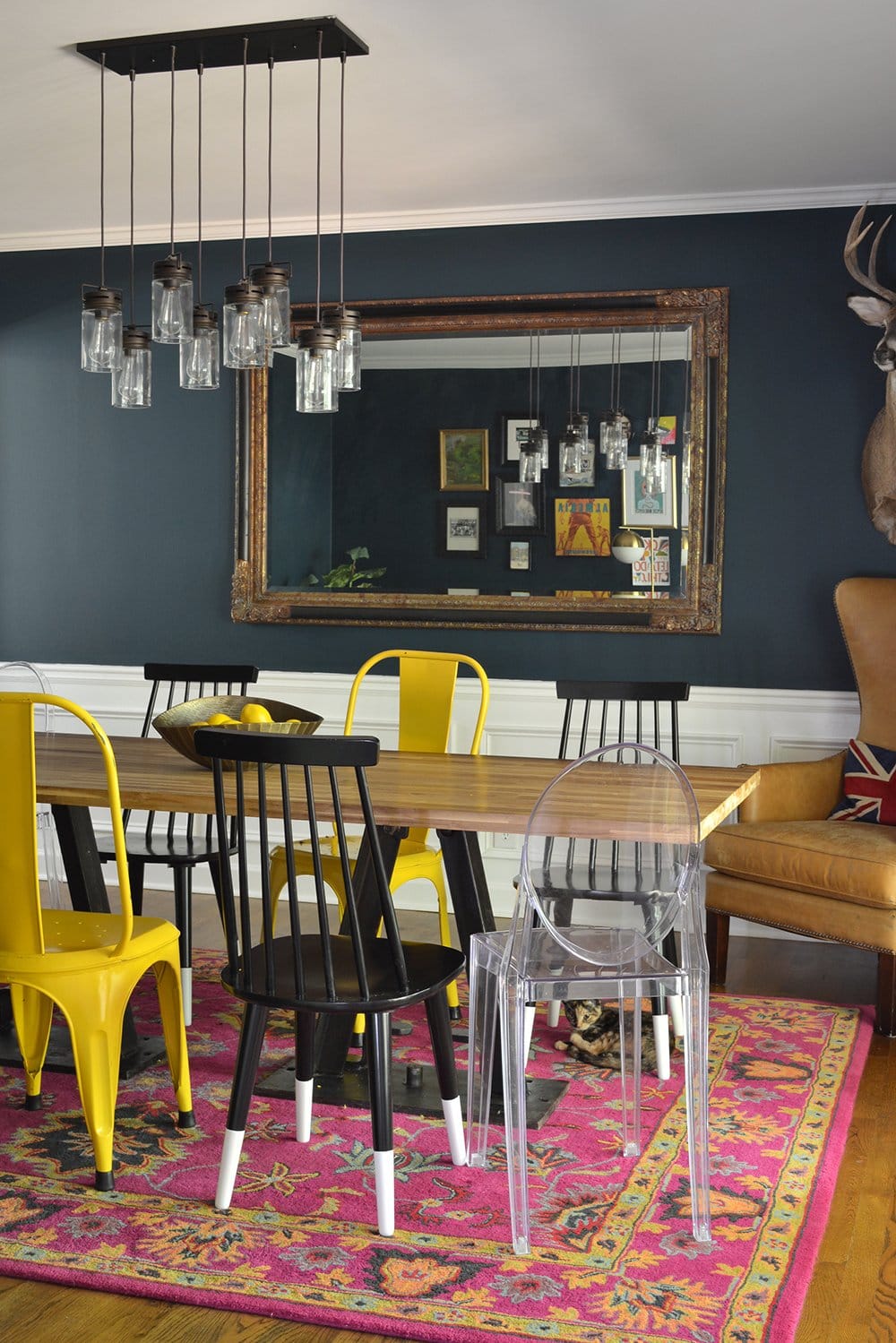 What to Save on In Your Dining Room
Save: Dining Chairs
This was a tricky one to include in the "what to save on in your dining room" category because, just like a dining table, you want your chairs to be sturdy and well-made. But the reason I suggest splurging on the table and saving on the chairs is that your dining table is likely going to need to last you a long time, whereas you may want to change out the chairs every five or ten years to keep the room feeling fresh.
For me, our "cheap and cheerful" hard chairs pictured above are meeting the current needs of our family, but in a few years (when we can trust our kids around upholstery while eating!) I'd love to upgrade to upholstered seating.
Shopping for dining chairs? You know I've got you covered in The Shoppe.
Save: Sideboard
The second thing to save on in your dining room is a sideboard (or console, or credenza, or whatever fancy term you want to call it). It's a secondary piece in the room, and while you still want a well-made piece able to store dishware and function as a serving station on occasion, it's not the focal point and can handle a little less visual attention. It's not going to shout for attention the way the table and chandelier will. Buy something good, if your budget doesn't allow for great. Here are some of my favorite consoles and sideboards.
Save: Dishware
You might fight me on this one, and that's okay – it's totally a personal preference because I do not like tablescaping. People assume that as an interior designer I must love tablescaping (nope), party planning (heck no), and holiday decorating (helllll no). Fancy dishes and setting tables are not my thing! Quite honestly, I think that plain white dishware is the best. Whiteware allows your food – and decor! – to take center stage. So invest your design dollars elsewhere and embrace minimally elegant white dishware.
Holiday season is just around the corner, and if I can help you make over your dining room before the holidays please reach out! Book a complimentary consultation call and let's chat about making your dining room dreams a reality.