What to Splurge On (And What to Save On) In A Living Room
If you've never done the math to figure out how much it actually costs to design an entire living room, I want you to take a minute and mentally add up how much you spent designing that space. Of course, there are the obvious large investment pieces like your sofa and coffee table and area rug, but what about table lamps? Side tables? Vases? Artwork? Candles? Photo frames? You might be surprised at the amount that it takes to design and decorate a room well. (If trying to figure this out sounds terrible to you, I've got a free room-by-room budget guide with real-life budget numbers to help you out.) Spoiler alert: It's a heck of a lot more expensive to put together an entire room than you might think! So here's what to splurge on – and what to save on – in your living room, without compromising on design and style.
Splurge:
Sofa
Lamps
Statement Pieces
Save:
Accent Seating
Accent Pillows
Accessories
---
What to Splurge On in a Living Room
As an interior designer in Atlanta, here's what I encourage my clients to invest in (and how I invest my decorating dollars in my own home, too).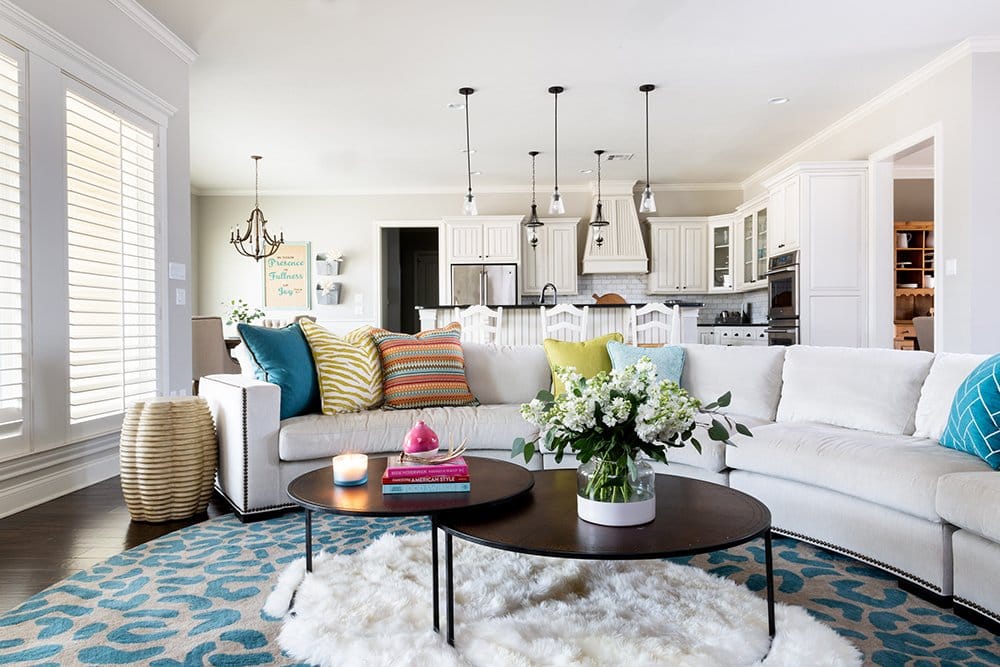 Splurge: Sofa
Don't cheap out on a sofa. You will regret it. (I know this firsthand!) If this is a room you use frequently, you want a couch that's going to be comfortable, well-made, that's going to hold up. I know, they can be expensive, but spend money on a sofa! I prefer either a leather or performance fabric, as those hold up the best over time.
Splurge: Lamps
There is nothing worse than a table lamp with a wonky shade that doesn't stay at the right angle or something's just a little bit crooked! Lighting is a huge part of what makes a room feel complete and feel put together. Invest in good lighting, especially accent lamps that are at eye level.
Splurge: Statement Pieces
The third thing I recommend you splurge on – and this one is going to be really subjective to you – are statement pieces. Maybe you found a beautiful lamp or a fabulous piece of art, or a gorgeous designer pillow, and you love it. That is a wonderful way to invest in your home and a wise way to spend your money! Don't be afraid to spend the money when you find something absolutely phenomenal that really makes the room feel like "you".
What to Save On in a Living Room
You invested in a great sofa, kickass lighting, and unique statement pieces that totally rock your world. Now, where can you pull back a little bit budget-wise and still get a fabulous end result?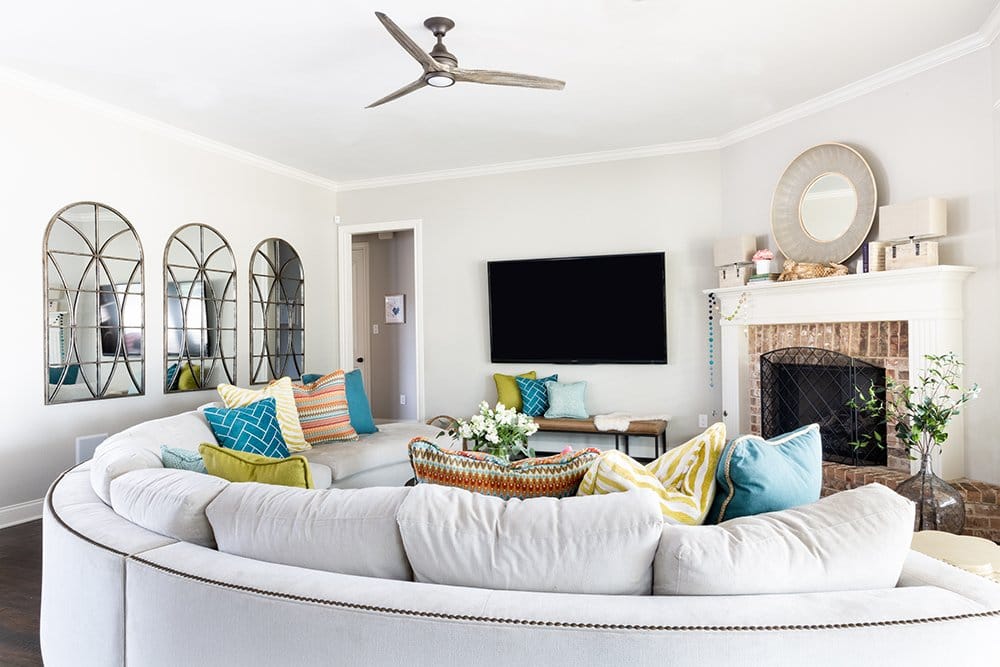 Save: Accent Seating
Let's be clear: you don't want to buy hard, terrible, uncomfortable crap! But, if it's not something that's being sat in every day, you can save on accent seating to help your budget go further. If your accent chairs are used in the regular, invest in them the same way you would a sofa.
Save: Accent Pillows
A pillow in a luxe, gotta-have-it fabric is a worthy splurge to become the centerpiece on your sofa. But I get that not every pillow in your living room needs to cost $450! Here's a secret: it's often the filling that sets designer pillows apart from mediocre ones. As long as the pillow has a zipper (and any decent one will), you can swap out the stiff polyester form it comes with for a plush down/feather one. A modestly-priced pillow cover can look mega expensive with the right filling inside.
Save: Accessories
Found a killer statement accessory that you absolutely love? Spend the money! You'll never regret having unique, awesome things in your home that set your space apart. But most rooms need some filler pieces too (like vases, or bowls, or stacks of hardcover books). For those basic accessories, I shop locally with a "cheap and cheerful attitude". But here's the trick: neutral is the key.
Look for inexpensive accessories in natural materials and neutral finishes like metal, wood, ceramic and marble – they look the most expensive. When you start to buy low-budget accessories that are brightly colored and are trying desperately to be statement pieces, they just look cheap. Save on the basic accessories; splurge on the fabulous statement ones.
Listen, an entire living room costs a lot. There are ways to bust out of boring and have a home you love without totally breaking the bank. It's just a matter of knowing what to splurge on – and what to save on – in your living room.