What to Save On In Your Bedroom
Even though we spend a ton of time in our bedrooms, we're asleep for most of it! But of course, we want our bedrooms to be comfortable and look great. So let's talk about how to prioritize a budget for bedrooms. Here's what to splurge on in your bedroom; here's what to save on in your bedroom; and here's what could go either way.
What to Splurge On:
Mattress
Accent Pillows
Nightstand Lamps or Sconces
What to Save On:
Bed linens
Overhead lighting
Bench / accent seating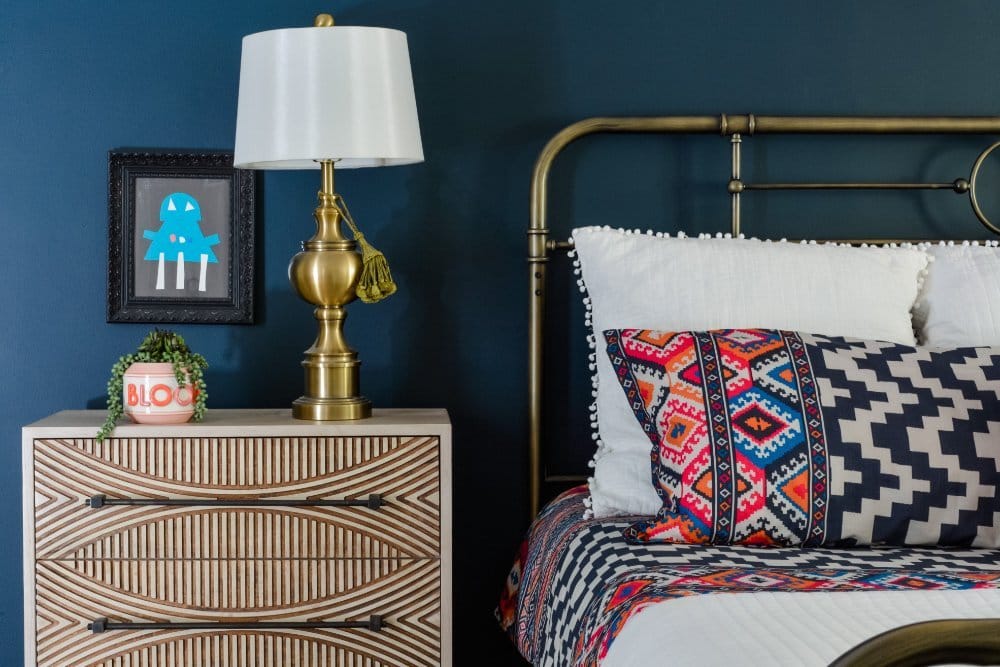 Splurge #1: Your Mattress
Okay, it's boring, but the first thing to splurge on in your bedroom needs to be your mattress. Be comfortable. Please don't make your bedroom so pretty that you have no money left over for a good mattress and you hate your life. A comfortable, quality mattress is totally worth it, even if it means having to scale back your design dreams elsewhere.
Splurge #2: Accent Pillows
The second splurge – and this one is less typical – are decorative pillows. You know, those beautiful square pillows or bolsters that sit front and center on a beautifully made bed? This is where I unexpectedly like to splurge on a gorgeous designer fabric or a an extra-long king lumbar pillow. Will one pillow feel expensive in comparison to everything else in the room? Yes. Will this one amazing pillow be the secret weapon that instantly elevates the entire room and makes even the budget pieces look expensive? Yes.
One or two pillow splurges can completely transform a room and make it feel truly finished. (Shop our favorite accent pillows right here!)
Splurge #3: Nightstand Lighting
Here is why I think that's a good investment to spend a little bit more than you normally would on your bedside lighting: when you're in bed, these lamps or sconces are right at your eye level where you can see them. They're creating an ambiance in the room, and also providing reading light. Getting your nightstand lighting right helps the head of the bed become the well-deserved focal point of the room. (Here are our picks.)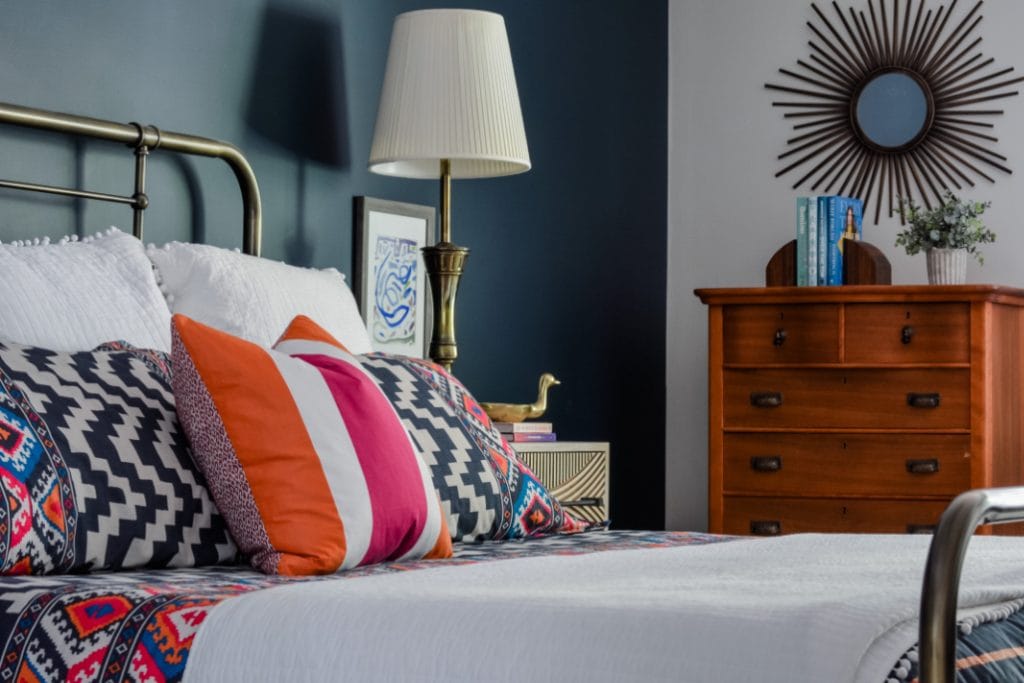 Save #1: Bedding
You might be surprised by this, but I often save money in a bedroom design project on bedding! This realization came from personal learning experience known as marriage.
My husband is sooooo picky when it comes to bed sheets! We tried fancy schmancy cotton sateen sheets; expensive sheets with high thread counts; inexpensive polyester sheets; just about everything out there. I didn't have a strong preference for any of them – they all seemed just fine to me. And after all of those bedsheet purchases, what ended up being his favorite? A cheap and cheerful set of jersey sheets from Target that cost around $20.
He loves them; I love them. DONE. Bed linens are a very personal decision, and price doesn't always equal comfort. Anything that touches your skin has to feel good, so find what works for you (and your picky partner).
Save #2: Overhead Lighting
Now, don't get me wrong – a kickass chandelier is amazing in a bedroom! However, since the head of the bed naturally becomes the room's focal point, you're not often paying much attention to what's happening overhead. A simple light fixutre or ceiling fan often does the trick if budget is a concern.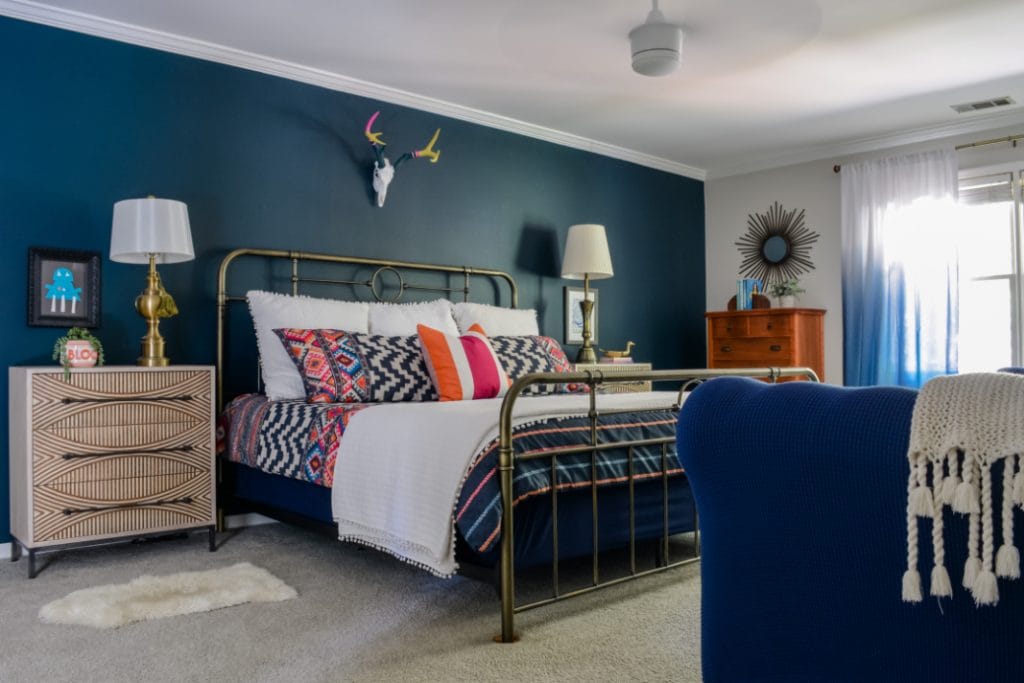 Save #3: Bench
Another thing to save on in your bedroom is accent seating, like a bench at the foot of the bed. I love adding extra seating when possible in a bedroom – it makes the space feel comfortable and luxurious, and really finishes off the design. However, let's think about it: you're not really sitting on that bench or chair a whole lot so it doesn't need to be an heirloom-quality piece. I'm a big fan of looking for cool soft furnishings for a bedroom that don't break the bank (especially if you splurged on a dreamy mattress!).
Splurge OR Save?
Two bedroom items are a toss-up for me. It's all about finding what works for you, your style, and your budget. The first toss-up is a bed frame. A quality frame is essential, and a great bed is going to be worth every penny. However, in this design project above, the bed frame was under $600 and incredibly sturdy! When done right, the high-low mix in interiors is cool and effortlessly chic.
The other piece of bedroom furniture that you could choose to splurge or save on are nightstands, and here's why. Part of me wants to splurge on them because they become part of that beautiful focal point in your bedroom, but nightstands aren't also as heavily accessed as a dresser or wardobe and don't need to stand up to as much use. (I pretty much just keep exercise clothes and pajamas in mine, and I can assure you the exercise clothes aren't being accessed daily!) If you find great nightstands that are inexpensive, awesome. If you find beautiful ones that are more of a splurge, then heck yes! Go for it and enjoy them.
As with any design project as with any client I work with, I always recommend that if you find an amazing piece you love, it belongs in your home. Items you love are a worthy splurge and there are other places where you save to keep the overall budget in a range you're comfortable with.
Want help designing a bedroom you love – and save yourself time, money, and mistakes? Here's how we can work together.