What Type of Headboard is Best?
We all know a comfy mattress is essential. But what about a headboard? Should you invest in an upholstered headboard, or is a wood or metal one comfortable? And, do you need a headboard or a full bed? SO MANY BED-RELATED QUESTIONS! Here's what type of headboard is best so that you can get a good night's sleep.
First, headboard or full bed?
Let's first start by clarifying the difference between a headboard and bed so that you can determine what's best for you. A headboard is…just the headboard. (As you might have guessed.) A headboard attaches to an existing bed frame or bed rails, so in order for a headboard to work, you'll need some sort of foundation to attach it to. If you've already got a bed frame and you're happy with it – great! A kickass headboard is probably all you need.
Starting from scratch, or don't love the bed frame you have? You'll want to choose a full bed. This will include the headboard as well as side rails, a footboard or foot rail, and pretty much everything except the mattress.
I prefer a full bed instead of just a headboard because of the finished sides and footboard. It's just a beautifully polished look, like in the bedroom below from our MidCentury Master Bedroom project.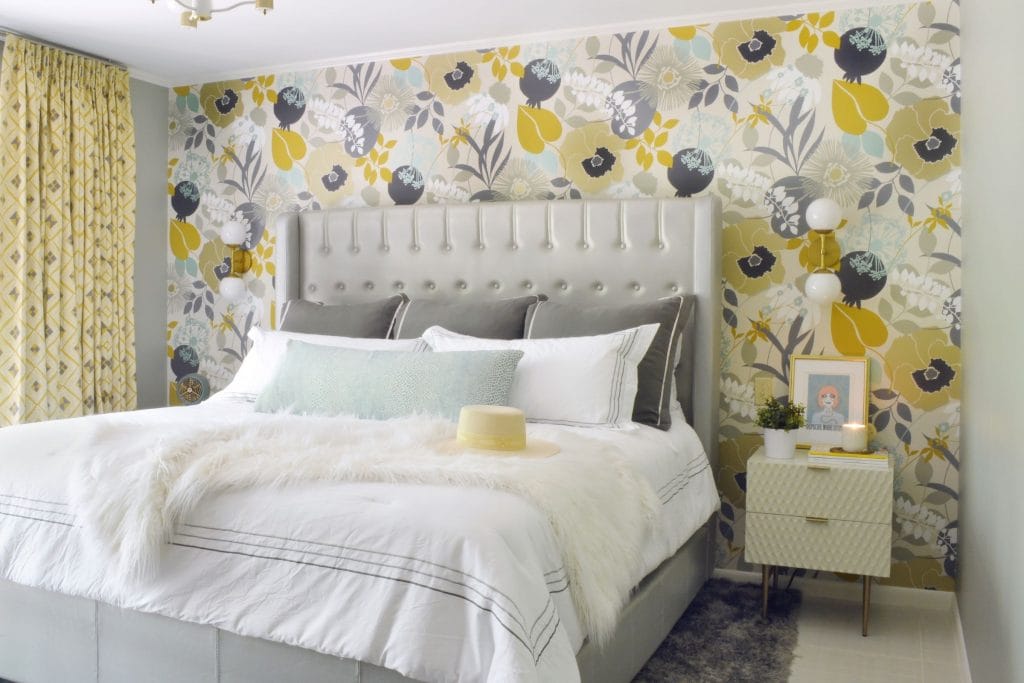 Then, upholstered or hard headboard?
Let's talk about the actual headboard material now. You can go soft with an upholstered headboard, or more structured with a material like metal or wood.
The big advantage of an upholstered headboard is the 'squish factor'; it's just more comfortable to lean on when you're in bed. Plus, it's a great opportunity to add beautiful texture and pattern to your space with a gorgeous fabric. (Here's a peek at a not-yet-photographed project with a teal velvet headboard. Swoon.)
But of course, there are always going to be pros and cons. An upholstered headboard is not easily cleanable – you can't exactly throw it in the washing machine! – so choosing the right material and treating it well is essential. A performance fabric is always a sturdy choice, but even if your headboard material doesn't have built-in cleanability, there are after-market treatments that can be applied to fabrics to help with stain resistance.
Now on the flip side, instead of an upholstered headboard or bed, another popular option are beds with metal or wood frames (like this one in my own master bedroom).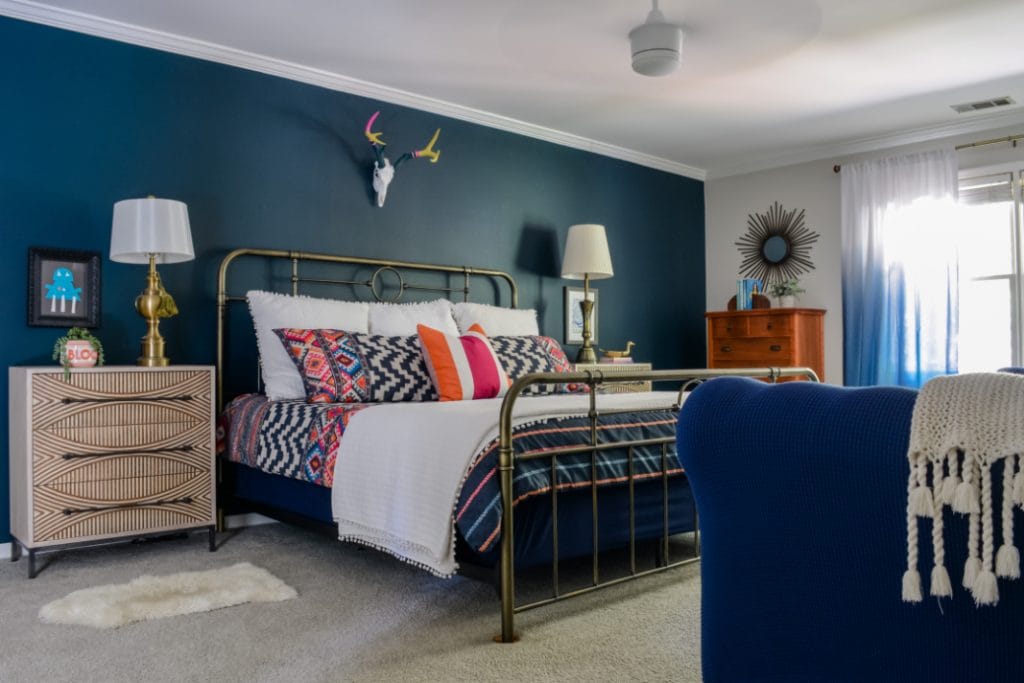 The obvious downside of a hard headboard? It's hard.
If reading or watching TV in bed is high on your list of priorities, you're going to want to make sure you've got great pillows for back and head support. I love a combination of Euro shams and standard shams, pictured above. (And pssst…if you're looking for guidance on pillow styling, one of my fave pillow sources, Arianna Belle, has free visual guides for pillow styling on beds.)
What type of headboard is best?
So, what type of headboard is best? That's up to you. It really depends on your preference, your lifestyle, and the level of maintenance you're prepared for. Upholstered headboards will take a little love (either with spot cleaning, or vacuuming, or both) to look their best, but will reward you with killer style and a soft place to rest your head. Hard headboards are more durable and low-maintenance, but will need some squishy pillows to be comfortable. You'll find our favorite beds (many of which we've used for clients) at The Shoppe by Lesley Myrick Interior Design.
Need help creating the kickass bedroom of your dreams? I would love to help! Here's how we can work together on your design project.