Why Closed Storage Is Best (For Most People)
We're talking about organization this month, and I can't ignore the hot topic of open shelving! I'll readily admit, open shelves look ahh-mazing. We've all seen those kitchens on Pinterest – you know, those beautiful kitchens with glossy white tile and reclaimed wood shelves adorned with only a small stack of white ceramic bowls and a little green potted plant? Gorgeously styled for photos, but unrealistic in real life. Here's why closed storage is best (for most people!), and also when open shelving can actually be a livable option.
Why is closed storage best?
It hides cords, cables, and electronics
It hides visual clutter
It creates a tidy appearance
It conceals private, personal items (wink, wink)
In the living room…
…a media cabinet with closed doors is always helpful. It's a great way to hide all of your tech, gadgets,and cables, which is a big win in my book! A floating shelf can always be added above or beside the TV to bring a little opportunity for a decorative moment.
If you've got built-in cabinetry, it's awesome to use the open upper shelves for displaying books, bowls, and other objets d'art but hide your no-longer-useful DVD collection and stack of CDs from the 90s in the closed cabinets below. Call attention to the beautifully styled items on your open shelving with a petite table lamp on one of the shelves, or a row of library lights across the top of the built-in.
In the kitchen…
…the sheer volume of dishes, glasses, and utensils can look untidy when left out on display. For the love of all that is holy, please do not take down alllll of your upper cabinets in favor of trendy open shelves! But if you want a fresher look in your kitchen, consider removing the upper cabinetry on just one wall, extending your backsplash tile all the way up the wall to the ceiling, and installing a couple of floating shelves. This way, you can get a current look without sacrificing too much storage space.
But please, keep enough closed kitchen cabinets to be functional! Nobody wants to see your blender or slow cooker living on the counter because you ran out of cupboards.
In the bedroom…
…you've got the opportunity to easily incorporate open shelving since closets and dressers often meet all the storage needs you're gonna have. (Yay!) While closed storage is best for most people in most situations, a shelf or two in the bedroom can be a fabulous focal point for family photos, mementos, and gorgeous hardcover books.
Don't neglect a nightstand, though! While a floating shelf used as a nightstand can look current and cool, there's absolutely nowhere to hide your phone charger, hand cream, and, ahem, other things you might usually keep in there.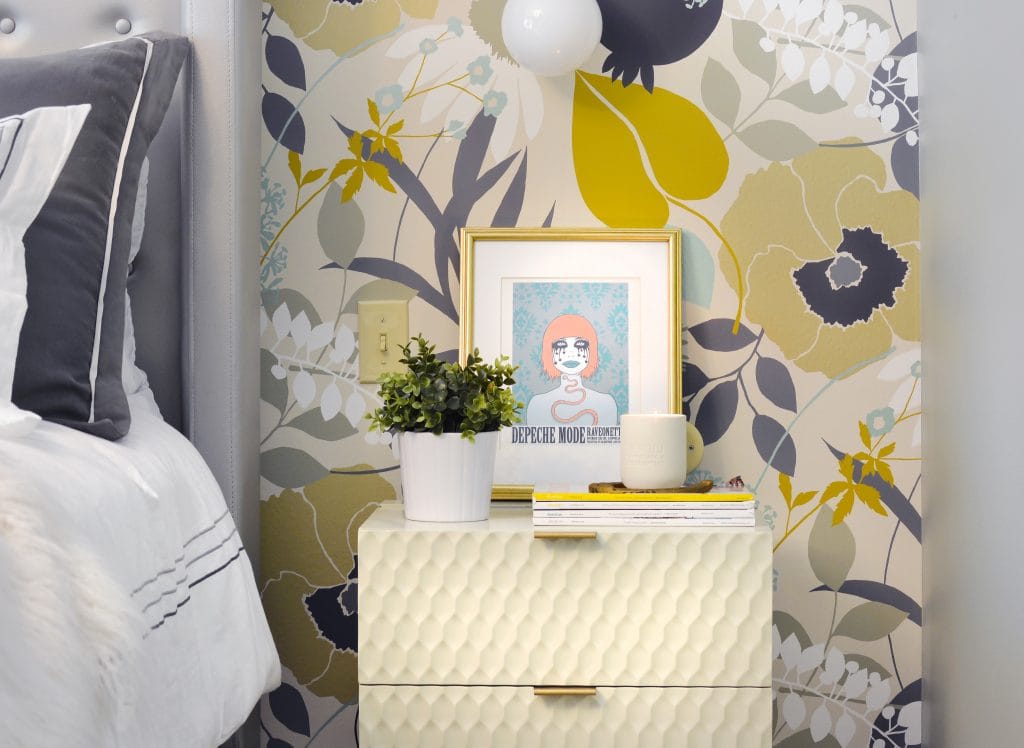 In the bathroom…
…as an accent in a primary bathroom, family bathroom, or guest bathroom, I'm totally on team "add open shelving". A beautiful shelf above the toilet can hold rolled-up towels and extra toilet paper, and somehow still look chic.
However – don't skimp on closed storage with lots of space for you and your guests to stash toiletries, cosmetics, and hair care appliances.
Clearly, I'm Team Let's-Close-The-Doors-And-Hide-All-The-Things, so take these design tips with a grain of salt. But I do think you can find balance and enjoy the trend of a more open, airy look while also keeping a practical amount of closed storage space. If you can allow open shelving to be minimal and decorative while your closed storage is the workhorse that functions behind the scenes, it's a design win-win.
Shopping for storage pieces? My favorite bookshelves, etageres, media cabinets, consoles, and more are all available in The Shoppe by Lesley Myrick Interior Design.