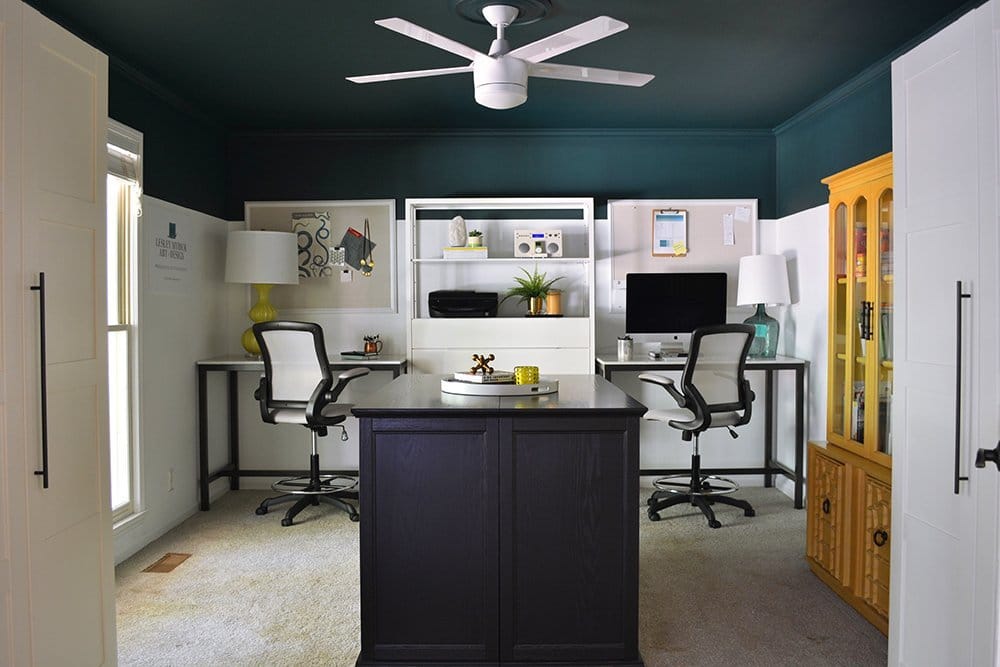 I'm so excited to share the big reveal of our Atlanta interior design office! Let me tell you, I looooove working in this space. It's not a huge room, but I've maximized it with plenty of storage and space to spread out and work.
Here's what the office space looked like before.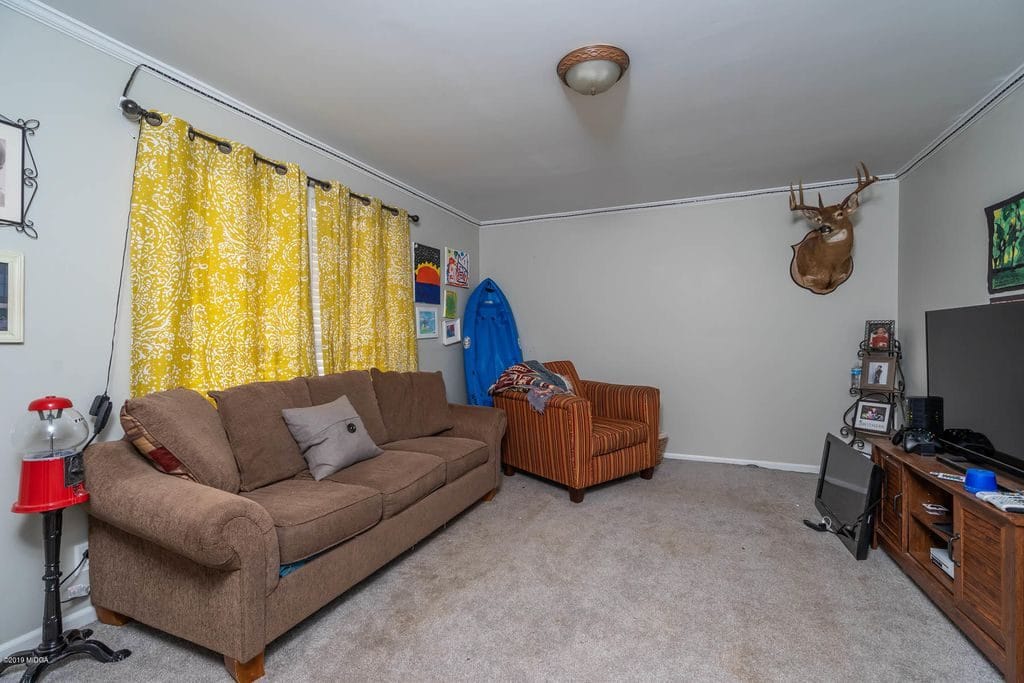 When the home was on the market and we did our first walk-through, here's what we saw. Trust me, it took a lot of imagination to envision this as the new headquarters for Lesley Myrick Art + Design. If you've ever thought that "bust out of boring" was just a cute catchphrase, think again – busting out of boring is what I live for. And this room was boring, baby.
And here's the office, after.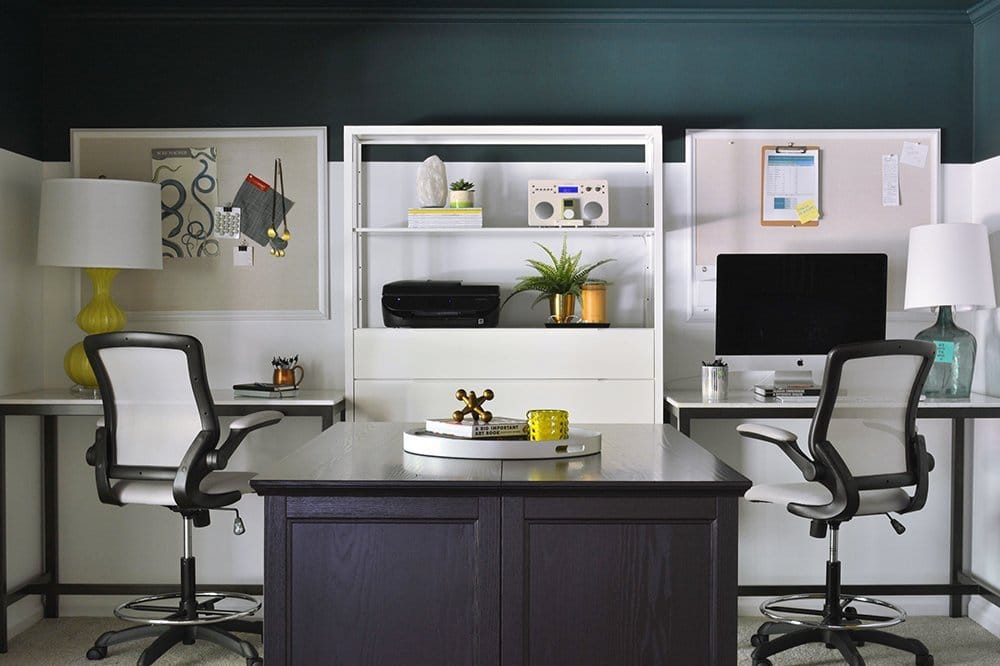 I'm obsessed with the dark teal ceiling – it's Sherwin-William Cascades, if you're curious. I love teal – obviously – but in a north-facing room with its only window obscured by our wraparound porch, my office doesn't get a lot of natural light. I wanted the punch of dark teal, but I knew it would be too gloomy in there (and terrible for choosing colors for clients!) so instead I opted for a teal ceiling that wraps down onto the walls. The lower portion of the walls are painted in my favorite crisp white, Sherwin-Williams Extra White.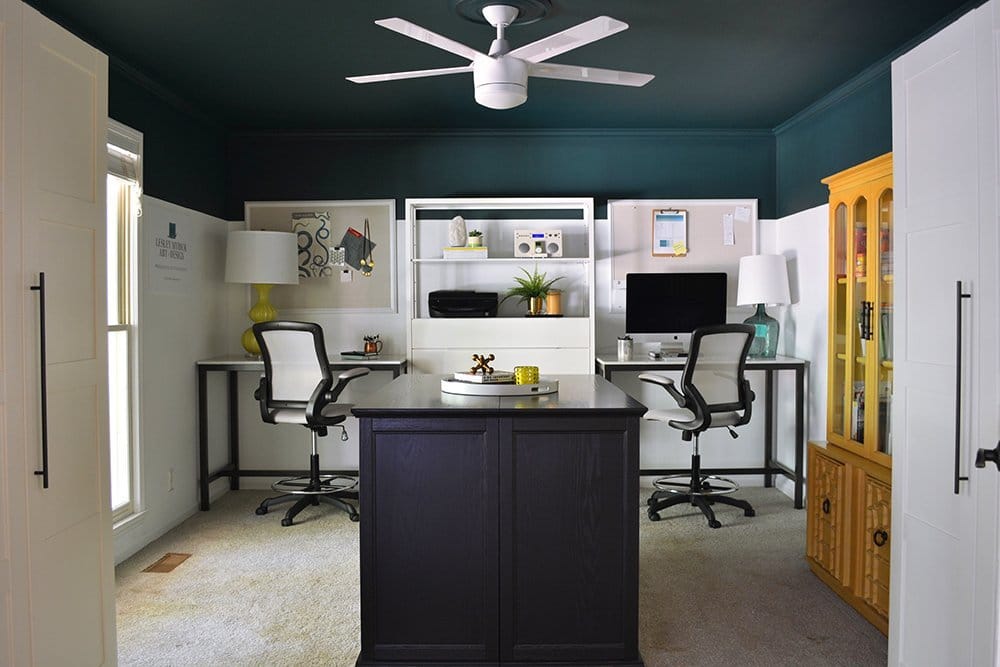 Since I work with so much color every day (think: wallpaper, fabric, tile, paint swatches…) I prefer my workspace to be mainly neutral. But – when you've got a fabulous vintage yellow Chinoiserie bookcase you've gotta find a kickass home for it. And FINALLY, I GET TO ORGANIZE MY BOOKS IN RAINBOW ORDER AGAIN! My husband's books have moved to his new office and I get to embrace all the rainbow goodness.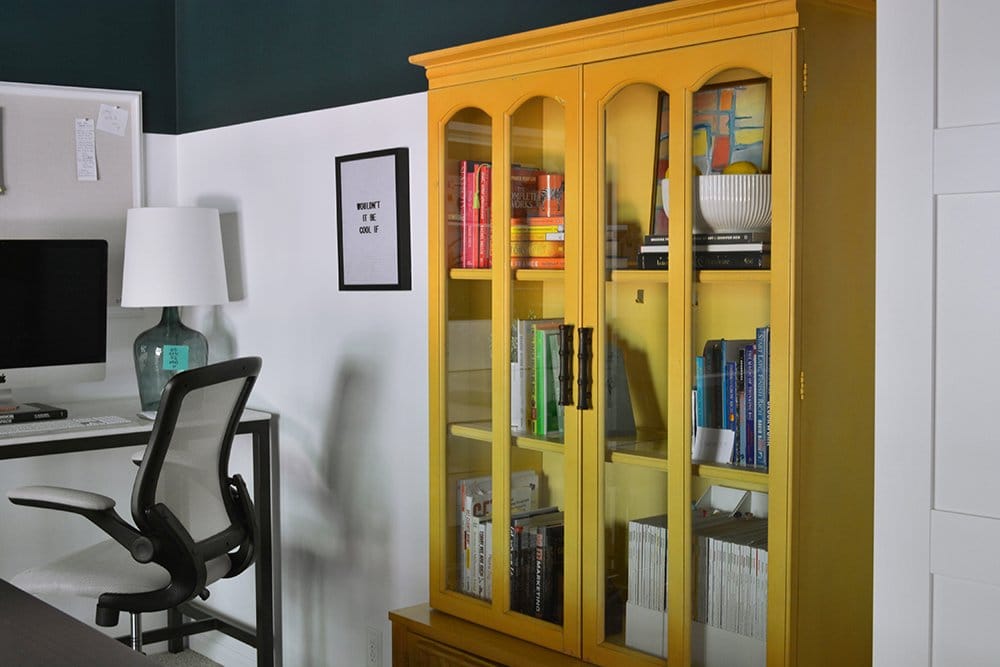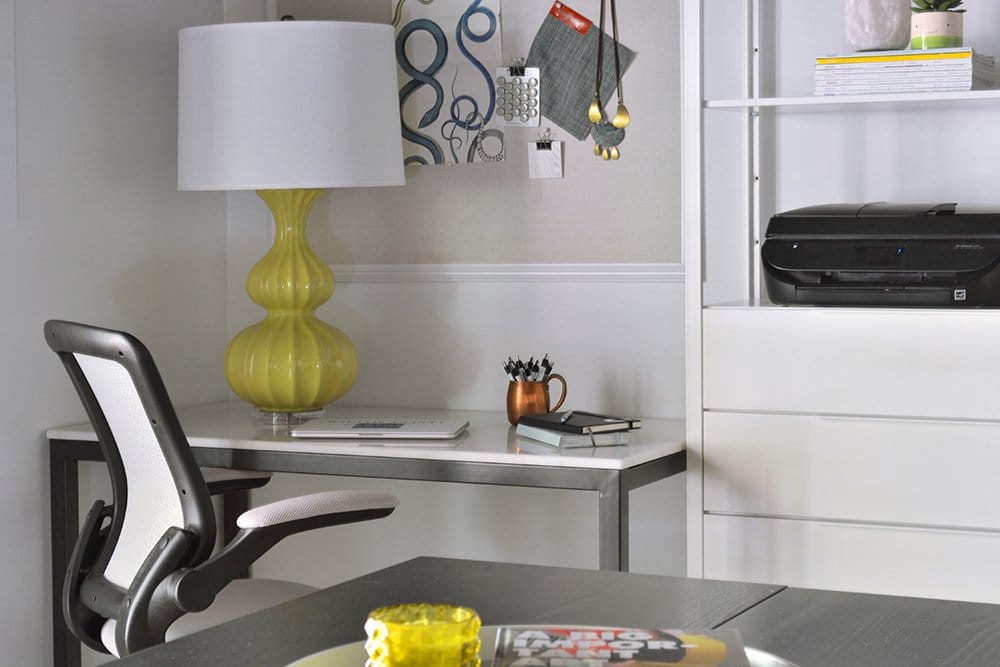 This is my favorite little corner of the office where I pin up inspiring interiors, art, and notes from my 5-year-old son. I'd love to tell you that I sit here and actually use this chair, but let's be real – it's mostly used by my cat.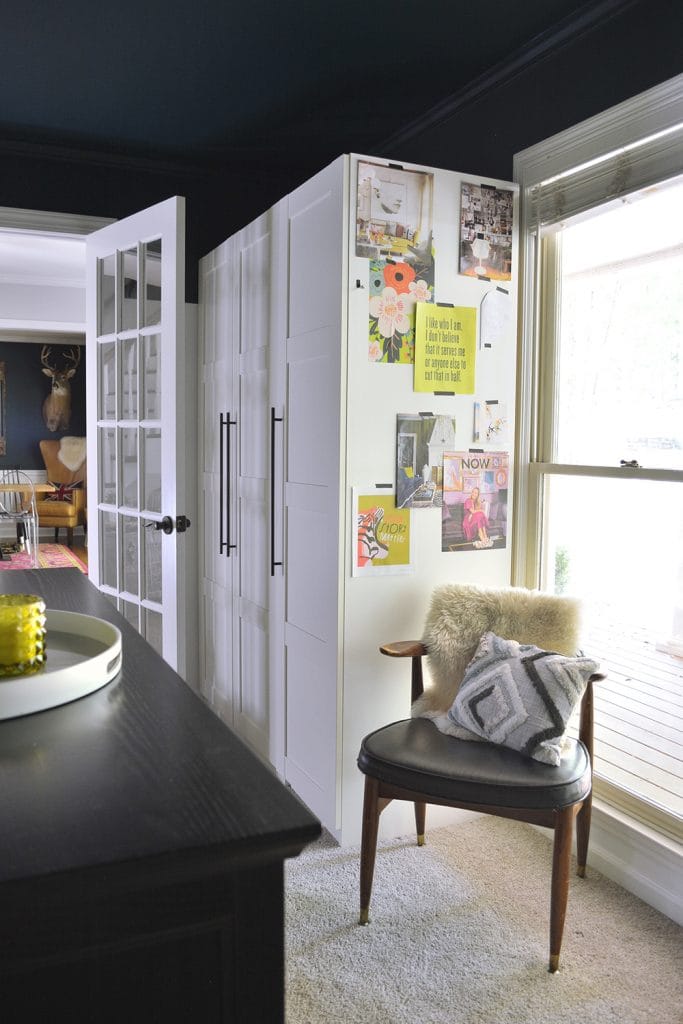 I know you're curious…
…about what's in those cabinets. Since this room was just a blank rectangle with no closets, I built in a ton of storage. The cabinets on the window side (pictured below) are home to fabric books and hard samples (like tile, countertops, and flooring), as well as drawing and drafting supplies.
The opposite cabinets store office supplies and files, with a lot of open space for receiving small packages and fabrics for clients. I hate clutter, and nothing bothered me more in my former office than the boxes that would occasionally pile up beside my desk on the floor.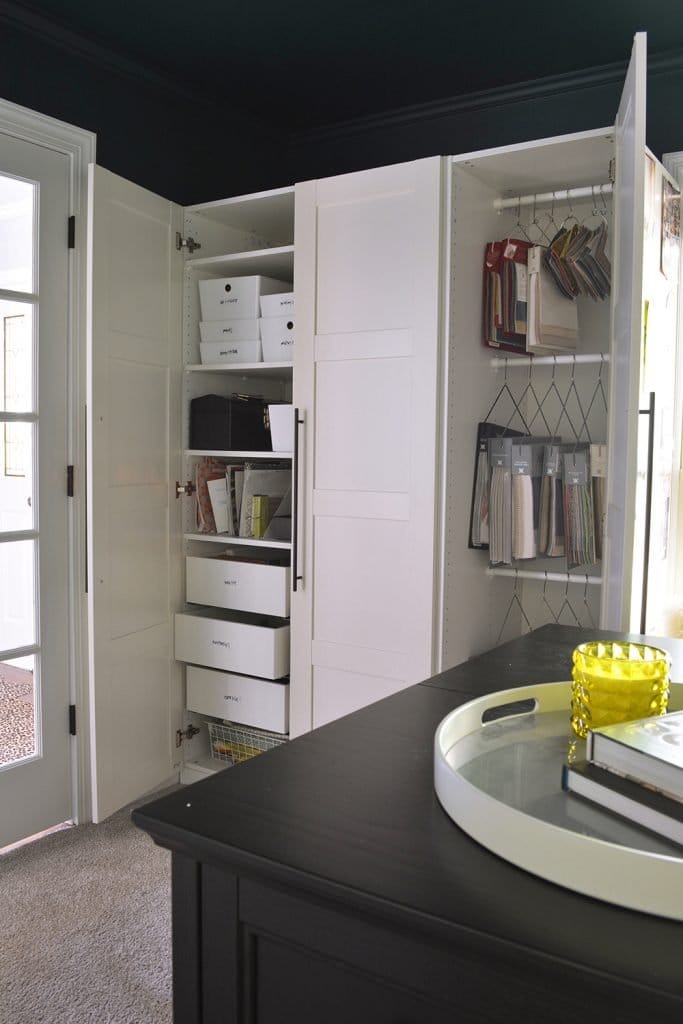 Thanks for taking a peek at our Atlanta interior design office after the makeover! I don't just talk about busting out of boring, I live and breathe it. If you'd like help busting out of your boring home, here's how to get started.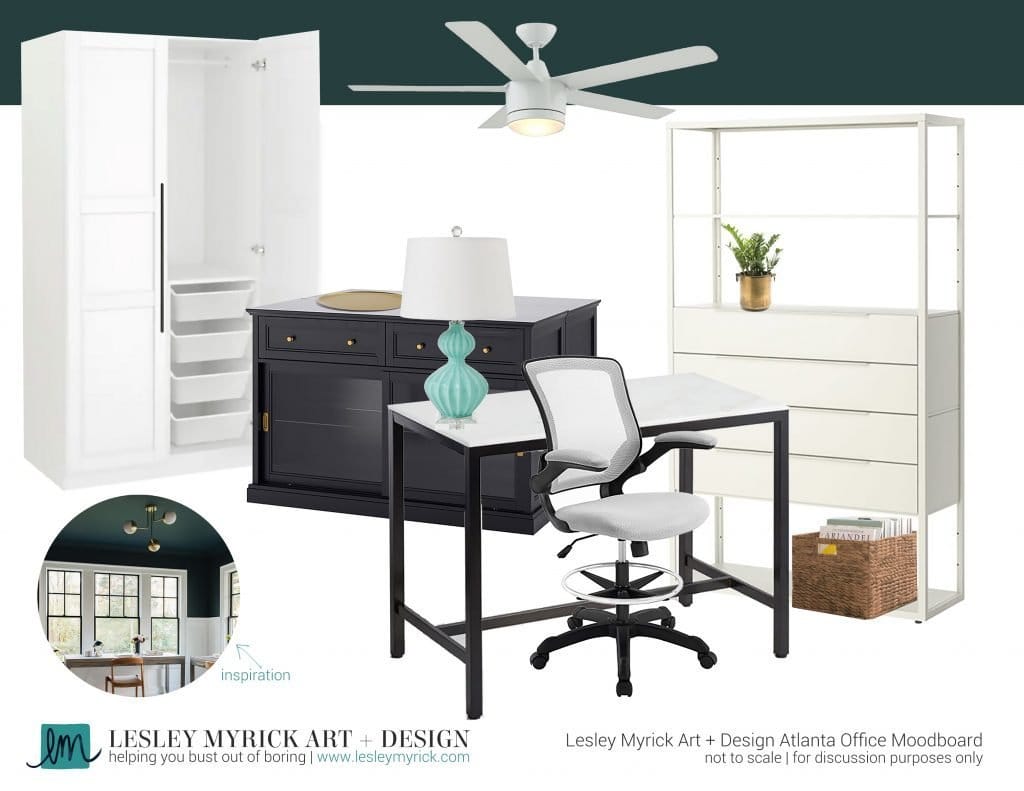 While moving across the country brings plenty of logistical challenges (including moving a business, two young kids, and one brand new kitten!) it also brings A NEW ATLANTA INTERIOR DESIGN OFFICE for Lesley Myrick Art + Design. Cue alllll the angels singing.
You probably remember our office in Waco, Texas. It was a great space for me and my small team, but given that almost everything was built-in, there was nothing I could take with me to Atlanta.
I know, I know…how terrible for an interior designer to have to re-design a room! I can't tell you how excited I was for a fresh start and a blank canvas.
My home office is just off of the main entry, with a pair of French doors dividing it from the rest of the house. I love the flexibility of working from home in a space that is connected but truly feels like a separate office space. I can shut the doors at night have clear boundaries between work and family.
Here's the (underwhelming) space before: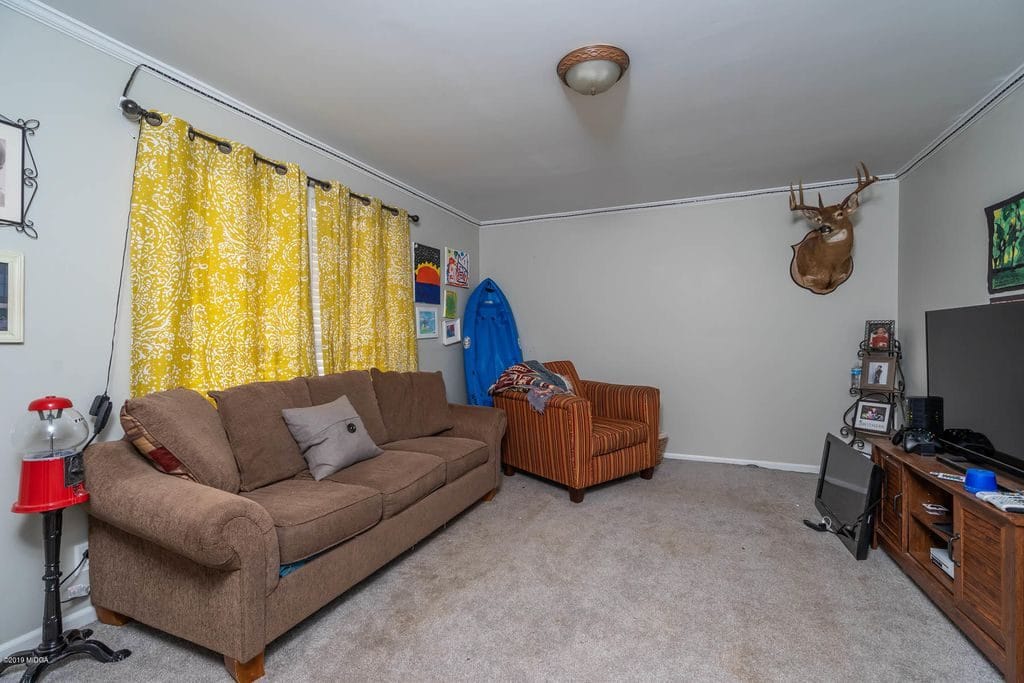 Yup, a total snooze. It's basically a rectangular box with dirty grey carpet and a boob light on the ceiling. But thankfully, those barely-visible windows are almost 7′ tall and let in so much light, and a fresh coat of paint does wonders!
There's no closet or storage of any kind in this room, and building in storage for material samples and catalogs, office supplies, and warehousing small items for clients was essential. Here's my plan for the office layout: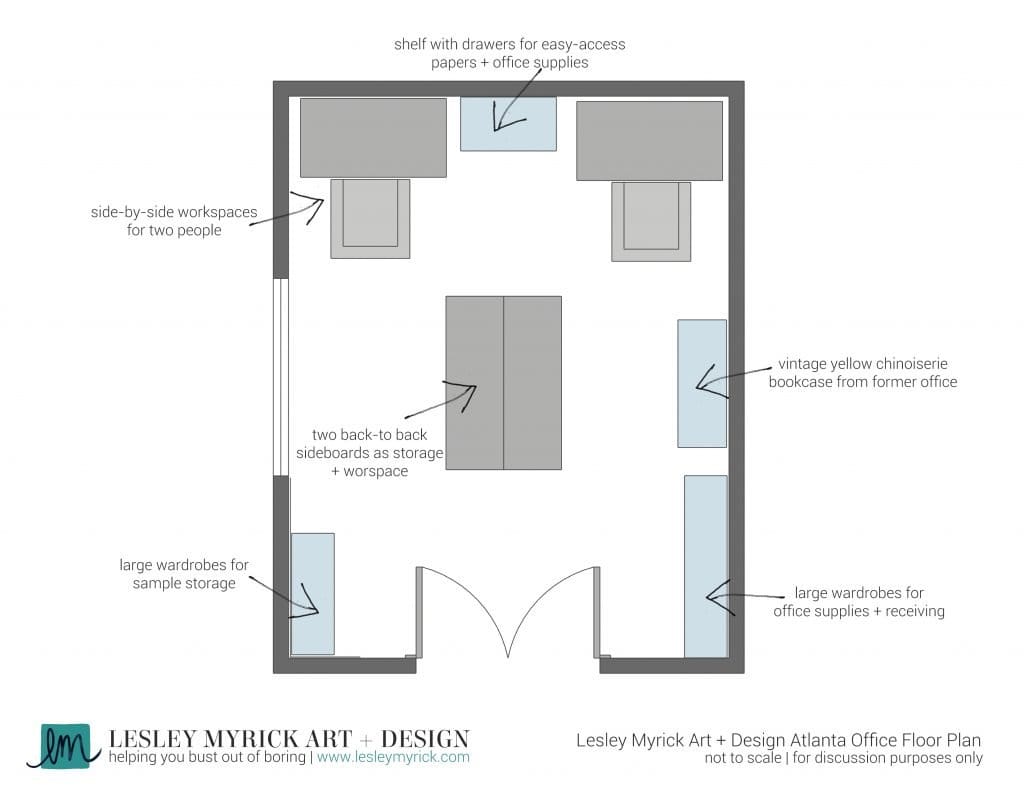 Definitely bigger than it looks in the photo, right? The plan is to create two workspaces (one for me, one for an in-person assistant); a large island with a generous work surface for spreading out samples and working on client projects; and building in wardrobes with customized storage for fabric books, tile and flooring samples, catalogs, and all the other design-related collateral that's essential to have on-hand.
And here's the plan for after: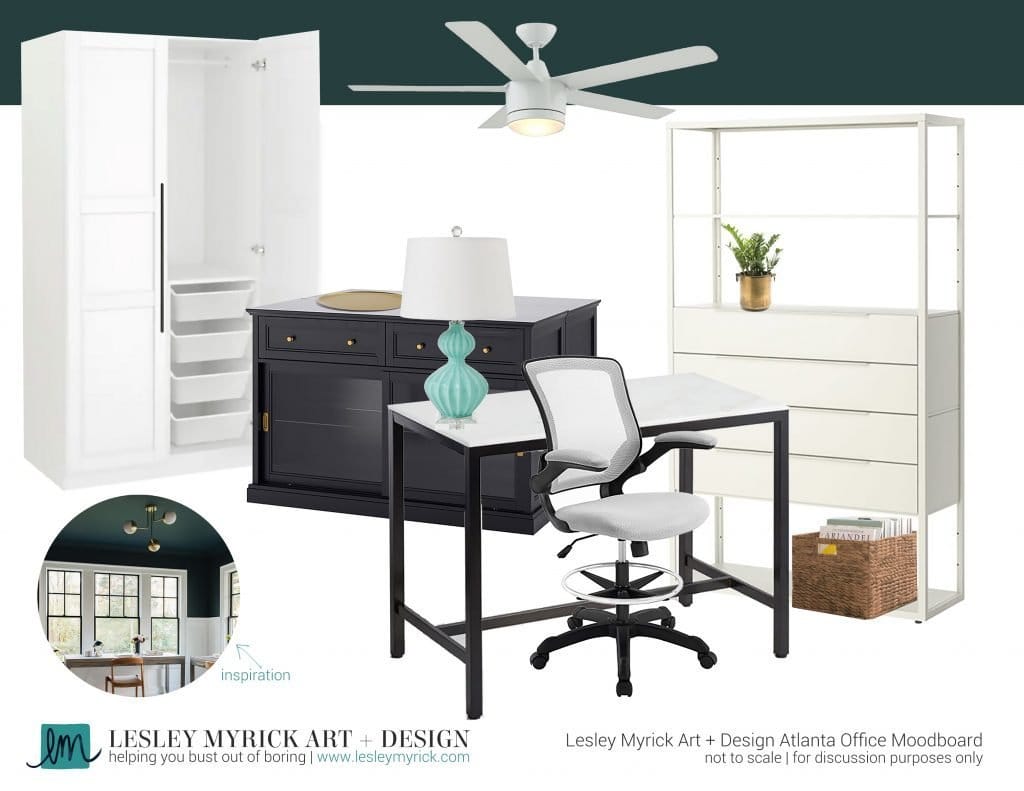 Aesthetically it's all about black and white with a dramatic dose of teal on the ceiling and part of the walls. I fell in love with the inspiration image above by Jean Stoffer Design and wanted to re-create the vibe. The walls will mainly be my favorite crisp white, Sherwin-Williams Extra White, but the ceiling and a 2′ band at the top of the walls are gonna be Cascades, the prettiest dark teal. The tall marble-top desks, modern ceiling fan, and center island are what my podcast co-host and designer bestie Kate has in her home office, and I've been obsessed since I first saw her space.
The after photos are coming at 'ya soon! (You can also sneak a peek of the completed Atlanta interior design office each Monday at 9amCT on the Bust Out Of Boring live show on Facebook and Instagram.)
Even with 12+ years experience in the interior design business and a background studying art and design, there's still one thing I find incredibly difficult to do well – choosing white paint colors. You know how people make fun of designers obsessing over white paint colors? Because how many whites could there possibly be?
Seriously. There are SO MANY WHITES. With SO MANY UNDERTONES. Some whites look pink, some look yellow, some look blue. White is never just white! I've made a few mistakes with white paint over the years. Here's what I goofed up on so you don't have to.
What I Wish I'd Known About Choosing White Paint Colors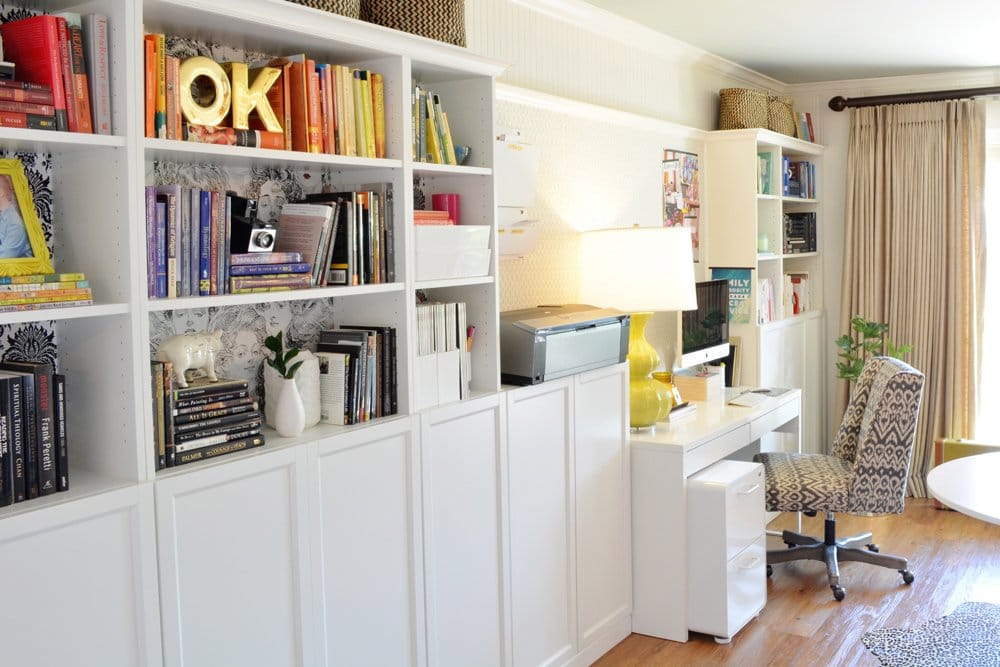 Welcome to my office. See those bookshelves? Crisp white. See that gorgeous crown molding from Metrie? Also painted crisp white. See that strip of wall high above my desk that looks kinda yellowish-beige?
That was supposed to be white too. UGH. But guess what? Not all whites are created equal.
With all these cool, fresh whites on the furniture and trim I decided it would be a good idea to "soften" the white on the walls and choose a slightly creamier (read: more yellow/peach) white for the walls. I thought it would make the moldings pop and be a nice contrast. NOPE. I was wrong, friends. Instead of looking intentionally different, these different shades of white just look like I tried to make it all match but wasn't successful.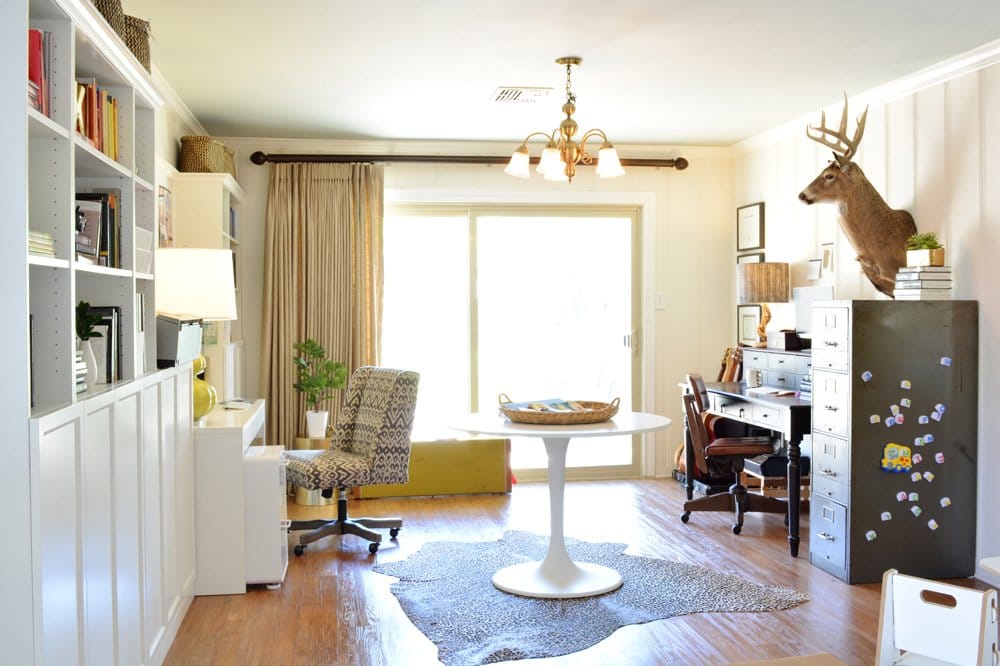 I'm sure it doesn't look like much to you in this photo, but let me tell you, staring at pinky-dingy-blah-not-white walls every day is driving me bonkers! What I wouldn't give for crisp white walls to blend seamlessly into everything else.
Here's what I wish I'd known about choosing white paint colors: Find a white you love – and stick with it. I wish I had painted the walls the same color as all the trim but in different sheen levels for subtle contrast. (Personally, I'm a fan of matte walls and satin finish trim.) By trying to "layer" different shade of white paint on the furniture, walls, and trim, it just looks like I tried to match but got it wrong. If you want contrast, be bold! Pick a wall color that's vastly different from white so that the white accents really pop. But if you're going for a white, bright, and airy look, keep the white paint color all the same and vary the sheen level for visual interest.
PS. In case you're wondering, I totally plan to repaint this room.
👉 Don't make the same mistakes I did! Learn from a design pro – check out more of Lesley's hard-earned wisdom in the What I Wish I'd Known series.