BORED WITH BEIGE?
You're not the only one. (Phew!) Grab my FREE guide, Bring Personality to a Boring Space. It's got 7 of my best tips to help you bust out of beige and let your rad self shine at home.
If your living room has good bones – great basic furniture pieces you love – but is lacking in personality and style, I've got your back. There are a few things you can do to build off your solid foundation and create an awesome living room.
(However, if you've had the same furniture since college and need a total living room overhaul, these 5 tips just ain't gonna do the trick. Let's talk instead, yo.)
Ready to rock? I've got 5 ideas to upgrade your living room and bring personality to a boring space.
Can't view the embedded video above? Click here. Prefer to read? Transcript is below.
Hey everyone, Lesley Myrick here, interior stylist and owner of Lesley Myrick Art + Design where we create some pretty fantastic interiors with an offbeat edge.
Today I wanna chat with you about living rooms.
Sometimes just a few little changes can be all you need to kinda reinvigorate your love for a space. So here are 5 ways you can bring a little love to your living room.
Tip #1: Add an Area Rug
The first is with a new area rug. Area rugs are like art, and if yours is too small for the space, if it's tired looking, if it's beige and if it's boring, this is an awesome way to bring some personality, some color, and some interest to your living room.
Measure your room and go as big as you can with the rug, and don't be afraid to play, especially if you have neutral furniture. A colorful, bright, patterned, fun rug can completely transform a tired living room.
Tip #2: Pimp Out Your Pillows
The second way you can upgrade your living room – once you've got the rug nailed down – is with accent pillows. Try to tie in some color and pattern from the rug into your pillows.
New pillows can totally change the look of a sofa. If you've been sitting on and seeing the same pillows for years, even this small tweak might have a huge impact on how you feel in your space.
Tip #3: Clear Clutter
The third way to upgrade your living room is actually by getting rid of stuff. Clearing the clutter. You might be surprised to know that even just a couple of things out of place can really affect how you feel about a space.
Take 10 minutes, sweep the room of anything that doesn't belong there, find a home for it – and if you can't, and you don't need it, throw that crap out. That is going to totally change how you feel about your room.
Tip #4: Upgrade Your Window Treatments
Tip number 4 is to upgrade your window treatments. Window treatments are a part of decor that a lot of people overlook. They don't realize the impact that a really nicely dressed window can have on a space.
Depending on the look you want you could do clean and simple shutters; you could do a sheer roller shade that's gonna filter light and bring a little bit of softness. I tend to be a fan of beautiful curtain panels – color, pattern, and texture. Something that's going to soften hard walls and hard lines and really just make the space feel cozy and complete.
Tip #5: Add a Badass Statement Accessory
And finally, the last thing you can do to breathe new life into your living room is to find some totally funky badass statement accessory.
Having that one offbeat piece – it is going to bring character and personality and it's really gonna show your style in a space that might be feeling a little lackluster.
If your living room's got a great foundation – you've got good furniture pieces you like but it's feeling like a snooze, a rug, new pillows, curtains and window treatments, get rid of the clutter, and that one "wow" piece are completely going to transform your space.
Want more awesome design tips and inspiration to break out of a "blah" home and let your rad self shine? Get my FREE guide, "Bring Personality to a Boring Space" right here. 🤘
There's nothing better than a satisfying "after" photo, and I've been dying to share this colorful kids craft room with you! You may remember the "before" photos from this space in Waco, Texas: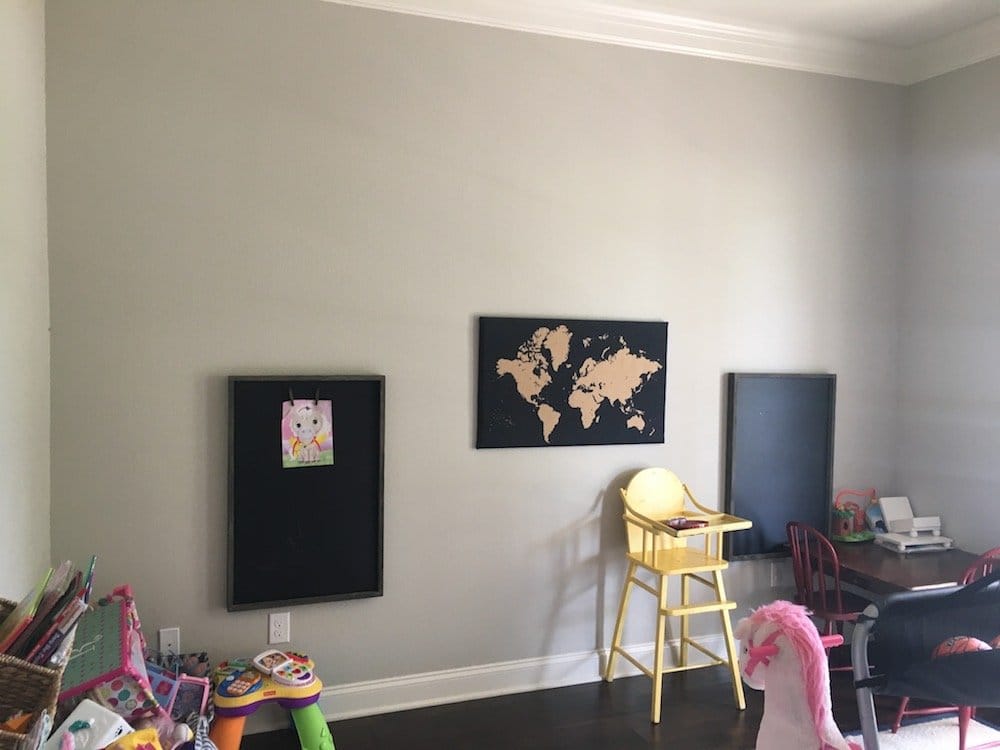 Yup. Snooooooozefest. But don't worry – some funky wallpaper, chic furnishings, and gorgeous original art has totally transformed this space.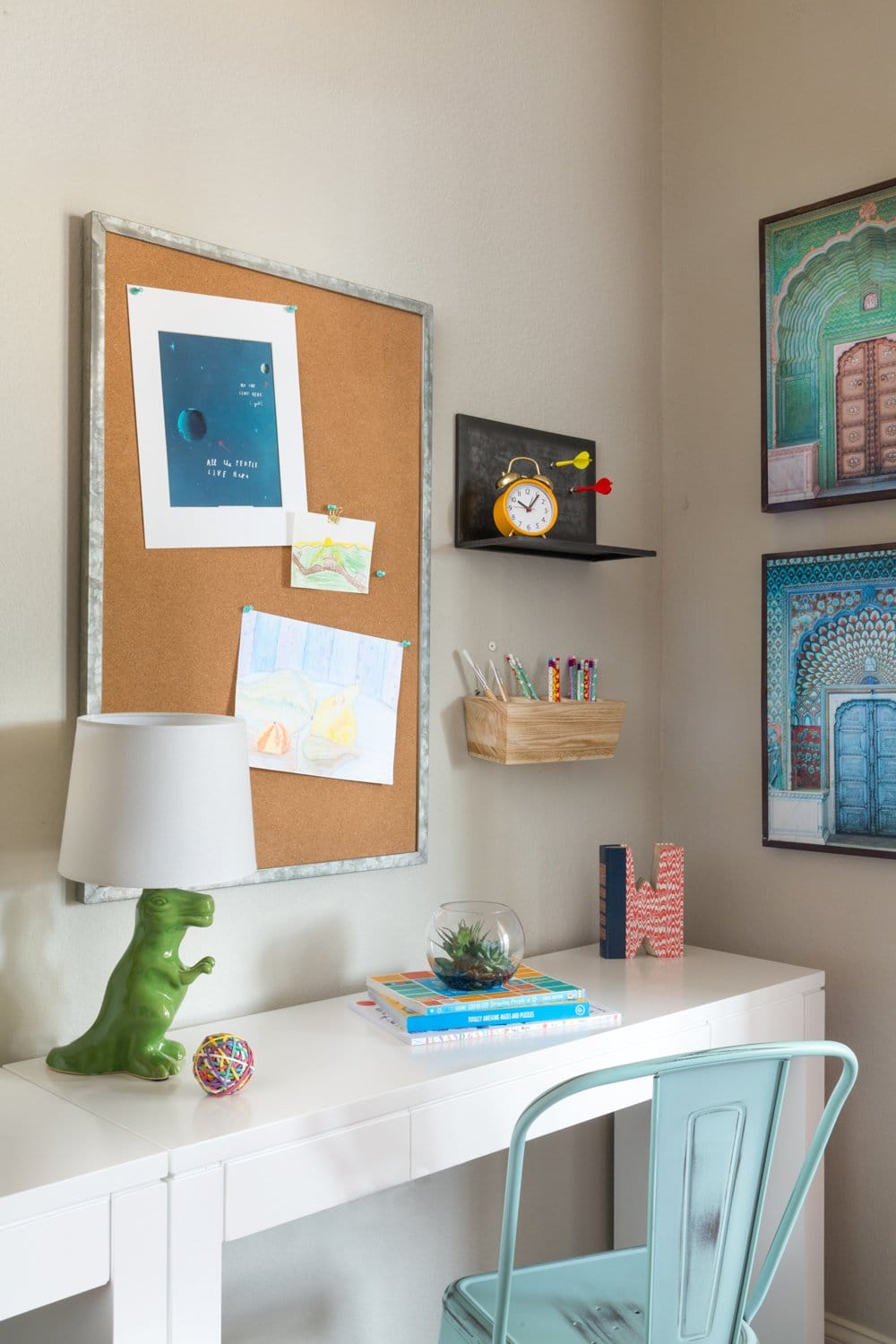 We kept the existing paint color – Benjamin Moore's Revere Pewter – since it's such a classic, pretty grey. And it was the perfect neutral backdrop to allow the bold color and pattern of the wallpaper, art, area rug, and accessories to be the star of the show.
The kids each have their own personalized workspace, complete with adorable desk lamps and industrial-chic bulletin boards to display homework, crafts, and artistic creations.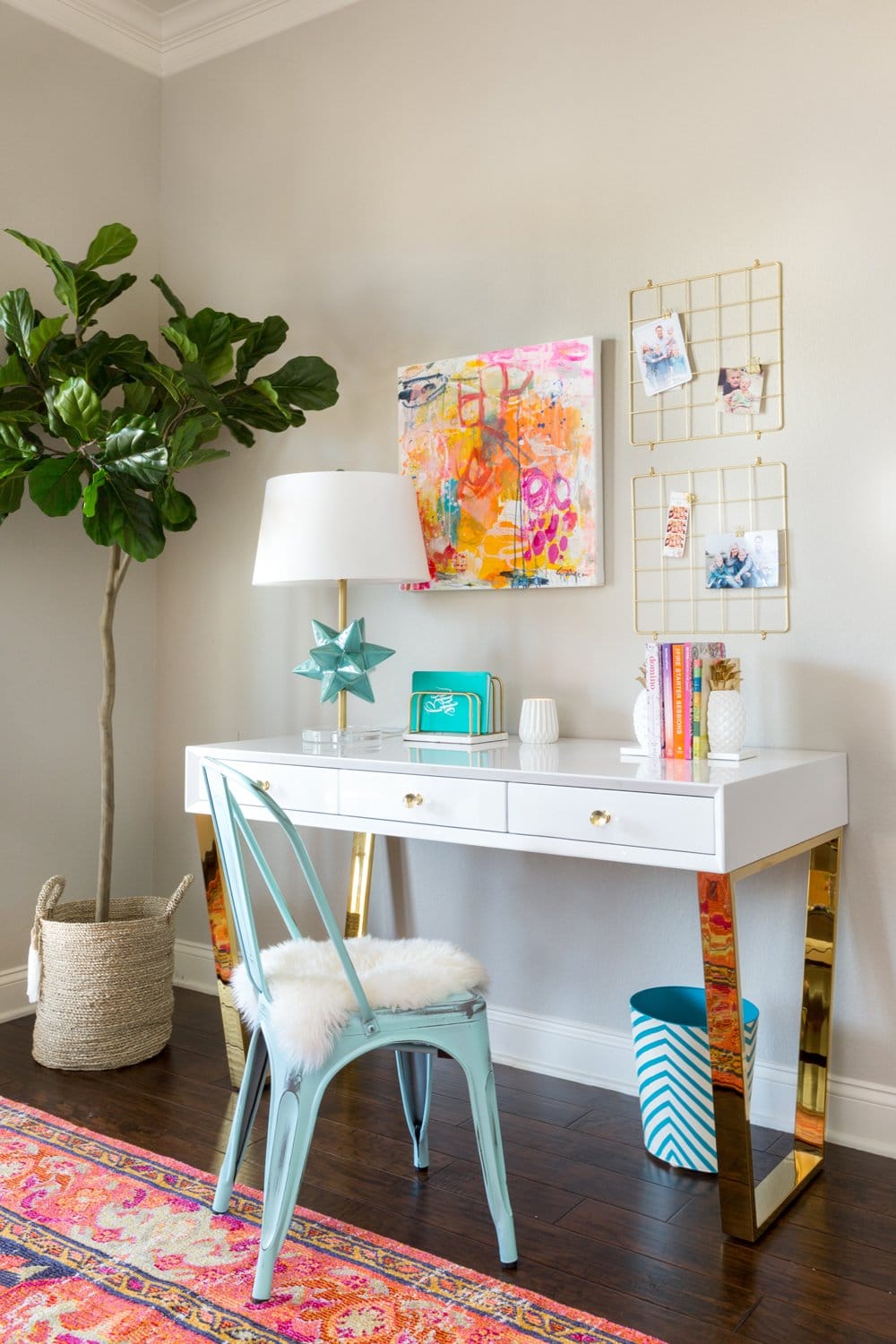 And lucky mama, who's an entrepreneur and works primarily from home, gets this UHHMAZING workspace. The brass and white lacquer desk is beyond chic in person, and the original artwork by Lesley Grainger brings such a fun energy to the room and ties in the bright wallpaper and area rug.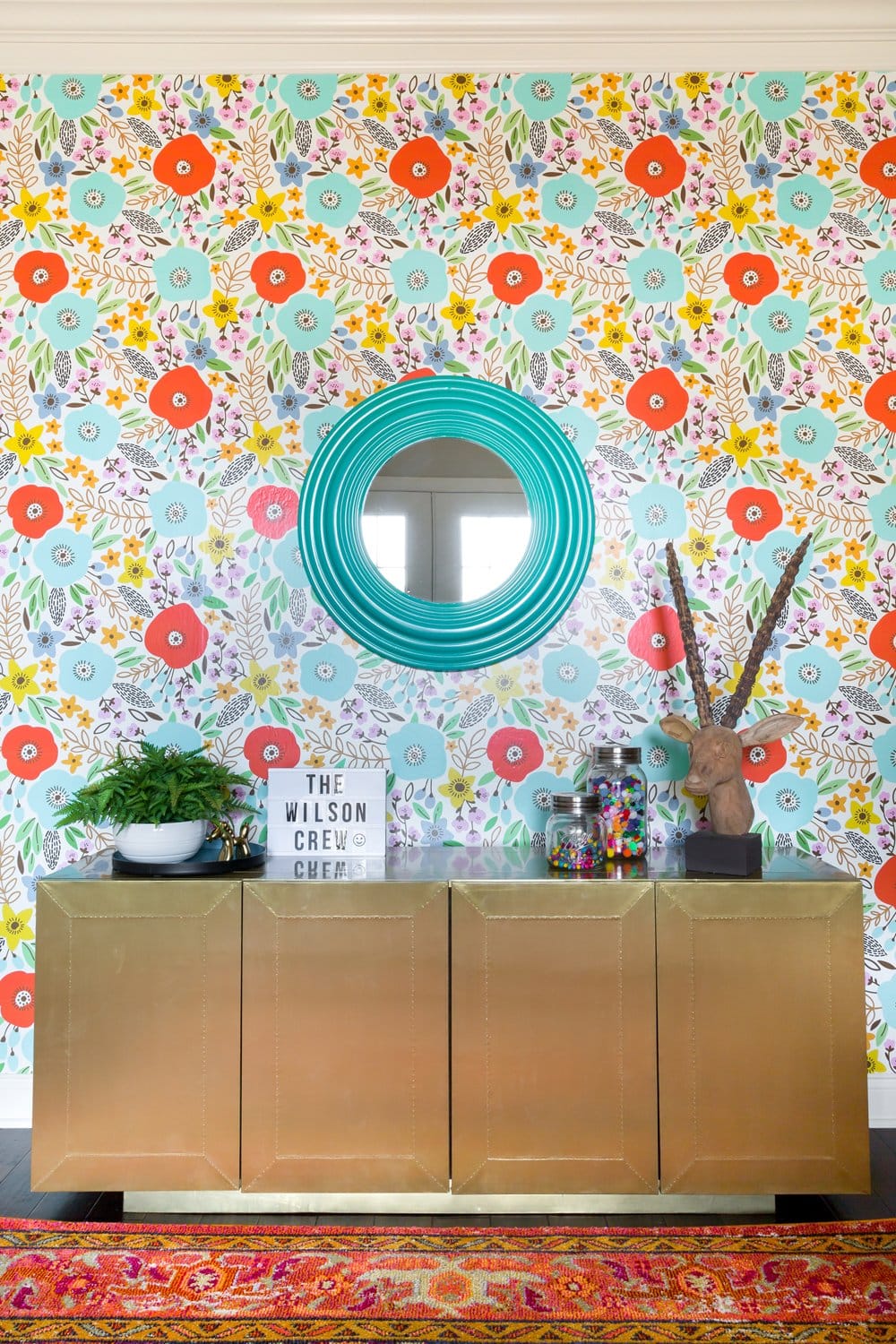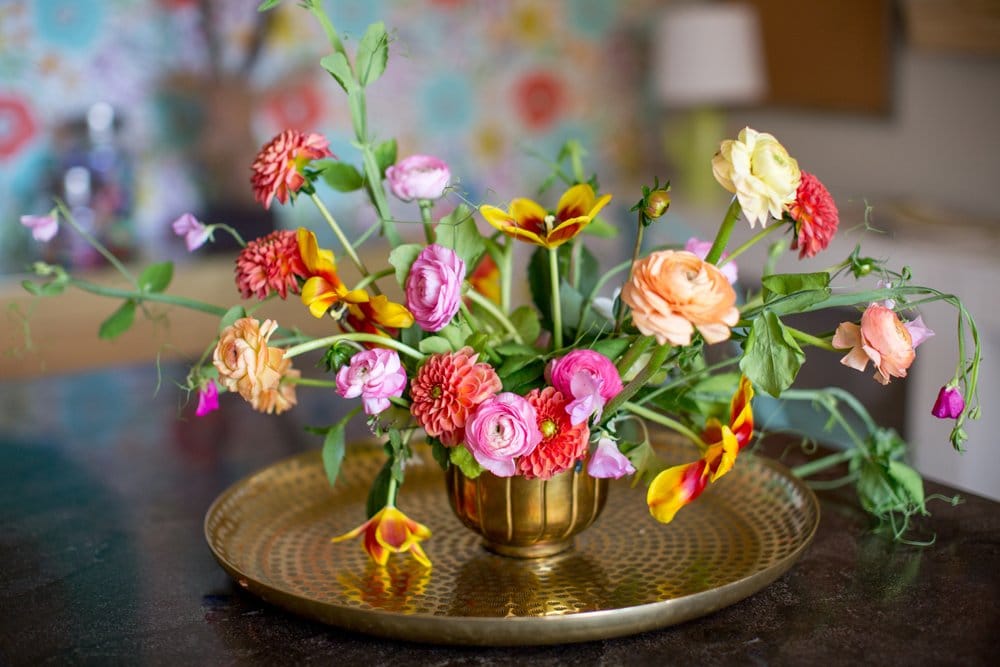 And can we please take a moment to savor this incredible custom floral arrangement from Tenfold Floral? Adair and Aelish from Tenfold are flower-loving geniuses who used the moodboards for this project as inspiration to create this stunning centerpiece as a thank-you gift for my client.
I'm so grateful when clients let me play and push the envelope with color, pattern, and design. I think this colorful kids craft room is a smashing success. (And big thanks to my rockstar photographer Jeff Jones for translating this space into these gorgeous photos.)
PS. Interested in starting a design project of your own? Book your complimentary Design Discovery Call and let's talk. ✌
I'm kind of obsessed with accent pillows.
You have NO IDEA of the self-control I display by not having a home full of pillows! (Although my husband would argue with you that we do, in fact, have a home full of pillows.) I think they're just the best way to finish off a sofa, accent chair, or bed.
I'm totally drawn to pillows that have something special to them, whether it be a gorgeous embroidered design, a graphic print, cute trim detailing, or fun corner tassels.
While it was near impossible to narrow it down, I've rounded up 10 of the best accent pillows that will bring a major "wow factor" to your space:
1. Performance Pillow | 2. Embellished Birds Pillow | 3. Helidor Pillow | 4. Lacecap Decorative Pillow | 5. Velda Ocean Basketweave Pillow | 6. Mar Swirl Pillow | 7. Velino Pillow | 8. Les Touches Embroidered Pillow | 9. Circulate Pillow | 10. Amolonga Zig Zag Pillow
Here's a tip: don't be afraid to play with patterns on your pillows, especially if you have a plain sofa. Layering a couple of beautifully textured or patterned pillows can totally transform a boring piece of furniture into something chic and special.
"Lesley's Picks: 10 Best" are roundups of my favorite home furnishings. Check out the complete "10 Best" archives here, and find more furniture, home decor, and lighting I love on Pinterest.