Does your home reflect the true you?
Take our fun quiz to discover your true design style - and get a shoppable style board to help create a kickass home you love.
How to Organize a Kitchen We started with the easy stuff: how to organize a bookshelf, how to organize a home office, and how to organize a living room. But now? It's time to roll up your sleeves and get 'er done in your kitchen.…
READ MORE...
How to organize a living room If there's one thing I know about how to organize a living room, it's this: the less stuff you have, the easier it is to keep it organized! As you can probably tell, I'm a bit of a minimalist.…
READ MORE...
The topic of how to organize a bookshelf has been a constant debate in my house. I'm a visual person and love my books organized by color, but my husband is an academic and needs his books organized alphabetically by author for easy reference. Our…
READ MORE...
It's supposedly spring, even if the weather doesn't always feel like it! With long weekends coming up over the summer, here are 5 long weekend home update ideas you can use to spruce up your space in just one weekend. Paint your kitchen cabinets. You…
READ MORE...
Every designer has their go-to styling kit – those must-have accessories to finish off a room and add the final decorative touches. So what's in my styling toolbox at Lesley Myrick Art + Design? Here are the accessories that I use regularly to style a…
READ MORE...
Have you ever thought about how to style your room for an online video meeting? If you've ever virtually met with someone on FaceTime, Zoom, Skype, GoToMeeting, Google Hangouts, or other video conferencing software, you know that what's seen behind you matters. Everything in the…
READ MORE...
I know, I know – interior designers make styling look easy! But if you've ever tried to accessorize your living room, arrange a bookshelf, or style your kitchen countertop, you know it's not as easy as it looks. That's why I'm sharing my cheat sheet…
READ MORE...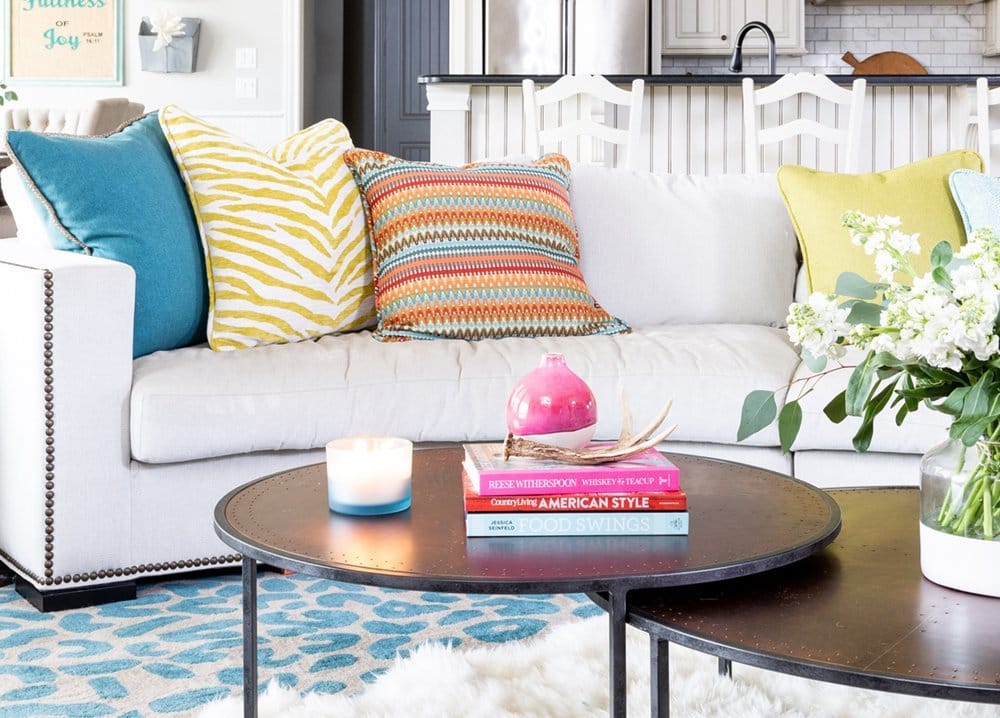 I've been so excited to share this before and after of a fresh and cozy Waco living room with you! This client loves farmhouse vibes but wanted more color, pattern, and energy than just white, grey, and shiplap can bring to a space. This living…
READ MORE...
It's not as tricky as you might think to figure out how high to hang a chandelier over a table! Whether it's a kitchen table, dining table, or kitchen island, there's a simple guideline to keep in mind: Can't view the embedded video above? Click…
READ MORE...