Before and After: A Husband And Wife's Home Offices
Who doesn't love a good before-and-after? Get ready, because all month long I'm sharing a tour of our Texas home, including the living room, master bedroom, kids bedroom, my office, my husband's office, and the kitchen. Today: our two home offices.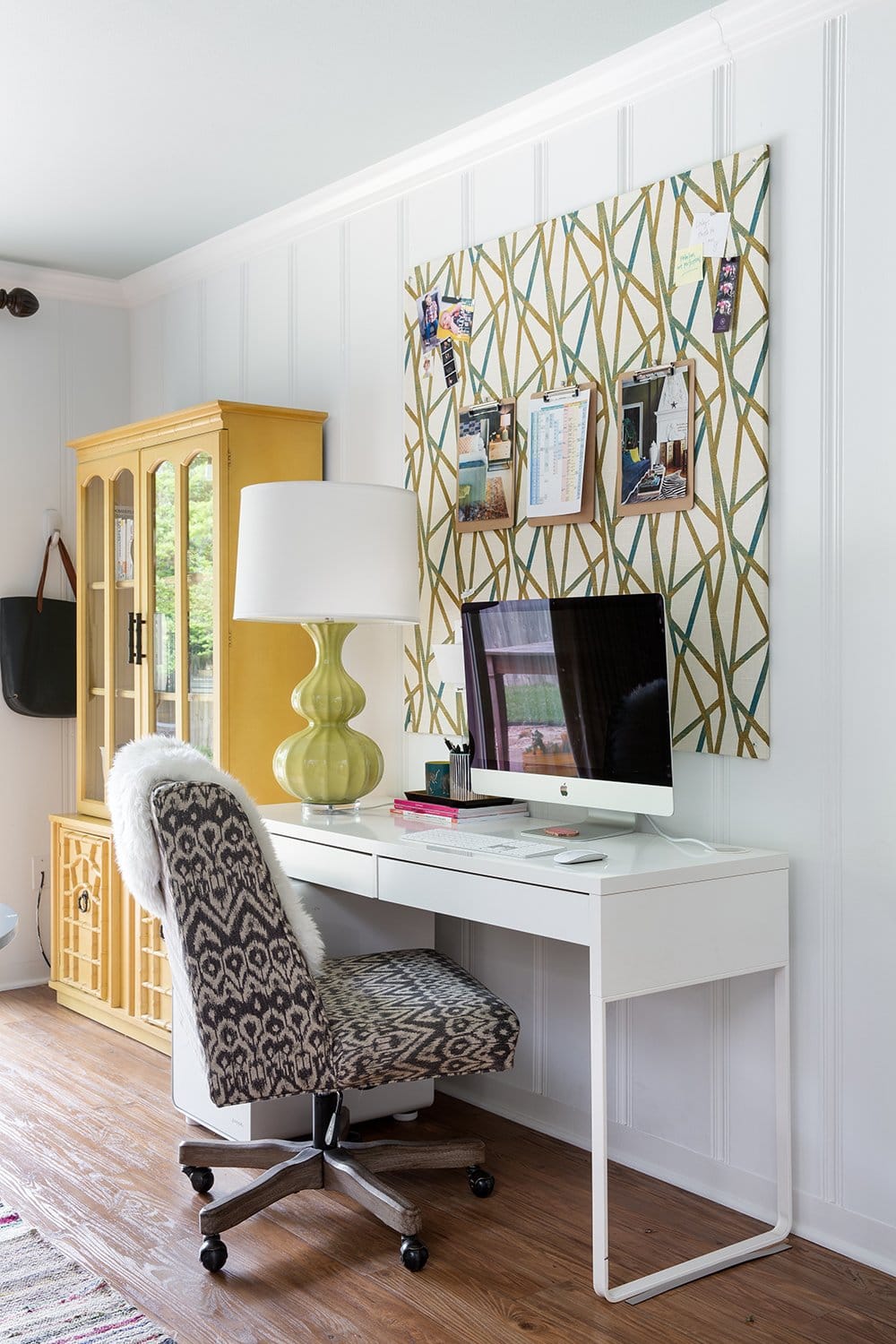 Disclosure: Some of the products in this before-and-after were sponsored by brands I use and love for myself and for my clients, including Sherwin-Williams and Metrie. Thanks for your support!
Yes – we needed two home offices. (This is why our kids had to share a bedroom – ha!) For the first few years in Texas, Nate and I shared one large office space, which you might remember looking like this.
But as the need for a quiet workspace increased for my husband as he worked on his PhD, my business was growing – and getting much louder with video calls, contractor meetings, and part-time staff schedules. It became pretty apparent that our open-concept office wasn't working for him, so he moved his workspace into the extra bedroom.
Here's Nate's office, before: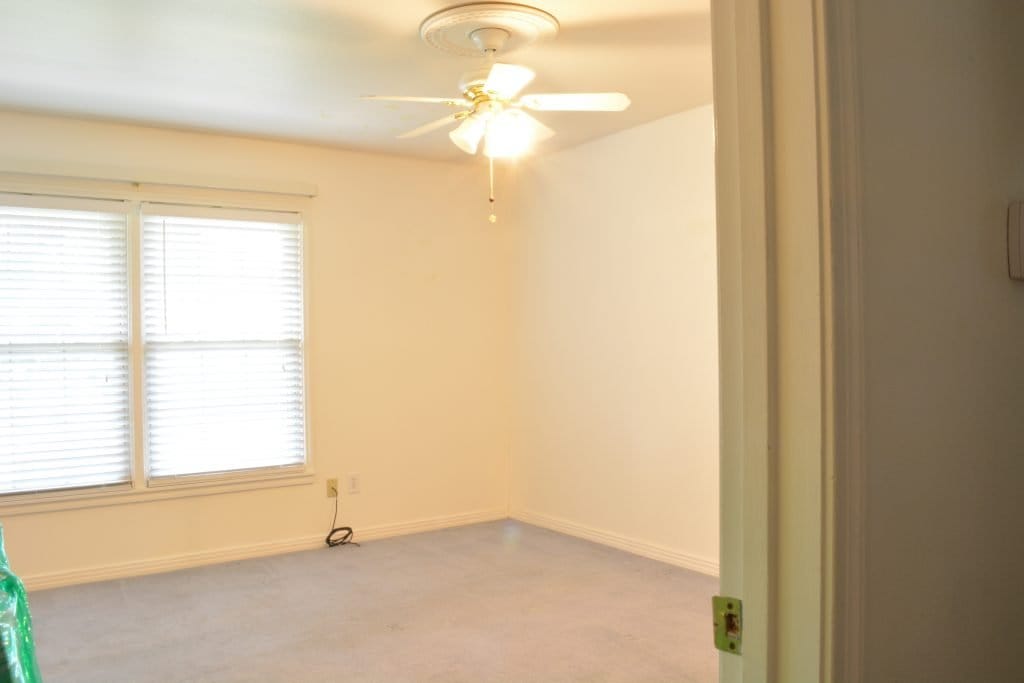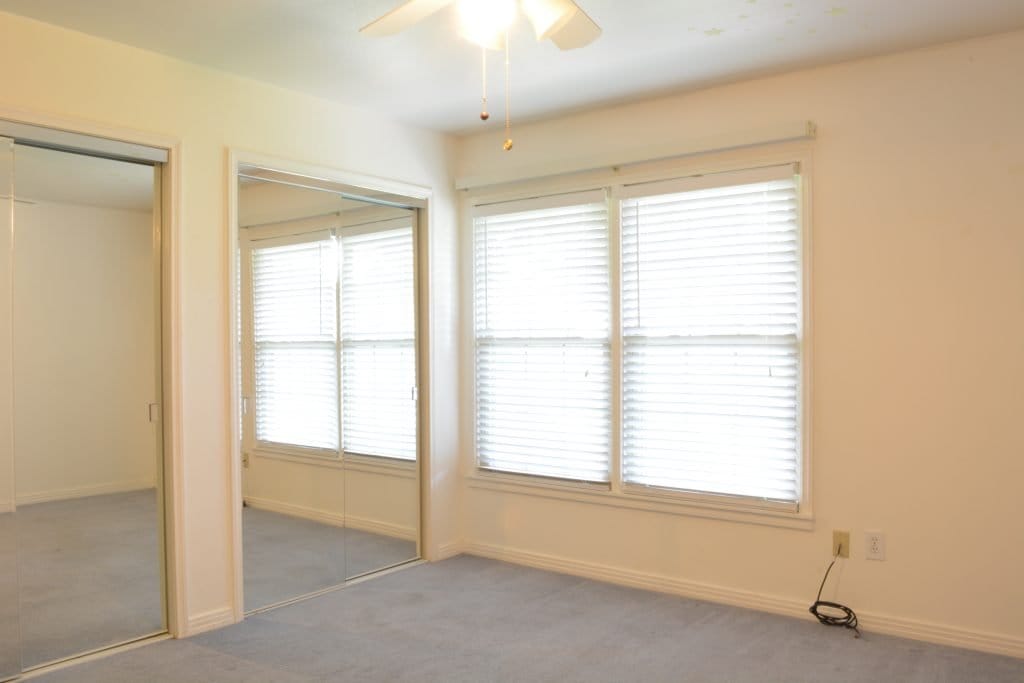 Yup, it's another white box. Thankfully it has decent-sized windows and two large closets with mirrored doors, but that's about all that's going for it.
And Nate's office, after:
As you can probably guess, we replaced the old carpet with vinyl plank flooring, added Metrie crown molding (my favorite!) and painted the walls a deeper color.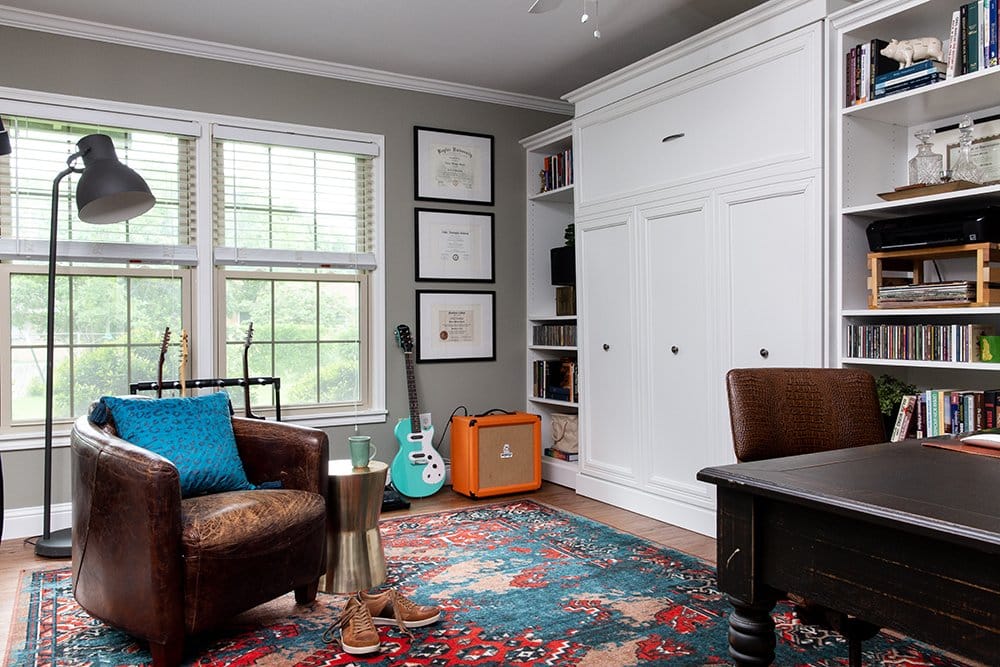 Oh, and did I mention that Nate's office also had to function as a guest room? We installed this awesome Bestar wall bed with shelves so that we'd have a queen-size bed at the ready when family and friends came to stay. I love that it just looks like a built-in cabinet when not in use.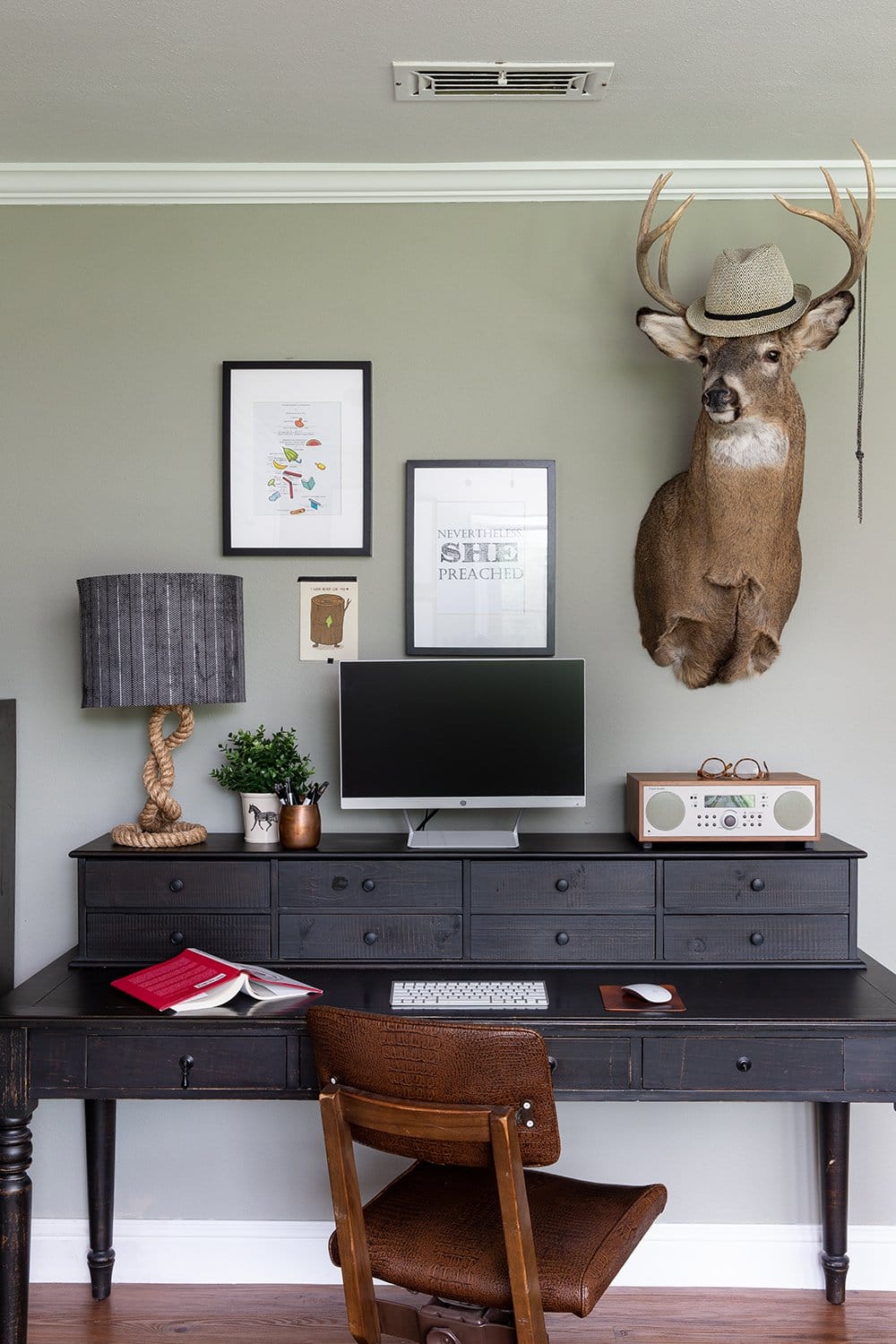 We loved this wall color so much (it's Sherwin-Williams Chatroom, by the way) that we've painted the living room in our new house the same color. It's a lovely, livable green-grey that looks great with wood tones.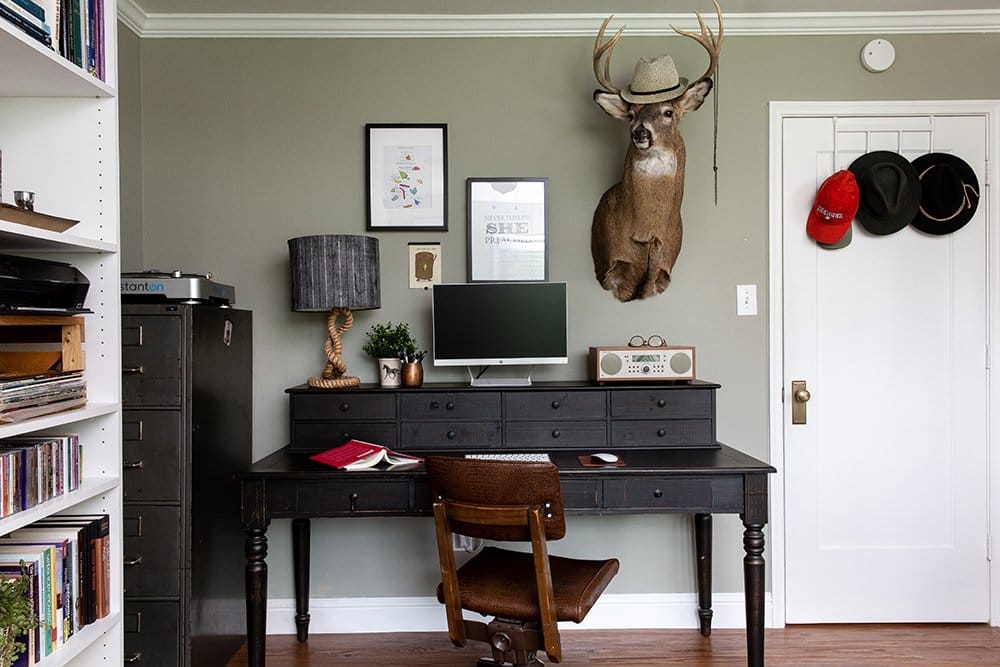 The most important part of this space for Nate was the door. He desperately needed a quiet workspace to think and write, and I love the classic single panel design of this solid wood door from Metrie. And of course, I had to include that beautiful brass door hardware throughout the house.
And now, my office before: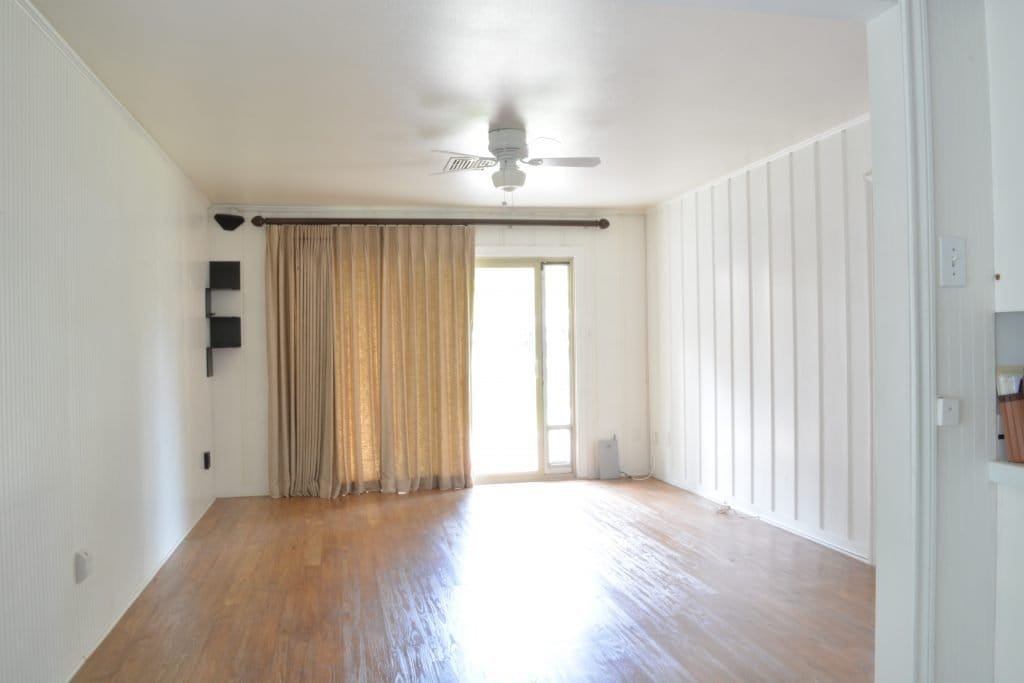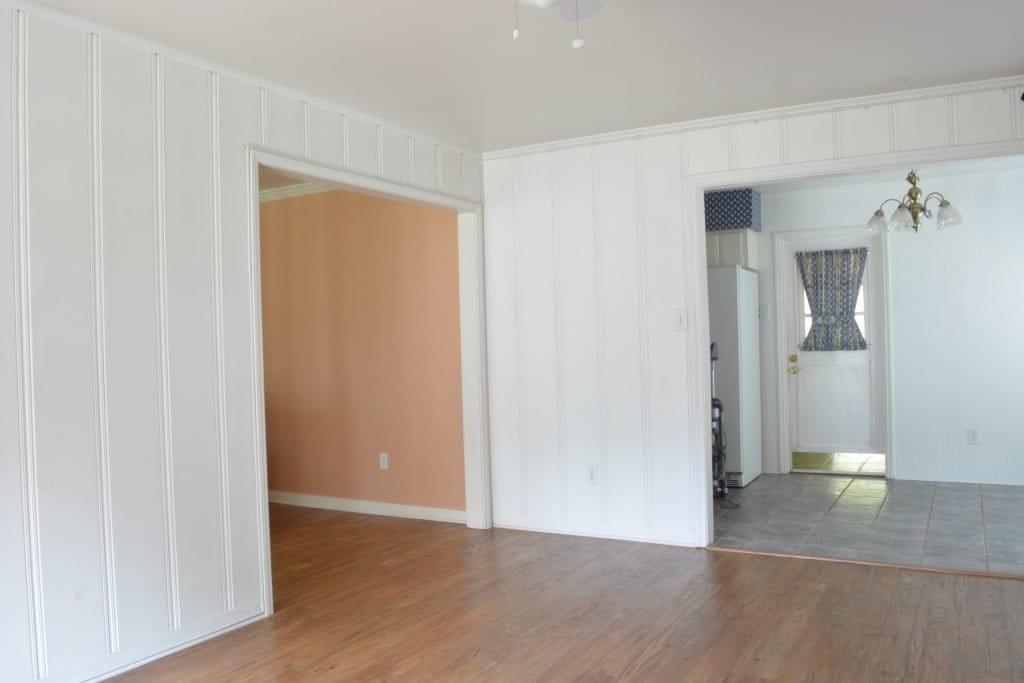 Not a bad starting point, right? It's a good-sized space with white paneled walls and medium-toned vinyl plank floors. We freshened up the walls with Sherwin-Williams Extra White, and beefed up the wimpy crown and baseboard with more substantial moldings from Metrie.
Once Nate moved out, I had a lot more space to play with – and even added a piano to my office.
Lesley's office, after: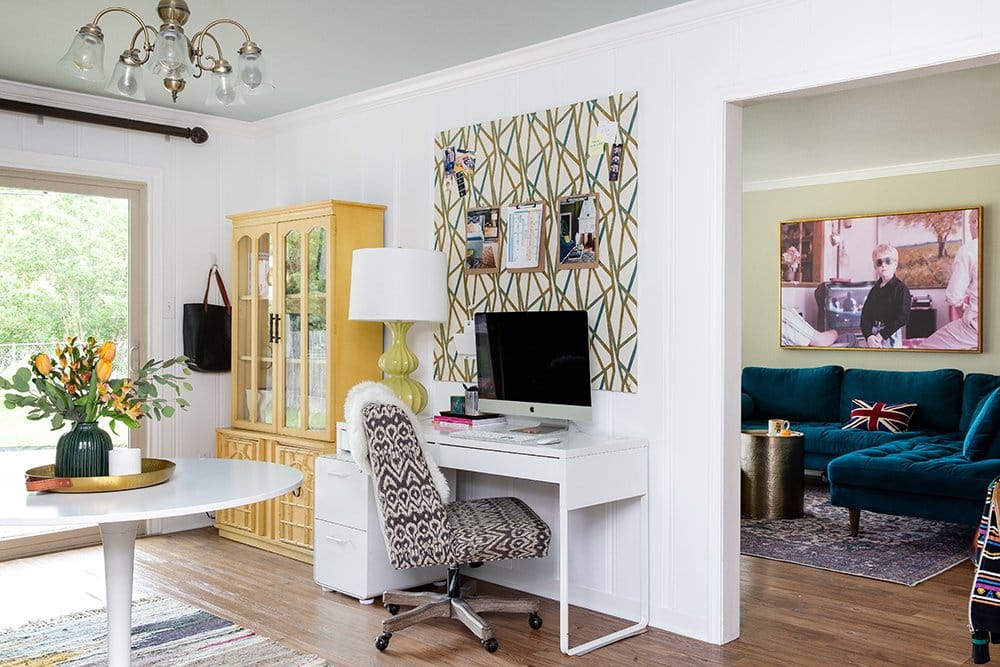 My desk used to be in this built-in nook, but when I realized the piano happened to be the exact same width as the desk, I seized the opportunity to change things up! I tucked the piano into the wall of built-ins and moved the desk to the opposite wall.
(I should clarify – when I say, "I tucked the piano into the wall of buil-ins" I really mean, "My husband shoved that piano into place using Herculean strength because it barely fit." I totally owe him one.)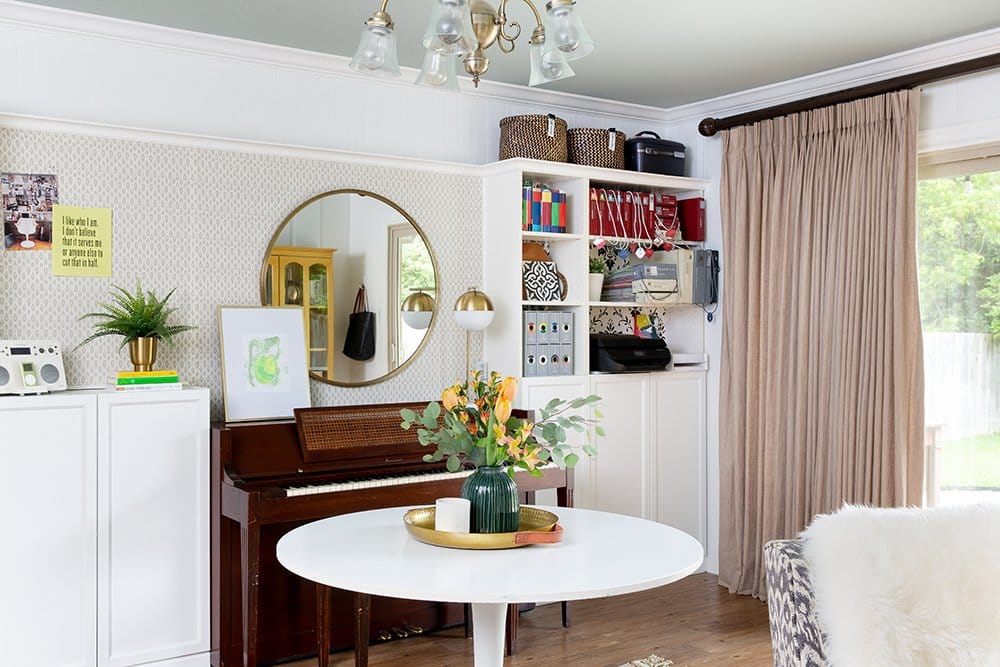 You might remember from a few years ago I shared the tutorial for the DIY built-in bookshelves, using IKEA bookcases and Metrie interior finishings. I was so sad to leave this behind when we moved to Georgia.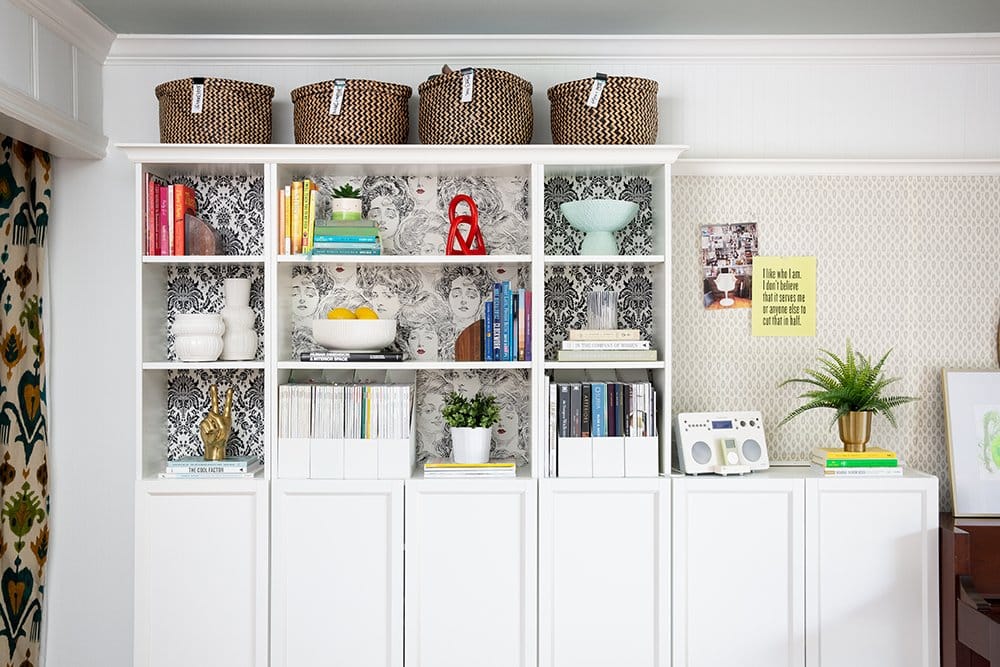 This vintage yellow cabinet on the opposite wall was gifted to me by a family friend, and I'm obsessed. It brings such a warm, quirky vibe to an office space that's mainly white with clean lines. Plus, it looked awesome next to my custom bulletin board upholstered in a Genevieve Gorder fabric.
I definitely kept the yellow cabinet for use in my new Atlanta office.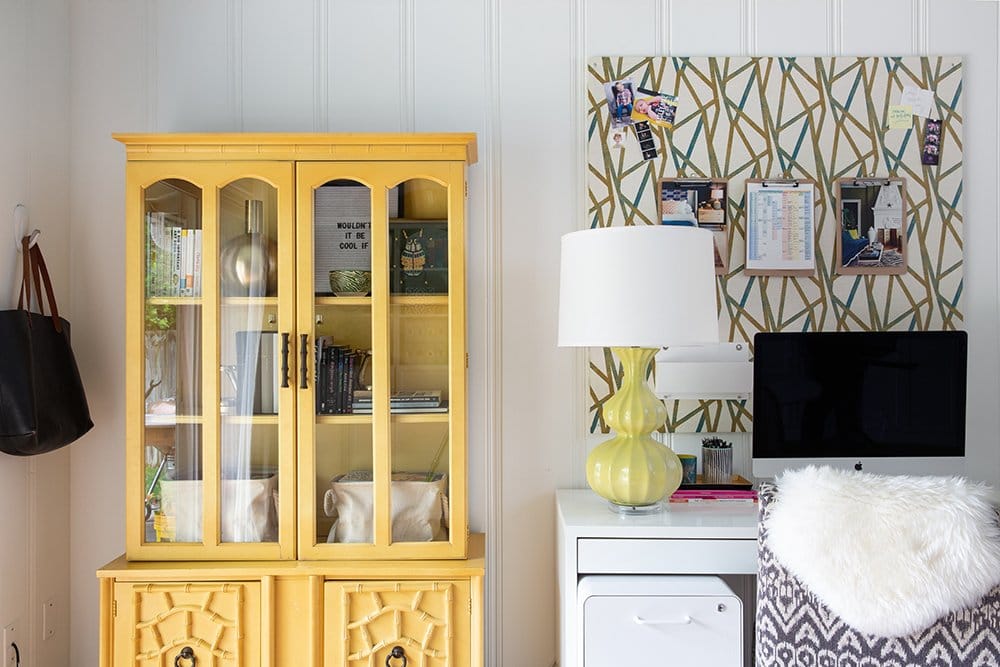 Even though Nate moved out of my office, the kids moved in. We made room for a "family computer" against the kitchen wall so that my son could have space to play computer games and work on his Pre-K homework. It also doubled as a workspace for my part-time design team. (So I guess we kinda ended up with three home offices?)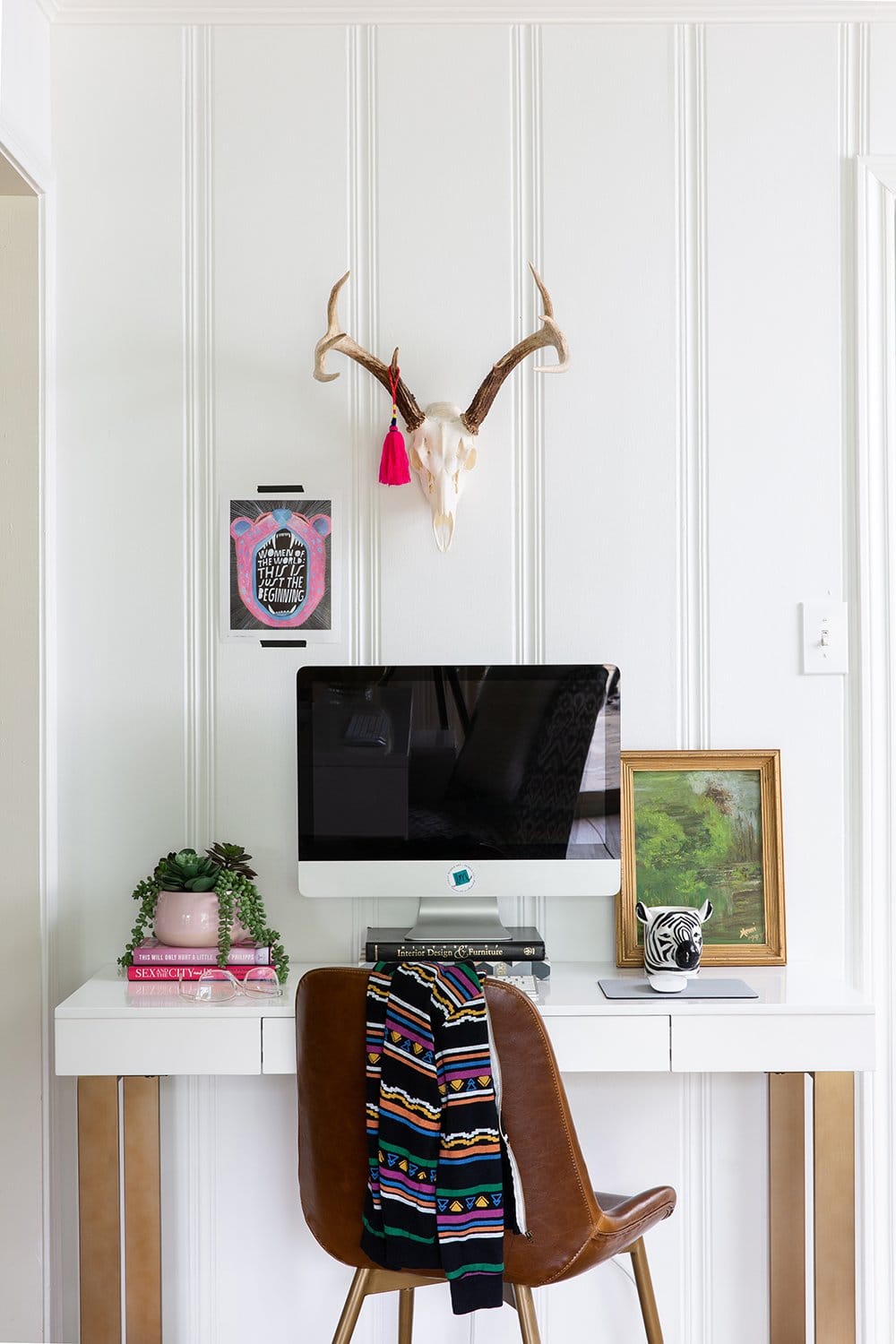 Thanks for following along with my Texas home makeover. The kitchen was one of the biggest transformations, and I can't wait to share that with you next week.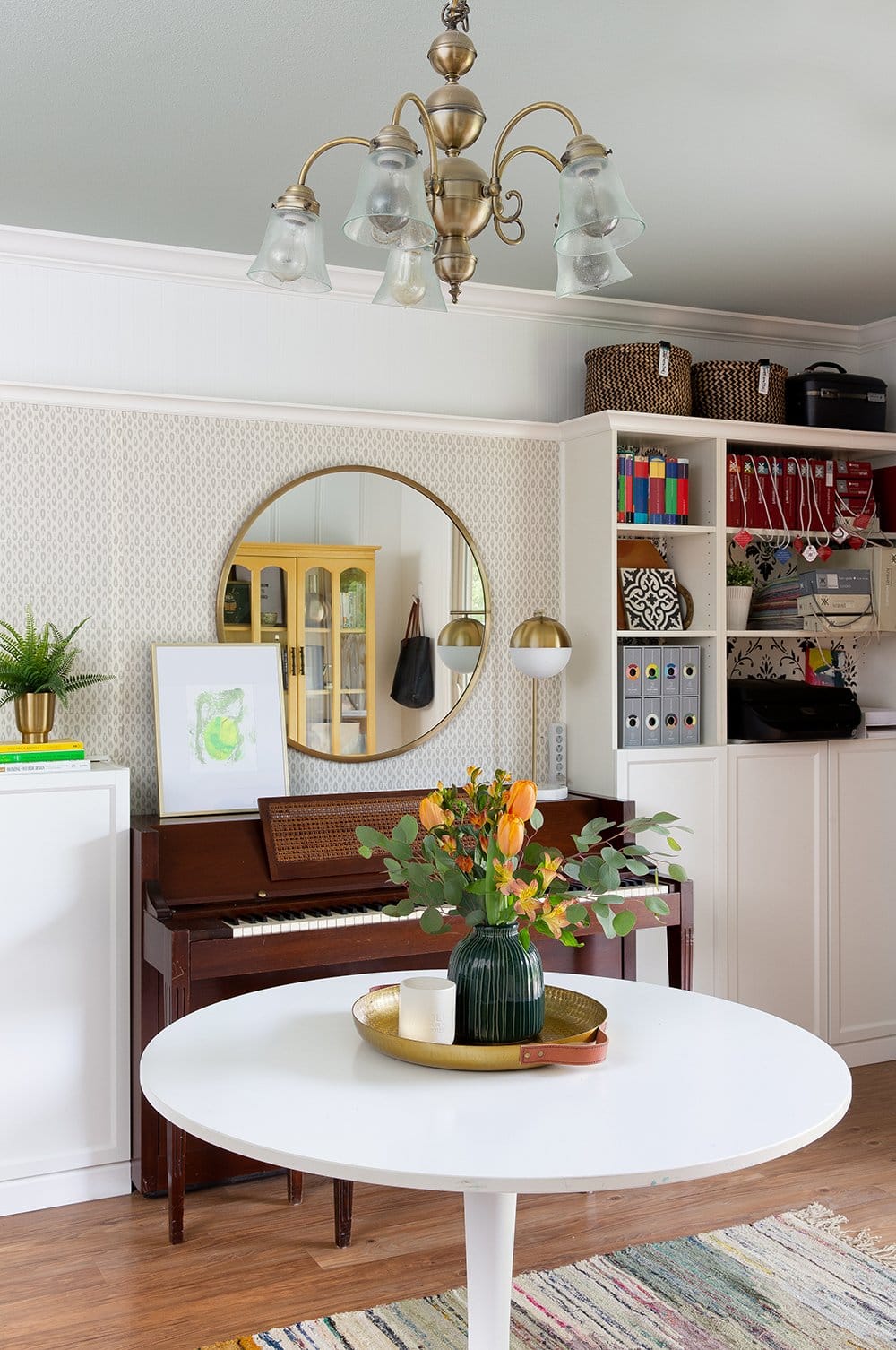 Ready to start your design project? Learn more about our services or inquire with project details to get started.