Posts Tagged 'organization'
I've got a question for you – do you like open shelving in a kitchen?
Short answer: I don't!
I know it's controversial, but this is one trend I just can't get behind. And I don't typically recommend open shelving in the kitchen for my clients, either.
Why?
Most clients that I design kitchens for really can't afford to lose the valuable storage space that upper cabinets provide. And open shelves are no substitution for well-organized closed storage.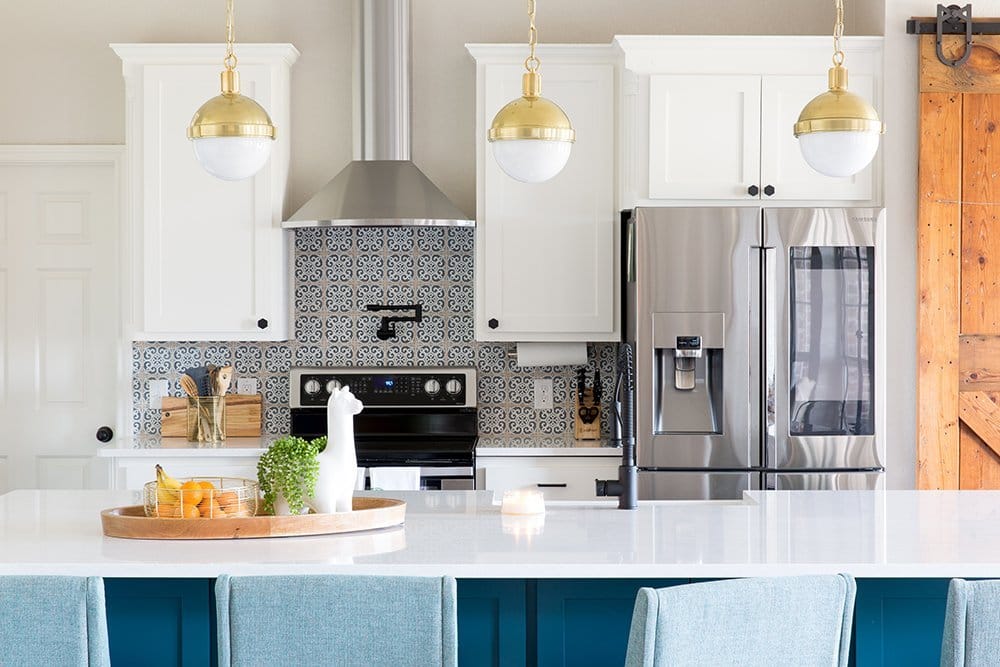 Kitchens are already clutter-magnets with all of the dishes, cookware, gadgets, gizmos, small appliances, and linens that need to be stored there. And to me, there's nothing more peaceful than closing those cabinet doors and seeing a clean and organized kitchen.
Open shelves take work to style beautifully and take even more work to maintain.
The one exception?
If you have an incredibly spacious kitchen where you can sacrifice the closed storage that upper cabinets bring in favor of more decorative open shelves, then go for it.
But, keep in mind that open shelving in a kitchen looks best when all of the dishes on display are uniform and neatly arranged. A row of white coffee mugs and stack of white dinner plates look ultra-chic, while a row of mismatched coffee mugs from your college years and dinner plates you've collected over time can make your kitchen look like a kooky flea market.
And if that's not the look you're going for, you're going to curse those gosh-darn open shelves.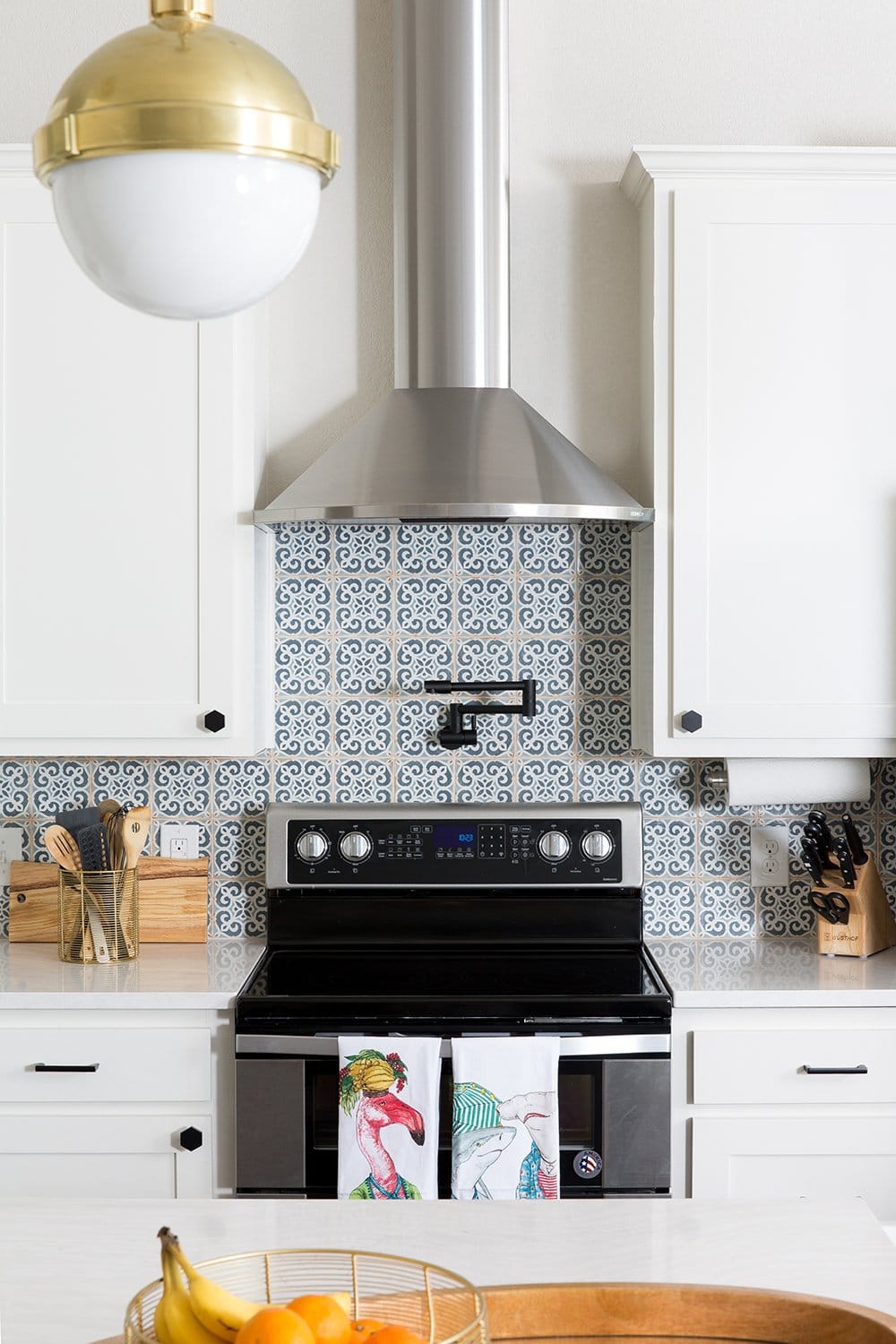 Here's the long and short of it:
Open shelves in the kitchen can be fabulous if you've got beautiful monochromatic dishware to display and plenty of closed storage elsewhere for your other (probably less beautiful but definitely useful) kitchenwares.
Otherwise – keep your upper cabinets and keep your kitchen sanity.
Thinking of redesigning your kitchen?
I've got a FREE kitchen design checklist for you! This is the exact tool I use at Lesley Myrick Art + Design when I start a new kitchen remodel project. It includes four major categories to consider as well as alllll the nitty-gritty details you'll need to cover in each category.
Having this checklist as a guideline helps me start and manage a kitchen design with confidence, and I hope it will do the same for you. Download it right here.
I love getting organized! And with Social Distancing in place for the foreseeable future and many of us unexpectedly at home full-time, this is a fabulous time to do it. I wanted to share my favorite storage bins and boxes with you to help get your drawers, cupboards, pantry, kids' toys, and pretty much everything else into place.
Fun fact: in addition to a 15-year career in interior design, I'm also a former professional organizer. Creating a functional, organized home is just as important for me as designing a home that looks awesome and reflects your true style.
If you missed last week's post with my number one home organizing tip, start there. And don't miss the free download at the end of this post, with your printable shopping list and links to all of the storage pieces. (Right now though, it's definitely better to shop online and stay home.)
My favorite storage bins for the office:
IKEA KUGGIS boxes with lids are my go-to for storing art supplies, fabric and finish samples, papers, and pretty much everything else. I love that they stack, and I usually stick a removable label on 'em so I know what's inside (because I have so many!).
IKEA KVISSLE magazine files are the best for magazine storage, hands down. They're $15 for a set of two, which seems really steep for simple white magazine files. Buuuuut – these babies are made of metal, and hold up infinitely better than their cardboard counterparts.
Three Posts rattan baskets are pretty enough to leave out on display and they hold a ton! I use them to organize binders on my open office shelves, and because they have large, open handles, one basket holds my power bar and all of the cords and cables are concealed in this basket.
My favorite storage bins for the kitchen:
These white plastic slotted storage baskets are my go-to for storage in the fridge, freezer, pantry and beyond. In the freezer, I use them to organize and separate bagged veggies, breads, and meat. In the pantry, we use one bin for crackers, another for PB&J, etc. In the fridge, I keep cans and bottles together so it's easy to pull out the basket and find what I need. Oh, and did I mention they're from the dollar store?
For teeny tiny items in the kitchen, I love this interlocking drawer organizer set from Target. I have one set that keeps measuring spoons, bag clips, and other small thingies grouped together; and another set in my "junk drawer" to organize tape, batteries, and small tools.
My favorite storage bins for the linen closet:
The linen closet can quickly become a frightening abyss of bedsheets and old towels, but these foldable fabric baskets with rope handles are a lifesaver. I have one earmarked for each bed in the house – and only sheets for that bed go in there. Easy peasy. (Bonus: I also use these same fabric bins for kids toys since they're a decent size and easy for little hands to carry.)
For bulkier items like towels and blankets, I love large fabric storage cubes like these. I group like items with like (one cube has all of our white bath towels, another has all of our printed beach towels) and love that I can pull out one bin to grab what I need without causing an avalanche of linens.
Here's where to find my faves.
Want to grab your FREE shopping list printable with all of the links and resources shared in this post for my favorite storage bins and boxes? Download it right here.