Who doesn't love a good before-and-after? Get ready, because all month long I'm sharing a tour of our Texas home, including the living room, master bedroom, kids bedroom, my office, my husband's office, and the kitchen. First up: our family-friendly living room with a teal sofa.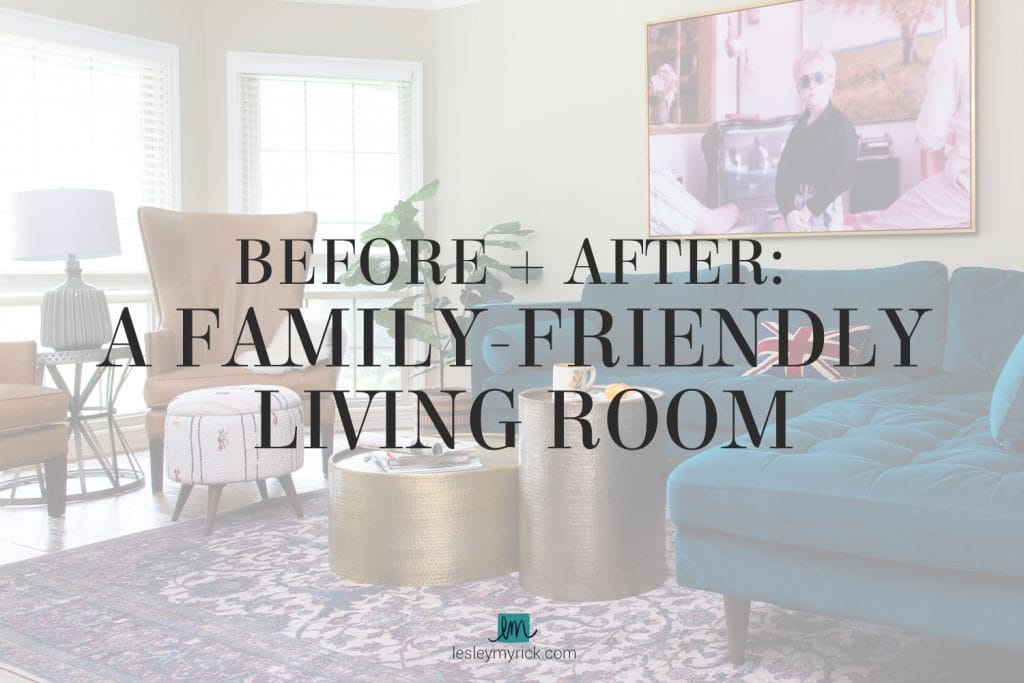 Disclosure: Some of the products in this before-and-after were sponsored by brands I use and love for myself and for my clients, including Sherwin-Williams and Lamps Plus. Thanks for your support!
If this living room looks vaguely familiar to you, it's probably because you've seen it before. This is the second makeover of my Waco, Texas living room.
Here's what the room looked like the day we moved in, way back in 2015.
So. Much. Peach. I couldn't wait to bust this room out of boring and paint the walls one of my favorite neutrals, Sherwin-Williams Relaxed Khaki.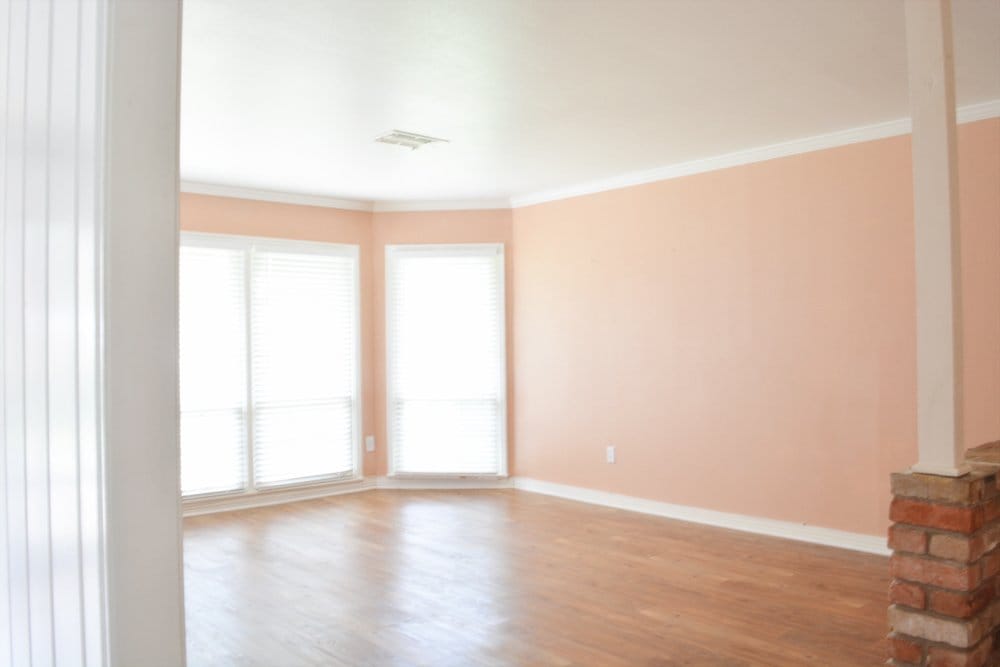 And after I got my designer hands on it, here's what the space looked like for the first few years we lived in Texas. (You can see the full before-and-after here, if you'd like.)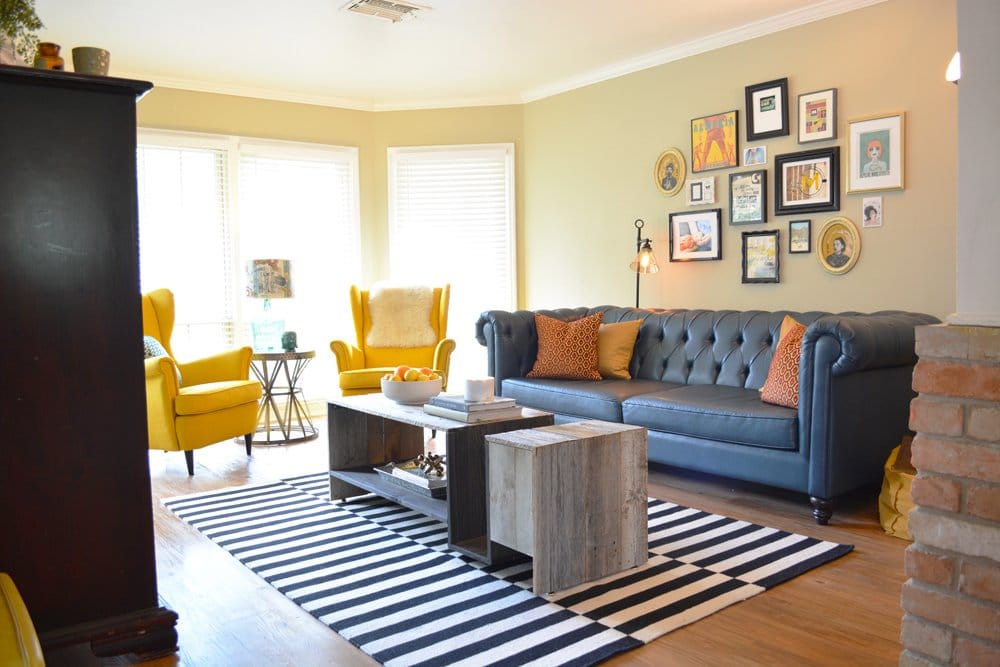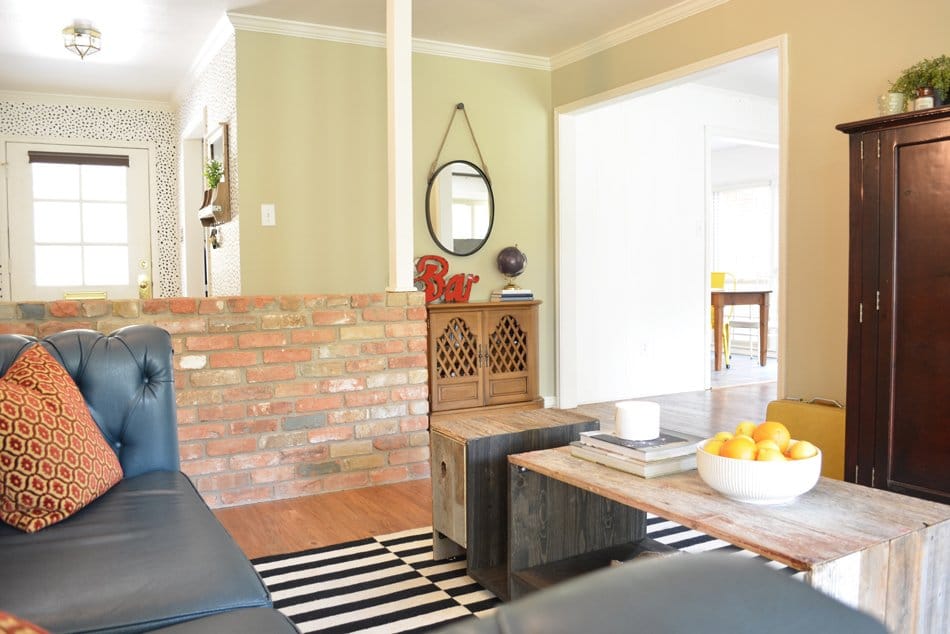 She's cute, right? Funky teal sofa, cute gallery wall, graphic area rug, eclectic furnishings. All is well and that's the end of the story.
OH BUT WAIT.
After our beloved teal sofa died a slow death, it was time to replace it and give a whole new look to our living room. We did our homework and realized that re-upholstering the existing sofa in leather would be the same investment as buying a brand-new sectional, so we opted for the larger Briar sectional from Joybird to gain more seating.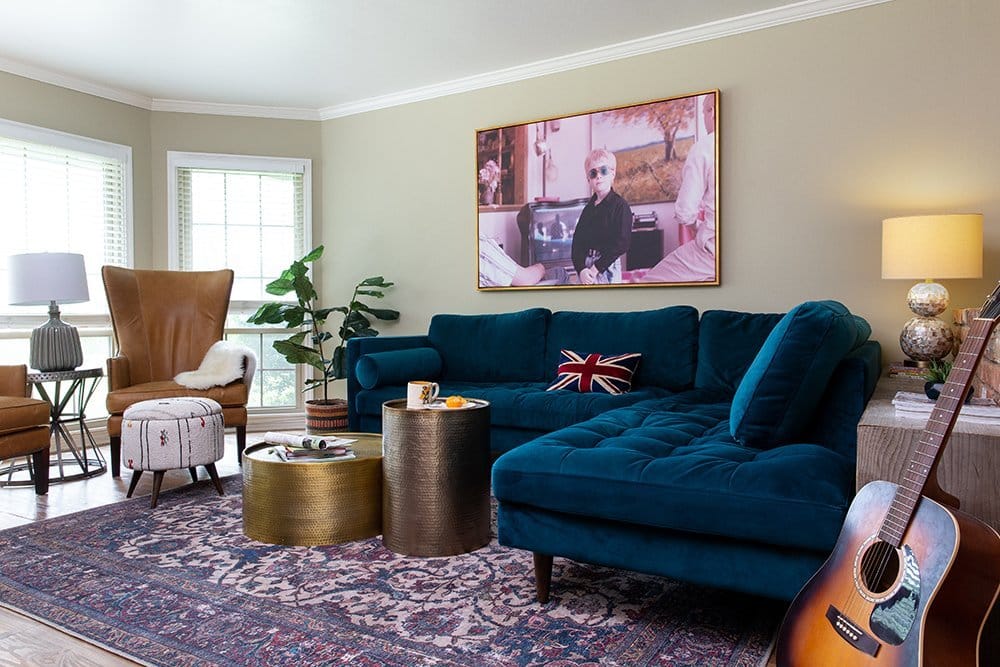 And while I still have a soft spot for a good gallery wall, I was looking forward to a change and making a big-ass statement above the new sectional.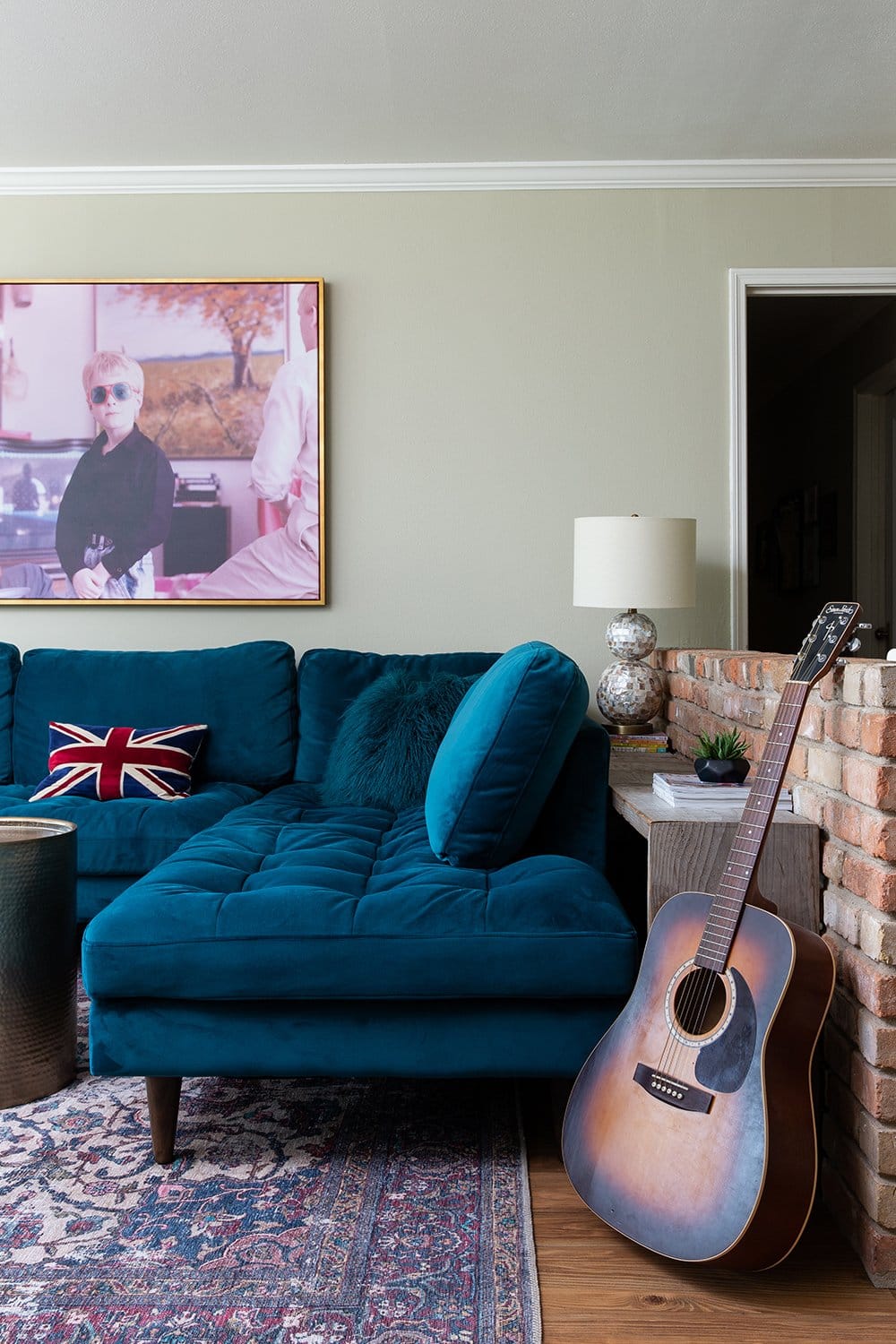 See that oversize framed photo?
No, that is not Elton John (although we've had quite a few people ask that!) – that is a picture of my husband Nate when he was about 5 years old. I'm obsessed with everything in this pic: the orange sunglasses, the acid-washed jeans, the stack of VHS tapes in the background, and alllll the 80s goodness. I borrowed the original 3×5 photo from my mother-in-law, scanned it, and blew it up to 60×40 inches. My favorite framer in Waco, Studio Gallery, did a killer job on this oversize brass floating frame.
Nate had no idea I was doing this, by the way. Imagine his shock when he came home to find a giant photo of himself in our living room.
With art, I always say "go big or go home".
This is how you go big with major personality.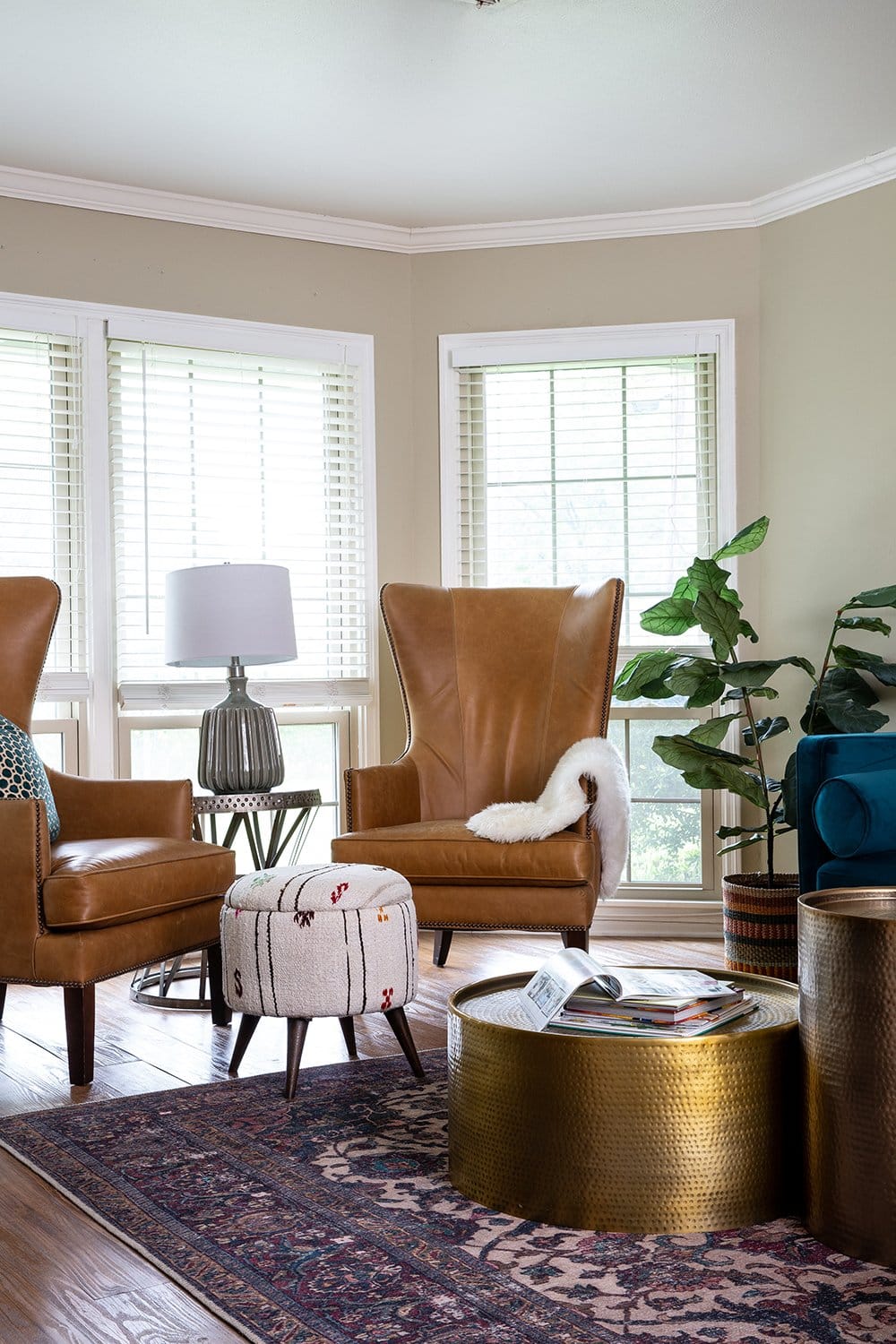 We replaced our cute yellow wing chairs with these beautiful custom cognac leather high-backed accent chairs from Bassett. And I scored that cute footstool on a sourcing trip to Las Vegas. The pair of coffee tables, believe it or not, are from Target! I love to mix high and low in the same room – it gives a more eclectic, collected vibe than if everything came from the same kind of store.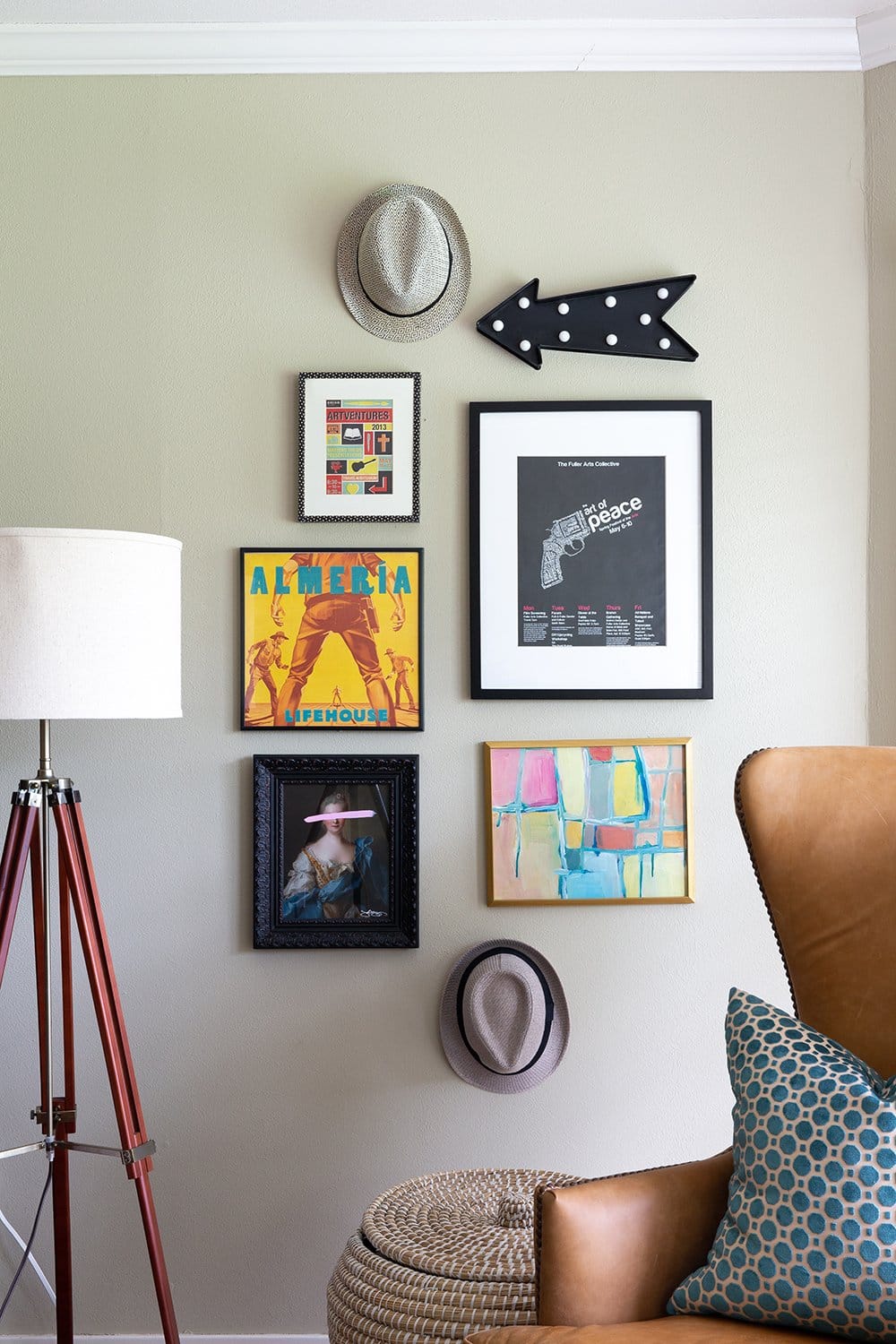 I didn't get rid of the gallery wall entirely –
– just moved it to the wall opposite the sectional. I love collecting original art, and I'm totally into these pieces by Josh Young Design House and Jessica Ruth Freedman.
And every reading nook needs a great lamp. I love the cherry wood and brass surveyor-style floor lamp from Lamps Plus.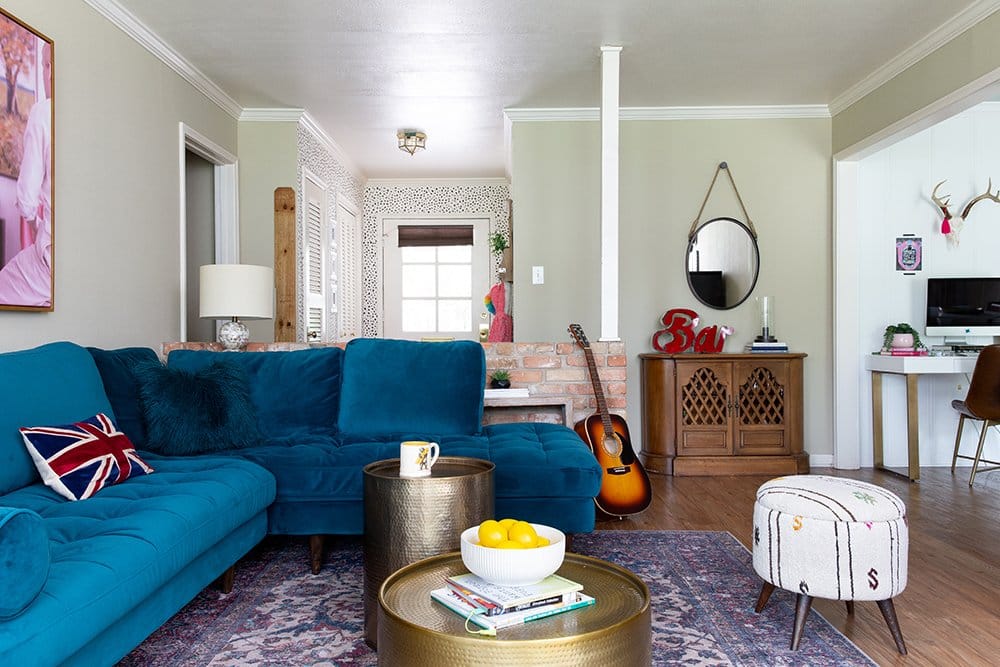 You've probably noticed some things have remained from before, including the wall color and the retro bar cabinet. But I'm psyched to have a new rug that's actually big enough for the room! This pretty vintage-inspired area rug is from Loloi.
I hope you enjoyed taking a tour of my family-friendly living room with a teal sofa – like you expected anything other than teal in my house.
Woohoo for a new project reveal!
I'm digging how this colorful Mid-Century Modern living room with a touch of French flair turned out. The main goal for this room was to keep the room true to the home's 1960s architecture while incorporating French-traditional inspired decor that the homeowners love.
If that wasn't enough of a challenge in itself, the space also needed to be toddler-proof. (Which, as the mom of a three year-old I'm basically an expert at. 😂)
By brightening up the ceiling beams, sourcing furniture that fit the scale of the room, and revamping the built-in, this room transformed from orange and dingy to light, bright, and totally livable.
Check out the before post of this space to see how a rad concept comes to life.
How lucky is the little girl that gets to play at this stylish marble table with adorable (and comfy) poufs surrounding it?
Sometimes (okay, ALL THE TIME),
a designer's gotta get creative when styling a space.
This "tray" isn't a tray at all – it's a wall hanging that was the perfect size and style to offset the chunky white coffee table.
The details and scale of this piece were so made for this space, it ended up feeling like it was a custom-designed centerpiece.
Here's the moodboard that inspired it all:
And one last look at the final product:
I loved sourcing items of such a large scale to give the furniture in this room the oomph it desperately needed.
Giving a sweet family the colorful and kid-proof space they deserve is all part of the job (which SO rocks).
In case you're curious, here is the Pinterest board where most of the items in this room can be found. If you're interested in working with us on your own design project, get in touch! We'd love to help you make your home more livable, delightful, and unexpected.