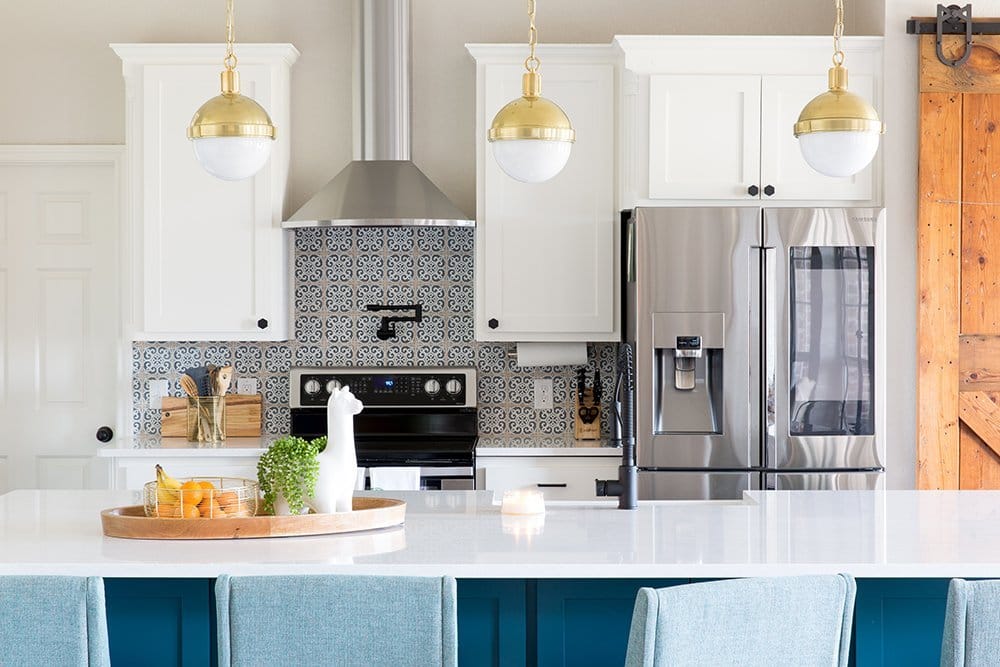 I looooove me a good project reveal! This Waco family-friendly kitchen remodel was such a blast to work on, and any time a client gives the go-ahead for a bright blue island you just KNOW the end result is going to be smashing.
If you remember the "before" photos, my client was trapped in a generic wannabe-farmhouse kitchen with a faux shiplap wall. A sledgehammer took care of our little shiplap problem lickety-split, and the custom-designed massive 11′ long island became a much-deserved focal point.  This sweet family has 3 kids under 3 and a large island to seat everyone comfortably was a must-have (as was a low-maintenance quartz countertop).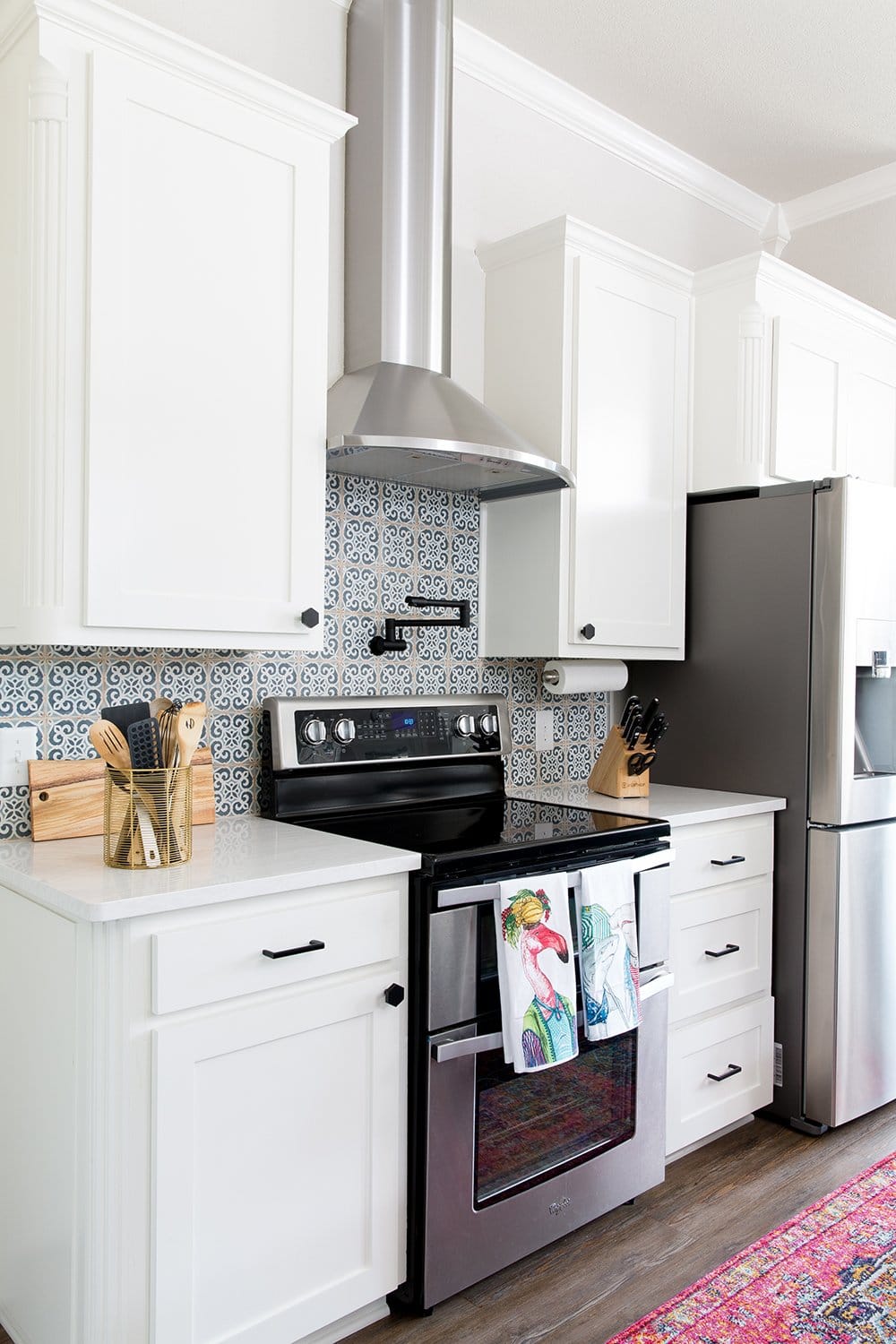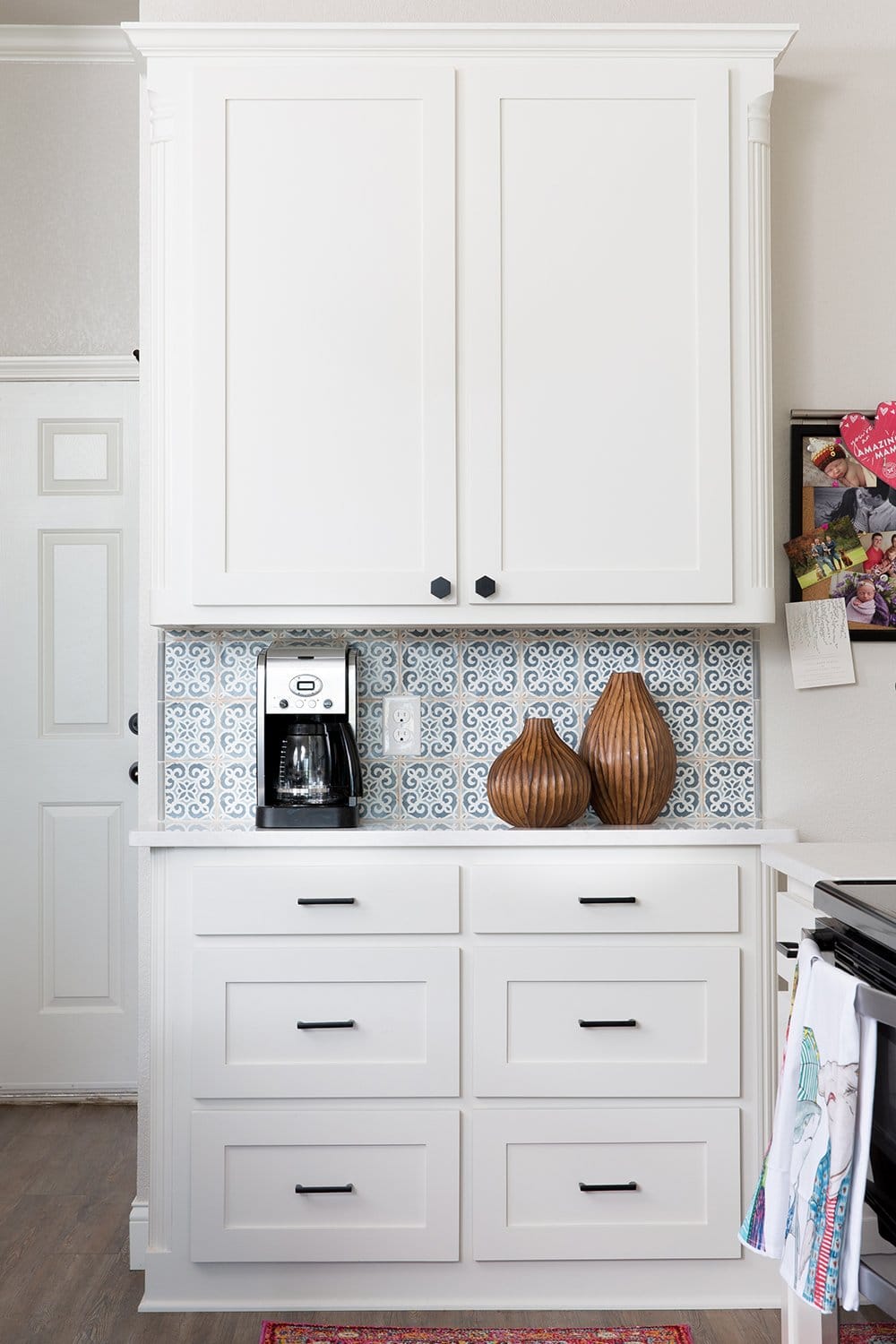 Mixing metals, layering textures, and playing with color and pattern was key to bring interest to this otherwise neutral space. Black hardware and fixtures are unexpected and fresh, which meant that brass and chrome accents could layer in without being too dominating. (I'm obsessed with those black hexagon drawer pulls!)
The large reclaimed barn door was already in the home, and I love it because warms up the otherwise cool palette in the kitchen. Without warm woods, a blue and white kitchen would feel pretty sterile. Brass + wood = instant warmth and contrast.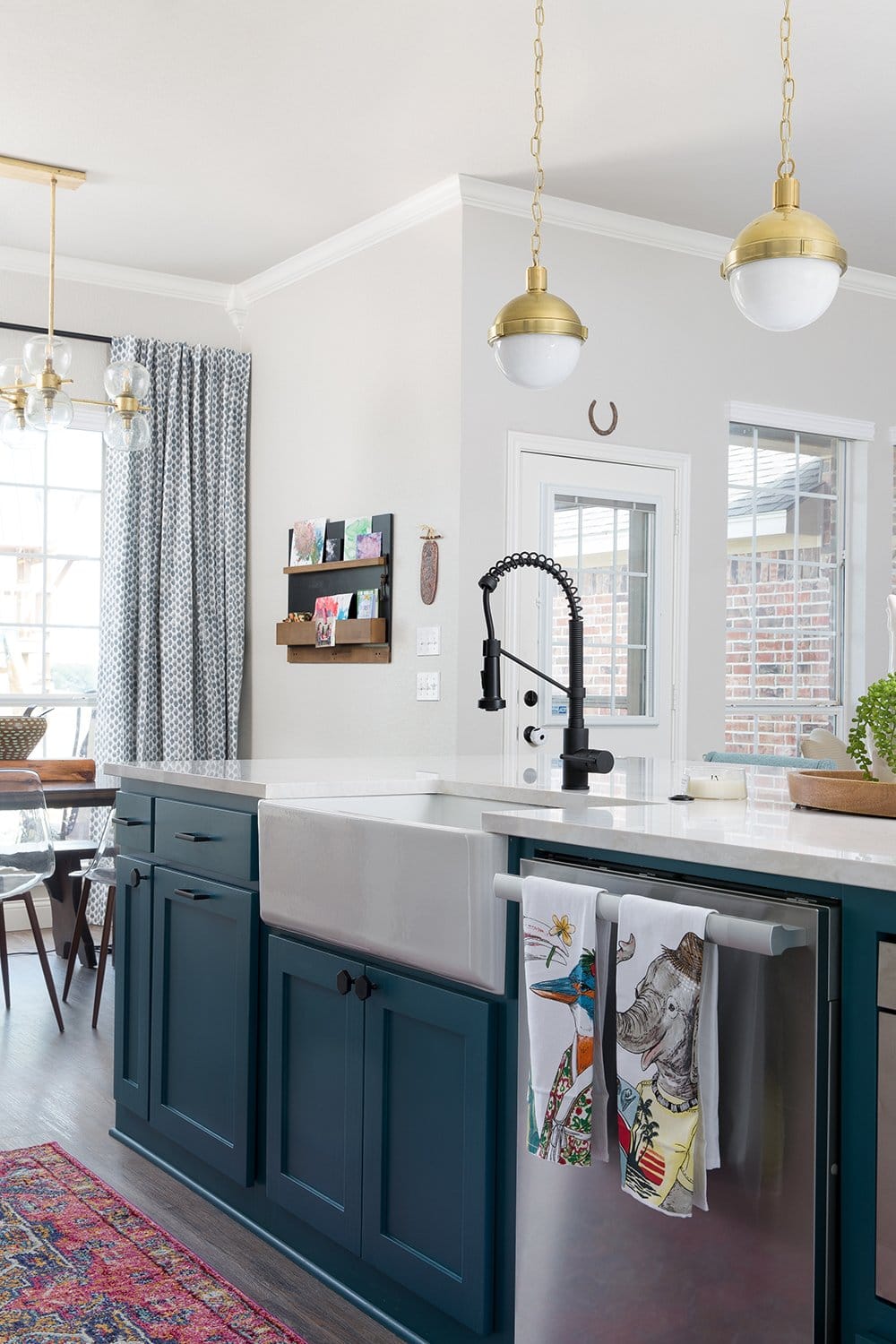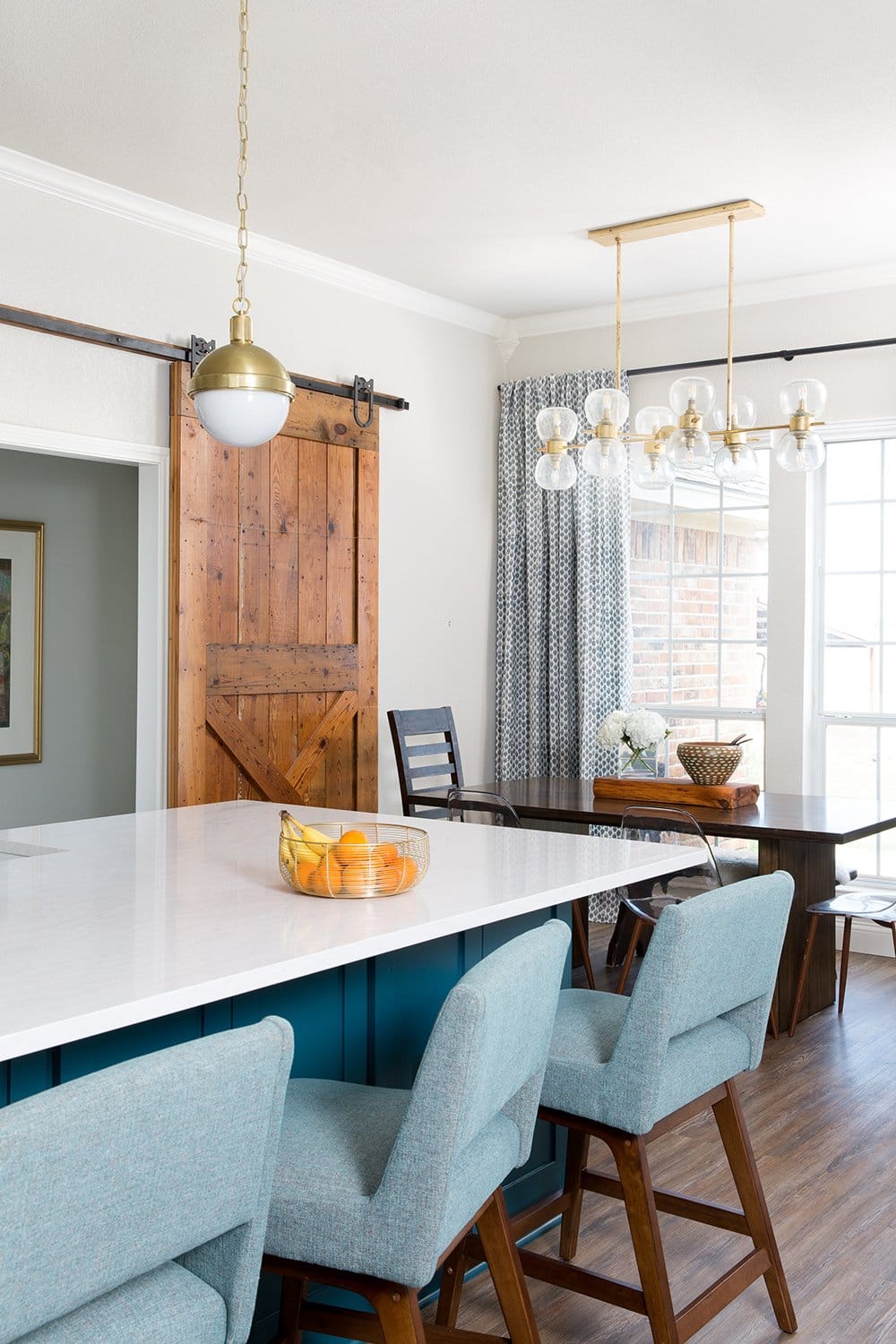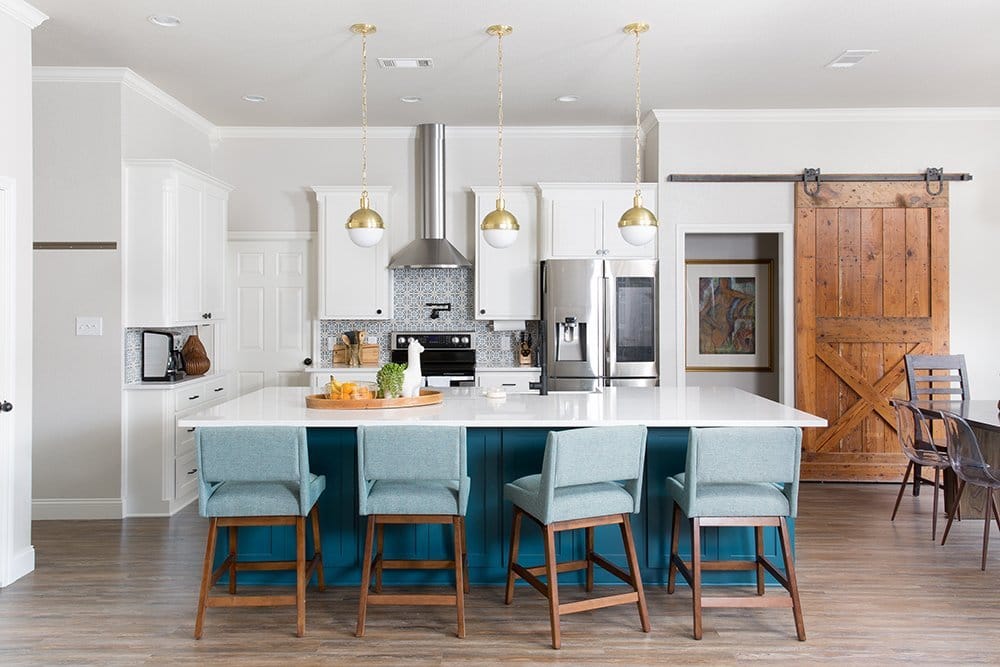 You can never go wrong with tea towels that feature animals dressed like humans, right? Even kitchens need a little quirk factor.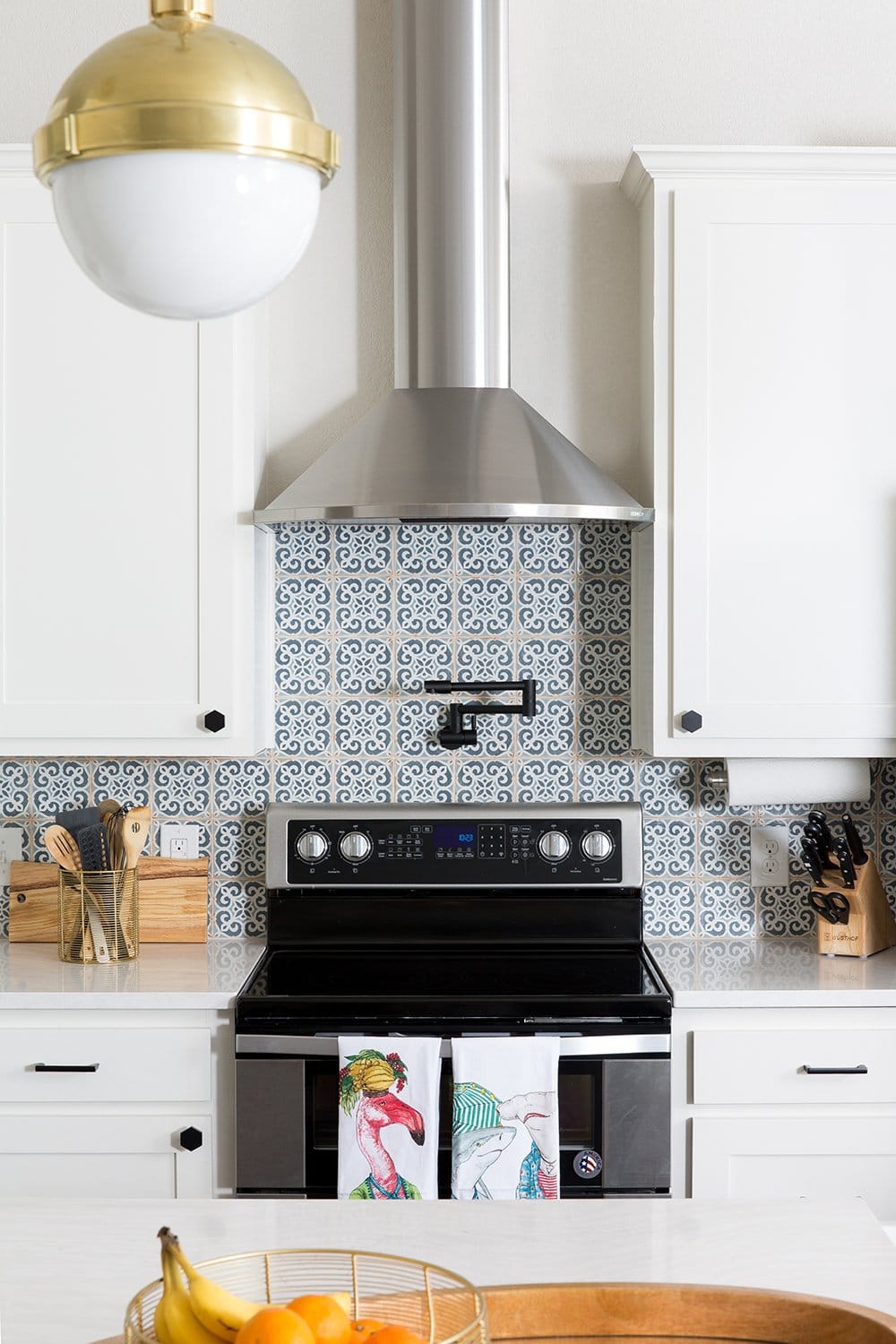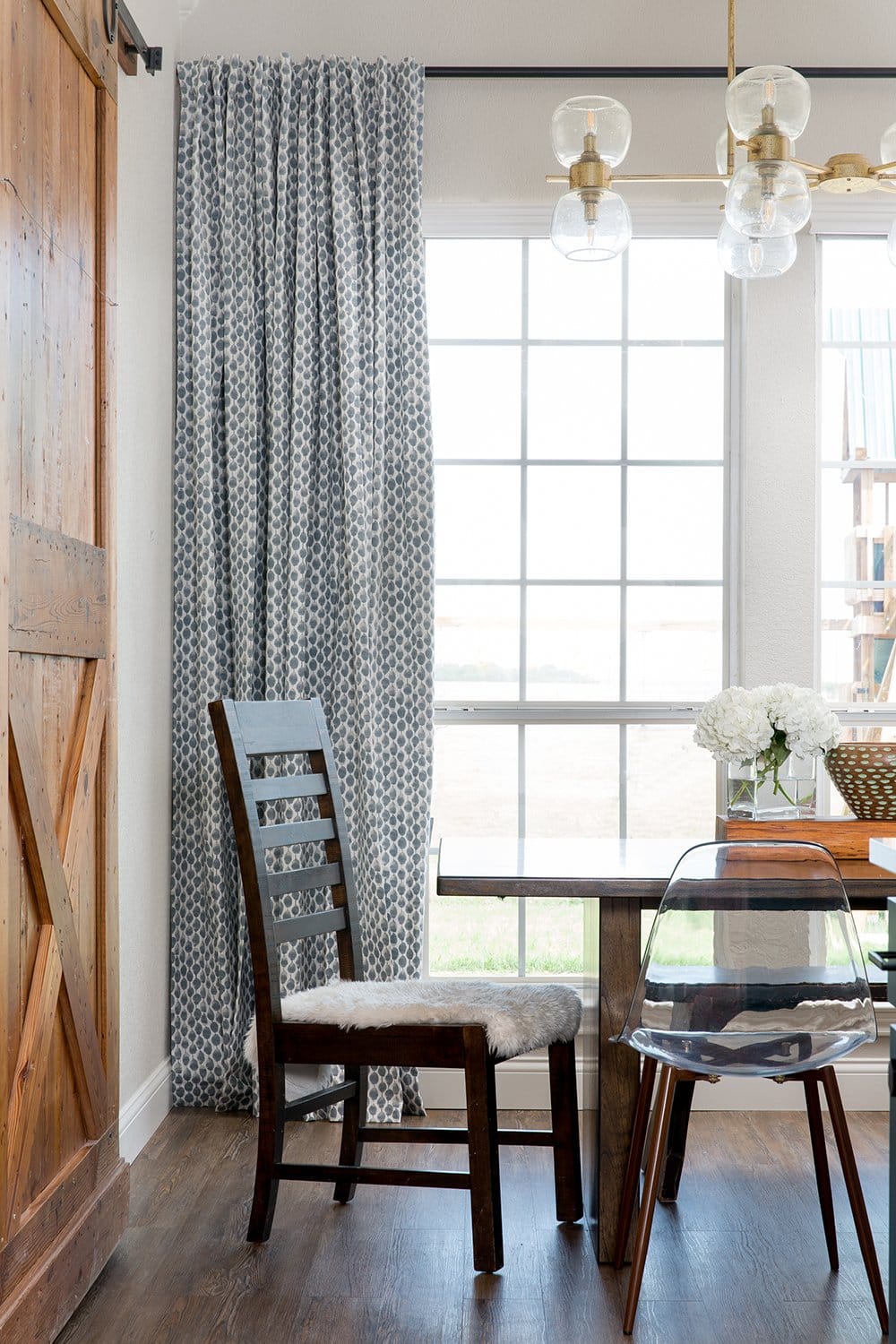 And just for fun, while we were busy smashing down shiplap and busting up bad tile floors we did a little makeover of the laundry room and master closet too. The ho-hum laundry room got jazzed up with graphic concrete tiles and a fresh quartz countertop, and we designed a pretty little office nook in the master closet to create a much-needed private home workspace for mama.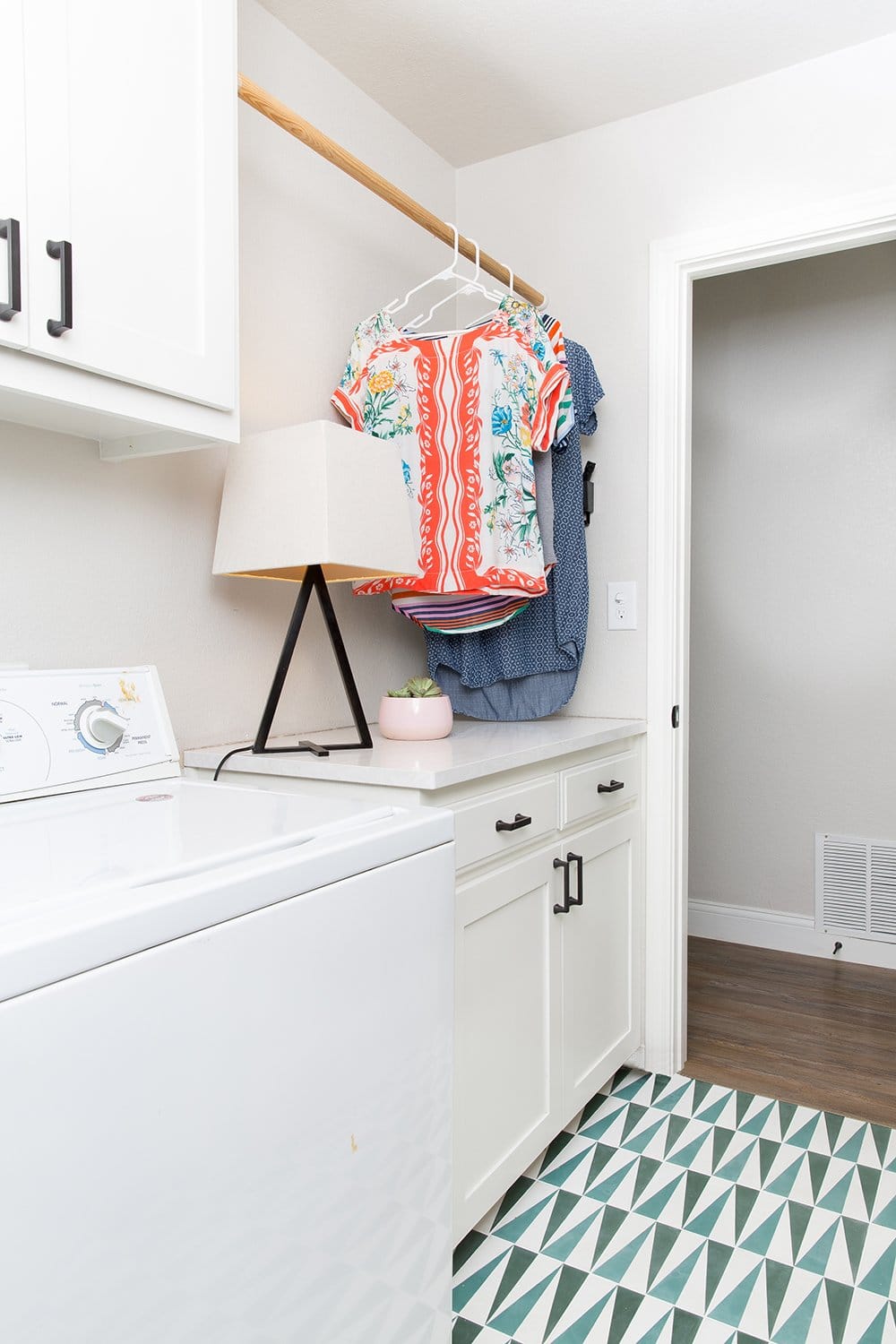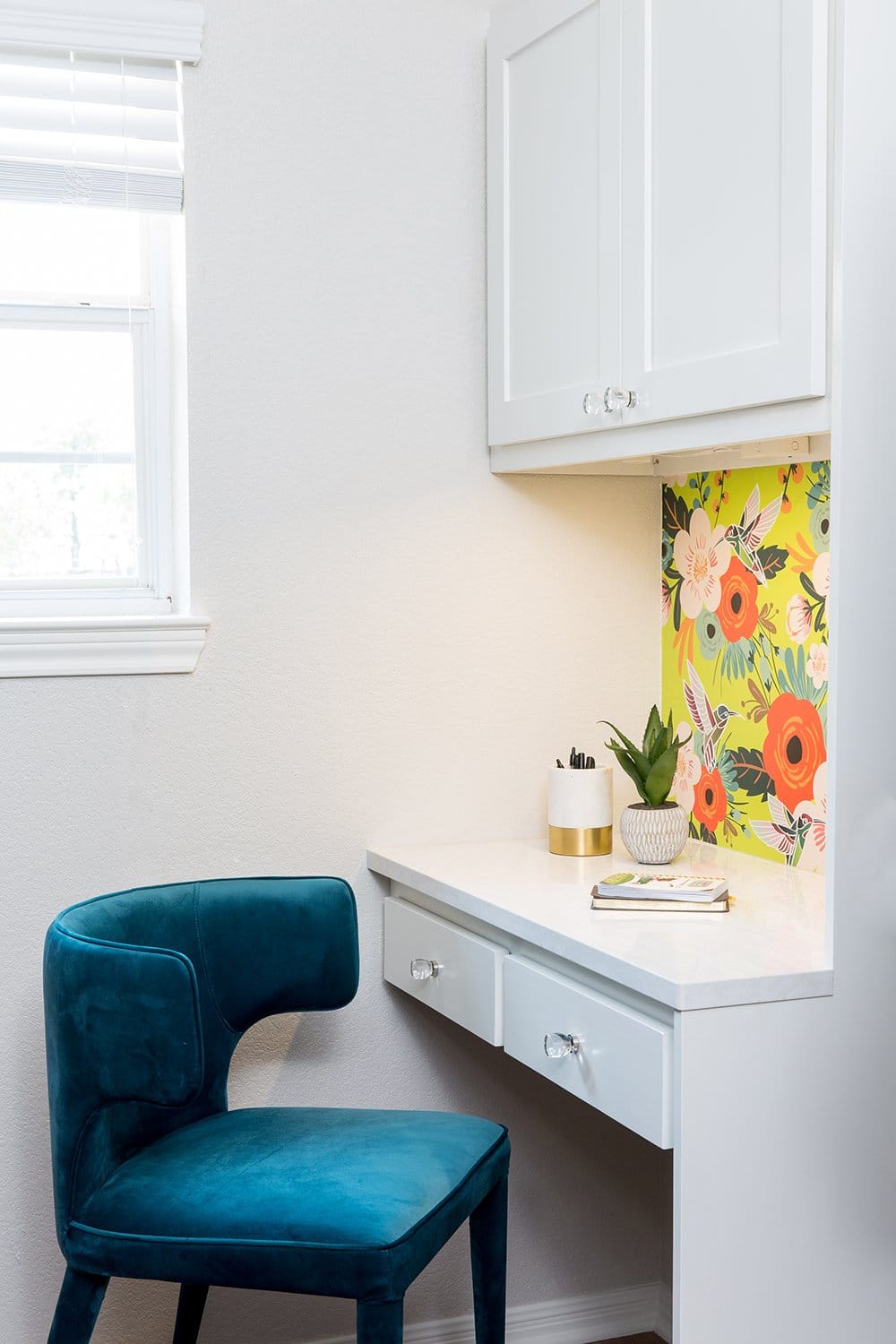 I bet they're going to have a pretty epic Thanksgiving dinner in their new super family-friendly kitchen! (And I hope they invite me, too.)
Photos: Jeff Jones Photography
It's a good thing I really love my home office. Because if I weren't so crazy about it, I would totally be stealing every single design element in this warm and modern home office with dark teal walls. Yes. You heard me. DARK. TEAL. WALLS.
Ugggh. This space is going to look so good when it all comes together!
This home office design is a Design Kit
created for a cool client here in Waco. She currently works from home with beige walls, beige carpet, and a queen-size bed jammed into her modest office space. Not exactly great for space planning or productivity, right?
The first order of business
was to remove the bulky queen bed and install a space-saving wall bed instead. This way, the room can be converted into a guest space on rare occasions, but has so much more room to function primarily as an office.
To jazz up the bookshelves with a metallic pop
I selected my favorite metallic wallpaper for the back of the shelves. I love the way a fun pattern makes a basic bookshelf feel complete and well-styled with minimal effort.
It's not shown in the moodboard above,
but we selected a lot of cool art for the space, ranging from limited-edition framed art prints to a hilarious illustration of various breeds of dogs wearing glasses. Because if you can't make work fun, it's going to totally suck to be in that office every day. This room doesn't have a large footprint but does have 12′ ceilings, so creating a colorful gallery wall above the desk will create a cool focal point and also use the height of the room to our advantage.
I love seeing these DIY Design Kits come to life.
We design, our clients make the magic happen! If you're interested in your own custom DIY Design Kit you can find out more here.
My first apartment boasted a hand-me-down beige plaid sofa from my grandparents, a structurally unstable bed purchased from IKEA, and was shared with my suuuuper messy ex-boyfriend. As an interior designer and neat-freak, let's just say these were not my ideal living conditions.
I never thought I'd be jealous of two boys under the age of 10, but let me tell you, their mom hired me create a Design Kit for the coolest kids playroom that puts my first apartment to shame. This spare bedroom was a majorly under-utilized space that needed to become a playroom, video game hangout, homework space, and guest room all in one.
An awesome orange sleeper sectional is the bold and badass centerpiece of the room, and it's where the boys and their friends will get comfy to play video games (and wrestle and build forts and stuff). We swapped the totally impractical double closet doors for a pair of curtain panels mounted on a tension rod which freed up the floor space to add a hip industrial desk big enough for both kids to share. And if they can't share, there's a laptop table for some extra work space.
The boys are also getting a major bedroom and bathroom makeover too, in their favorite team's colors of orange and grey. I'm not a fan of literal theme rooms (no sports logos here!) but taking inspiration from the colors and styles of a favorite sports team, book, or movie is an awesome starting point when designing a space for kids.