Posts Tagged 'master bedroom'
Who doesn't love a good before-and-after? Get ready, because all month long I'm sharing a tour of our Texas home, including the living room, master bedroom, kids bedroom, my office, my husband's office, and the kitchen. Today: our navy master bedroom that doesn't feel like a cave.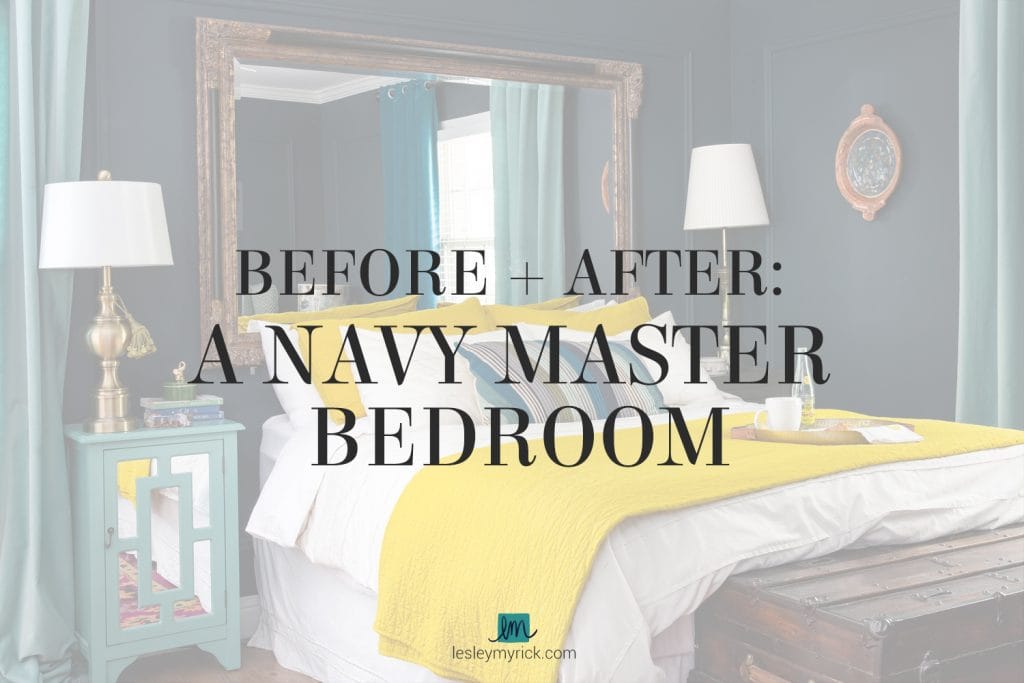 Disclosure: Some of the products in this before-and-after were sponsored by brands I use and love for myself and for my clients, including Sherwin-Williams, House of Antique Hardware, and Metrie. Thanks for your support!
When we bought our 1959 ranch home in Waco, Texas, the master bedroom kinda stumped us. It was this blank, white box with no personality whatsoever. And uggghh, that blue-grey carpet!
Here's what the master bedroom like when we moved in.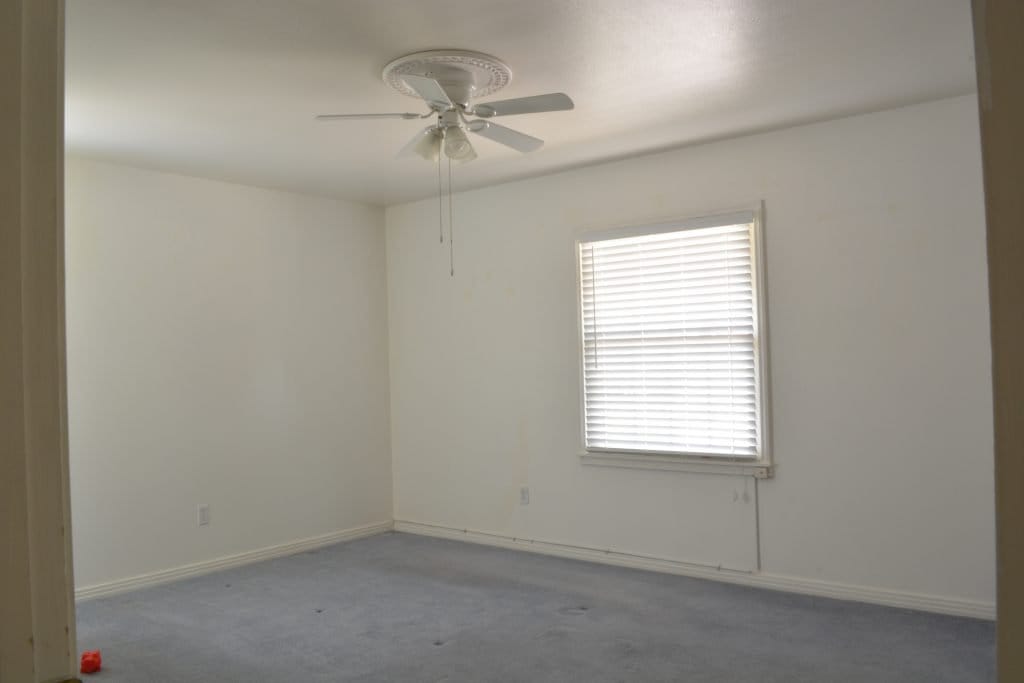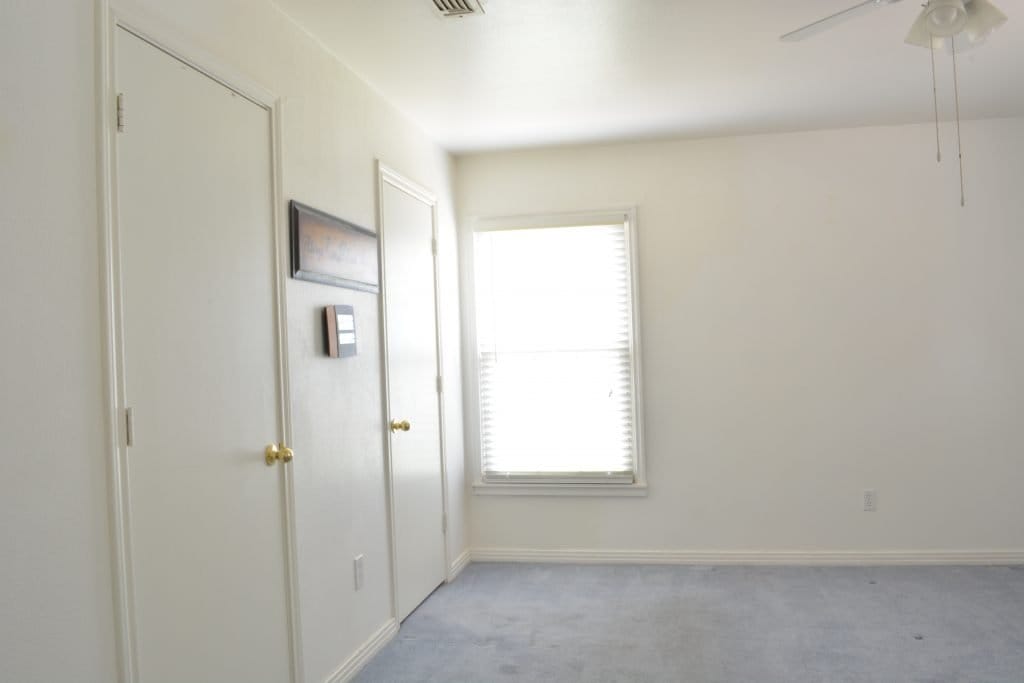 Underwhelming much?
This room was just screaming for architectural detail to be added, and thanks to our friends at Metrie, we were able to replace the baseboards with something taller and more substantial, add solid pine crown molding, replace all of the hollow interior doors with solid paneled beauties, and add applied panel moldings on the wall for visual interest.
I love a space that has character, and interior moldings are an awesome way to bring architectural detail to an otherwise boring room that's lacking in personality.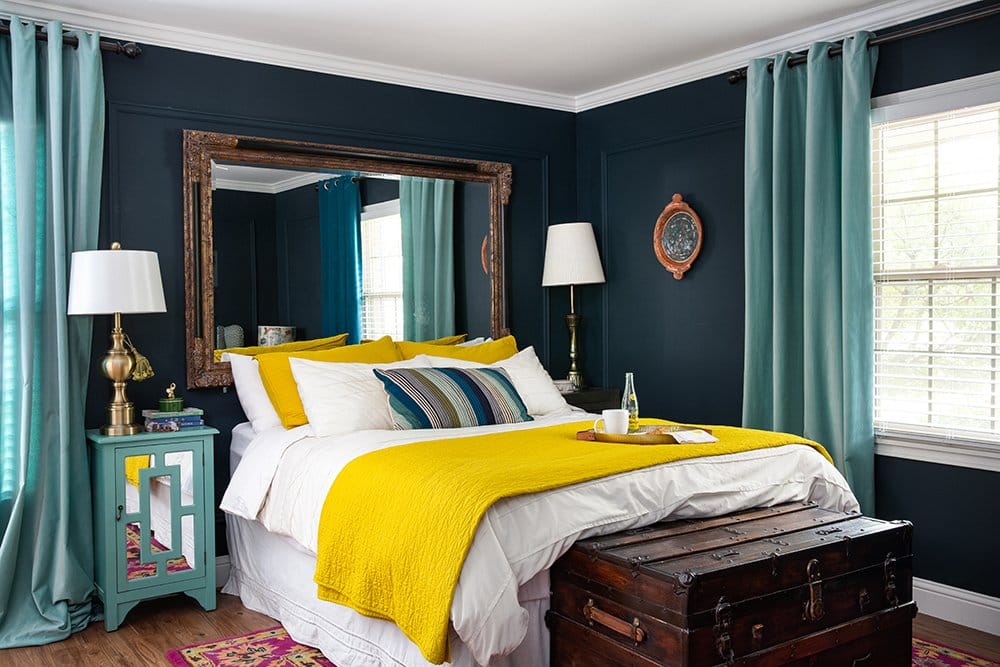 It took me ages to decide on using this navy wall color,
but it's now become one of my faves – Sherwin-Williams Dark Night. I love that while the walls are dark and the room felt cozy, it doesn't feel like a cave at all. Navy walls are totally trending this year and I'm all for it! (Here's some more thoughts on using dark paint colors and if dark or light paint colors are better, if you're interested.)
The panel molding is quite subtle with the navy wall color, but that's exactly the point – it's meant to bring texture and architectural interest to an otherwise plain wall.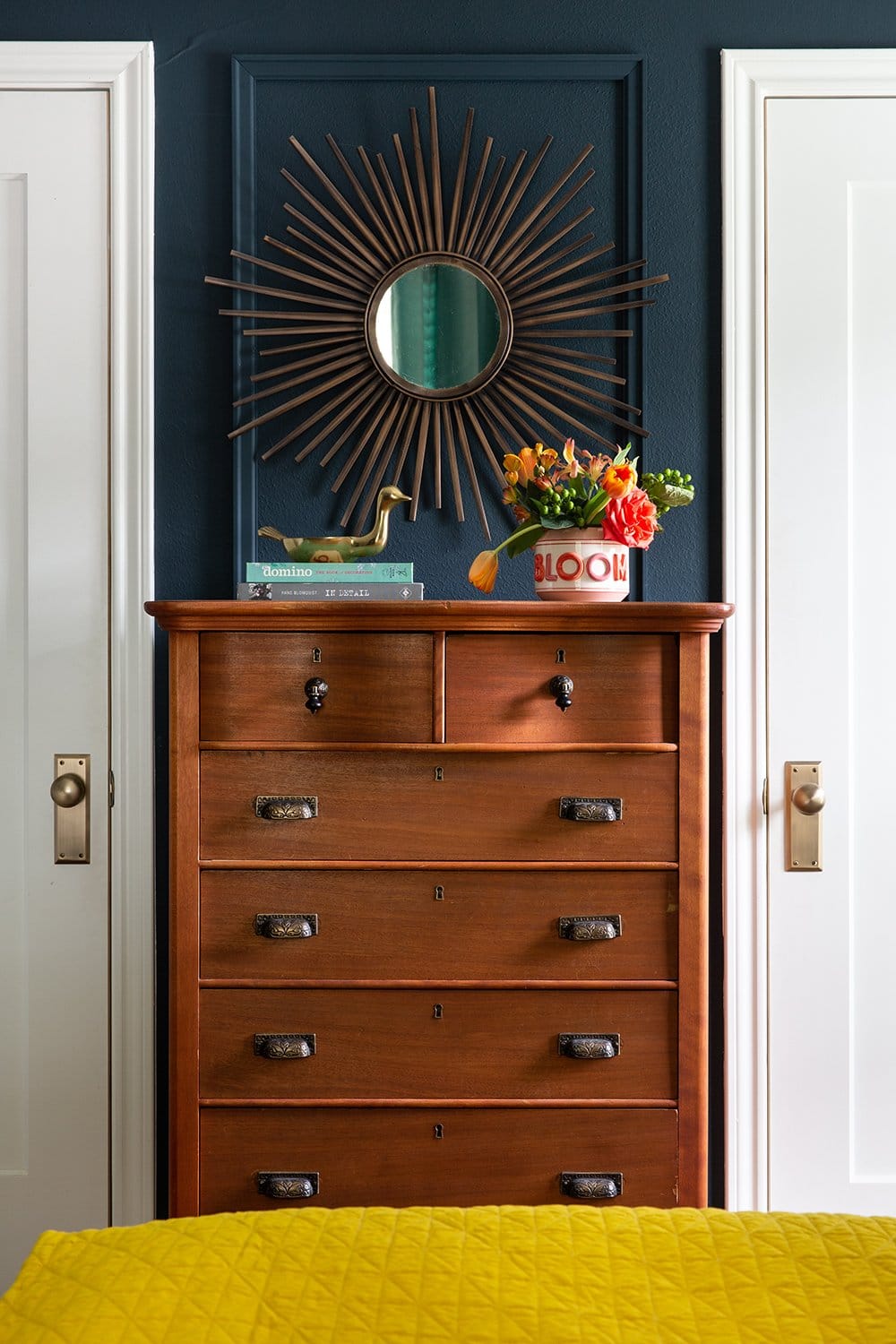 I can't get over how pretty and classic the paneled doors are –
– plus, OMG, those brass doorknobs from House of Antique Hardware are divine! I love anything that feels like it's from a New York Brownstone, and this door/hardware combo is totally classic NYC – even though it was in Waco.
The dresser is vintage (with the credit going to my husband for finding it at a local antique shop) and we replaced the lackluster wood hardware with these ebonized wood teardrop pulls and Victorian-style bin pulls.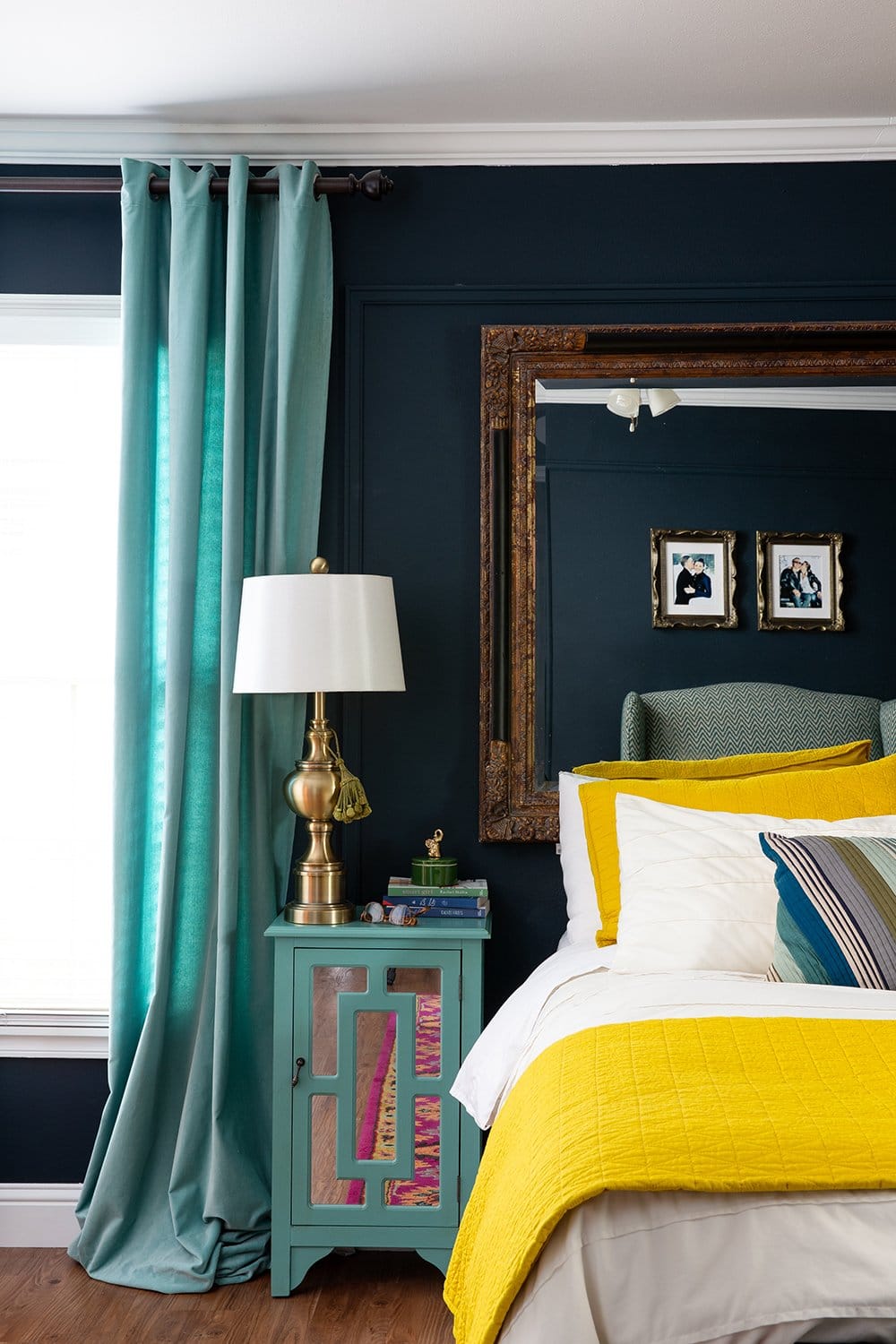 The large mirror we used as a headboard was gifted from a friend, and the bedding is from Target. The brass lamp was scored at the Lamps Plus clearance center (located at their Chatsworth, CA headquarters).
You'll probably notice a lot of similarities between this navy master bedroom in our Texas home, and the navy dining room in our Georgia home. That's because the paint color, area rug, and large mirror were all repurposed in our new dining room when we moved. There's no rule that says you can't use a hot pink rug in a dining room, right?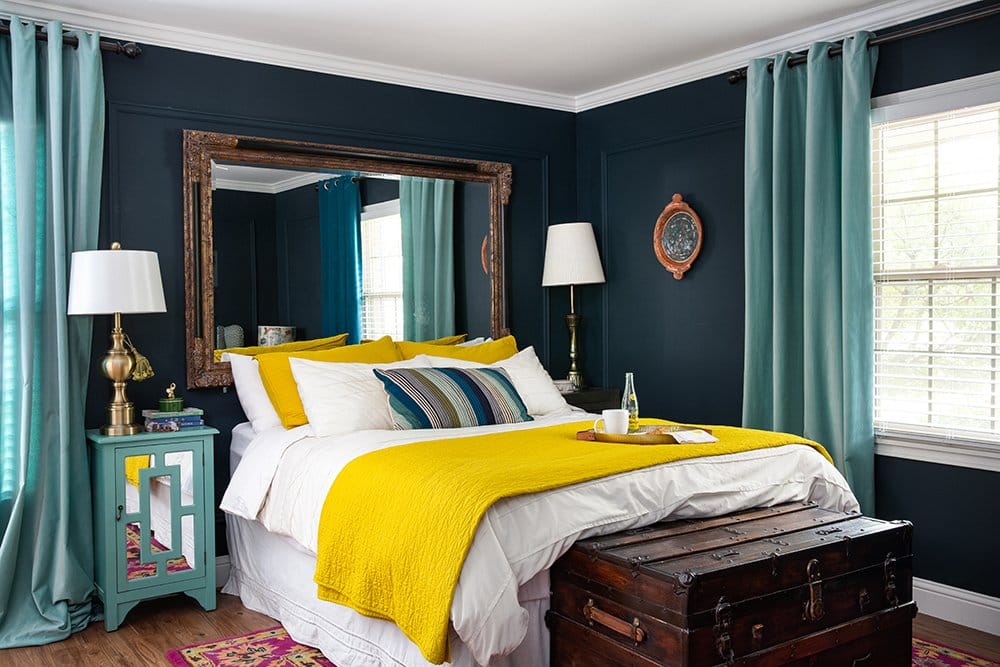 Thanks for following along with my Texas home tour! Next up is the super-cute bedroom my kiddos shared.
In the last What I Wish I'd Known post I shared my experience (and hard-earned knowledge) about choosing white paint colors. But what about the other end of the spectrum – choosing dark paint colors? I'm so psyched to see dark wall colors gaining popularity. They're beautiful when done right, and not as scary as you might think.
Just because a wall is painted white does not guarantee that the room will have the bright expansive feeling that's desired. (Bummer, right?) It's counterintuitive, but in fact, a deep color can often be a better choice and actually make a space feel larger! While white walls bounce light and feel open and airy, dark colors recede. A deep wall color sits back and blurs the boundaries of a room, creating the illusion of a larger space, especially if the walls and ceiling are painted the same dark hue. I do love dark walls, but there are a few things you should know before committing.
What I Wish I'd Known About Choosing Dark Paint Colors
There's always something to learn when you try something new.
My experience painting my master bedroom in Sherwin-Williams Dark Night (my faaaavorite deep peacock blue) definitely taught me a few things about selecting and working with dark colors.
I prefer matte or flat paint for walls
over an eggshell or slightly glossy finish, but it's a lot trickier painting a dark, matte wall than it looks! The paint store pros actually cautioned me against it.
It took a bit of convincing..
…and several days for them to source the right base paint and have it transferred from a different location before my Dark Night was in hand. Deep paint colors need a special base to tint correctly, and the product I needed was hard to track down.
When I finally got the correct formula, there didn't seem to be as much forgiveness with the paint, and coverage took more work than with a lighter color or a color with more sheen. Also, while matte paint today is more durable than it once was, there's a real difference in durability between a medium to light-hued matte paint and a deep, dark hue.
Scuffs, rubs, and water marks (from wiping the walls) do show up a lot more on a dark matte paint than I expected.
Here's what I wish I'd known about choosing dark paint colors:
Dark paint colors are higher-maintenance, both in application and in day-to-day care. But – it's totally worth it for the stunning results! The photo above is of my master bedroom and I can't wait to share the finished space with you. Dark walls transformed this room into a rich and cozy sanctuary and were absolutely the best choice for the space.
"Romantic" and "industrial" aren't typically two design styles that go together – but then again, I'm not your typical designer. I'm all about a quirky but livable mix of vintage and modern, rustic and polished, color and neutrals, masculine and feminine. Matchy-matchy is boring. Let's have some fun!
This romantic industrial master bedroom moodboard was part of a Design Kit recently completed for a client and I'm digging the end result. The dusty blues and pinks are a little softer than my usual color palette of saturated jewel tones, but don't worry – there's still a badass edge with the edgy crank accent table and industrial drapery hardware.Throw in a Mid-Century mirror and Boho accent pillow on the bed and we're totally in business. Too much of one look is never a good thing (hello, bad decorating catalogs) and it's all about creating the right balance with different styles and eras. Check out all the details on this project's Pinterest board.