Before and After: A Navy, Pink and Orange Bedroom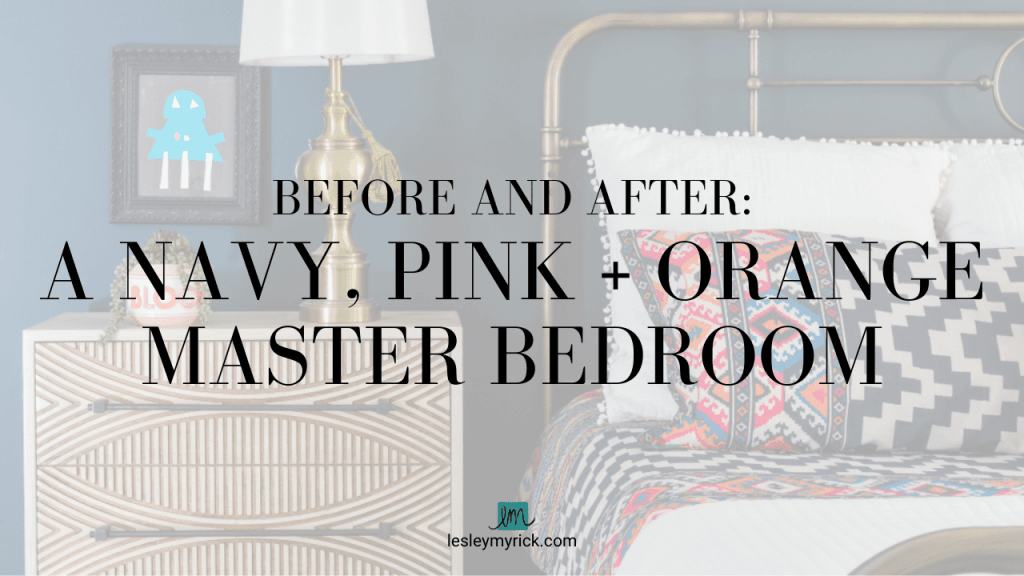 Last week, you saw the before and after of my 3-year-old daughter's bedroom; today, it's time to reveal my master bedroom! This is (obviously) a space that's super important to me, and I wanted to create a cozy, cocoon of a room with color, pattern, and a little edge. A bedroom should be restful, but restful doesn't need to be boring. Here's the before and after of our navy, pink, and orange bedroom.
Heads up: you might want to grab a cup of coffee to wake yourself up before you scroll any further, because the "before" of this space is a total snore: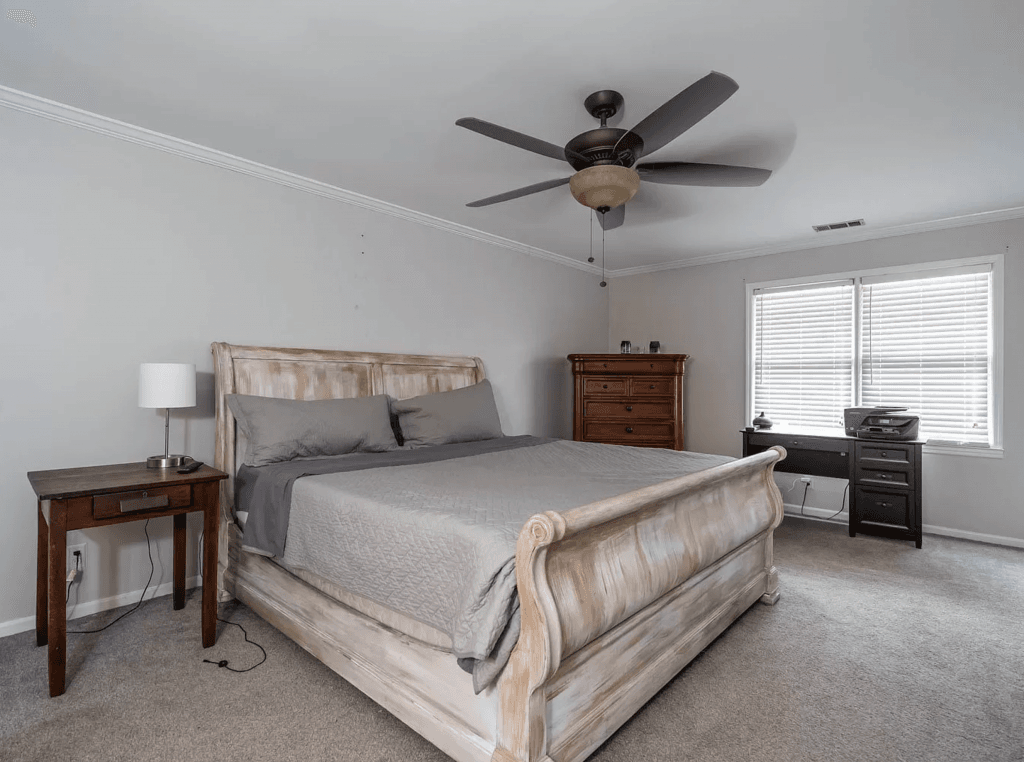 This is the space before we moved in, from the home's online listing photos. The master bedroom is huge (yay!), but it had nothing exciting going for it. Also, that ceiling fan? Horrifying. It looked like it was going to swoop down and eat me alive while I slept. The room may have been a snooze, but it wasn't exactly restful.
Because we upgraded from a queen to a king-sized bed, we had a fresh start when designing and furnishing this room. The only pieces brought from our Texas home were the vintage dresser and starburst mirror, and our teal chesterfield sofa got new life in here with an inexpensive slipcover. One day, we'll reupholster it in cognac brown leather, which will really be the finishing touch in the room.
Here's the room, from the same angle, after Lesley Myrick Art + Design worked our magic: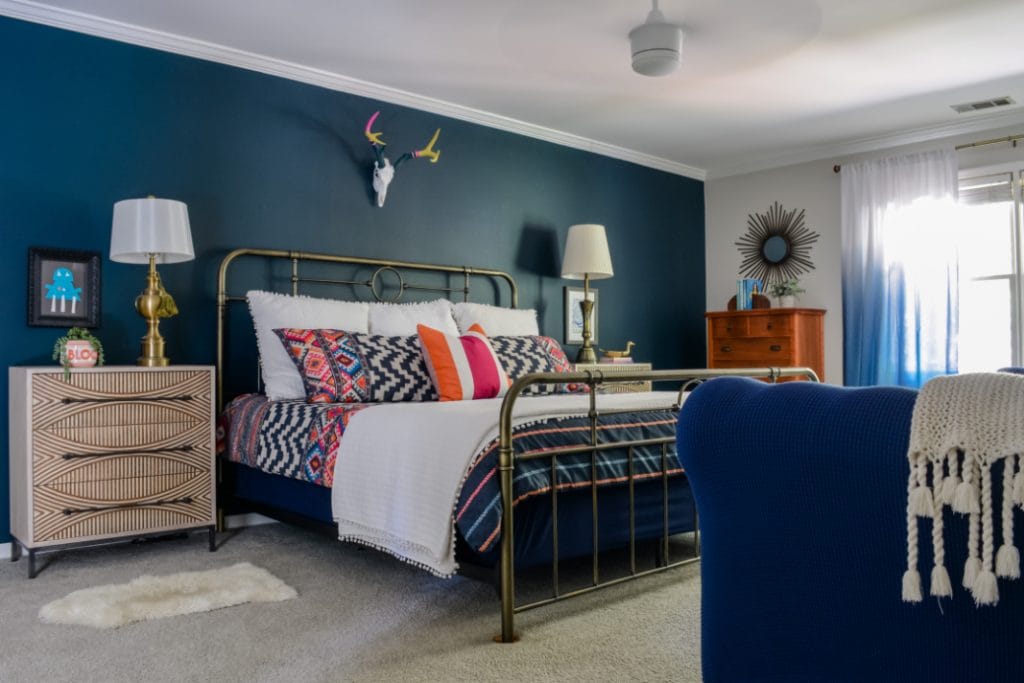 Whaaaa? Even with keeping the same grey carpet and grey wall color, this master bedroom is practically unrecognizable.
The navy accent wall was exactly what this huge room needed to create a focal point and make it feel more cozy and intimate. I'm sure you're not surprised that the color is Sherwin-Williams Dark Night, my favorite deep peacock blue that I've used in our former master bedroom and our current dining room, too.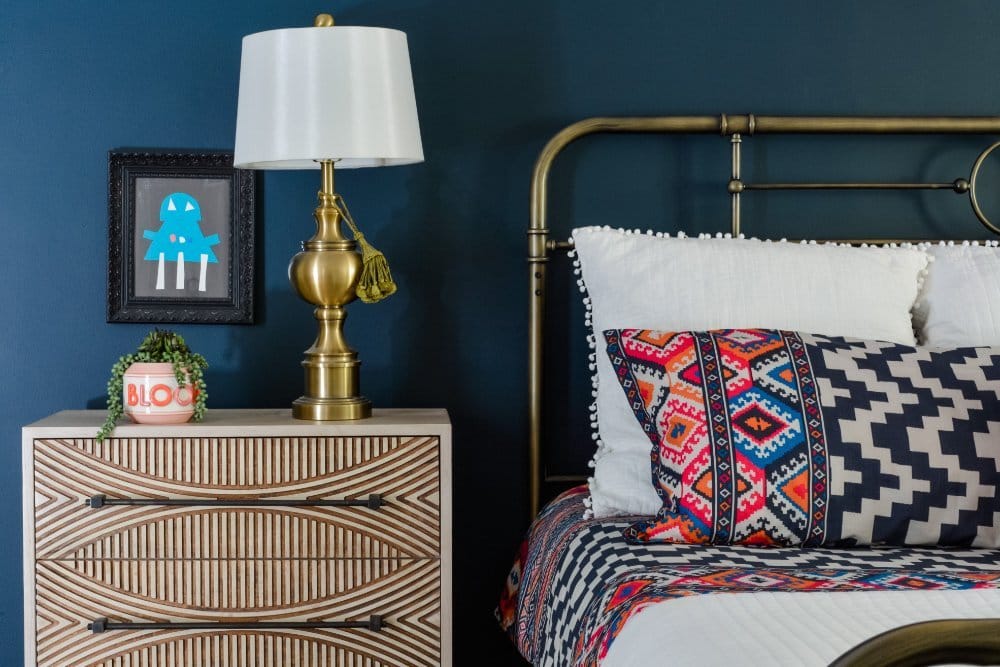 The carved wooden nightstands introduce some much-needed texture and pattern against the long navy wall, and the patterned bedding ties in the deep blue but also introduces some contrast with the addition of hot pink and orange.
The framed artwork was created by my son Ford when he was in kindergarten. It's a toaster robot, according to him.
The painted skull is one of my favorite elements in the room. My husband is a hunter (and goodness gracious, we eat so much venison!) and we both feel it's important to use the whole animal well. He cleaned and prepared this deer skull, and inspired by an artist I found on Instagram, I painted it in navy, fuchsia, and chartreuse.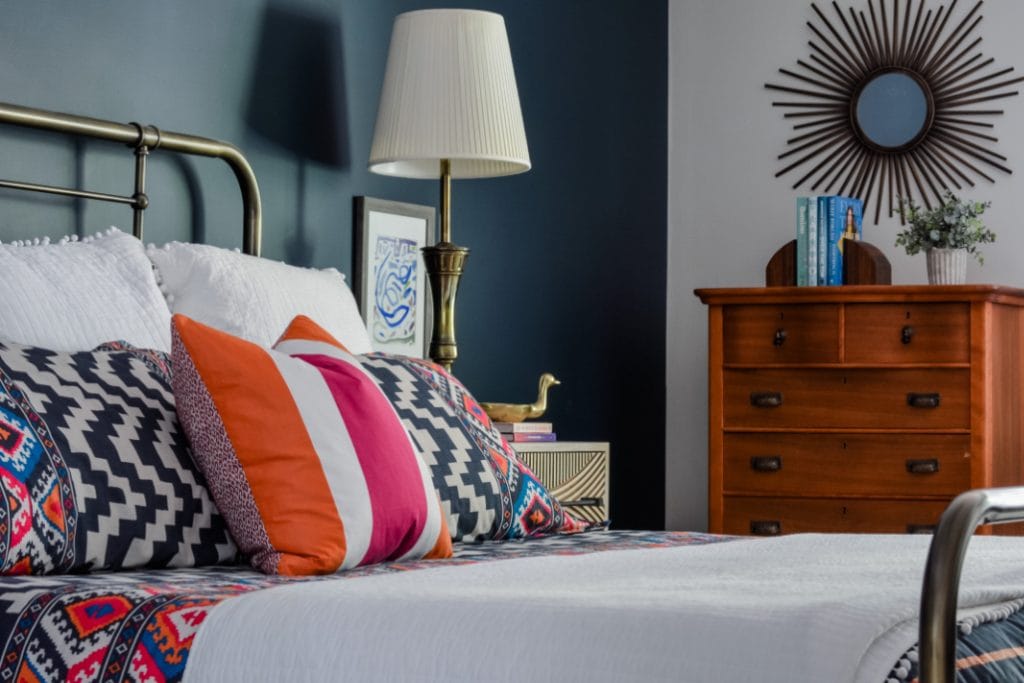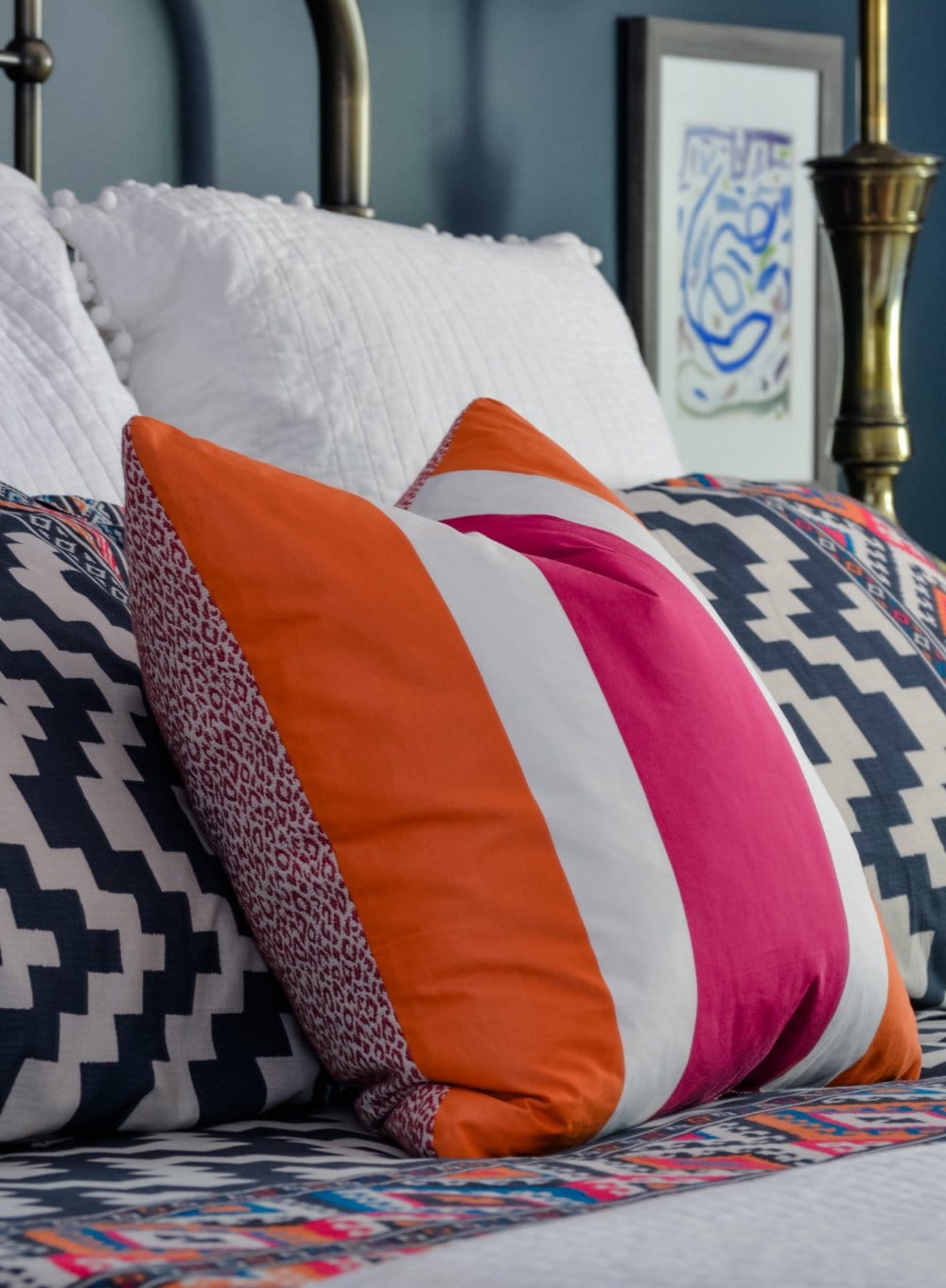 While the bedding was purchased from a big retailer, the throw pillow was custom. I've been obsessed with this orange and pink-striped Diane von Furstenberg silk fabric, and have been holding on to a scrap of it for years. I had just enough to make this pillow, and I backed it in a mini hot-pink leopard pattern. Mixing high-end custom pieces with low-end inexpensive things is what gives a room personality, style, and visual interest.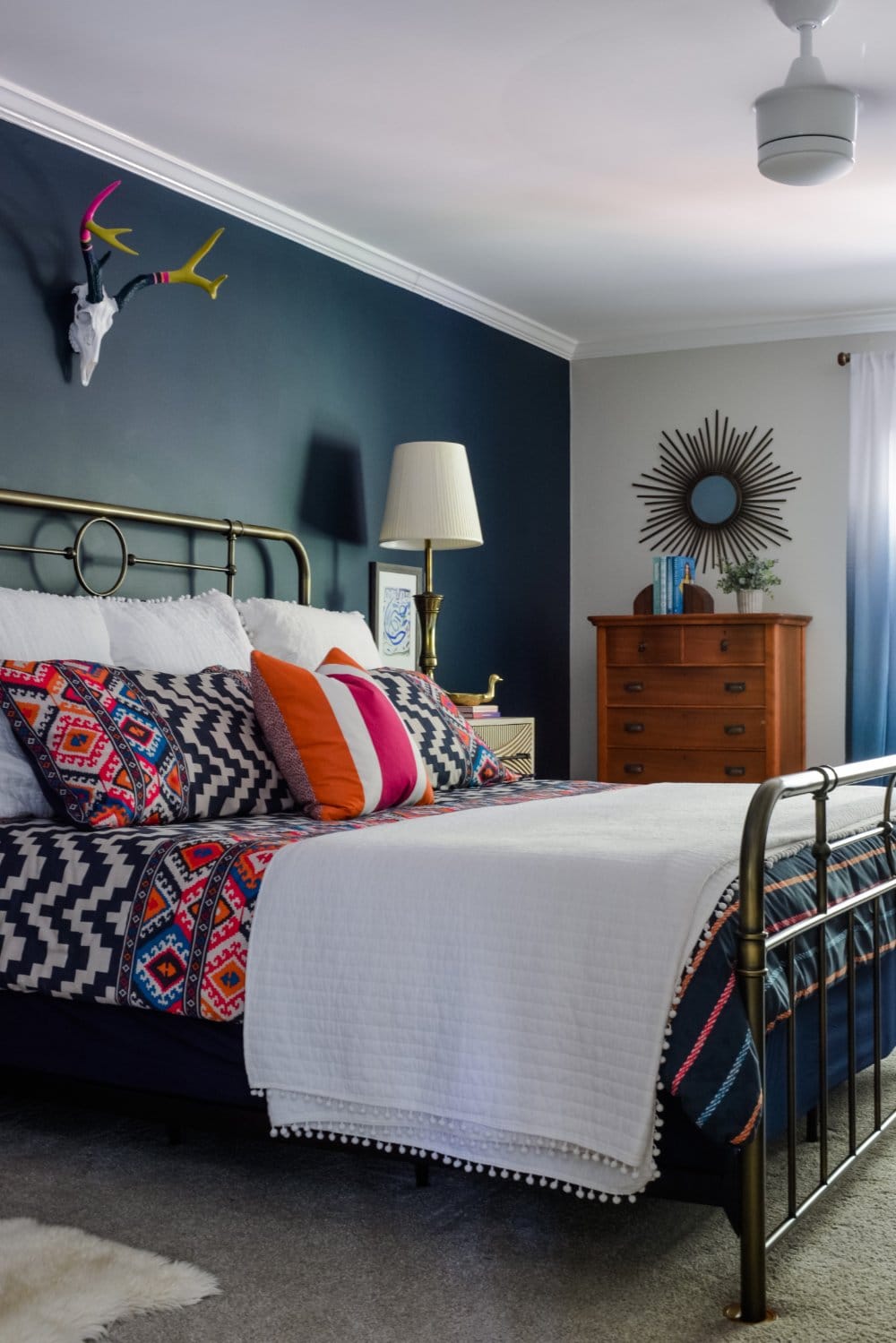 The window treatments helped the two wall colors make sense together. I usually prefer heavier-weight curtains, but these ombre linen drapes were perfect – interesting, but not distracting from the focal point in the room.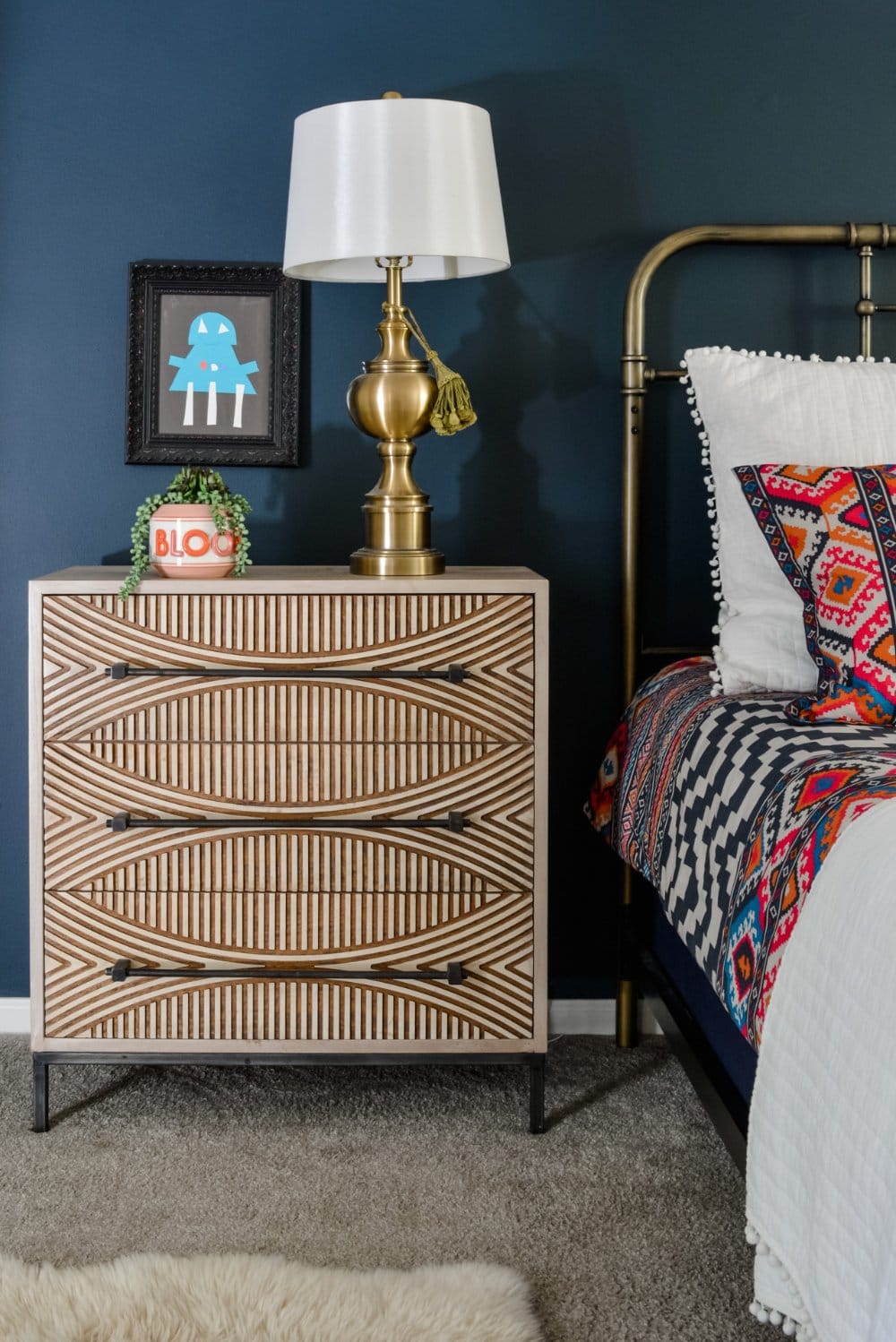 Thanks so much for checking out my navy, pink, and orange bedroom makeover. This bedroom is my saving grace – with two young kids at home full-time during a pandemic, having this room to retreat to with a candle and a good book has been a lifesaver for my sanity. I'd love to help create a kickass master bedroom for you, too. Here's how.