5 Easy Ways to Create a Hotel-Inspired Living Room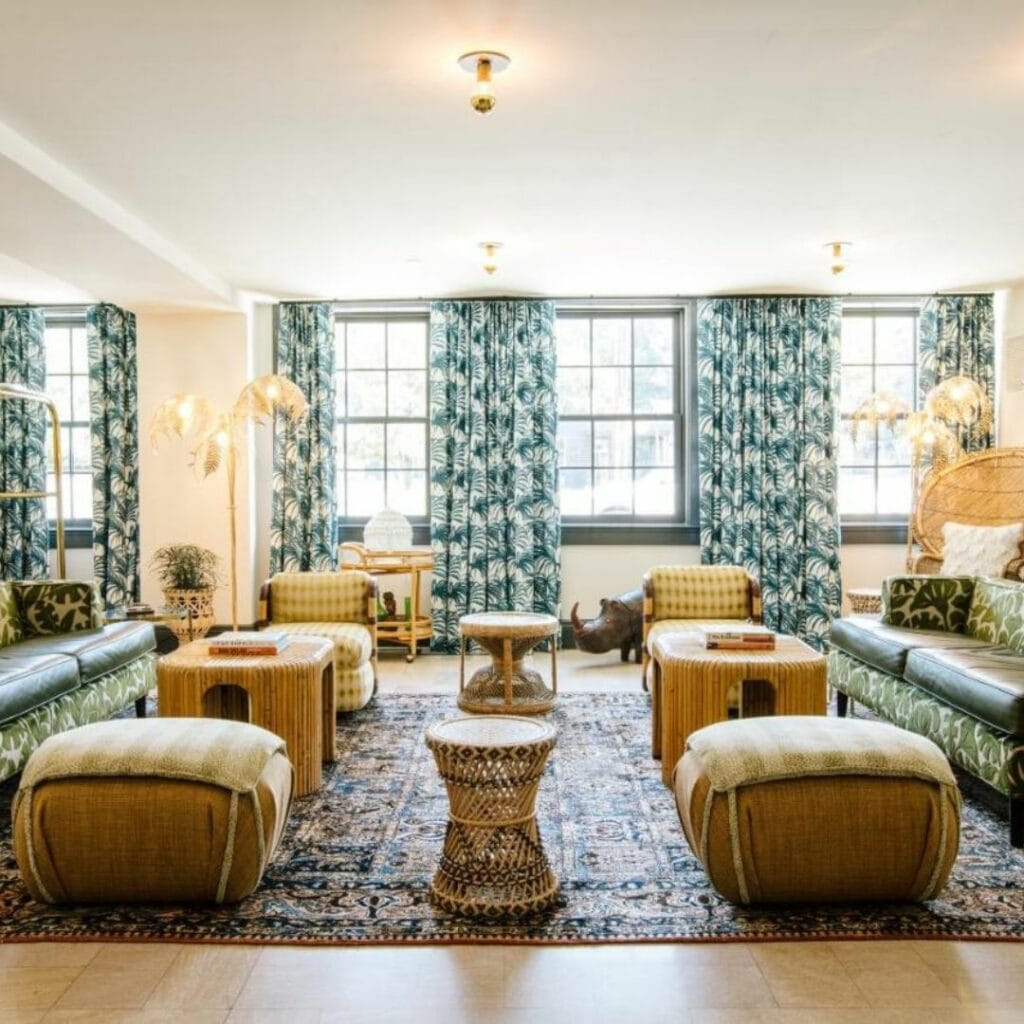 Have you ever stayed in a gorgeous boutique hotel and completely fallen in love with the vibe? I have. In fact, I'm now a convert and will opt to stay in a boutique hotel over the average chain any chance I get. Sure, they are a bit of an investment – but for a night or two? Such a blast. So draw up that image for me, would you? Your favorite hotel. And let's chat about how to create a hotel-inspired living room, so you can have it all the time.
Tip #1: Declutter
The first thing to do to create a boutique hotel-inspired living room is to declutter. And I mean declutter ruthlessly. Hotels feel so good and relaxing because you're not surrounded by random toys, piles and crap everywhere. Things that need to be there functionally are well hidden, and things that don't need to be there aren't.
So clean off your surfaces. Keep your coffee and end tables clear. Sure, your kids have toys and you have bills and paperwork that you can't just throw away, but you need to get creative with storage and give those things a home (out of sight). Trust me, you'll enjoy your space so much more.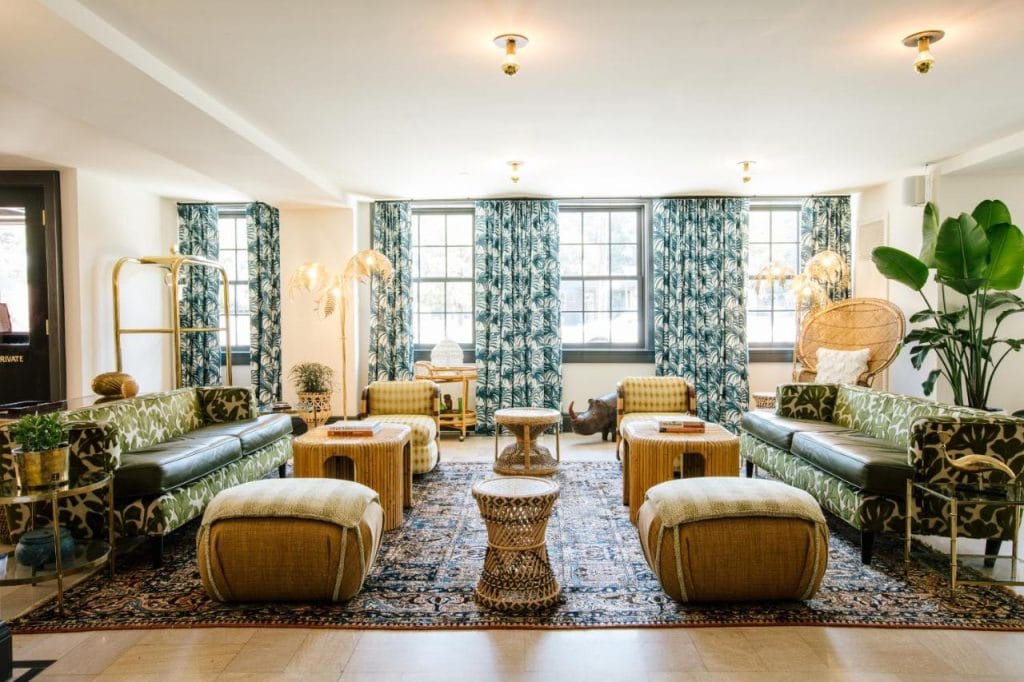 Tip #2: Dress Up Your Windows
Draw up that image of your favorite hotel again and picture the windows. Are they bare? I'm guessing no. Hotel windows are never boring and bare. They are usually fancy and layered with shades or blinds along with blackout curtains in dramatic colors, patterns, or textures. Your window treatments at home should be no different.
And let's not forget the hardware. When you dress up your windows and pick out fancy curtains, make sure the rod they hang on is equally sexy. Remember, you're going for a boutique hotel-vibe here. So ditch the naked windows and give them some wow-factor. It will instantly elevate the look and feel of your space and create a hotel-inspired living room you will love.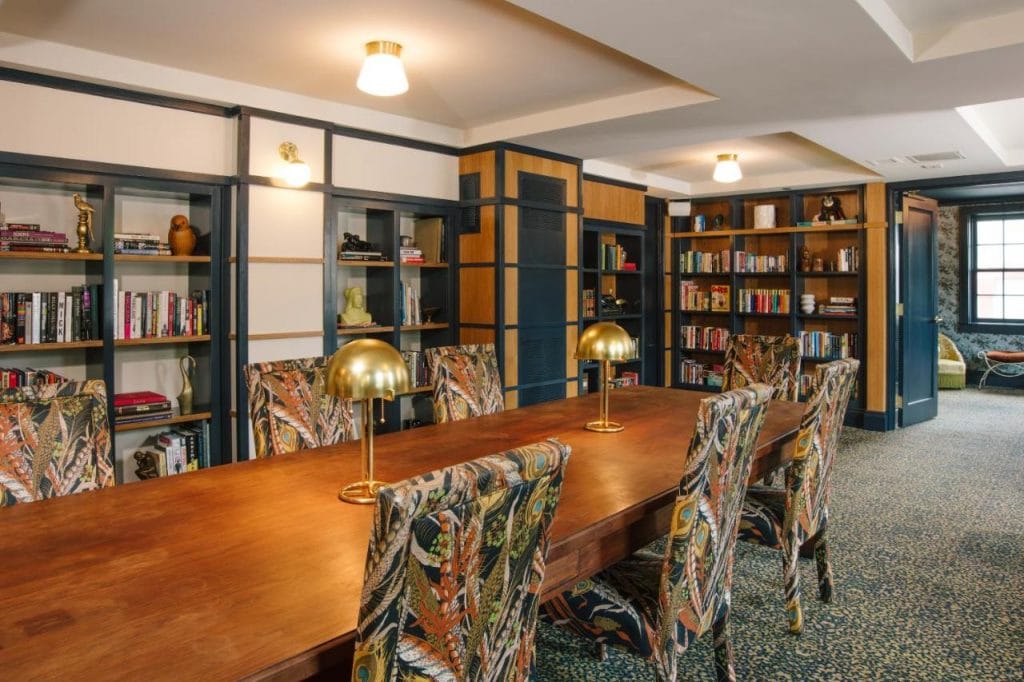 Tip #3: Layer Your Lighting
Now on to one of my favorite elements of design – lighting. Seriously, lighting is everything in a space, and no boutique hotel is going to have boring lighting. So how do you do lighting right and create a hotel-inspired living room that's cozy and cool? You layer.
You want to mix things up when it comes to lighting. Incorporate table lamps, floor lamps, wall sconces, pendant lights, etc., and avoid harsh overhead light. Bring your lighting down to eye level, keep things dim and soft and create that sexy ambiance you're after.
And one of the best perks about great lighting is it can also function as art for your space. Lamps and light fixtures are available in so many funky shapes, colors, and textures, and if you pick the right ones they can stand alone as your decorative accessories. If you treat lighting as sculpture and art, you're going to need fewer things in your room to make it feel special.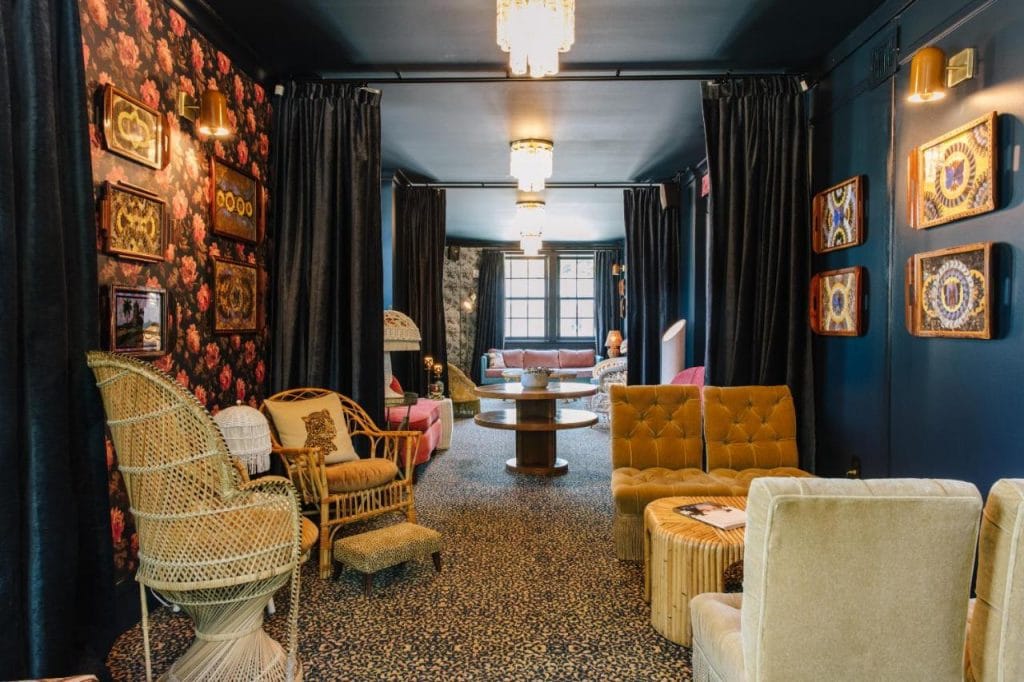 Tip #4: Color Outside the Lines
There is definitely a time and place for neutral colors; however, when looking to create a hotel-inspired living room, you want to color outside the lines a little. You want dramatic. You want eye-catching. You want memorable. Trust me.
Most boutique hotels, at least the ones I'm drawn to, have a strong, bold aesthetic. It feels eclectic and cool. Maybe even a little weird, but very polished and put together. And you don't achieve a look like that without color, pattern, and texture. It might sound a little strange on paper, but the end result actually feels amazing in real life. And you deserve a home that feels amazing all the time.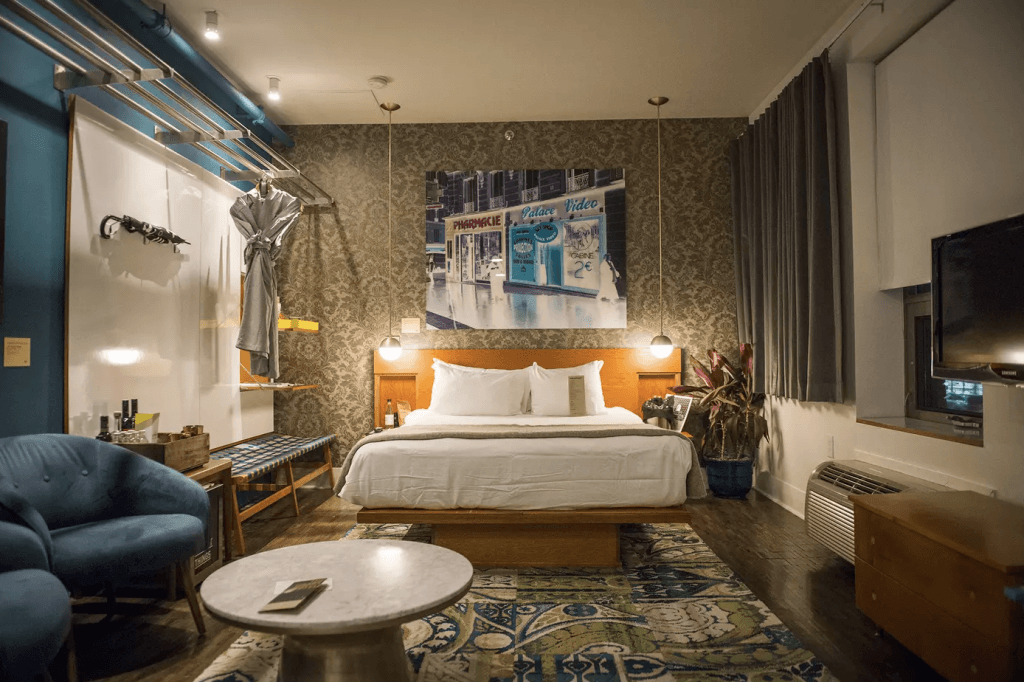 Tip #5: Go Big
You know the expression, "Go big or go home?" Well, it's great advice when it comes to interior design accessories, especially when looking to create a hotel-inspired living room. And since you're already home, all you have to do is "go big!" Have fun with scale. Push your design boundaries. It's worth it.
With hotel design, you will see accessories on a large dramatic scale. Think huge art, giant vintage mirrors, etc. Aesthetically, accessorizing with fewer large pieces is often more appealing than lots of little ones. It feels more intentional, less cluttered, and definitely more luxurious.
You can even "go big" with large-scale patterned fabrics or dramatic wallpapers with bold prints. Feature walls, statement-worthy rugs, interesting flooring, and gorgeous curtains are all areas where you can go big and add that boutique-inspired vibe to your space. Whatever you decide, just make it feel cool and authentically you.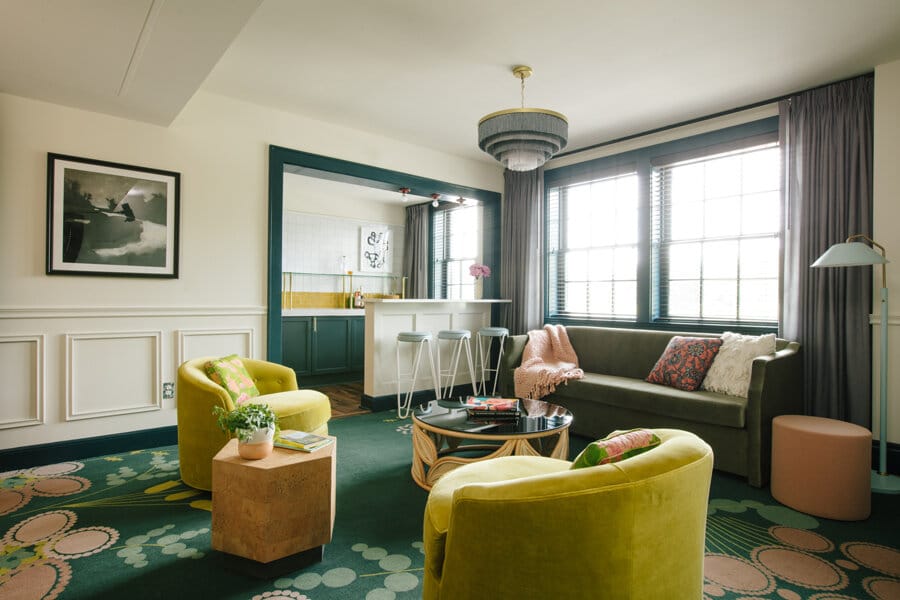 Let's Recap…
Here are your five easy ways to create a hotel-inspired living room at home that feels bougie and badass.
Declutter – Get rid of or creatively store all the crap you don't want to look at and make your space feel airy and open.
Dress Up Your Windows – Give your windows a fancy makeover and don't be afraid to be bold.
Layer Your Lighting – Add ambiance and sex appeal to your space with artistic lighting that will give you that cozy hotel-inspired vibe.
Color Outside the Lines – Choose a color scheme that makes a statement. Think dark, rich, luxurious, jewel tones, etc. This is not the time for gray or white.
Go Big – Accessorize with pieces, patterns and textures that add dramatic scale to your space and ditch the dinky decor.
I've sprinkled a few images from favorite hotels of mine throughout this post. You'll notice they are not white linens, neutral walls, and fluffy towels. They're quirky. They're colorful and dramatic. And they are anything but "safe" when it comes to design. They also feel incredibly restful and amazing. Who wouldn't want to experience that at home every single day?
Ready for Lesley Myrick Interior Design to transform your home with a chic boutique hotel vibe? Request a complimentary consultation call here.