If you're like me, you LOVE blue and teal paint colors! But you've probably tried to choose a color before, only to find out that it was too bright, or too blue, or too…something.
Frustrating, right?
There are 8 blue and teal paint colors that are tried and true favorites of mine that I've used for myself and for clients with smashing success, and you can get them all right here in the Best Blue and Teal Paint Color Guide.
Here are a few of the best blue and teal paint colors, in action: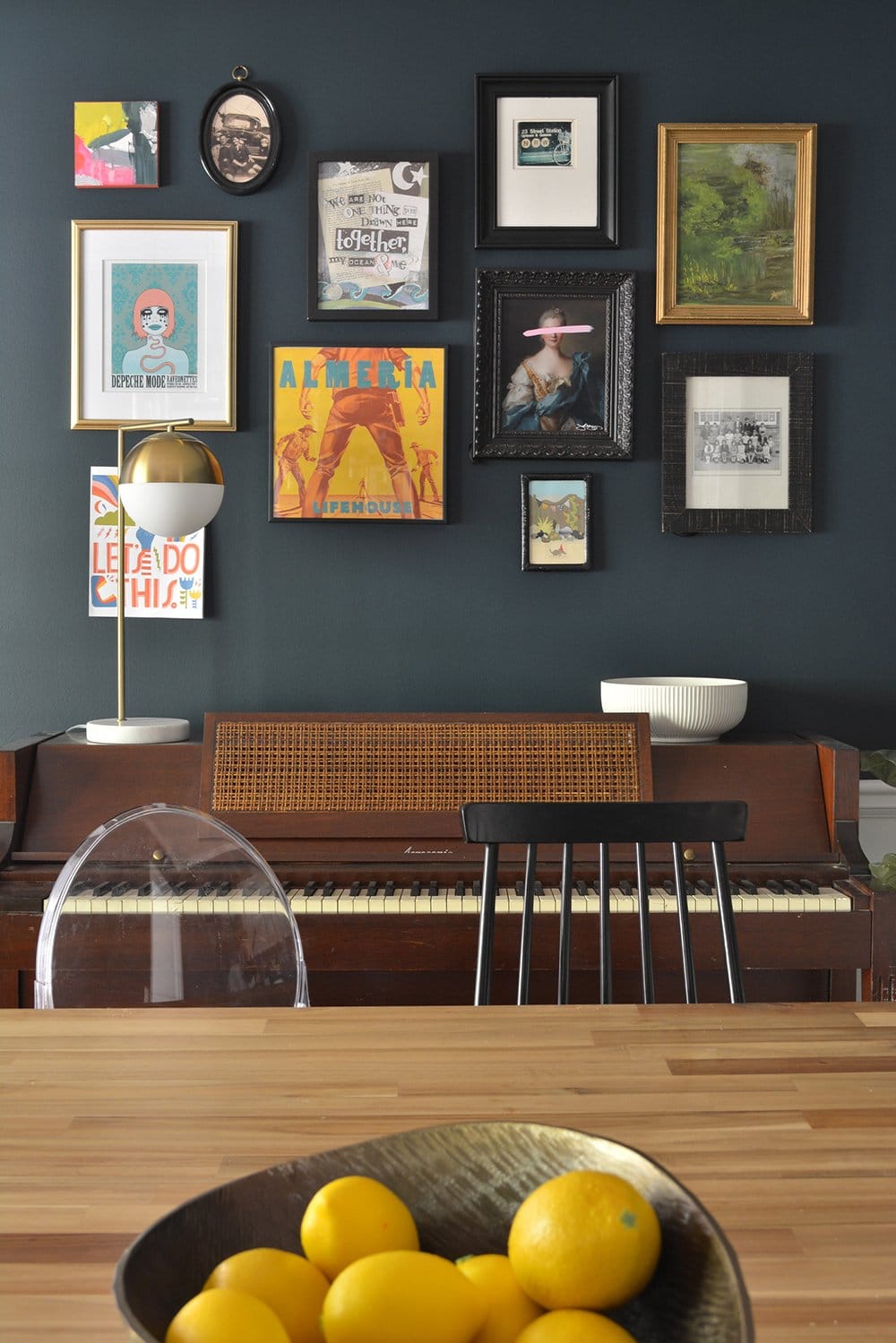 Sherwin-Williams Dark Night
If you're a client of mine, I've probably tried to push Dark Night on you. #sorrynotsorry
I'm totally obsessed with this navy-meets-peacock shade. I love that it leans juuuuuust a little green instead of a true navy. I've used it in my former master bedroom and current dining room, plus you can check it out in this Design Kit Before and After.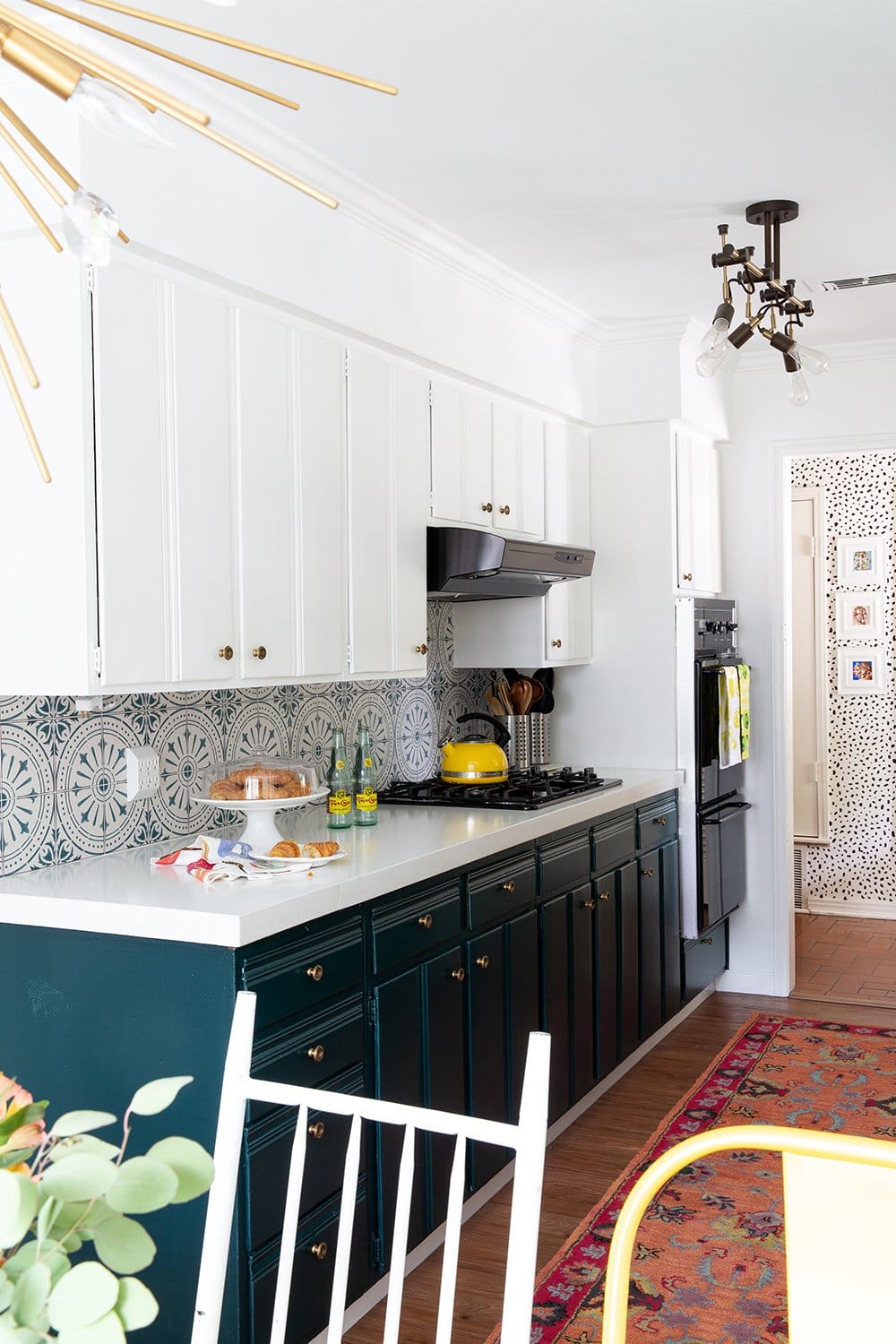 Sherwin-Williams Cascades
Is it teal? Is it hunter green? I don't know and I don't care. But Cascades is a color I've used twice now and loved it both times, in my Texas kitchen (above) and in my Atlanta office.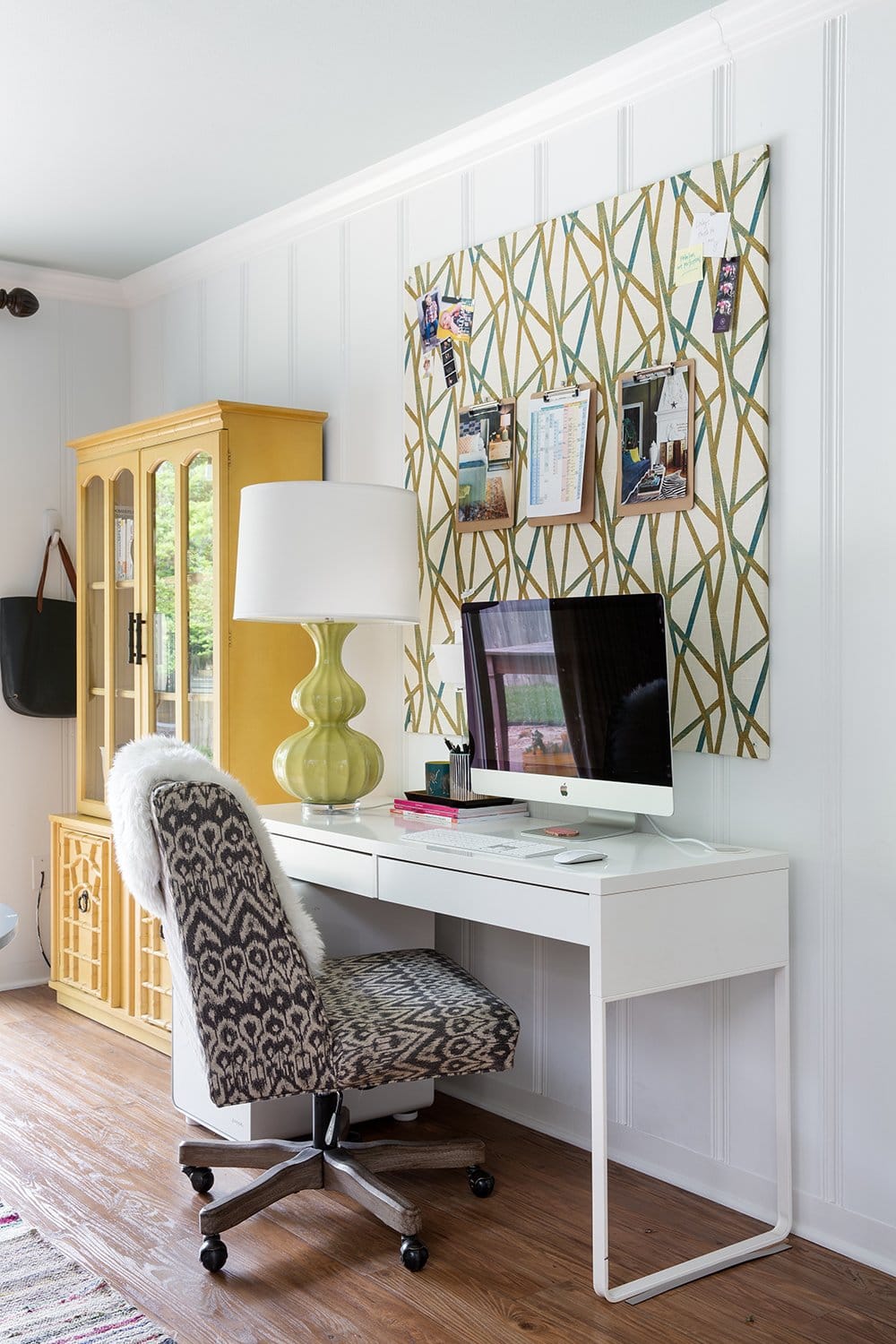 Sherwin-Williams Rainwashed
Betcha never even noticed that my former office ceiling wasn't white, did you? While the paneled walls looked crisp and fresh in Extra White, I painted the ceiling in Rainwashed, a soft green-blue. It wasn't overwhelming, but it was definitely an unexpected surprise to have color on the ceiling.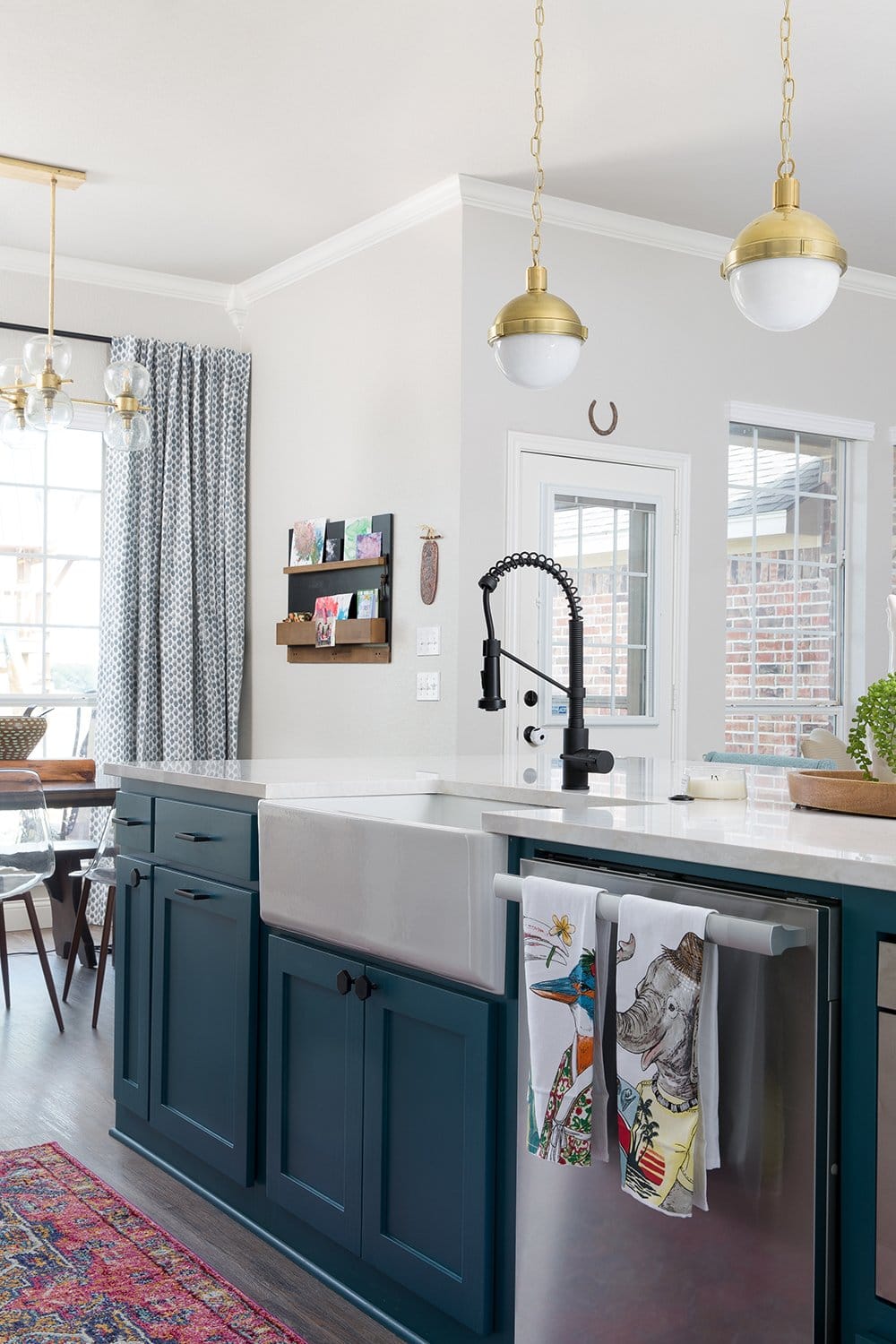 Sherwin-Williams Deep Sea Dive
Deep Sea Dive is so much more of a bright, true teal than I'm usually drawn to, but I love how it looked in this funky farmhouse kitchen. It was just the pop of color that this island needed to create a focal point in the space.
Grab the complete "Best Blue and Teal Paint Colors Guide" right here, totally free. It has a bunch more of my most-loved Sherwin-Williams and Farrow & Ball paint colors – along with a super valuable tip about choosing paint colors.
I've been obsessed with interior design my entire life. As a kid, I'd rearrange my bedroom furniture every weekend to experiment with new layouts and combinations. The first time I painted my own bedroom I was 12 years old, and after a little convincing my parents gave me free rein to choose the color AND do the painting myself. I'm so grateful for these kinds of experiences because I've learned so much about color and design by trying things out. And what I discovered at age 12 turned out to be the worst paint color I've ever used.
Picture this:
I'm 12 years old. I've had years of experience coloring in coloring books (as evidenced above) so clearly I'm an expert at choosing colors. My room was painted peach six years ago by my parents and I'm dying to express my pre-teen self with a more "edgy" space. I thought that the most awesome room would have sky blue walls, with a lighter blue ceiling and sponge-painted clouds. And green carpet that looked like grass.
OMG YOU GUYS, I'm cringing even writing this at the terrible design I created. This was the 90s when sponge painting was "cool", and I can remember climbing up on that ladder to dab cloud after cloud on my ceiling thinking that I was creating a design masterpiece. (Thank goodness my parents refused to spring for the green carpet I wanted!)
And then, it happened.
The shine of a new room wore off. The excitement of having clouds on my ceiling quickly faded (and felt kinda juvenile, actually, which pissed off hardworking 12 year-old me!).
And I realized I had chosen the worst paint color ever: sky blue.
I thought sky blue walls would feel open, expansive, and free.
You know, like being outside! Duh.
But what really happened with my sky blue walls and ceilings was that the entire room felt cold. Icy. Unwelcoming. And I quickly learned the power of paint colors, and why not every color translates well from one application to another.
Even now, I'm leery of icy blue paint colors. (And sponge painting.)
There are so many shades of light grey
with strong blue undertones that are popular right now (here's a bit more about color and undertone, if you're curious), and I usually caution clients against them. While they might look grey on a color swatch, that icy undertone is going to be front and center when painted on a wall. And 12 year-old me can vouch for how cold and sterile it feels!
Don't make the same mistake I did.
Learn from me and the worst paint color I've ever used – sky blue. Thankfully I've had decades of training and experience since then to learn how to correctly choose colors, and if this is something you're struggling with at home, I'd love to help you bust out of boring and pick paint colors you totally love. Here's how.